You have a higher level of competence and caliber than the other candidates, but you don't have a Terraform developer resume. Do you believe you'll be able to find work this way? No, since your CV must be flawless to sell your talents and abilities to recruiters.
This Turing tutorial will teach you how to create a well-crafted CV that will help you advance your career and help to secure top Terraform developer jobs.
Here are some crucial points to remember while writing a Terraform developer resume –
1. Get straight to the point
Make sure you hit the suitable targets while you're composing your Terraform developer resume. The ideal place to start is just after your name, email address, and phone number in large letters. Make it basic yet effective so that the recruiters going through your resume contact you right away.
Remember to include the correct keywords, as well as a brief explanation of any relevant Terraform projects you've worked on. Make your Terraform developer resume stand out amid a sea of applicants and boost your chances of being called in for an interview.
2. Present your Terraform developer resume like a story
Because a tale usually piques the interest of the audience, including it in your CV will be quite beneficial to you. The stories are appealing, intriguing, and keep the audience captivated to the screen. As a result, including a story on your resume will almost always result in great outcomes.
3. Make use of a targeted headline
After your name, the headline is the first thing the recruiter sees in the Terraform developer resume. It has to be targeted. If your headline does not position you as a professional in the sector, your Terraform developer resume will not be regarded seriously. A headline that is comparable to the job description might be used. If the job description calls for four years of experience, for example, your headline may read "4+ years experienced Terraform developer." "Certified Terraform Developer," on the other hand, may be used to showcase your credentials or a specific ability in your headline. As a result, these two may be viable headline alternatives.
4. Pick your resume layout
Depending on your work experience, select the resume format for the Terraform developer resume that best suits you. When composing your Terraform resume, you may pick from four distinct forms. i.e.,
A chronological resume is one in which the information is presented as a historical timeline. A chronological CV will highlight your work experience. It organizes your employment history chronologically, with the most current position at the top. The advantage of this approach is that your hiring manager can quickly see how far you've come in your career. This format is not appropriate for those who are transitioning between jobs.
A functional resume places a strong emphasis on your abilities instead of your job title. In your React.js developer CV, the "relevant skills section" takes up the maximum space. It will sort your experience into categories depending on the talents you have. It is ideal for new graduates or those with gaps in their careers.
The most popular resume format is the combination resume, found in almost every Terraform developer resume, which combines the best of both worlds. In the CV, this format assigns equal weight to job experience and talents, resulting in a balanced approach. Work experience and related skill areas are given equal importance in this arrangement.
5. Timeline of work experience
Because it is such a decisive aspect of every Terraform developer resume, you must pay special attention to it while you work on it. Use the action verbs in job descriptions to validate your professional experience, as described above. Also, in the job descriptions, don't exaggerate. Because recruiters may not have time to read your resume line by line, concise descriptions are the way to go. As a result, keep it brief and sweet.
Create your resume and get a job on Turing
Build the best Terraform developer resume with Turing's Deep Developer Profile
Apply Now
6. Skills required for the Terraform developer job role
This section will include the abilities in which you excel. Demonstrate your key competencies in each of the skills you'll discuss. To capture recruiters' narrow focus, display them point by point and add icons. Write a few paragraphs explaining how your knowledge of a particular ability helped your prior employers find a solution to their problems. Hiring managers can get a clear picture of your strong suits if you split your skills into primary and secondary. Here, primary skills are your area of expertise/specialization, and secondary skills are skills you have some experience working on.
To acquire a decent Terraform developer job, you need to have the following Terraform developer abilities on your Terraform developer resume:
AWS
Agile software development
DevOps
OpenShift
Containers
Docker
Terraform
Ansible
Puppet
Shell scripting
Linux
Windows
7. Mention your educational background
The education element of your resume is crucial since it shows the recruiter that you have the relevant qualifications for the job post. As previously said, use the job skill-related keywords in this part to align with the organization's interests, which in turn connect with the hiring manager's interests.
8. Evaluate your skills using numbers and figures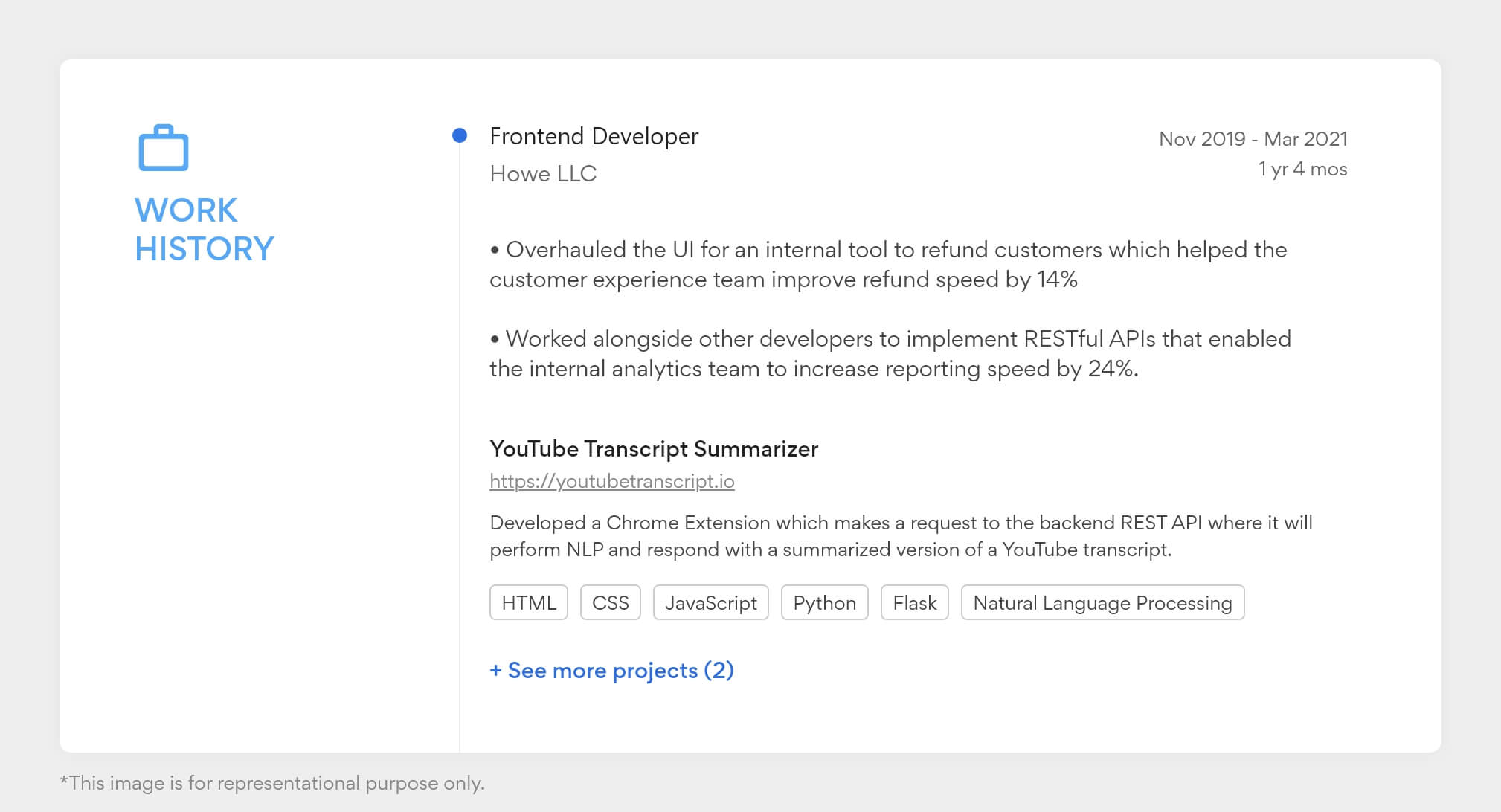 Wherever feasible, use numbers and figures that fit within the larger context. You may give away crucial information and reduce phrases this way. Giving figures like "Handled Fortune 500 clients" or "Led a team of 30+ individuals toward the same objective" has a big influence. You are providing credence to your statements in this manner. Until you supply the appropriate knowledge through figures, recruiters will view your expertise as unapproved assertions.
9. To improve your resume, make it error-free and use keywords
It may sound hackneyed, but proper English and grammar, and the right keywords, are essential. Making a grammatically accurate CV is crucial since even a single error might lose you the job. If you make a mistake on your resume, it will make an unfavorable impression on the hiring manager. Before sending your Terraform developer resume to the recruiters, go over it multiple times to ensure no mistakes.
Using relevant and optimized keywords in your headline, subheads, and material will help your Terraform resume rank higher in search engine results.
To assist potential employers in perceiving you as a great fit for their company, use these specific keywords:
Identifying
Programming
Creating
Communicating
Informing
Diagnosing
Testing
Executing
Maintaining
Documenting
Consulting
Innovating
Recommending
Troubleshooting
Designing
10. Create a video introduction
It's a crucial component of your complete package that makes a positive impression on the recruiting manager. The video provides the recruiter with another way to hear your experience.
Create your resume and get a job on Turing
Build the best Terraform resume with Turing Deep developer profile
Apply Now