In this present competitive world, you need skills as well as the proper promotion of yourself because you are like an asset. Software engineer jobs are ample in the market, but you need to make your unique points stand out in your resume. A company will only feel interested in your profile if your resume represents your top skills effectively and credibly.
Here at Turing, our top recruiters share the best resume writing practices to help you make a perfect resume that would stand out from the crowd and help you land one of the best software engineer jobs.
You can follow these tips and higher the chances of bagging your dream remote software engineer jobs in 2023:-
1. Keep your resume crisp
Your software engineer resume should not be more than one page in length. The recruiters don't have the time to read all the pages of the resume meticulously. This is a harsh truth we all have to face while sitting for the job interviews. So, you must present yourself professionally and consistently with concise information on your resume. A resume is like a window through which they get to know you, and eventually improves your chances of being hired. So for this, you need a short and crisp resume.
An effective manner to reduce the size of your resume is to present the timeline of your work experience in bullet points. Present relevant information into the work timeline.
Always make sure you have well-structured sentences in your resume without mistakes. Otherwise, it would put a bad impression on the recruiter, and lower the chances of being shortlisted for the job.
2. Showcase your accomplishments through certifications and skills
It would be effective if your resume showcases your skills through multiple certifications. It is easy to add weightage to your resume if you have some certifications along with experience. For example, if you have a CSSLP Certification from International Information System Security Certification Consortium, it automatically adds value to your resume (A very effective practice is to mention it in the headline of your resume under your name). So, invest your time in getting some certifications during your education period or after completing your education.
This is the list of certifications that is perfect for software engineer:-
CSSLP by ISC:- Certified Secure Software Lifecycle Professional by International Information System Security Certification Consortium tests your skills in the development of the software with secure and safe practices. If you earn this certification it means that you can identify the vulnerabilities in your projects. Also, it demonstrates that you can protect your clients' data and prevent data breaches. This certification is expensive at 599 dollars but it can bring immense value to your resume.
CSDP by IEEE:- Certified Software Development Professional by IEEE society is one of the standard industry certifications for software engineers. This certification is for experienced professionals and requires them to earn four different certifications from the same society. It costs 395 dollars for society members and 495 dollars for non-members.
CSE by ICCP:- Certified Software Engineer by International Institute of Computing professionals is a designation which you can earn by giving three exams from ICCP. It cost 45 dollars for the membership fee, a 299 dollar exam fee, and 50 dollar proctor fee.
Amazon Web Services:- AWS certified developer certification is best for the engineers where you will extensively work in the Amazon Web Services. This is an associate-level exam. It costs 150 dollars which lasts for 130 minutes in total. They also offer 20 dollar practice exams. These are some of the certifications which are helpful to add credibility to your resume.
3. Use numbers to add weight to your resume
Use numbers in your software engineer resume to add weight. This would be very helpful to showcase your potential employer to establish your credibility. Consider this situation: 'Experienced in handling a team on a big ticket project' and on the other side you wrote 'Handled a team of 30+ people on a big-ticket project from the hands of a Fortune 500 company.' So, out of both of these scenarios, which one impacted you the most? The latter one gives away numbers and intrigues the recruiter, which helps him to know more about you and the value you can add to the organization.
This way you can take the course of conversation in a way where you can demonstrate your skills more effectively.
4. Nail the headlines
Headlines are a very essential part of your software engineer resume. There is no hard and fast rule to write a headline. But, there are two ways you can make your headline:-
You can use the job role for your headline. For example, they need software engineers with x number of years of experience then your headline can be: 4+ years experienced software engineer.
If you want to highlight your certifications or skills, then you can make your headline like CSSLP Certified Software Developer.
So, through these two headlines in your resume, you can give a glimpse of what the recruiters can expect from you early on and make an impression.
5. Presenting your work experience
It is also a very essential part of your resume because it allows you to highlight your previous skills. This section helps you to give a glimpse to the recruiter of how your skills have added value to your previous organizations and what they can expect from you if you are hired. It is the most sizable part of your resume in which you can affirm your position with numbers and figures. Also, your work timeline will help you to demonstrate your technical experience over the years, and how you evolved from a fresher to mid-senior level, and so on. It is like a story of yourself through the years you have been working.
Create your resume and get a job on Turing
Build the best Software Engineer resume with Turing's Deep Developer Profile
Apply Now
6. Skills required for software engineer Jobs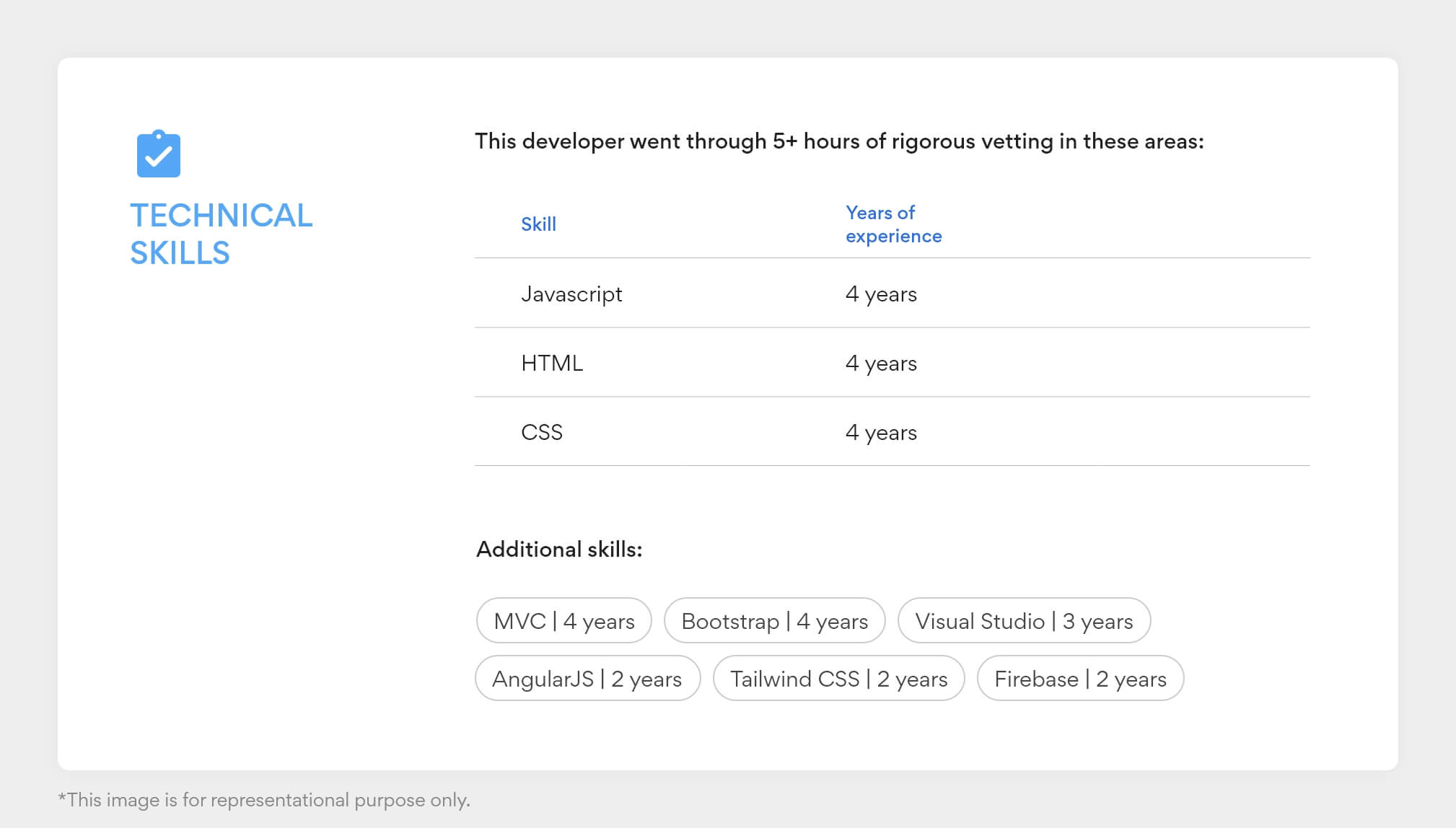 If you want to land a software engineer job, you must possess a specific skill set that is unique to this job. Again, there should be an emphasis on being crisp and clear in your writing. The skills section is the most crucial part of your resume along with the work timeline. Flaunt your skills as much as possible and add value through certifications.
Some of the skills you should possess as a software engineer are listed below:-
Primary skills
Javascript
SQL
Ruby
PHP
Python
C
C#
C++
Linux/Unix
Perl
Shell
Agile scrum
Node.js
Database architecture
Secondary skills
Critical thinking
Data analytics
Operating systems
Version repository systems
Process analysis
7. Presenting your education
You should present your education and the various institutions you have studied in to earn your academic degree. This way you can highlight your academic prowess and the basic qualifications needed for the job.
8. Resume writing format
There are three types of format used in resume writing, i.e.,:-
Chronological Format:- It will emphasize the employment history. It displays your employment history in chronological order.
Functional Resume:- It focuses on the skills rather than the work experience. It is good for the people who lack experience in the industry.
Combination Resume:- It emphasizes equally on work experience and the skills due to which it is the most widely used resume format.
9. Highlighting your resume with keywords and usage of good grammar
Correct English is very important for your software engineer resume. Even one single mistake can cost you the software engineer job for which you are applying. Always proofread the content which you are writing in the resume to make sure you are using correct English.
Keywords will help you to get the attention of the hiring managers. Also, most companies are using resume parsing software, and the keywords will help your software engineer resume to pass through the software.
Here is the list of keywords that can be very useful in your resume:-
Computer science knowledge
Programming Knowledge of coding languages
Code optimization
APIs
Information retrieval
Software design
Oracle
JIRA
Knowledge of web applications
Knowledge of distribution systems
Distributed computing
Technical documentation
Project management
Agile software development
Observation
Planning
Problem-solving
Collaboration
Communication
Active learning
Adaptability
Innovation Mentoring
Creativity Organization Leadership
Responsibility Analysis
10. Add a short video introduction
A short video introduction may seem like an extra step but it helps you to develop a one-to-one conversation with the recruiter. In this video introduction, you should sum up your experience, skills, and achievements. It will give you an advantage over other candidates because you would have a unique approach towards the recruiter.
Create your resume and get a job on Turing
Apply for remote software engineer jobs with top companies!
Apply Now