In a perfect world, a resume isn't required. A recruiter would reach out to you with the words "Your ex-colleague James spoke highly of your time at ABC pvt.ltd, we would love to talk to you, can we arrange a meeting this Wednesday?"
But in real-life you are to apply with your CV and James will vouch for you. Therefore, there is a long chain of processes where people will evaluate you.
This is why it is important to have a CV which showcases all your relevant skills and work experience in a positive light. It is your first chance to really shine and if used properly can land you one of the top PostgreSQL developer jobs and send your career skyrocketing towards success.
To guide you, we at Turing.com have curated 10 crucial points to remember while building your PostgreSQL developer CV.
1. Know the purpose of your PostgreSQL developer resume
The intention of your resume is to sell yourself effectively to get an interview call from the recruiter. This is entirely different from narrating your professional story. Your resume should convince the recruiter that you are a good fit for the Postgre developer job role. Therefore, try to keep away from redundant information.
2. Give a clear headline to your PostgreSQL developer resume
The recruiters scan through hundreds of resumes daily, they don't have time to go through your resume in detail, so do keep your words thoughtfully so that recruiters are not misled and will get you the necessary attention. If you are invited to an interview and later the recruiters discover that you mentioned something which is not true, you are less likely to be hired. Therefore always keep this in mind.
Before going into the details of your work experience and educational degrees, make sure you have a cool eye-catching headline for your resume that clearly states your designation and your years of experience. For example, PostgreSQL developer with 5 years of experience and expertise at top MNCs. This should be the focal point of your PostgreSQL developer resume.
3. Showcase your PostgreSQL developer skills
Here comes the fleshy part of your CV. Highlight your main PostgreSQL skills, as well as the projects you accomplished. Your previous projects and work experiences as a PostGre SQL developer. Do mention your DBA (Database Administrator), JSON skills that are most relevant to PostGreSQL job developer profile.
4. Have a professional email address
Of all the resume tips and suggestions, this is the most obvious. It's worth mentioning that the use of an informal and unprofessional email address will reject you 76% of the time.
Therefore, it's better to switch to a formal one, an email that sounds more professional.
For instance, jameslikespizza@gmail.com sounds childish, prefer something like james.webb@gmail.com if that's available.
5. Update your contact information and decide the format of your CV
This is extremely crucial, double check that you have updated your contact details on the CV. Suppose you changed your number but didn't update it in your resume, this could cost you a lot.
Also mention your most recent address, this way the recruiting manager won't be ambiguous about your location.
The most popular and widely utilized format while writing a resume is the reverse chronological order, where you begin from your latest work experience and go on to list out all your previous roles. However, if you wish to focus on showcasing your skills and tech stack, then you may also choose to follow the functional format. Utilize the functional format if there have been employment gaps.
You can also opt for the hybrid one, a combination of both chronological and functional, where you showcase your most relevant skills and outstanding work achievements.
Create your resume and get a job on Turing
Build the best PostgreSQL developer resume with Turing's Deep Developer Profile
Apply Now
6. Keep Font size to 10-12 and name your file properly
Choosing the appropriate font size is extremely important for an attractive and appealing CV. Keep it between 10-12 so that the recruiting manager can read it clearly and without much effort.
This is one of the most essential expert advice, always name your CV properly with your name in it. For instance just PostgreSQL CV.pdf wouldn't do good. Name it as John_Doe_PostgreSQL_CV.pdf
7. Keep it brief and quantify your experience with numbers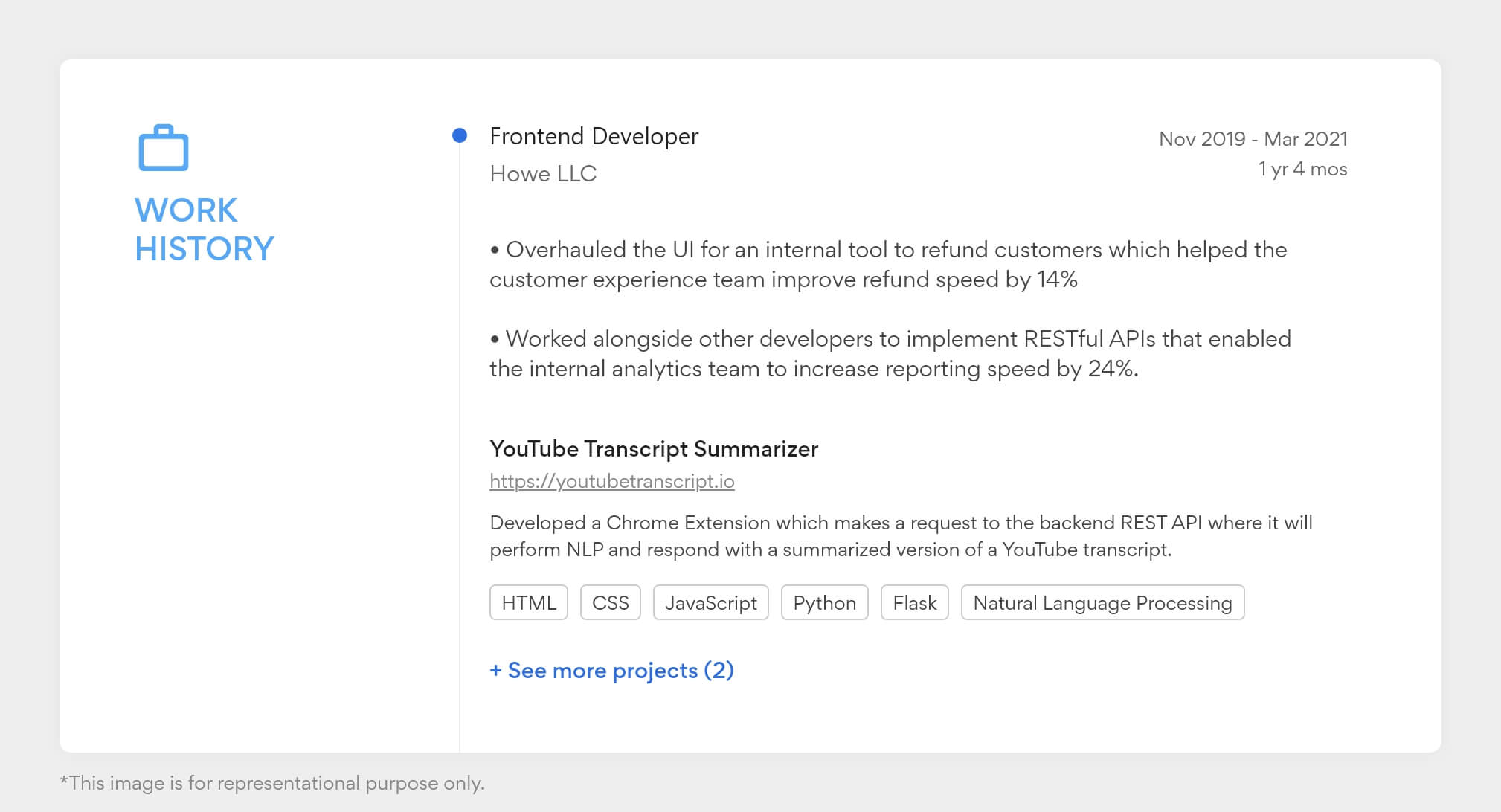 As mentioned above earlier the recruiting professionals are very occupied with their workload and they scan through hundreds of resumes every day. Therefore it's wise to keep your PostgreSQL developer resume as short as possible. Try to keep it within 2 pages, that's ideal. Also, add all your relevant experience in numbers for the recruiter as it helps you add weight to your resume.
8. Talk about your education
Mention your education history, the institutes you went to, the other certifications you have secured, etc., in a tabular manner. This will help the hiring manager to rapidly glance through your educational history and have a brief understanding about you.
9. Optimize your resume with keywords and good grammar
As obvious as it may sound, accurate English and grammar are vital and so are the appropriate keywords. Using relevant and optimized keywords in your headline, on the subheads, and in the copy smartly can get your PostgreSQL developer resume featured in the top search results on search engines.
Use these precise keywords to help potential employers see you as the ideal complement to their team:
Identifying
Programming
Creating
Diagnosing
Testing
Executing
Maintaining
Communicating
Informing
Consulting
Innovating
Recommending
Troubleshooting
Designing
Documenting Database
Query Language
SQL
NoSQL
PostgreSQL
10. Utilize action verbs whenever possible and avoid using too many jargons
Take a quick relook at your resume, you must have used the words " responsible for" a lot of times. You should replace those with action verbs. Utilizing action words is one of the top techniques out there.
Be aware that not every verb is an action verb.
For example, you led a project, instead of led try these words: chaired, controlled, headed, executed, orchestrated.
You saved the company's time, use deducted, reduced, etc.
You increased revenue and sales. In this scenario, you use the words achieved, boosted, maximized etc.
Hope this gives you a clear idea about the importance of action verbs in resumes.
The hiring manager may not be well aware of the tech jargon common in your locality. Try writing in simple layman's terms and using easy to understand language wherever possible.
Create your resume and get a job on Turing
Build the best PostgreSQL Developer resume with Turing's Deep Developer Profile
Apply Now