Do you want to work as a remote MERN developer for a renowned US company? Then you already know how critical it is to have a solid resume to thrive in your field. In your job search, a well-written resume might make all the difference. It makes a fantastic initial impression on the reader and highlights your professional qualifications. A strong MERN developer resume can help you maximize your time to impress the technical recruiter and boost your chances of landing your dream jobs.
So, how can you write a strong MERN developer resume that will help you land the best MERN developer jobs?
This article is a step-by-step guide written by Turing experts to help developers create a cutting-edge MERN developer resume. Follow this in-depth guide to create a MERN developer resume to help you grow your profession.
1. Make a fantastic bio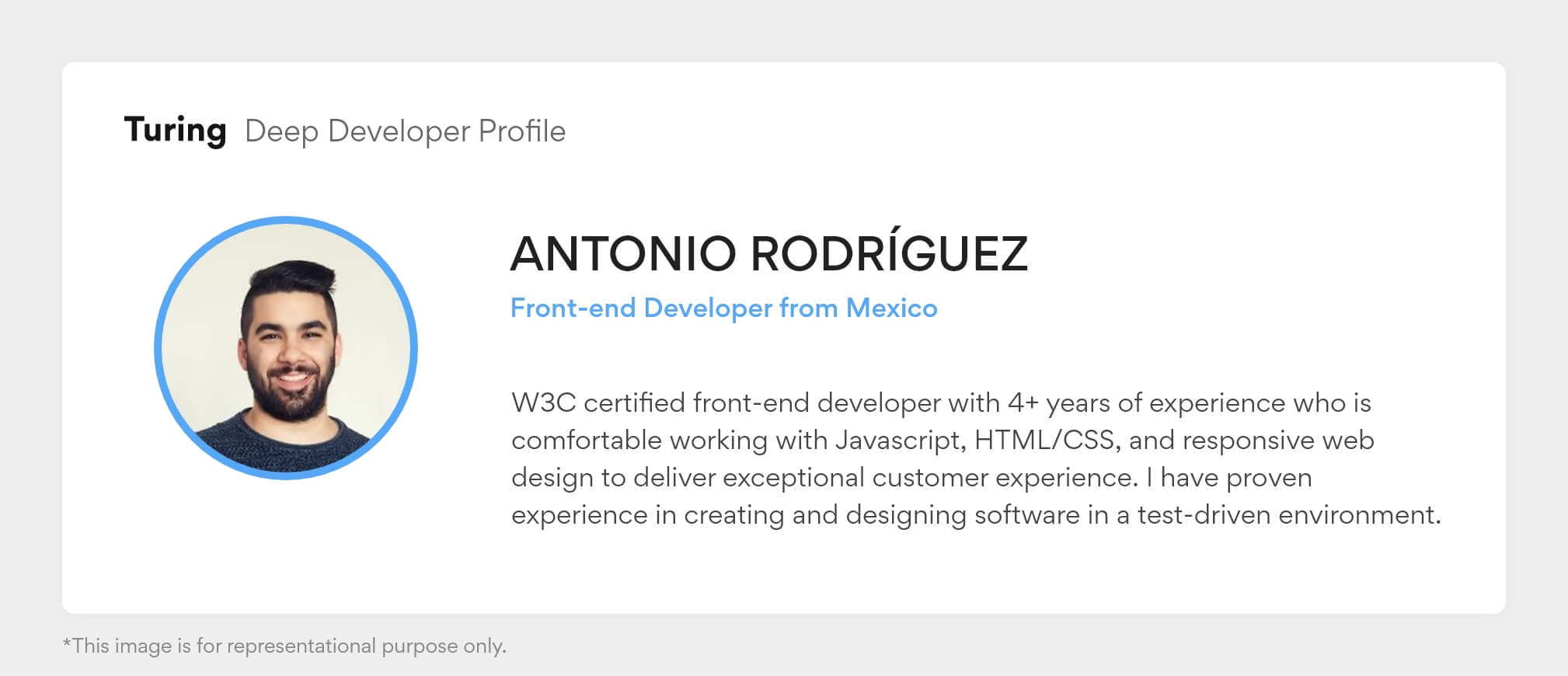 You don't know where to start when it comes to writing a MERN developer resume? Begin with an engaging 'About Me' section; keep this bio brief and to the point to create a hook that will lure the reader into reading. Add your name and contact information to make it easier for the recruiter to contact you.
Don't forget to include skill-based keywords In your MERN developer resume. When you summarize your professional experience in your bio, just add a few keywords.
2. Tell them about your great story
Like the rest of us, recruiters like reading stories. One of the most effective ways to pique recruiters' interest in you as a MERN developer is to use your unique journey as a hook. Avoid using the conventional way of writing a MERN developer resume if you want to make an impact with your resume.
3. Start with a strong headline
It certainly makes a difference when you begin the MERN developer resume with a catchy title and a strong introduction. Make it concise and straightforward by specifying your years of experience in the title, such as 'Senior MERN developer with 6-years of experience'.
A more customized headline is a better option. Make the headlines of each application as unique as possible, as each organization has its own definition of the ideal candidate for their job role.
4. Choose a format for your MERN developer resume
Choosing a suitable resume format is an important step in the process. Every professional role has a set of critical targets to achieve. Choosing the right format can do wonders for you if you highlight your strengths in your MERN developer resume. So, you can present your resume in either a reverse chronological or functional format.
If you choose to use a reverse-chronological format, start with your most recent position and add other positions in the reverse order.
On the other hand, if you choose a functional format, begin with your skills rather than your years of experience and proceed to your job responsibilities in functional order.
5. Include a career timeline in your resume
You need to include a career timeline in your MERN developer resume. The reader will better understand your career path and how you became a specialist in your industry. This can be the focus of your resume, providing a concise overview of your professional background and technical skills—mention specific events or significant achievements that benefited your career.
Create your resume and get a job on Turing
Build the best MERN developer resume with Turing's Deep Developer Profile
Apply Now
6. Make a list of the MERN developer skills you possess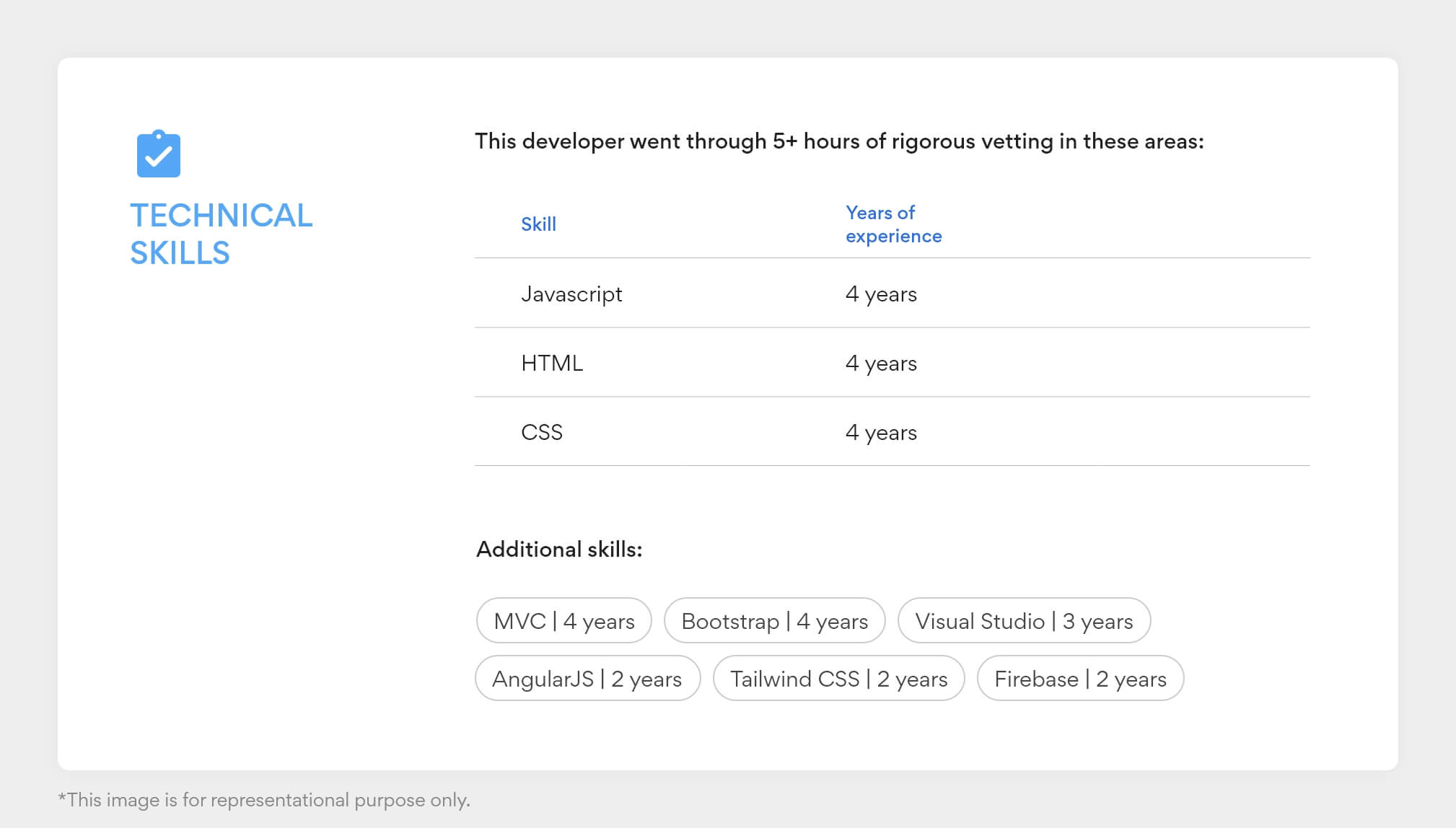 Every job requires a unique set of skills; some are required, while others help you stand out from the crowd. In your resume, list your critical MERN developer skills and explain how they've helped you achieve your career goals.
When describing your skills, provide a few sentences about how each helped your previous employers or clients make the right business decisions. You can also make your MERN developer resume more dynamic and pleasant by using fun icons for each skill.
If you're unsure how to add this section, simply list your skills or categorize them into primary and secondary categories. This will draw attention to your areas of experience and make it easier for a recruiter to evaluate your capabilities for MERN developer jobs.
Your MERN developer resume should include industry-standard skills to convince recruiters about your skills. Recruiters search for the following skills while looking for MERN developers.
Primary skills (technical)
HTML5
CSS3
MVC
SASS
LESS
Java script
ES6
JQuery
AJAX
JSON
XML
Document Object Model (DOM)
MongoDB
Mongoose
Secondary skills (design and web performance-related)
UI/UX design
Visual editing
GIT/Version control
Wireframing
Debugging
7. Include details about your educational history
Besides a professional's skill set, recruiters need to know about your academic qualifications. Although it may not always be the determining factor, it has a significant impact on how you've been shaped as a person. Your school, college, or university, as well as your grades, should be mentioned. You can also list any additional certifications you have.
This should be written so that the reader can follow your journey from student to professional life.
8. Add numbers to your MERN developer skills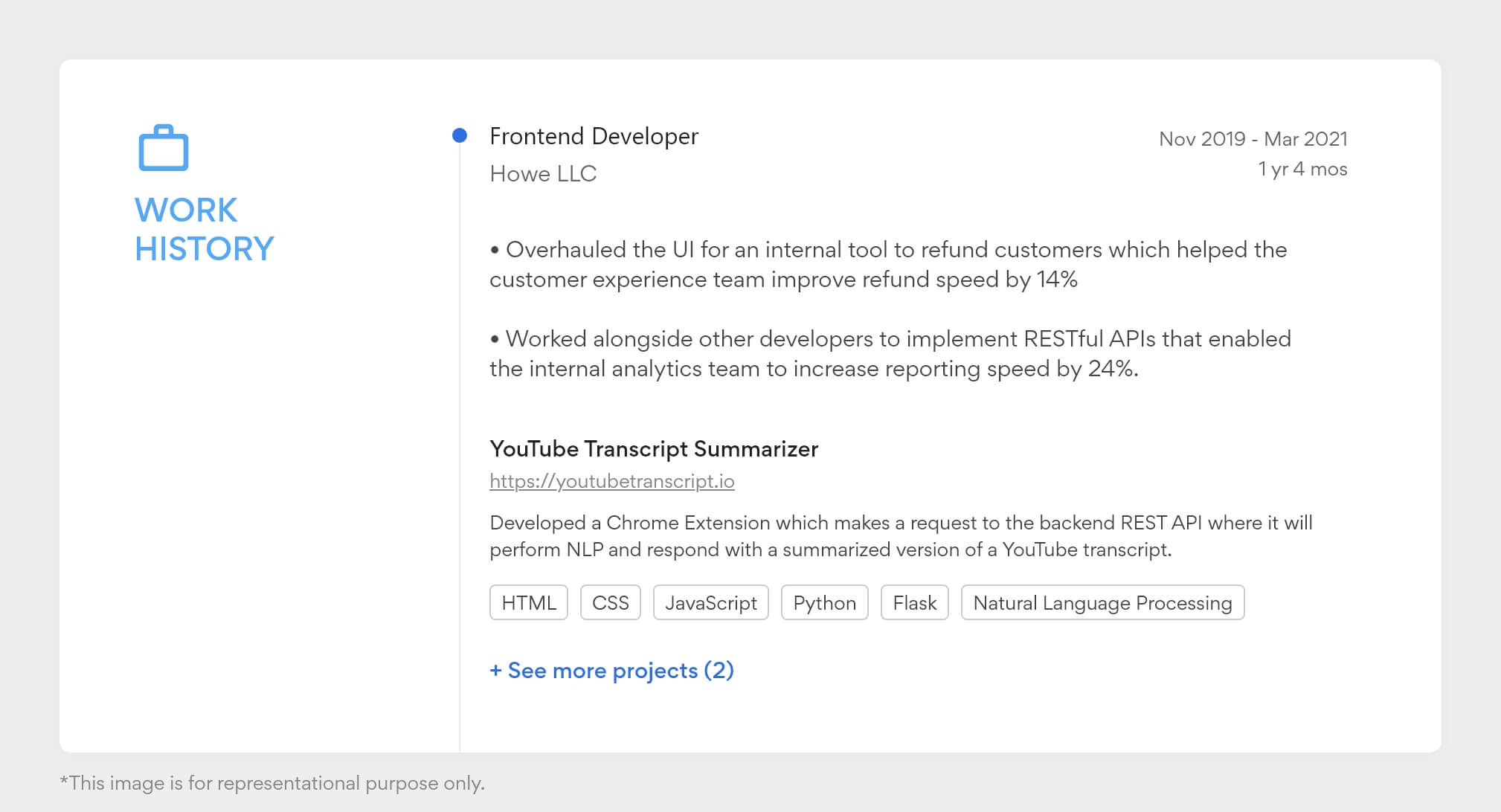 Numbers are significant in the business sector. They increase your chances by showcasing your ability to quantify qualitative work. To make a stronger impact using your MERN developer resume, emphasize your years of experience working with clients or organizations, as well as your numerical skills.
Mention your accomplishments and side projects in your application; this information adds value to the resume and increases your chances of being recruited further. Also, keep in mind that your resume should be short and to the point.
9. Include keywords and double-check for grammatical errors
Even though each language has its unique significance, English is the most widely spoken language on the planet. You should be fluent in English if you want to secure the best MERN developer jobs in the United States. Also, check for grammatical errors in your MERN developer resume.
You should incorporate skill-oriented keywords in addition to good grammar. This has a pleasant influence on the reader, and it enables resume sorting software to capture your resume for more opportunities.
Here's a small list of terms related to MERN development that you can use in your MERN developer resume.
Developing
Programming
Creating
Designed
Testing
Executing
Update
Integration
Coding
Bootstrapping
Documenting
10. Incorporate a brief video introduction
This is a novel and successful strategy. Include a brief video introducing yourself as a professional in your MERN developer resume. In less than a minute, summarize your professional skills and experiences. A video might create a sense of urgency to go above and beyond to get recruiters' attention.
Create your resume and get a job on Turing
Build the best MERN developer resume with Turing's Deep Developer Profile
Apply Now