Are you an expert remote GraphQL developer planning to work with the best US software companies? If so, you would understand the importance of applying with an impactful resume.
An efficient resume helps to grab the employers' attention and highlights your skillset quickly. Your CV acts as the first window of opportunity to impress recruiters, and we all know the importance of making an excellent first impression.
So how to prepare the best GraphQL developer resume suited for the industry?
This article is a small attempt by Turing to help professionals take their careers to the next level and secure one of the best remote GraphQL developer jobs. Check out these essential pointers to keep in mind when creating your GraphQL developer resume.
1. Start with a great intro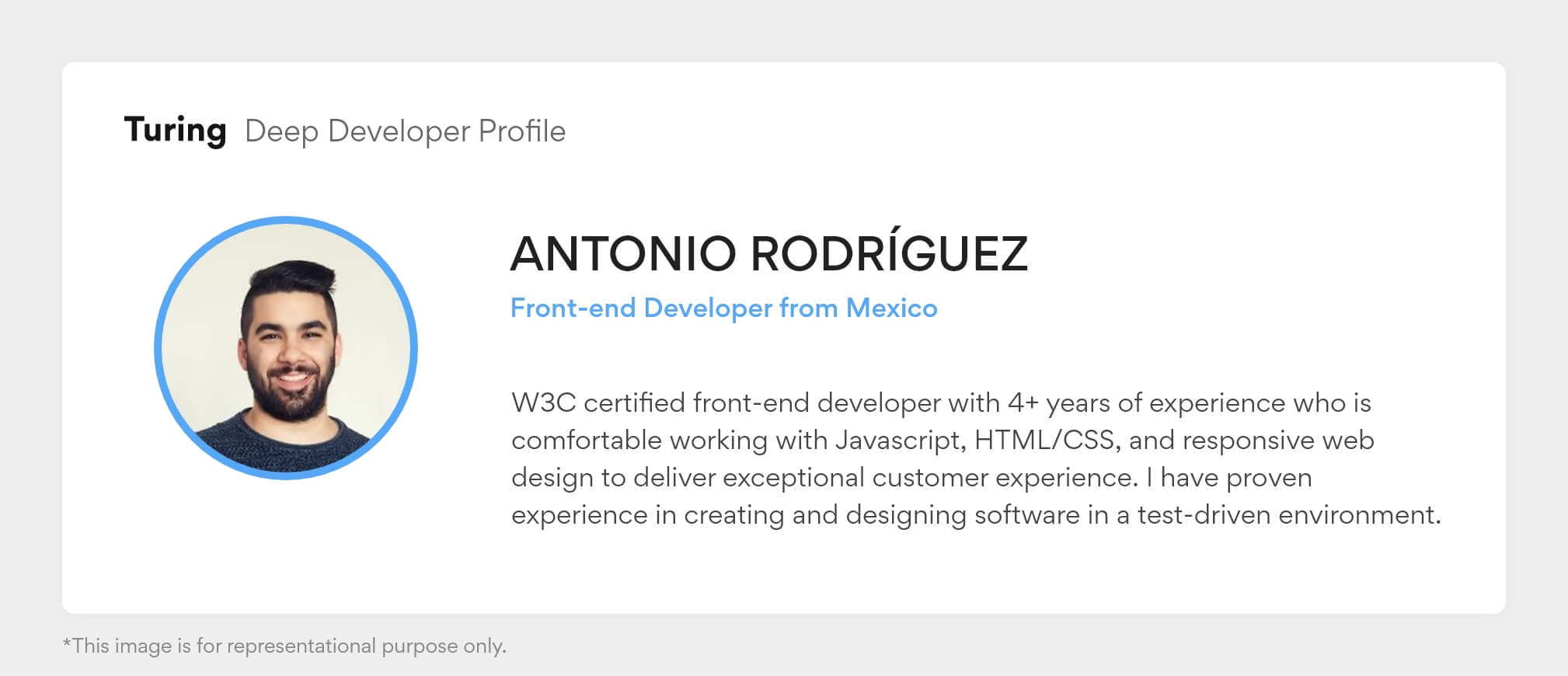 When creating your GraphQL developer resume, make sure to open with an excellent 'About Me' section. Keep the bio brief but make it informative enough to grab the reader's attention right away; include this right after your name, phone number, and email addresses. While the advice may sound basic, it can do wonders and increase the chances of getting the interview call when used properly.
Also, when you draft your GraphQL developer resume, don't forget to include skill-based keywords. Sprinkle in keywords along with a quick insight into past projects as a GraphQL developer. This will help your resume to stand out from the rest and increase your chances of getting hired.
2. Use your resume to tell your story
It's best if your GraphQL developer resume is written like a story. Everybody likes to read inspiring stories, so take the recruiters on a quick journey through your professional life. So, if you're looking to build a resume that doesn't sound generic and increases your chances of landing the best GraphQL developer jobs, don't be afraid to tell your story.
3. Open with an awesome headline
Before you shed light on your skills and dive into the details, start your resume with an appropriate headline. Write a headline that outlines your designation while also stating your professional experience level. Here's an example of a well-written headline: 'Senior GraphQL developer with 5+ years of experience'.
Customize resume headlines, if possible, for every job application. Open with details the recruiters are looking for to fill the role.
4. Select your preferred GraphQL developer resume format
When preparing a resume, professionals usually prefer to stick to the popular Reverse chronological order. Yes, it is a proven and efficient format, starting with the newest roles and past experiences. Although never be afraid to try out different models like the Functional Format, which emphasizes your skills rather than technical efficiency.
Apart from these two, you can always choose to prepare your GraphQL developer resume using a hybrid format. It balances the importance between experience and skillset and makes it easier to showcase your professional accomplishments.
5. Add a professional timeline
In a resume, including a detailed and insightful professional timeline can make a world of difference. It can work as the nucleus of your resume showing your professional journey and accolades you've collected along the way. Include references to support your claims, if possible. Also, shed light on the time it took you to secure a senior-level position.
Create your resume and get a job on Turing
Build the best GraphQL developer resume with Turing's Deep Developer Profile
Apply Now
6. Showcase your GraphQL developer skillset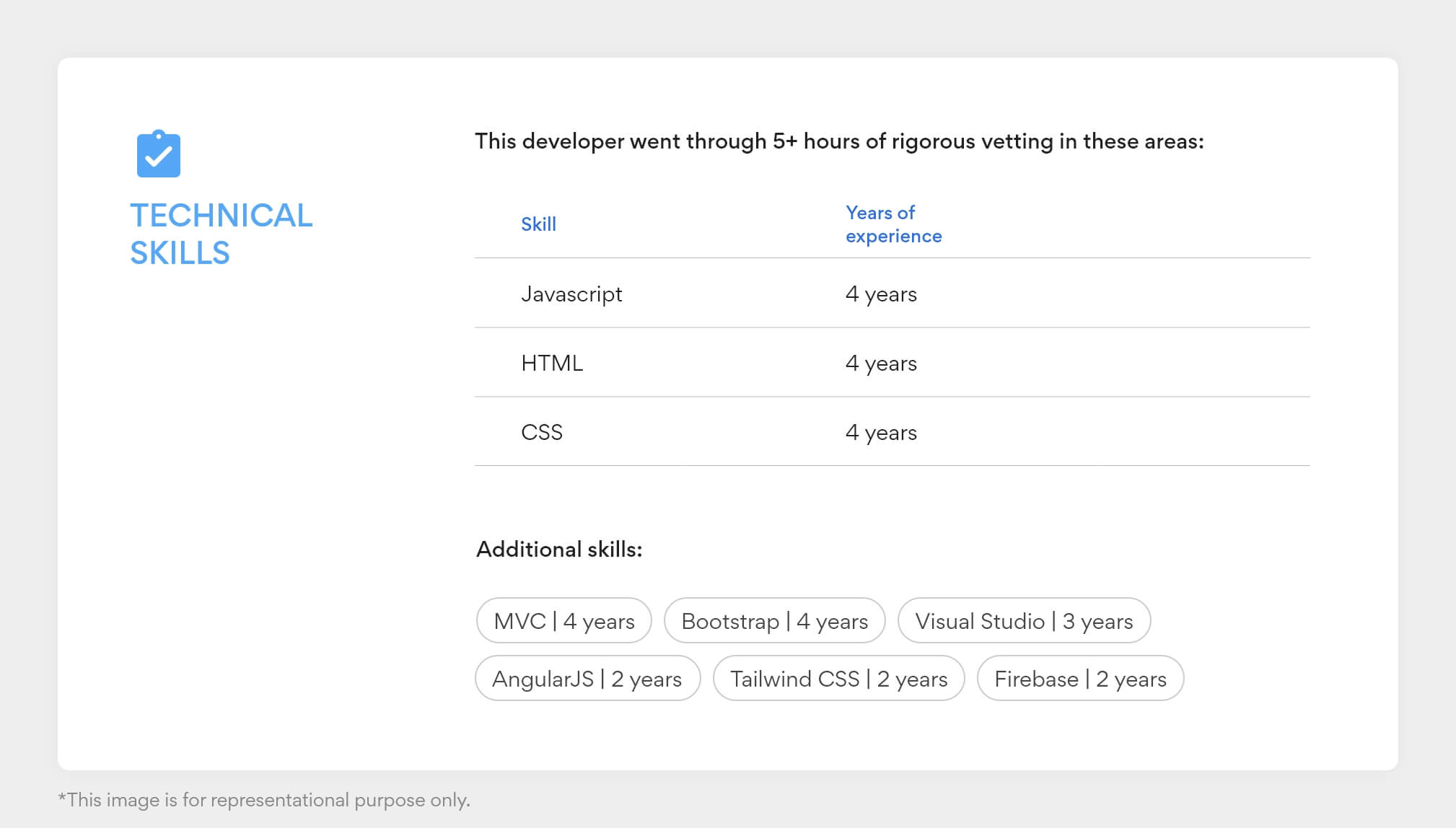 Use this section for diving into the details of your skillset. Shed light on your core areas of expertise and related skills that have helped you to secure GraphQL developer jobs in the past. Write the details as lists and never be skeptical about including insightful icons for each; icons can efficiently turn attention towards essential information. Also, when listing your skills, try and include a line or two about how they've helped your previous employers to reach their targets.
While you can include simple lists of your GraphQL developer resume, you can also choose an alternate approach. For example, you can choose to split up your skillset into two sets - Primary and Secondary Skills. This will help recruiters to quickly understand your core expertise and skills you've working knowledge of.
Furthermore, it is essential to present your skillset; it can make a world of difference. You can go with the usual format.
Or, try this alternate approach.
To impress recruiters and decision-makers at first glance, your GraphQL developer resume should include skills like:
Primary skills (Technical)
GraphQL
Bootstrap
JavaScript
Node.JS
React Native
TypeScript
Secondary skills
UI/UX design
Visual editing
SQL
AWS, Azure, and related cloud services
Debugging
7. Mention academic qualifications
You must include your educational details in detail in your GraphQL developer resume. Include details like institutes you've attended along with the grades that you've secured; also mention details of any other certifications that you've completed to increase chances of selection. Try to use a tabular format for this section as it helps recruiters to go through your academic background and understand you better quickly.
8. Add numbers to quantify your skills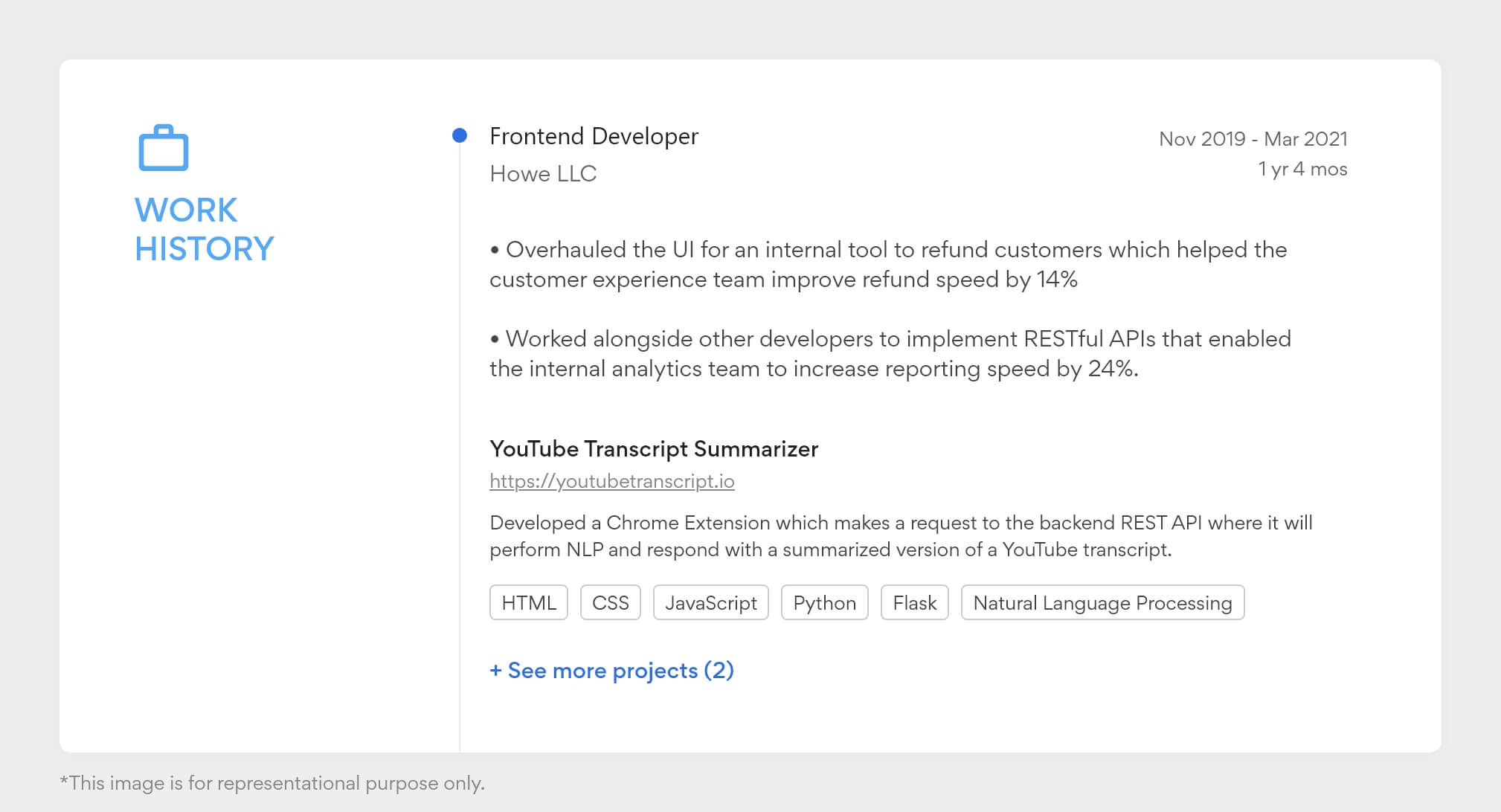 Numbers can work miracles, especially if you use them with the right strategy. The right ideas can make a huge difference and help to answer a lot of value-oriented questions. Also, when writing your GraphQL developer resume, do not be shy about including personal accomplishments and side projects. Such details can significantly increase your chances of landing your dream GraphQL developer job. Just keep in mind not to make the CV too long, try to keep it within a maximum of two pages.
9. Use good grammar and include keywords
It may sound overused, but English is essential for securing the best GraphQL developer jobs in elite US companies. The keywords are also important; include keywords in the headline, section headings, and through the entire body. This will make a positive impact on your chances and help hack the resume sorting software algorithms.
Also, when including skill and experience-related keywords, use expertise-related ones to compliment your application.
Developing
Programming
Creating
Deploying
Testing
Executin
Update
Integration
Conceptualize
Coding
Bootstrapping
Documenting
Debugging
10. Include a short video summary
If you've often faced difficulties securing the best GraphQL developer jobs to take your career forward, you may not be showcasing your skills properly. Even if you have the required skills and experience for the opening, it will always be a hurdle without the proper resume.
Turing helps professionals build an efficient GraphQL resume using a deep developer profile. All you need to do is clear the Turing coding test and interview; we'll take it from there. Turing resumes showcase a validated skillset and help find the best jobs with the best US companies.
Hundreds of software professionals have already joined Team Turing and attracpting elite jobs with the best US and Silicon Valley companies. We've managed to streamline the process using a Deep Developer rofile.
Create your resume and get a job on Turing
Build the best GraphQL developer resume with Turing's Deep Developer Profile
Apply Now