Are you looking for the best GCP developer jobs to grow in your career? If you have tried your hand at securing a high-paying job at reputed Silicon-valley companies, then you know the critical role a good GCP developer resume plays. A clean and precise GCP developer resume helps you emphasize your key skills and impress the recruiters. After all, it is the first window of your skills to the hiring managers. And since first impressions last, it is crucial for you to establish yourself as competent and professional to grab their attention.
But, a badly written resume can significantly lower your chances of securing the top GCP developer jobs, so be mindful of every detail in the resume.
Now, how can you perfectly balance all your finer points, professionally portray your skills, and make sure the recruiter notices your resume?
Turing professionals have got some great tips that can improve your resume and help you land the best GCP developer jobs.
1. Begin with an excellent bio
An excellent 'About me' section, right at the beginning of the resume, aptly summarising about yourself, can give the hiring managers a general idea about you.
Add an appealing 'About me' section at the beginning so the hiring managers can understand more about you. Be sure to include a clear email address, phone number, and list of your social media handles in your resume's bio section so recruiters who are interested in your background find it easy to contact you for an interview. Also, be sure to include any keywords for your best skills and describe the types of projects you have worked on. The more specific you are, the easier it will be for recruiters with the appropriate connections to find you.
2. Tell your GCP developer resume in the form of a story
Stories are the best way to capture people's attention. So tell your story with your GCP developer resume by laying out your projects, your experience with GCP development, and anything else that you think is relevant to your life and career.
Your narrative can impact how employers decide whom to hire. A good GCP developer resume can help you turn your ideas into a clear picture of your achievements and skills.
3. Start with a great headline
A good resume headline can attract readers' attention and prompt them to read on. So, use an attention-getting headline to begin your resume, and then go into detail about your skills and achievements.
For example, here is a headline taken from a GCP developer resume: 'GCP developer with 5+ years of experience'. This impactful headline aptly summarises your experience.
4. Use proper structure for your GCP developer resume
There are many ways to format a resume, with most professionals preferring the popular reverse chronological format. This format starts with the most recent employment information and works its way backward. While this achieves the goal, you can take a different approach. For example, you can structure your GCP developer resume in a functional format by using a GCP resume template, emphasizing your abilities and technical expertise, and assisting you in making a stronger first impression.
5. Present a thorough timeline of your work history
Your work experience is a major component of your resume. A GCP developer resume that lists the timeframe in which you got promoted, won an award, or even joined a club can give you an added advantage. To your timeline, add any additional info such as job titles, employment durations, and achievements. You could also use the one-page GCP developer resume template to create your GCP technical resume showcasing your consistency with skills and experience. Also, briefly mention how long it took you to reach your career milestones. Remember, your professional timeline is the most crucial part of your GCP developer resume.
Create your resume and get a job on Turing
Build the best GCP developer resume with Turing's Deep Developer Profile
Apply Now
6. Highlight your GCP development skills
Here, you can talk about your core strengths such as the skills that you would be happy to apply in your next job. To make this section more appealing and memorable, include some icons to catch the recruiter's attention. Make it apparent how your skills have helped past employers overcome a business problem.
Hone in on your skills and weave them into your resume as if they are part of the story. To do this, first determine which skills you feel most confident about, then focus on those in your resume. Finally, categorize them as primary and secondary skillsets so that recruiters can easily gain insight into your professional experience.
To grab the recruiter's attention, including the following skills in your GCP developer resume will help:
Primary skills (technical)
Python
Go
Node.js
Ruby
PHP
Cloud functions
Cloud run
App engine
Kubernetes engine
RESTful APIs
Secondary skills (design and web performance-related)
Cloud infrastructure components
SaltStack
Ansible
7. Include your educational background
Put your academic background at the top of your resume. Include information about the schools you have attended, your grades, and any other achievements you have achieved. Enlisting all this will show that you are motivated and have set goals for yourself. To get hired faster, make sure to use a table form layout in this part of your GCP developer resume.
8. Use numbers to quantify your skills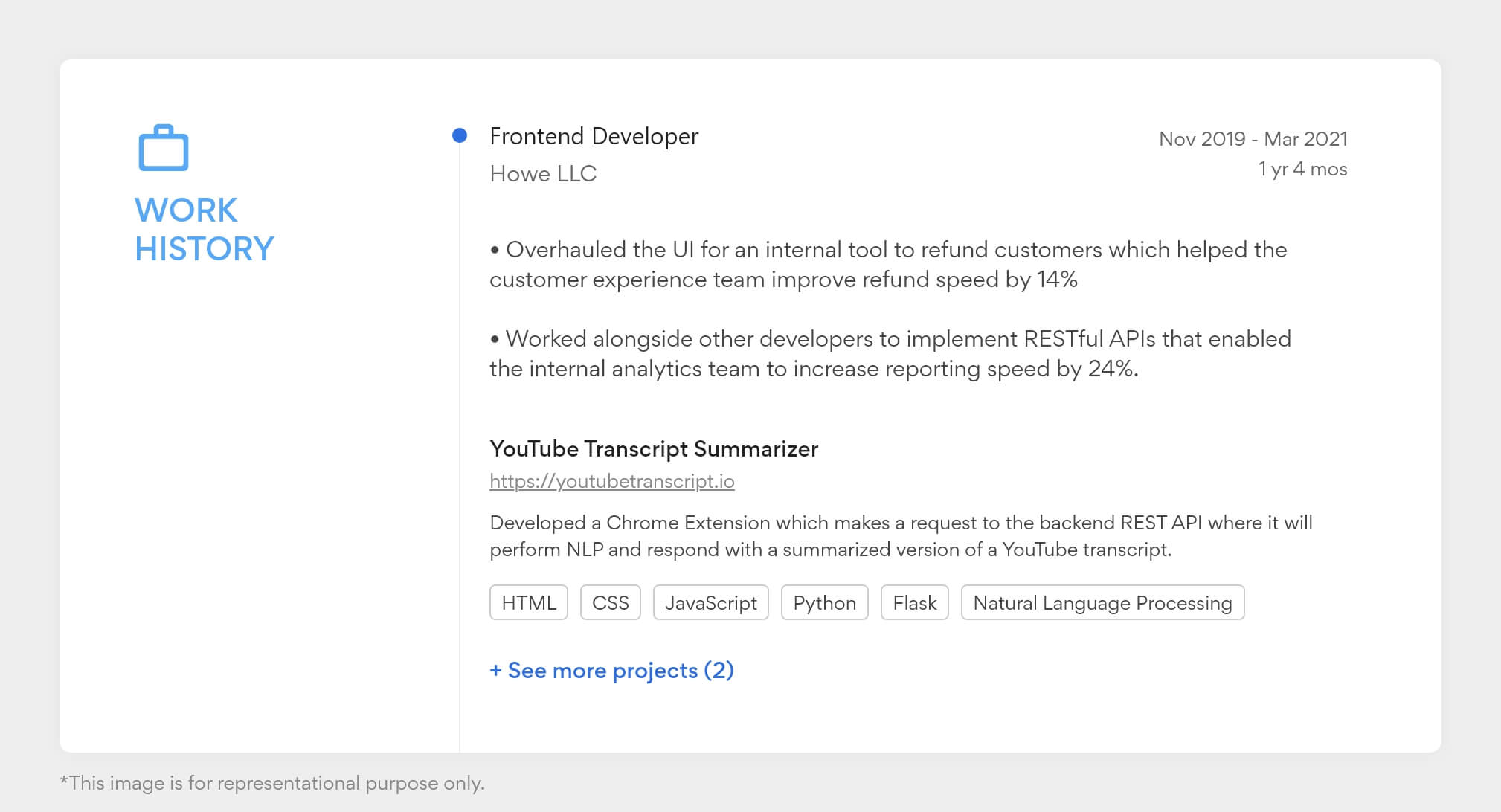 Numbers can play a crucial role in the modern workplace. They allow you to quantify and impressively demonstrate your competency and experience. Providing examples of your work will greatly increase your chances of getting hired for the best GCP development jobs.
Do not let your resume exceed two pages in length. Select and present only the important information so that recruiters can easily scan your resume.
9. Avoid grammatical errors and use appropriate keywords
To create an effective resume, use correct grammar, spellings, and relevant keywords. Good English skills are required to land the best GCP development positions in US companies. Include GCP-related keywords throughout your resume. If you have these things on your resume, it will look professional to the recruiters. Even if you are the most qualified candidate, a single error on your resume can persuade recruiters to reject you.
Here are some skills-related keywords you can include in your resume:
Developing
Programming
Creating
Testing
Executing
Update
Frameworks
Designing
Deploying
Conceptualize
Coding
Documenting
Debugging
10. Sum up your resume in a brief video clip
Even if it seems excessive, making a short video about yourself will give you an advantage over other applicants. Tell about your skills, abilities, and accomplishments in a way that makes them stand out.
Create your resume and get a job on Turing
Build the best GCP resume with Turing deep developer profile
Apply Now