A detailed and well-furnished resume is the key to your success. If you want to work with the silicon valley giants then you must definitely pay heed to the importance of an impressive resume. Think about this: With your CV you are making the first impression on someone who can make or break your chances? Convincing your potential employer to hire you for the job requires effective communication in conjunction with skill-specific knowledge that a good CV will always possess.
Below we have mentioned the key takeaways to make a beautiful resume that is simple yet effective and solidifies your position for one of the full-stack developer jobs.
As the position of a full-stack developer is a unique profession in its own right, it also has some unique requirements also covered.
1. Keep it short and simple
A resume page is not required to be too long. Hiring managers will be impressed by your technical skills and background information. No one has the time to read the entire content of your whole full-stack developer resume. So it is best advisable to keep your resume concise. It can be just a single sheet to three pages long depending upon the information you want it to reflect.
The idea is to make the information as crisp as possible
Use an attention-grabbing tone for the resume: it should exude confidence with professionalism and should not sound cocky. Position yourself with your uniqueness. No one has the same skill or the approach as you have for the work. So use the uniqueness in your favour and try to sell your story by talking about yourself and creating a visual impression of yourself in the head of your employer.
You can use emotive language in your resume which means that you will use the words such as driven, boosted and accelerated and many others to elicit the emotion in the recruiter.
2. Summarize yourself to sell yourself for the job
Treat your full-stack developer resume as an advertising page and yourself a commodity. If someone wants to invest in your potential there should be something unique about your story. Highlight that uniqueness in your resume. This is a very effective way to convince the recruiter to hire you for the full-stack developer jobs.
Unfold yourself from the first line of your summary but don't take too much time to reach the end. The best practice is to narrate your story in the context of the job profile.
Tailor-make the resume for the job profile. For example, if you are writing your resume for an executive-level position then it would not make sense to add your leadership skills from high school. So add more information regarding your leadership skills in handling whole teams at the organizational level.
This will make your story in your summary relevant to the organization.
3. Attention-grabbing headline for your full-stack developer resume
The headlines should not be very flamboyant or difficult to read. A simple headline under your name which matches the job profile you are applying for is the best way to go forward. A simple example is that if you are applying for the role of full-stack developer then the title can be the same, i.e. full-stack developer with 10+ years of experience. Headings are meant to give away your background in a gist.
4. Choose the resume format
There are basically four formats for resume writing and essentially you can choose any of the following which is comfortable for you. Each style has its own use case but it is not like that there is only one best out of the four.
Here are the four formats of the resume:-
Chronological Resume:- It is best for people who have a solid employment background without any career breaks. Also, it is best for the people whose experience coincides with the job they are applying for in the market. Your work history should be written in chronological order from the first date of employment. Moreover is not necessary to include full-time employment.
Functional Resume:- A functional resume focuses on the skill rather than the employment background. It is evident from this fact that people with career gaps are the interest the most benefited from this format. In this style of resume, you will focus on how your skills will add value to their organization. Also, new graduates would be benefitted from this resume style.
Combination Resume:- As the name suggests this resume style puts equal attention to the skills and your past employment. It is like a complete package with your skills plus your employment history to back your claims. It is the most widely used format.
Targeted Resume:- This resume is tailored to the job or position you are interested in the organization. So the skills and employment history are written according to the job. For example, if you are applying for the full-stack developer job then you will write all the skills and employment history according to the job. For example, if you are, highly competent in excel sheets you will not write that until and unless that skill is providing some value to the organization and work required for the role.
5. Give a detailed timeline of your work experience
It is the meaty part of your resume where you should not just make a list of employment history but also explain it in a very engaging manner. Again, use emotive language while you make a proper timeline for your work experience. It should highlight and complement your skills: a show of your expertise in the field with the reviews and testimonials of your previous employers. The timeline of the work experience should be treated as the most important part of your full-stack developer resume.
Create your resume and get a job on Turing
Build the best full-stack developer resume with Turing's Deep Developer Profile
Apply Now
6. Highlight your core skills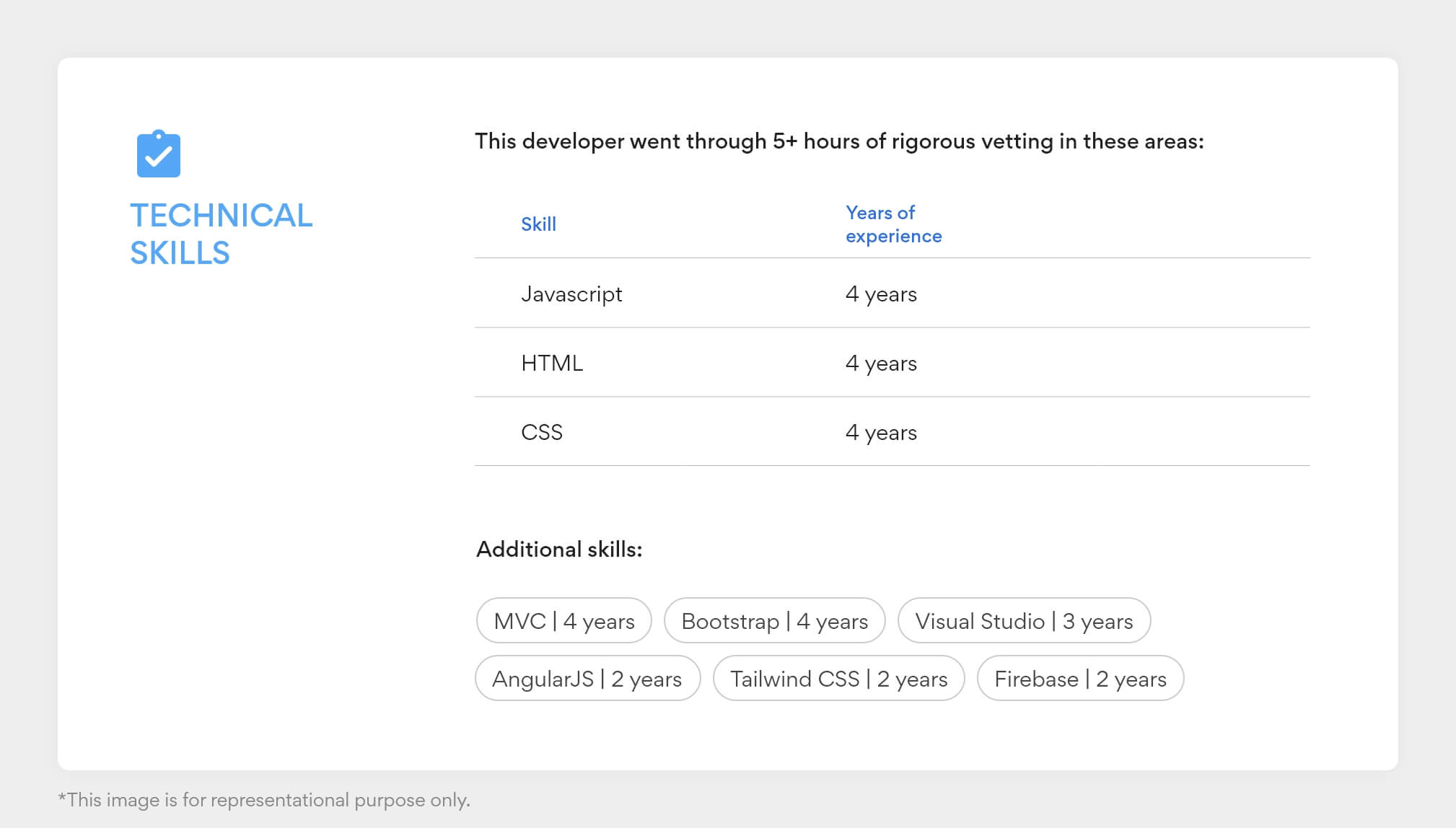 It is essential to highlight the full-stack developer skills in your resume. A full-stack developer needs competency in a highly specialized skill set. Due to the nature of the job as a full-stack developer, they need to be competent in both backend and frontend technologies. So a thoroughly developed skill section is required in your resume. It will explicitly demonstrate your expertise in the field.
7. Having the following full-stack developer skills in your resume would help you land a good full-stack developer job:
Primary skills (Technical)
HTML5
CSS3
JavaScript
Java
Python
Ruby
.NET
MySQL
MongoDB
Oracle
SQLServer
LAMP stack
MERN stack
MEAN stack
Secondary skills (Good to know)
Complete knowledge of writing quality unit test cases
All around knowledge and understanding of the automated processes for building testing, documenting, and deploying them all across the enterprise.
Working knowledge of the security systems and concerns at each layer is essential.
Functional knowledge of algorithms and data structures.
8. Talk about your education
Present your education which reflects that you have the technical knowledge and qualification for the job role. If you have the skill and work experience but you are not able to convey that you have the required knowledge or certification then your whole resume building process can go downhill. To provide your education and experience equally along with the skills.
9. Use numbers for quantifying your skills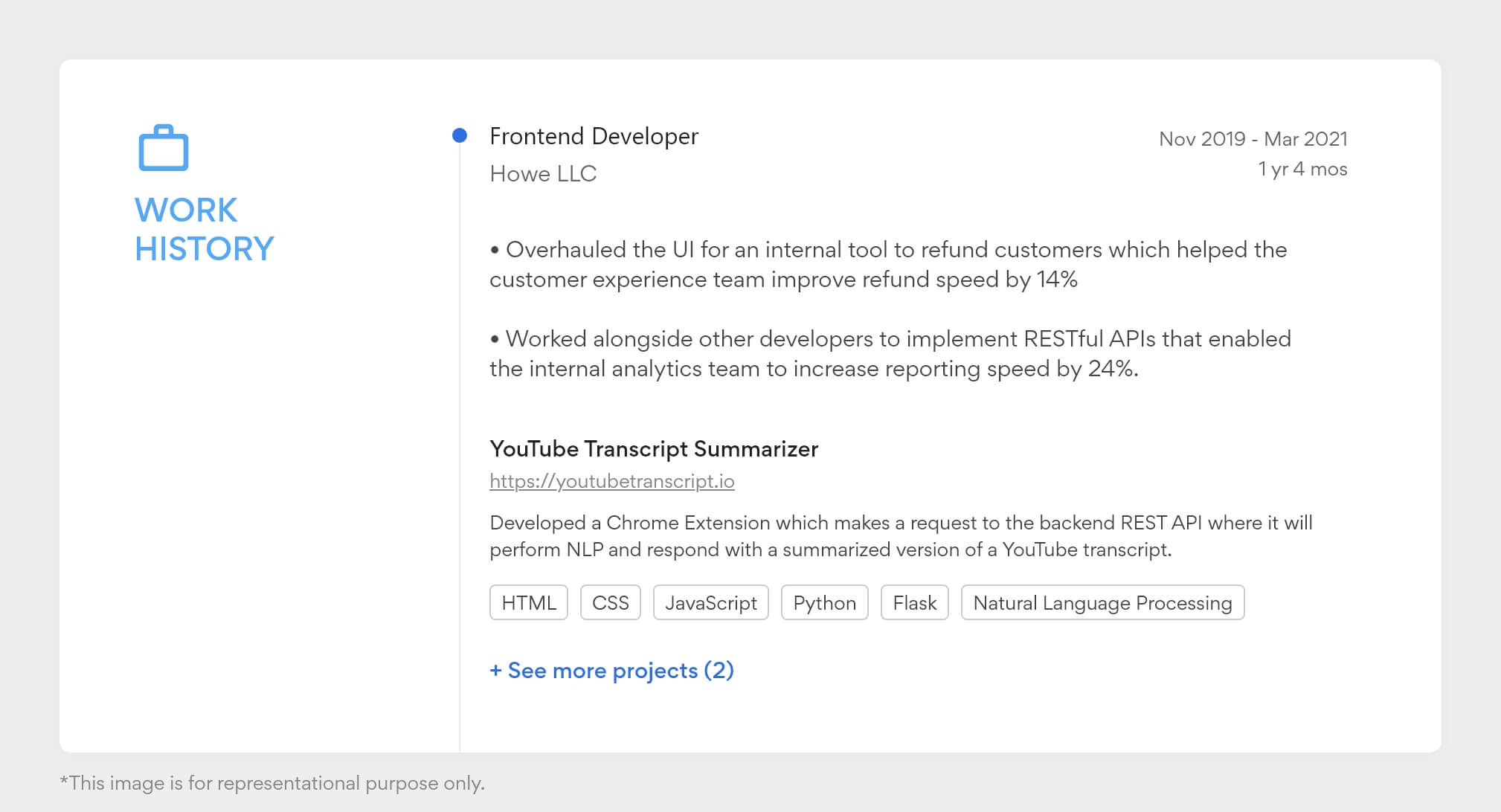 Use numbers in your full-stack developer resume to quantify the things and give weight to the value you can provide to the enterprise. This way you can impress the recruiter very effectively because your claim has the backing of the numbers. So for example you are writing the work timeline and you are applying for a leadership position. Now, while you explain your previous positions in your employment timeline if in any of the previous roles you were team lead then quantify it by writing 'Handled a team of 25 people...' The number twenty-five is quantifying your leadership skills. Likewise, across your resume, you can quantify your skills with numbers.
10. Optimize your resume with keywords and good grammar
Good grammar and spelling along with keywords is the foundation of any resume. If you don't have these two things in your resume, then it would go south in front of recruiters. A single mistake in your resume can convince recruiters to turn down a position on you even if you are the most qualified candidate.
AngularJS
JavaScript
Node.js
Cascading Style Sheets (CSS)
Web Development
MySQL
jQuery
Full-Stack Development
HTML5
Git
AJAX
Laravel
Back-End
Web Development
HTML
PHP
Front-end Development
React.js
Python (Programming Language)
Bootstrap
SQL
TypeScript
MongoDB
Amazon
Web Services (AWS)
Software Development
Docker
Products
Java
Vue.js
PostgreSQL
Symfony
Microservices
GitHub
CodeIgniter
React Native
C#
SASS
Express.js
Redux.js
Spring Boot
Scrum
Django
11. Record a short video summing up your resume
A short video demonstrating your skills and experience along with yourself also helps you to give a personal touch to your candidate profile viewed by the recruiter.
Create your resume and get a job on Turing
Build the best full-stack developer resume with Turing's Deep Developer Profile
Apply Now