Even if you are an exceptionally talented computer vision engineer, not getting callbacks for interviews at the top companies means that you likely have gaps in your computer vision engineer resume.
A well-written resume piques the interest of potential hiring managers. A resume is the first point of contact between you and the company. And it can be decisive in whether you go ahead to the next round of Computer Vision developer jobs or not.
The best computer vision engineer resume showcases and paints you as a professional in the eyes of the recruiting managers. To help you get the job you have always dreamed of, our experts at Turing.com have listed the dos and don'ts for writing a stellar computer vision engineer resume.
This article will assist you in developing a powerful computer vision engineer resume to land the best remote computer vision engineer jobs in 2023.
1. Create an interesting bio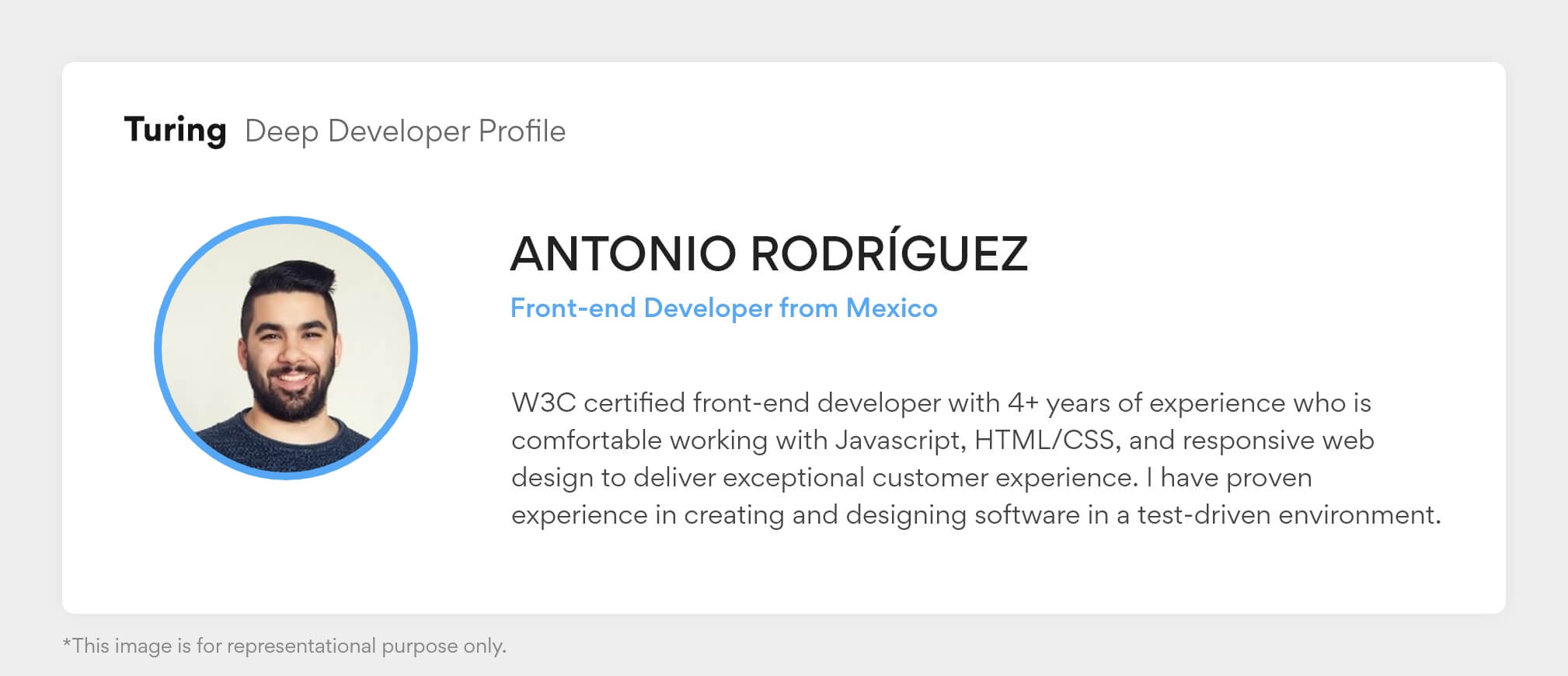 Include an attractive 'About Me' section so the recruiter can understand more about you. A well-written bio can make all the difference in capturing the attention of recruiters and increasing your odds of being called in for an interview.
If you include information like your email address, phone number, or other social media links in your bio, recruiters will be able to get in touch with you quickly. You can take examples from sample resumes on the internet to write an efficient computer vision engineer resume. Moreover, add as many relevant keywords as possible without stuffing them.
2. Treat your computer vision engineer resume as a story
Your computer vision engineer resume tells a brief story about yourself and your professional achievements. Stories take us on a journey and tell us things in a way that evokes our interest. So, if you are writing your computer vision engineer resume in 2022, remember to think of it as a tale about yourself. Create a resume that tells your computer vision engineer journey to potential employers and recruiters in the best way possible.
3. Give a great headline to your computer vision engineer resume
Before going into the specifics of your professional experience and academic qualifications, make sure you have a resume headline that explicitly outlines your title and years of experience. A sample headline could be - computer vision engineer with 4-years of experience at top MNCs.
The headline will be the main focus of your computer vision engineer resume.
4. Use the right format for your computer vision engineer resume
In general, resumes are written in reverse-chronological order, with the most recent job listed first. This is the most common and popular resume writing format for professionals. However, if you want to highlight your skills and technical expertise rather than your work history, you may wish to use a functional resume. If there is a long gap between jobs or if you have no job experience at all, consider using a functional format.
You can also choose a hybrid resume, which is a combination of chronological and functional elements in which you highlight your most relevant technical skills and phenomenal work achievements.
5. Provide a detailed work experience timeline as a computer vision engineer
This probably is the fleshy part of your CV. This is where you should clearly mention your work history. Don't just make it a history timeline. Mention your previous jobs, your work duration, the targets that you achieved, what value did your work added to the organization, etc., in a clear and concise manner.
Give stats and data about your performance, quantify your contributions. This will give your future employer a detailed idea about your caliber and why they should hire you.
Create your resume and get a job on Turing
Build the best Computer Vision engineer resume with Turing's Deep Developer Profile
Apply Now
6. Feature your primary computer vision engineer jobs skills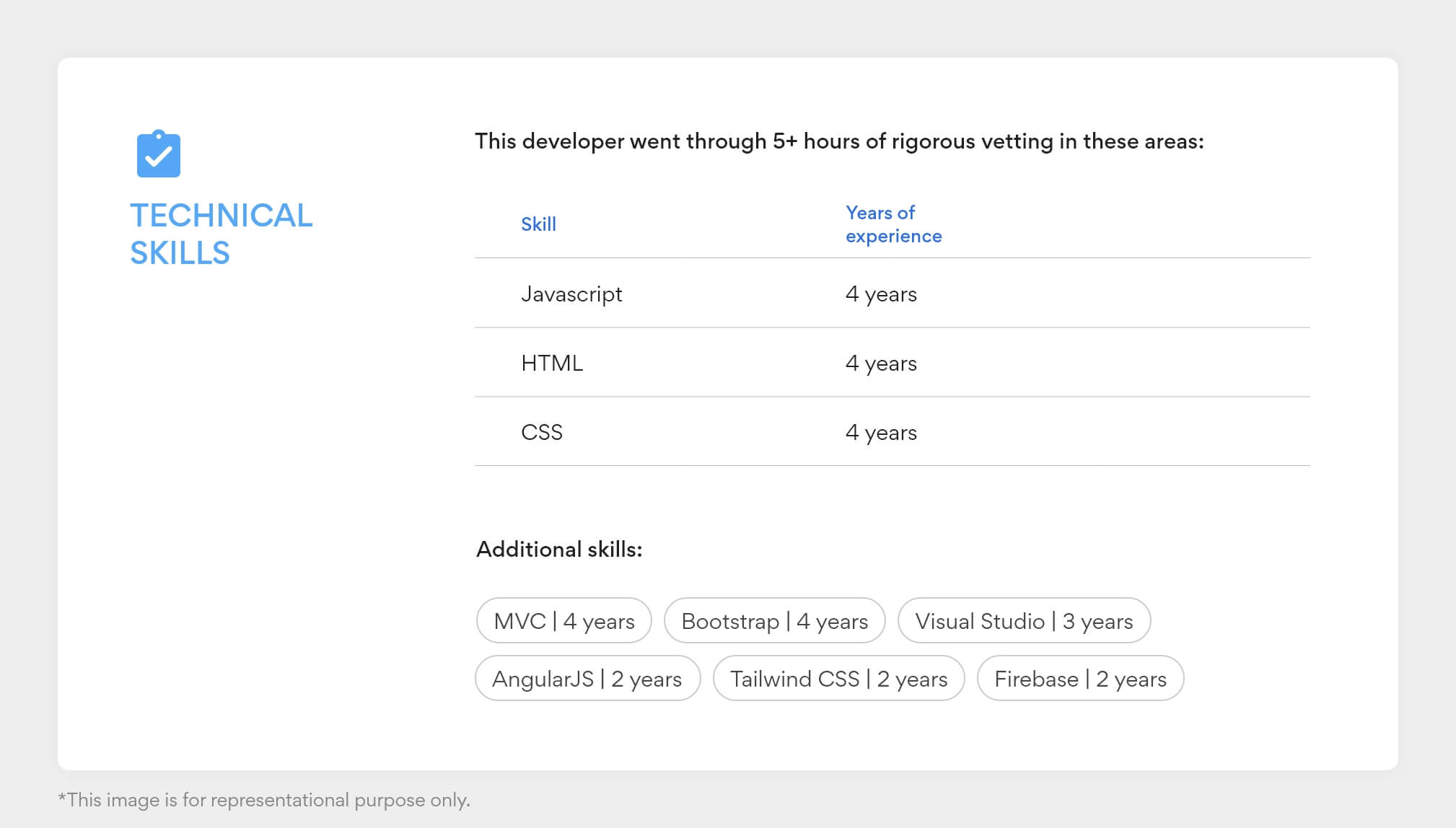 This section will contain the skills in which you have demonstrated mastery. Use bullet points to show your core strengths and add icons to grab recruiters' narrow focus. Write a brief description about how your expertise in a certain skill helped your previous organization find a solution for their business. Narrow down your skills into primary and secondary skills (primary skills being your area of specialization/expertise, and secondary skills being skills you have some experience working on). This will help the hiring manager get an idea of your strong areas, as well as the areas where you have adequate knowledge.
Primary skills (technical)
AI
C++
Java
Python
Tensorflow
PyTorch
Convolutional Neural Networks
Deep learning frameworks
Matlab
Data structures
Secondary skills (design and web performance-related)
computer vision libraries
dataflow programming
Database management
image processing
7. Give an overview of your academics
Tell your recruiter about your academic background, including where you went to school, your grades, and any certifications you have. Knowing about your educational background can inform the recruiter of your diligence and sincerity.
8. Quantify your resume with numerical data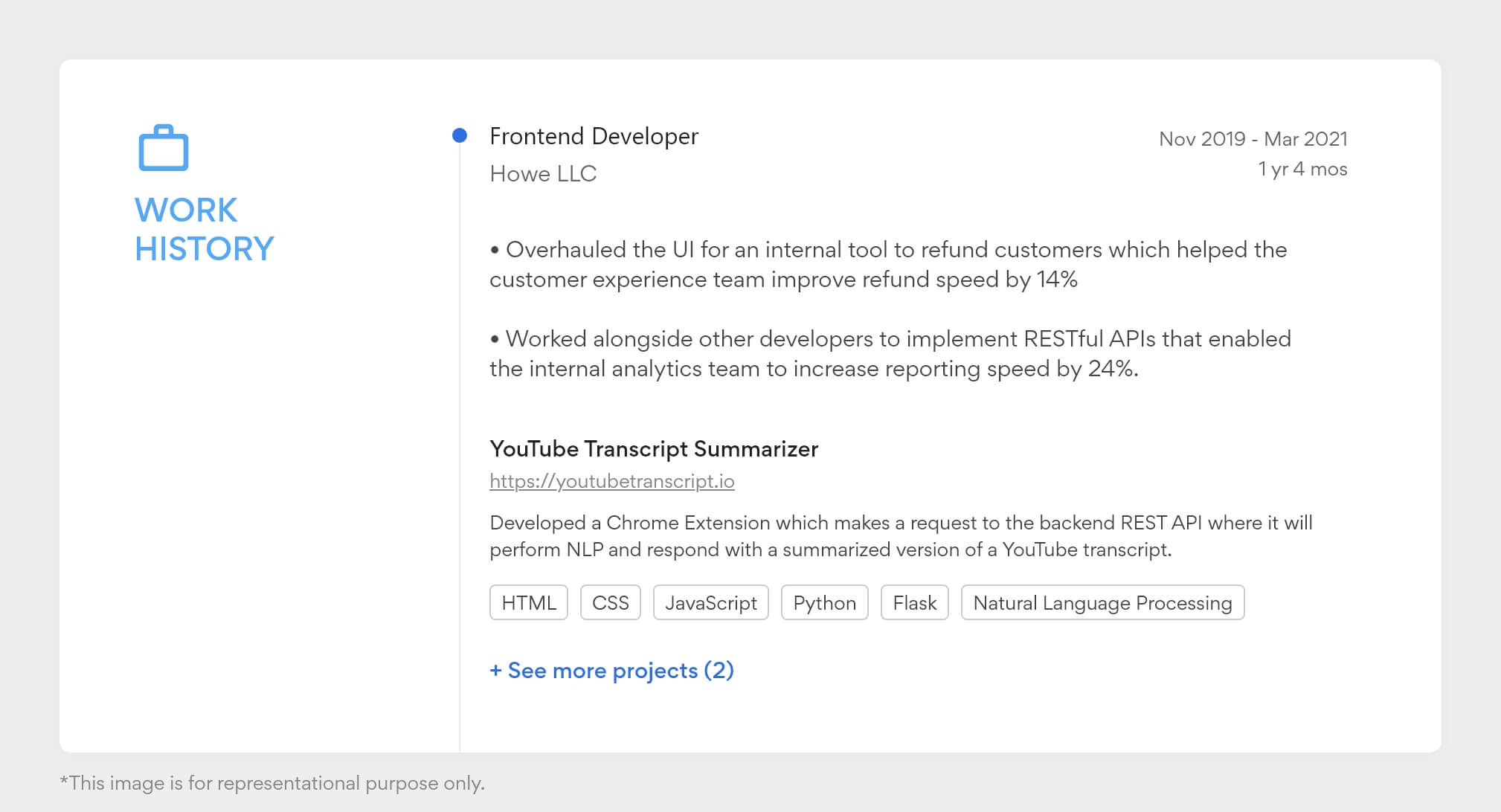 Your chances of getting hired increase if you quantify your achievements in your resume. So, if you know the answer to the question "How many?" or "How much?" you should list that number without hesitation. Remember to include any honors and achievements you have received. Include your side projects too, as they can serve as your selling points. You have a better chance of getting an interview if you mention your previous experience. In addition, your resume should be brief, accurate, and no more than two pages long.
9. Optimize your resume for keywords and ensure that it is grammatically correct
Recruiters are drawn to the proper use of keywords and correct English and grammar. Using keywords strategically in your headline, subhead, and copy can help you rank at the top of search engine results.
Use the following keywords to strengthen your position as the ideal choice for an employer:
Identifying
Programming
Creating
Diagnosing
Testing
Executing
Maintaining
Communicating
Informing
Consulting
Innovating
Recommending
Troubleshooting
Designing
Documenting
10. Record a short video summary of your resume
This may seem to be an additional step, but recording a brief video of about a minute or two highlighting your skills, experience, accomplishments, and qualifications will give you an upper hand over hundreds of contenders.
Create your resume and get a job on Turing
Build the best Computer Vision engineer resume with Turing's Deep Developer Profile
Apply Now