The AWS developer jobs are in high demand due to the rapid adoption of automation technologies in enterprises. The main function of the AWS developer in an organization is to maintain and evolve the cloud infrastructure, which is backing a web application or a local application.
As your resume is the first impression of your candidature on the hiring manager, it needs to be perfect with impeccable English.
This guide on making an AWS developer resume by Turing is perfect for you if you want to land one of your dream AWS developer jobs.
1. Give specific information about yourself
The foremost thing to remember about an AWS developer resume is that you should put out your critical information directly. There should be no ifs and buts in your resume. If you are writing a job description in the work experience section, it should be very clear and crisp. Instead of making a whole story and context, you should give the most important information in the description and then, if necessary, explain the whole story.
Ultimately, your hiring manager will hire you for the AWS developer job based on your skill and not only on your resume. So, be crisp and clear as no hiring manager would be so free to read your resume line by line or word by word.
2. Importance of the good headlines
Headlines are very important in your resume because it is the first introduction of your professional career with the hiring manager. So, writing headlines can be daunting at times, but there is nothing to worry about for the same. You can just pick up the job title in the job advertisement to use it in your resume. For example, "3+ years experienced AWS developer." It will be best for you to incorporate the headline under your name in the resume.
3. Talk about your education
List out your education qualifications to display your academic capabilities and that you have the minimum education level as needed for the AWS developer job. If you don't portray your education section correctly the hiring manager will get confused. So, in chronological order list out your education. Generally, it is like from high school to the highest qualification received.
4. Decide the format of your resume
The format of the resume should be chosen based on your past work experience, skills, and personal preference. If you want to experiment you can also make the resume in any way possible but it can be risky.
So here are the key formats that are used while making your resume:-
Chronological resume:- In this resume format you list out the past experiences in the chronological arrangement starting from the most recent job. Now, you can use this resume if all the past experiences align with this AWS developer job role or you have relevant experience in the same field. This resume is not fit with people with career breaks or freshers.
Functional resume:- A functional resume is one in which a huge chunk of space is covered by the skills and work experience is sidelined. The work experience is itself sub-categorized into the skills section.
Combination resume:- This resume covers both work experience and skills equally and is best for either freshers or experienced professionals. So it depends on you which resume format you want to use.
5. Making the work experience timeline
Your work experience timeline reflects your whole journey in your career and how you have progressed. This is the easiest way to reflect on how you have been a valuable contributor in the previous organizations and how you can use your skills in a real-world scenario. Your AWS developer resume is not just a resume but a compilation of your whole journey before this job. The job descriptions in the work experience timeline should use action verbs to intrigue the hiring manager to know more about you and make your chances higher to get to the interview stage.
Create your resume and get a job on Turing
Build the best AWS developer resume with Turing's Deep Developer Profile
Apply Now
6. Desired skills for AWS developer
Here are some of the skills which are desired in an AWS developer:-
Primary skills
Deployment of the web applications to AWS has several methods. You should be competent in the majority of them and have the technical knowledge of each method. Knowledge of Elastic Container Service or Elastic Kubernetes Service is essential for AWS developers. -Knowledge of the Lambda and API gateway is necessary because they are making the life of developers very easy. If you know using these APIs as and when required is a great advantage for you. They are serverless architecture and even seasoned developers have difficulty in its understanding, so, if you have this knowledge early on it would be very much beneficial for your career.- Extensive knowledge of the databases.
Expert-level knowledge of Amazon SDK.
Knowledge of DevOps and tools such as Jenkins, Ansible, and Terraform
Knowledge of the coding languages such as Python, GoLang, and Javascript
Secondary skills
Knowledge of cloud security principles.
Knowledge of handling deployment in multi-cloud environments.
Datacenter operations
Multi-platform experience i.e. Linux, macOS, Windows, Unix, etc.
So these are some of the skills which are in high demand for the AWS developers.
7. Quantify achievements in your previous roles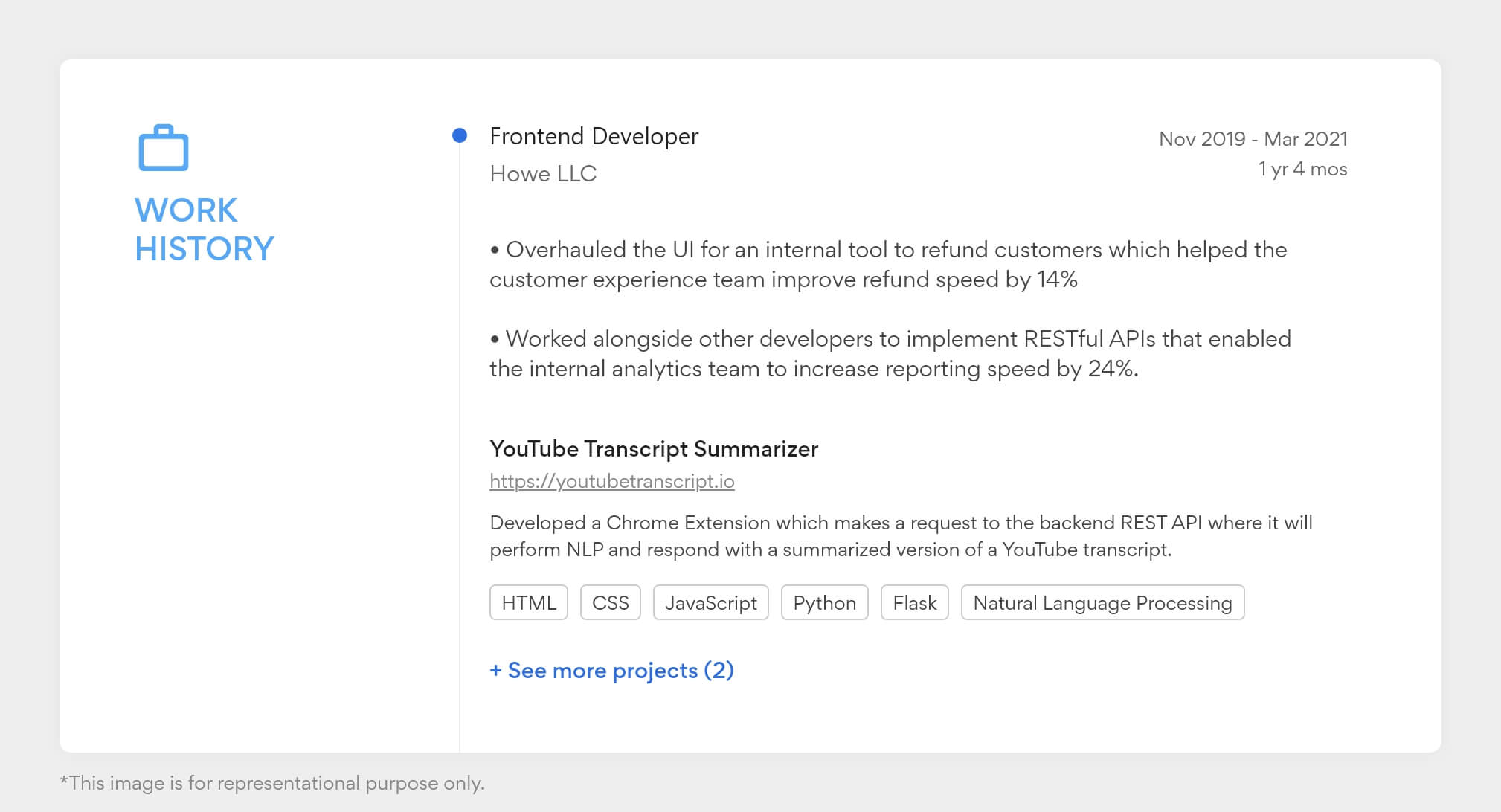 Numbers convey a lot of information with very much less space and be equally impactful as words. You can quantify your achievements like "Led a team of 10 people to tailor-made for a fortune 500 client." As the employer now knows your [potentiality, he will be curious to know more about your work. This way, during the interview, you can put a very strong emphasis on the skills that led you to that position.
8. Keywords to make your resume noticed
Most of the organizations are using an ATS system for parsing resumes and then sending them forward to recruiters and hiring managers. So, including these keywords is essential in your resume, so that you have a higher chance of getting an interview call.
Here is the technique which you can use to filter out the keywords that you can use in your AWS developer resume from the job description:-
Action verbs:- These keywords will be presented in your job descriptions in your resume. You can pluck out these keywords from the job advertisements or you can use general words. For example, if the job advertises that they need a candidate with strong leadership skills then you should use the same word in your resume. The generic words can be managed, planned, maximized, etc., that you can use in the AWS developer resume.
Job-related keywords:- These keywords will show your skills and qualifications. If the job advertisement required a strong competence in the Amazon EC2 server then do mention that in your job descriptions, or in the work timeline that you have worked on the same technology. It is an effective method to put yourself in alignment with the job requirements.
So, through these methods, you can easily pass the applicant tracking systems and land well in the eyes of the recruiters.
9. Video Introduction
It is a very important step to make your video introduction that sums up your hobbies, career aspirations, and achievements. A video introduction helps the recruiter to see your skills at a different level. It will make you stand out from the crowd.
Create your resume and get a job on Turing
Build the best AWS developer resume with Turing's Deep Developer Profile
Apply Now