Are you always on the lookout for the best AI developer jobs to advance your career? If you've been looking for a job in Silicon Valley's top companies, you know the value of an AI resume. You can create a powerful and convincing resume that will show you how to highlight competencies and strengths and land a better job.
Your resume summarizes the professional credentials that establish you as a specialist. When looking for new jobs, your resume gives a window of opportunity to impress recruiters. It is a double-edged sword that might backfire if you don't pay attention to detail. So, in 2023, how could AI developers make resumes that make a good first impression and increase their chances of getting hired?
Experts at Turing have attempted to help AI developers with their job application strategies. This guide will lead you through the essential points to consider while building a resume for the best AI developer jobs in 2023.
1. Create a catchy bio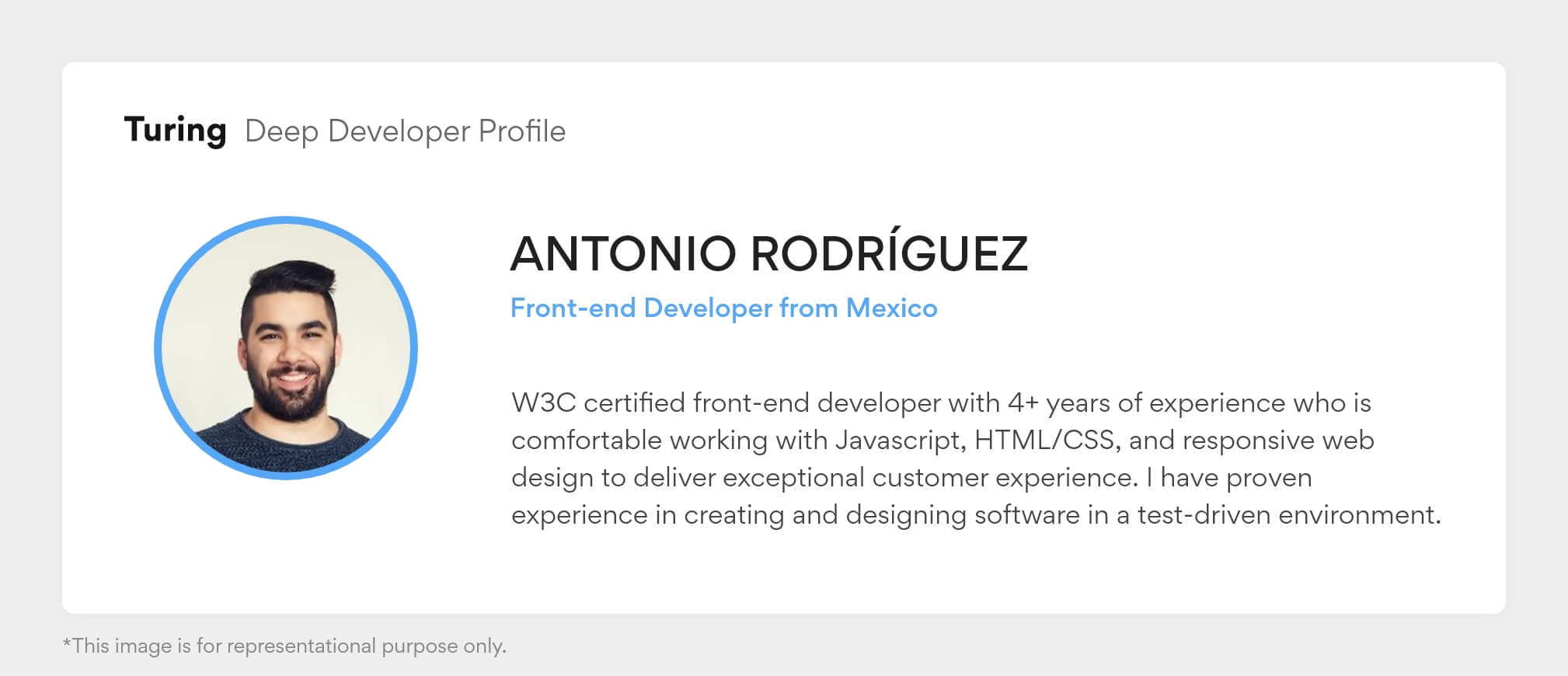 If you want to build an AI developer resume that will help you land better jobs, start by writing an 'About Me' section to allow the reader to learn more about you. A well-written bio can make all the difference in attracting recruiters' attention and increases your chances of being called in for an interview.
In the bio section, include details like your email address, phone number, or other social media links so recruiters can contact you quickly. You can refer to an AI resume template available on the web to understand how others create theirs. In this section, try to include as many AI developer jobs-related keywords as possible without going overboard.
2. Tell your story
It's best to write your AI developer resume in the form of a narrative. Take the recruiters on a tour of your professional life since that is a chance to impress your recruiters by telling them an encouraging story.
If you want to create a resume in 2022 that isn't generic and increases your chances of landing the best AI development jobs, don't be afraid to tell your story.
3. Start with a great headline
Start your resume with a catchy title before displaying your skills and digging into the details. Create a headline that accurately defines your strengths and experience.
Here's an example of a well-written headline from an AI resume template: 'Senior AI developer with 5+ years of experience'. Personalize resume headlines for each job application whenever possible. Start by giving the recruiters the information they need to fill the position.
4. Understand the structure and create one for your resume
Many professionals opt for the popular reverse chronological format when drafting a resume. It's the method of starting with the most recent positions and experiences. Never be afraid to try out new models. You can see different approaches to this, such as the functional format, emphasizing your strengths over technical efficiency.
You may be able to create a hybrid structure for your AI developer resume in addition to these two possibilities. It establishes a mix between experience and skill set, highlighting your professional accomplishments.
5. Include a professional timeline in your resume
A resume that contains a clear and informative professional timeline can make all the difference. The timeline can make your resume unique, showing your professional achievements and honors. Have a look at an AI resume template and include sources to back up the information you provide whenever possible. Also, tell them how long it took you to get a senior position.
Create your resume and get a job on Turing
Build the best AI developer resume with Turing's Deep Developer Profile
Apply Now
6. Showcase your AI development skills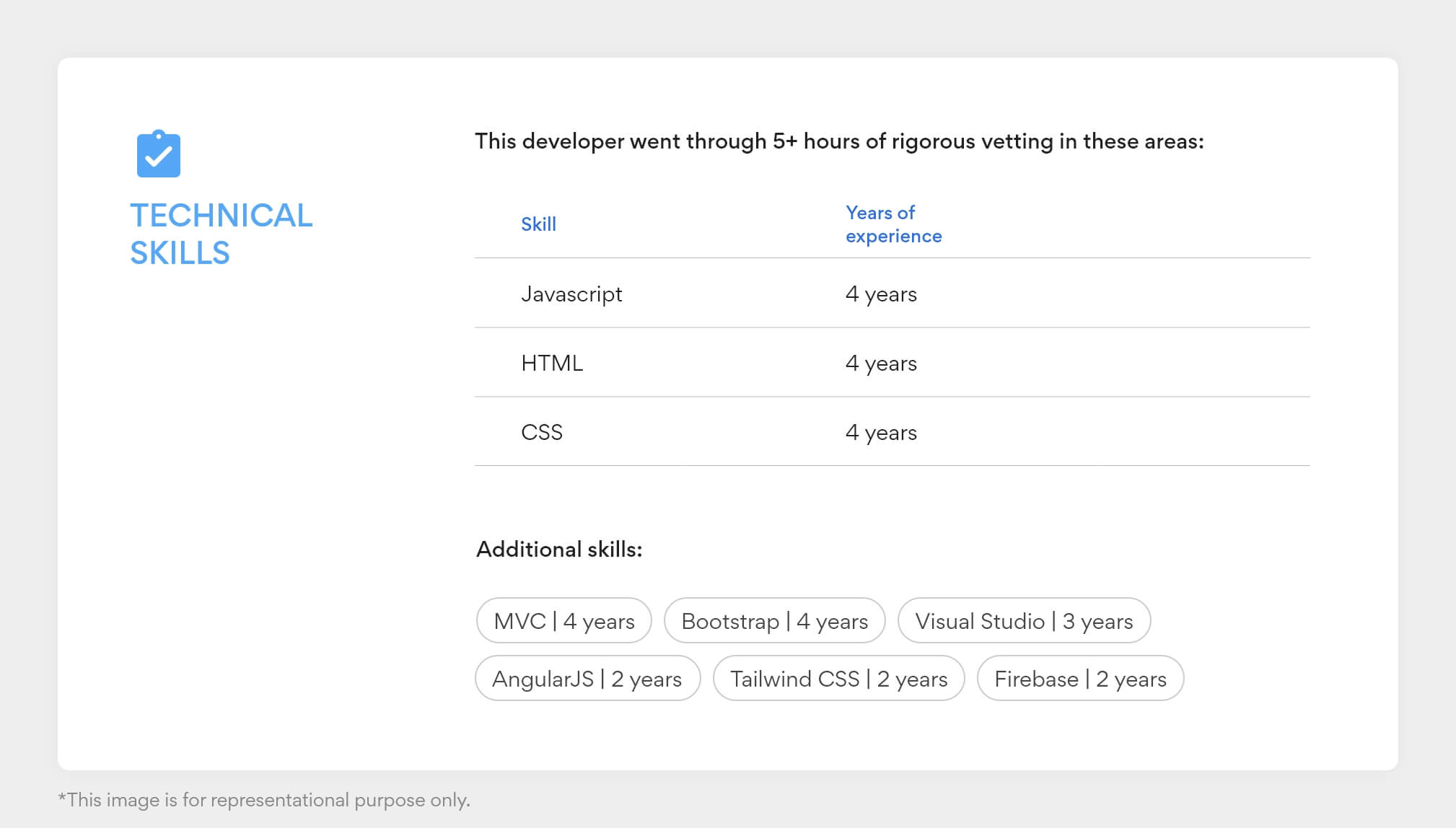 This is the section where you can go into the details of your skillset. Write down your significant areas of expertise and related skills that have helped you get AI development jobs in the past. Make a list of the details, and don't be afraid to include helpful icons for each; icons can help direct attention to crucial information.
Also, while talking about your skills, try to have a phrase or two describe how these skills helped your previous employers achieve their objectives. Instead of following a regular format for the AI developer resume, you can also take a different strategy. For example, you can divide your skillset into two categories: primary and secondary skills.
This will allow recruiters to instantly understand your significant expertise and skills that you have practical experience with. By referring to an AI resume template, you can follow the standard format or take a different approach.
Your AI developer resume should cover the following skills to impress employers and decision-makers at first glance:
Primary skills (Technical)
Python
C++
JavaScript
Java
C#
Julia
Shell
R
TypeScript
Scala
Secondary skills
Data engineering
Spark and big data technologies
Algorithms and frameworks
Exploratory data analysis
7. Mention your academic accomplishments
Your educational background must be included in your AI developer resume. To boost your chances of being chosen, provide information such as the institutes you've attended, the grades you've received, and any other certifications you've earned. To make it easy for recruiters to look over your academic background and better grasp you, use a tabular structure for this section.
8. Quantify your skills by putting numbers next to them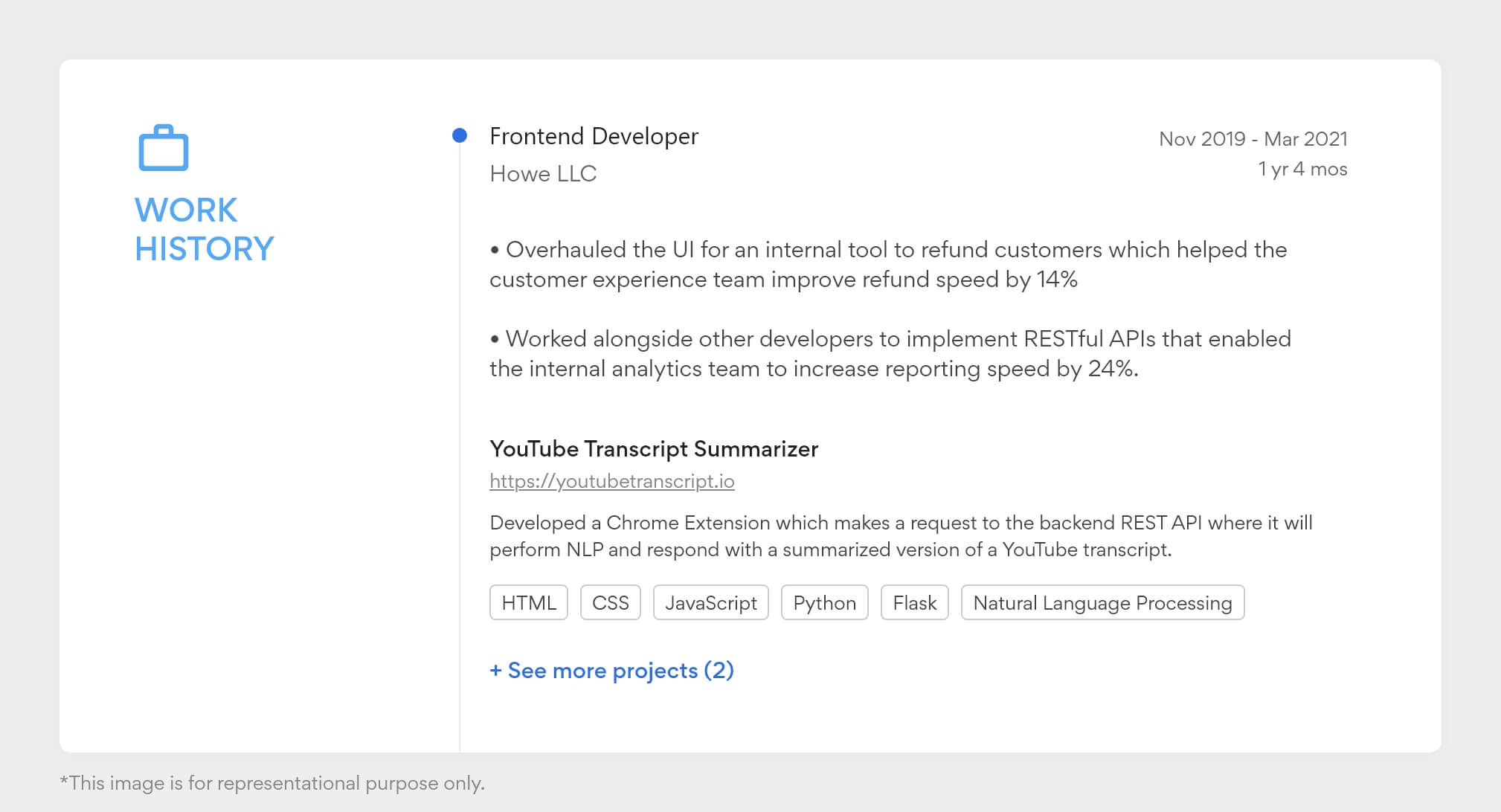 Numbers have the power to do miracles, especially in a professional setup. The right ideas can make a huge difference and help you answer a range of value-oriented questions. Don't be hesitant to include personal accomplishments and side projects on your AI developer resume.
Such information can considerably increase your chances of landing your dream AI developer job. Just make sure the resume isn't too long; it shouldn't be more than two pages. To cut short your resume, learn to project only the important things given in an AI resume.
9. Make sure your grammar is correct and that you use keywords
English is necessary for gaining the best AI development jobs in major US organizations. Keywords related to your field should appear in the document's title, section headings, and throughout the text. This will allow you to crack the algorithms of resume sorting software and boost your chances.
When considering the skill and experience-related keywords in your application, include the following expertise-related keywords.
Developing
Programming
Creating
Designed
Testing
Executing
Integration
Coding
Bootstrapping
Documenting
10. Include a short video
If you're having problems finding the top AI developer jobs to advance your career, possibly you're not displaying your skills effectively. Including a short video is a great way to express your talents. The video should be short and to the point.
Create your resume and get a job on Turing
Build the best AI resume with Turing deep developer profile
Apply Now