As a remote UX designer seeking opportunities in US software companies, you will want to impress potential employers with your resume. A great resume is crucial for a UX designer. It makes an immediate impression and highlights the job applicant's professional expertise.
So, what is the best way to write a UX designer resume that creates a huge impact?
Our top recruiters at Turing share the best resume-writing practices to help you create a perfect UX designer resume that will get you noticed for top UX designer job opportunities.
You can improve your chances of landing your dream remote UX designer jobs in 2023 by following these tips:
1. Open with an impressive bio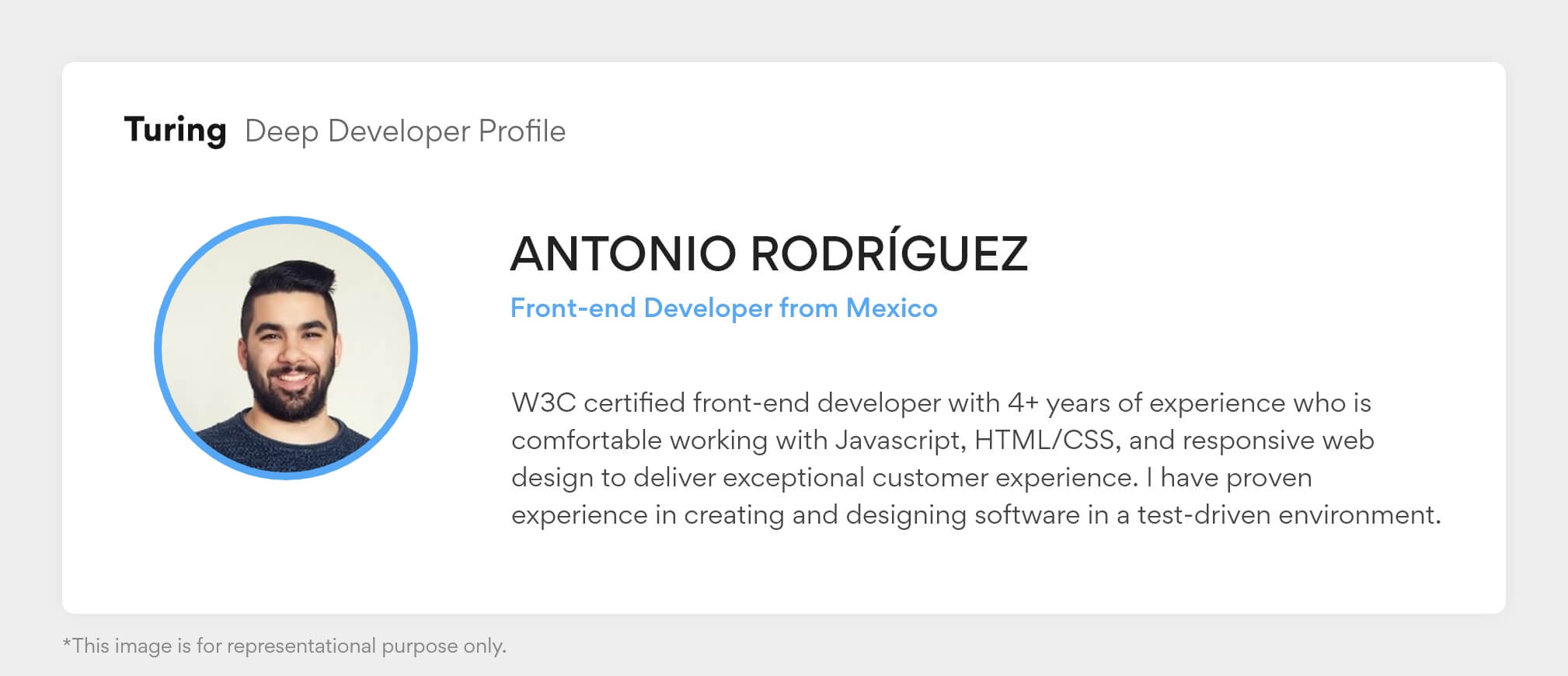 Employers are looking for ways to quickly determine whether or not you are a fit for the position. An effective UX designer resume will include a concise, well-written summary of your skills and abilities. So add a crisp 'About me' section at the beginning of the resume to give an about you to the recruiter.
When applying for jobs, be sure to include your email address and phone number in your resume's bio section, along with the names of any social media accounts so that recruiters who are interested in your background can contact you easily. Also, be sure to include keywords describing your areas of expertise and background. The more specific you are, the easier it will be for recruiters to find you.
2. Tell a story with your UX designer resume
Write your UX designer resume like a story, taking the reader on a journey through your professional life. Highlight your professional accomplishments to show the reader what you are capable of and what makes you an asset to a company.
The narrative of your resume can influence whether or not you are considered for a job. So, if you're looking to prepare an impressive UX designer resume in 2022 to secure top jobs, focus on your professional experience. Everyone loves inspiring stories.
3. Start with a great headline
Before you begin to discuss your skills and professional experience, make sure you include an attention-getting headline that shows your value. This is the first thing that catches the attention of the recruiters, so ensure that the headline points out your skills and highlights your professional experience.
For example, here is a headline that aptly conveys your experience: 'UX Designer with 5+ years of experience'.
4. Select the best format for your UX designer resume
There are various resume formats available. As per industry standards, the reverse chronological resume format is by far the most popular. It features your most recent work experience in great detail, followed by your previous employment information. This approach serves the purpose, but there are other ways you can present yourself to potential employers. For example, the functional resume format highlights your skills and abilities, making a stronger impact.
Furthermore, a hybrid approach i.e, combining both reverse chronological and traditional approaches, is always an option. It will assist you in emphasizing both your experience and your skills.
5. Give a detailed timeline of your work history
The "Professional Experience" section allows you to highlight your previous career experience. It also allows you to show a future employer how your skills have added value to past employers and what he or she can expect if you are employed at the company. It is the most substantial section of your resume where you can justify why you should be hired.
Your work timeline will also assist you in demonstrating your professional growth over the years, as well as how you progressed from an entry-level employee to a mid-senior level, and so on. This section is like a narrative about yourself over the years you've been working that shows a future employer why it would be worth keeping you on staff once hired.
Create your resume and get a job on Turing
Build the best UX designer resume with Turing's Deep Developer Profile
Apply Now
6. Highlight your UX designer skills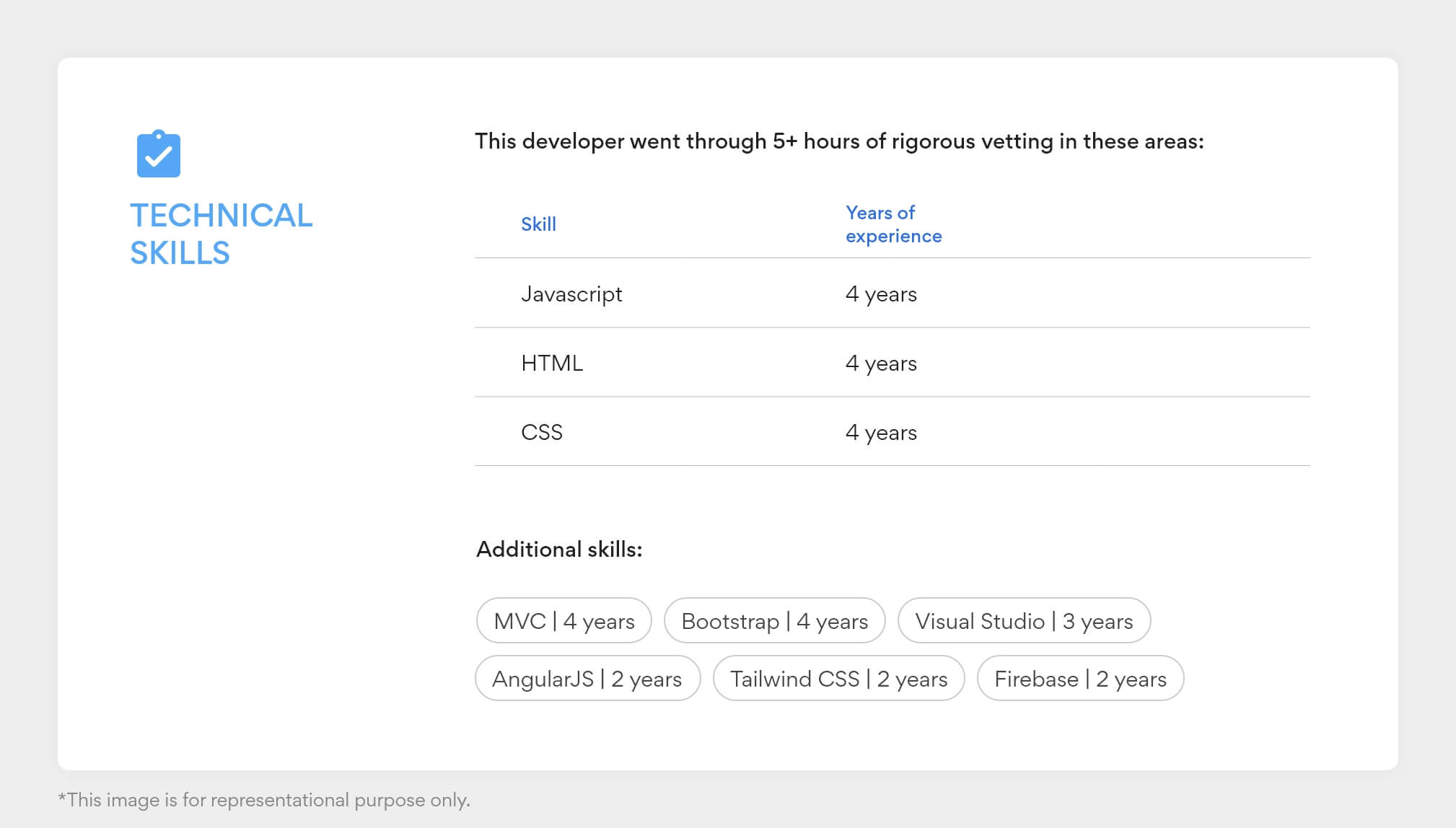 You can list your key skills, such as those that you applied to in previous jobs, to help a potential employer decide if you are a good fit for the position. Include some icons to catch the recruiter's attention. Make it clear how your skills have helped previous employers solve business problems.
To ensure that your resume lets recruiters know what you are best at, make sure to focus on your strengths and incorporate them into your resume. First, determine the skills you are most confident in, then prioritize them in your resume. Finally, classify them as primary and secondary skillsets so that recruiters can see which experience you have the most confidence in.
Include the following skills in your UX designer resume to catch the recruiter's attention:
Primary skills (technical)
Visual design software
UX writing
Agile
Information Architecture
Javascript
CSS
HTML
JQuery
Secondary skills
Wireframing
UI Prototyping
User flow
7. Share your academic background
Include details about your educational background on your professional resume. Include names of institutes you've attended and your grades. In addition, add the details about other certifications you hold, along with their names and dates. The best way to include this information is to use a tabular format for recruiters to easily understand your educational background.
8. Use numbers to quantify your abilities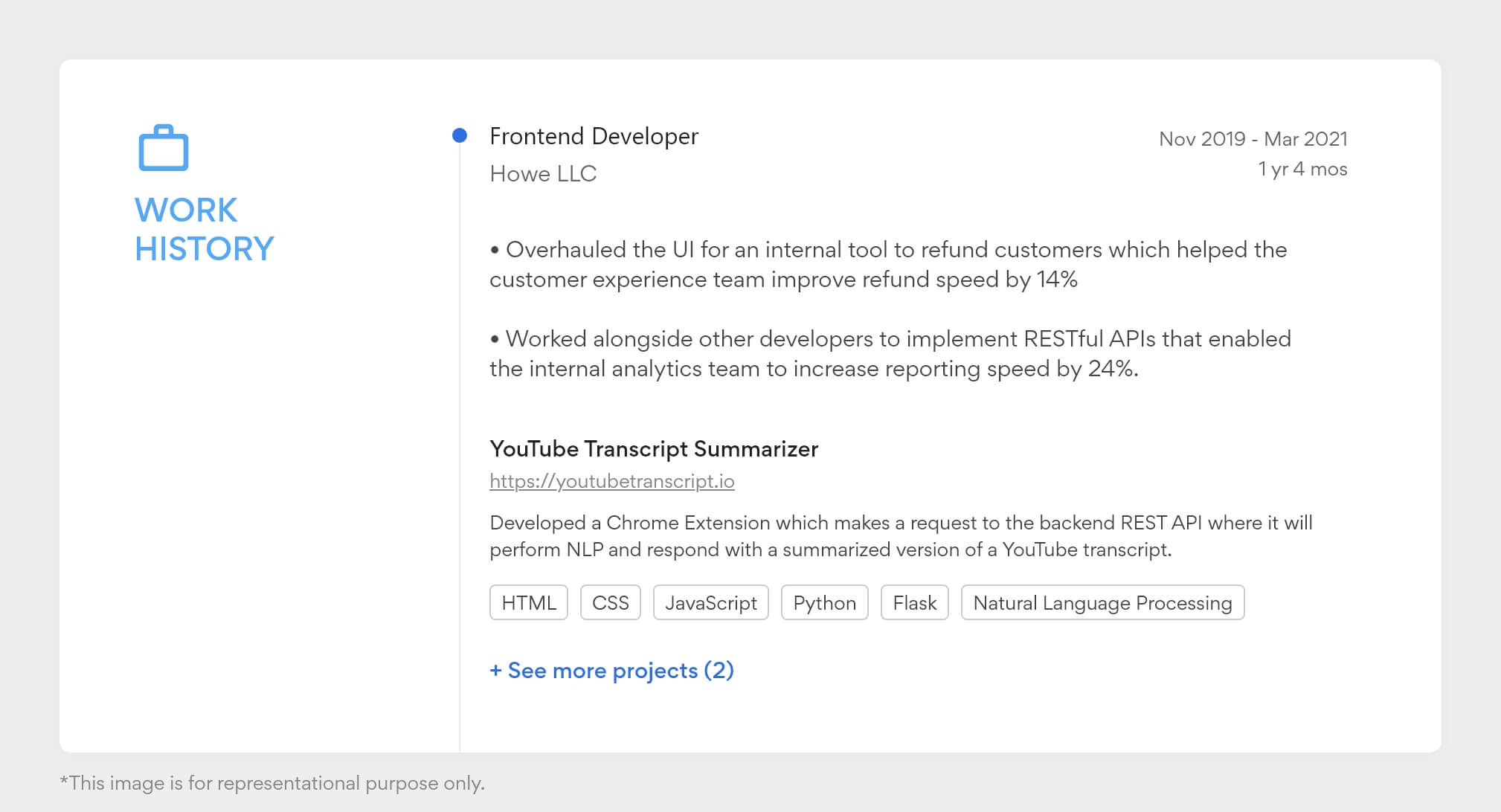 When used correctly, numbers can have a big impact and help you get the best UX designer jobs. In your UX designer resume, try emphasizing points like "how much" and "how many." Include personal accomplishments and use side projects to increase your competency level. Mentioning positive experiences will increase your chances of getting the job.
Also, your resume should not exceed two pages. So, only include the points that are relevant to the position.
9. Good grammar and skill-related keywords
To build an effective resume, use proper grammar, spelling, and relevant keywords. You must be fluent in English to land the best UX designers development jobs in US companies. Include UX designer-related keywords throughout your resume. These items on your resume will make you appear more professional to recruiters. Even if you are the best candidate, a single error on your resume can cause recruiters to reject you.
To help prospective employers see you as a fantastic addition to their team, use the following keywords:
Identifying
Programming
Creating
Diagnosing
Testing
Executing
Maintaining
Communicating
Informing
Consulting
Innovating
Recommending
Troubleshooting
Designing
Documenting
10. Summarise your resume in a brief video clip
Although it may appear to be a great deal of work, including a short video introducing yourself will be a huge benefit. Keep it to one minute in length and use it to summarise your skills and specializations. Tell the viewer what sets you apart from the competition.
Create your resume and get a job on Turing
Build the best UX designer resume with Turing's Deep Developer Profile
Apply Now