Are you searching for a new remote Unity 3D developer job with a top US company? If you want to advance your profession, you already know how important it is to have a strong resume. A well-written resume can make a significant difference in your job search. It makes a solid first impression on the reader and highlights your qualifications as a valuable professional. A strong resume will maximize the limited time you have to impress the recruiter and boost your interview call chances.
So, how should an effective resume be written to get the best Unity 3D developer jobs ?
This post is Turing experts' contribution to help professionals tackle the common difficulties encountered throughout the interview process. Follow this in-depth guide to create your Unity 3D developer resume and land the perfect job to advance your career.
1. Create a fantastic bio
Are you unsure where to begin when it comes to writing your Unity 3D developer resume? Begin with an engaging 'About Me' section; keep this bio brief and concise to create a hook that will draw in the reader. Add your name and contact information to make it easier for the recruiter to contact you.
Also, remember to include skill-based keywords in your resumes for Unity 3D developer jobs. In your bio, mention a few as you briefly outline your professional experience.
2. Tell them your story
Recruiters, like everyone else, enjoy reading stories. One of the most effective strategies to pique recruiters' interest in you as a professional is to use your remarkable journey as a hook. So, if you want to create an impactful Unity 3D developer resume, avoid sounding generic and going down the same path as everyone else.
3. Begin with an impressive headline
Starting the Unity 3D developer resume with a compelling headline makes a difference, just as creating an impactful introduction. To begin your application, keep it brief and easy by giving your title and years of experience. For example, 'Senior Unity 3D Developer with 6 years of experience' can be used.
A personalized headline is a better approach to writing it. Make headlines for each application as unique as possible since each organization has different concepts for its ideal candidate.
4. Choose a format for your Unity 3D developer resume
Choosing the apt format for your resume is a crucial aspect of the process. Every job role has its own set of core objectives that you can use to your benefit. Create a skill-based Unity 3D developer resume in one of the two formats: reverse chronological or functional.
Reverse chronological format- Begin your Unity 3D developer resume with the most recent employment and work your way backward.

Functional format- Start with your skills rather than years of professional experience, and then move on to your career duties, highlighting the functions in which you have experience.
5. Include a timeline for your career
Include a career timeline in your resume. The timeline helps the reader understand your career path and how you developed your area of expertise. It can serve as the centerpiece of your resume, taking the reader on a short tour of your professional history and technical expertise. Refer to specific situations or significant contributions that aided your growth.
Create your resume and get a job on Turing
Build the best Unity 3D developer resume with Turing's Deep Developer Profile
Apply Now
6. Make a list of your Unity 3D development skills
Every job has its own set of essential skills; some are key prerequisites, while others are related to emerging technology. List your skills as a quintessential Unity 3D developer and how they've helped you achieve your career goals in this part.
When listing your skills, try to include a couple of words on how each expertise helped your prior employers or clients reach their business goals. To make your Unity 3D developer resume look fascinating and immersive, you can use appealing icons for each skill.
Furthermore, if you're unsure how to approach this section, simply mention your skills or divide them into two sections: primary and secondary. This simple step will emphasize your areas of expertise and help the recruiter quickly understand you for Unity 3D developer jobs.
Your Unity 3D developer resume should explicitly state industry-standard skills to persuade recruiters faster. Recruiters will search for the following skills while looking for Unity 3D professionals.
Primary skills (technical)
Pre-production and scoping
C#
Maya
Blender
Modo
Silo
Cinema4D
3dsmax
Secondary skills (design and web performance-related)
UI/UX design
Visual editing
GIT/Version control
Wireframing
Debugging
7. Include your academic details
Knowing a professional's academic qualifications is just as crucial to organizations and recruiters as knowing their skill set. It may not always be the determining factor, but it significantly impacts how you have been molded as a person. Mention where you attended school, college, university, and your grades. If you have any other certifications, don't hesitate to mention them.
You should write your academic details in a style that helps the reader to understand your transition from a student to a working professional.
8. Add numbers to your Unity 3D developer skills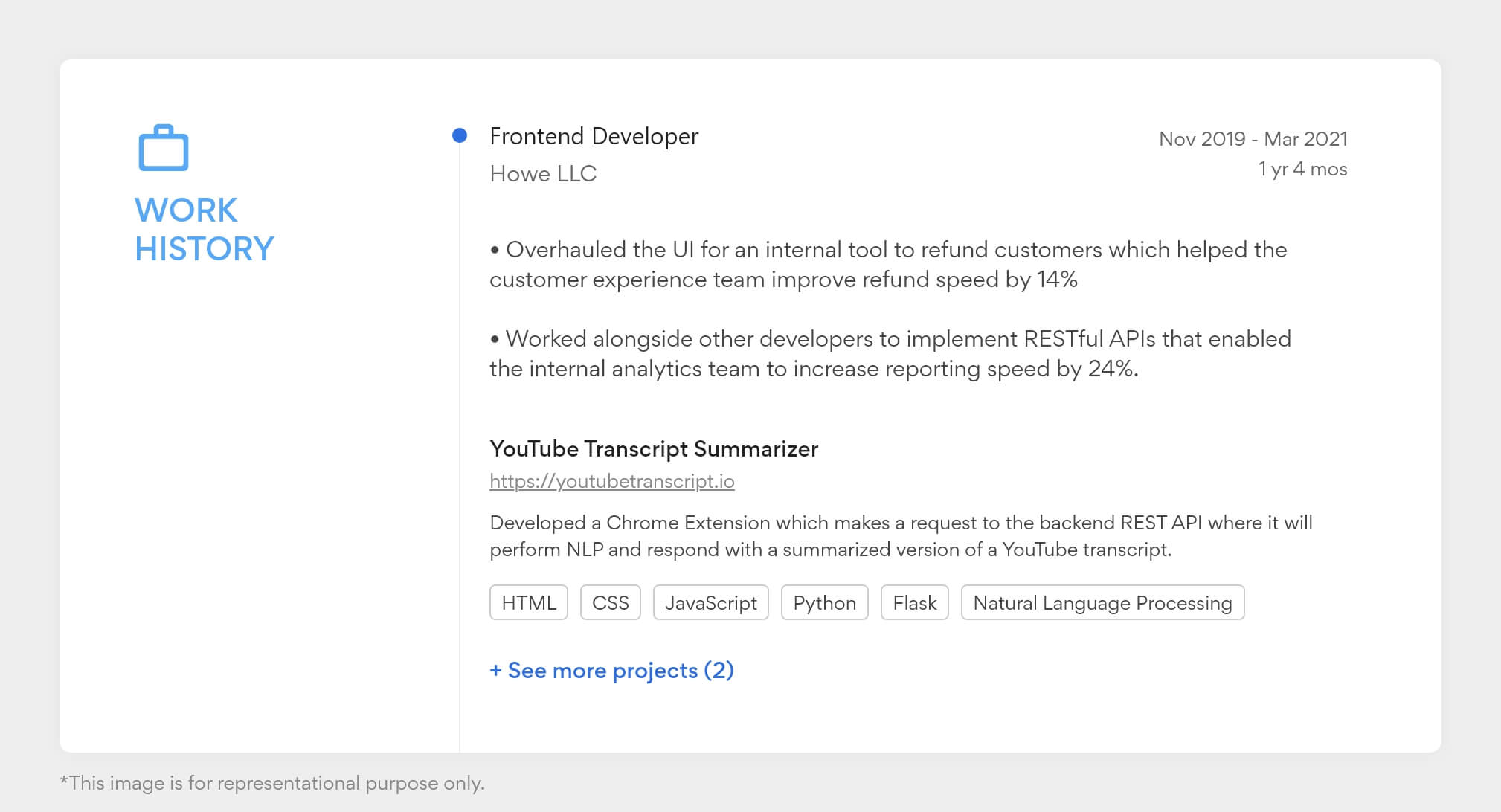 Numbers may make a big difference in the world of business and services. They improve your prospects and show that you can quantify qualitative work. To make a stronger impression with your Unity 3D developer resume, highlight your years of experience dealing with clients or firms, as well as the skills you've utilized with numbers.
Mention your professional accomplishments and side projects in your Unity 3D developer resume. This information adds value to the application and raises your chances of getting hired. Also, keep in mind that your resume should be brief and to the point.
9. Include keywords and make sure everything is grammatically correct
Every language has value, but English is the most used international language. It's therefore important to be fluent in the country's primary language if you want to get the best Unity 3D developer jobs in the US. Make sure your Unity 3D developer resume is grammatically correct.
Your resume should incorporate skill-oriented keywords in addition to good grammar. Flawless language has a favorable impact on the reader and the right keywords successfully hack the resume selection/sorting software algorithm to boost the chances of you receiving an interview call.
Here's a quick list of keywords connected to Unity 3D developer jobs.
Developing
Programming
Creating
Designed
Testing
Executing
Update Integration
Coding
Bootstrapping
Documenting
10. Include a brief video intro
This is a relatively new method, but one that has proven to be beneficial. Attach a short video introducing yourself as a professional in your Unity 3D developer resume. Shorten the video by summarizing your professional skills and experiences. A video can create a sense of purpose and urgency to go above and beyond to conquer recruiters' minds.
Create your resume and get a job on Turing
Build the best Unity 3D developer resume with Turing's Deep Developer Profile
Apply Now