If you're a brilliant remote Salesforce developer looking to work for top-tier US software companies, you understand the value of a strong résumé.
It's a great notion to spend time and effort structuring information on your resume. A well-written resume can help you develop in your career by opening doors to new prospects and securing the best Salesforce developer jobs. And we all know how important first impressions are. Isn't that so?
So, if you still don't have a resume, how about creating one?
In this blog, the Turing team has gathered some pro tips to assist you in building a great resume and landing the finest remote Salesforce jobs in 2023. A good Salesforce developer CV takes time and effort to put together.
To create an excellent Salesforce developer resume, follow these steps:
1. Include your objective along with bio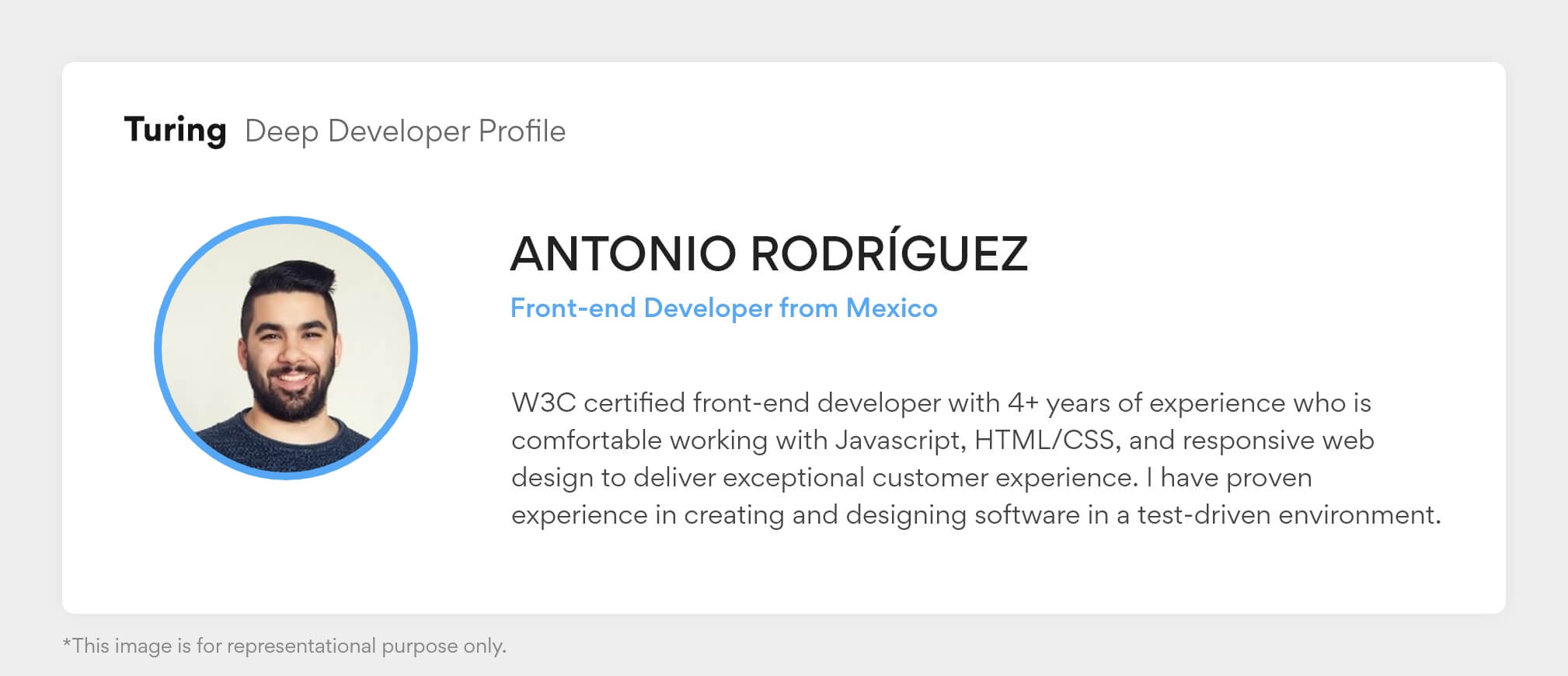 A resume objective, which follows the contact information section, is an important part. It gives the company an overview of your personality, history, goals, experience, and abilities. The resume objective is usually one to three sentences long and provides a brief overview of your career history. Add a 'About me' section to your CV, and don't forget to add keywords for your most important abilities, as well as a brief summary of any Salesforce projects you've worked on. A strong resume goal can pique a hiring manager's curiosity and help your application stand out.
2. Treat your Salesforce developer resume as a story
Your Salesforce developer resume is essentially a story about you and your accomplishments in the industry. We're all attracted by stories. Take them on a journey and tell stories in such a way that the recruiter becomes engrossed in them. So, if you're writing a resume for a Salesforce developer in 2022, remember that you're presenting a story about yourself. Make a CV that tells your story in the most engaging way possible to potential employers.
3. Give a headline to your Salesforce developer resume
A resume title (sometimes known as a resume headline) is a one-sentence summary of a candidate's qualifications and experience. The purpose of a resume title is to make a strong first impression, catch the hiring manager's attention, and persuade them to read on. Good resume headlines are one-liners that highlight the job seeker's industry experience. For instance, 'Salesforce developer with 6 years of experience at a leading MNC'. It's an excellent method to catch the attention of a potential employer.
4. Decide the format of your Salesforce developer CV
It's a challenging game to find a job. To succeed, you must be creative and think outside the box to some extent. However, you must follow the rules. The chronological, functional, and combination resumes are the three types of resumes available. There is no one-size-fits-all resume format. You must choose a resume format that is suitable for both your previous work experience and the position you are looking for.
The three most common resume formats are as follows:
Reverse-chronological: Do you have a lot of experience in your profession and are seeking a job? Reverse-chronological is the best resume format.

Skills-based: Looking for a creative position where your project portfolio and diverse skill set matter more than your previous work experience? Select a resume format that is both useful and appealing.

Hybrid or chrono-functional: Are you applying for a highly specialized role that demands very senior employees with a lot of experience? A hybrid resume structure will be appropriate for you.
The primary focus is the major difference between these formats.
5. Provide a detailed timeline of your professional history.
Without work experience information, a resume is useless. Mention any remarkable accomplishments you've had in the past and how they've assisted your career progress. Don't be afraid to back up your claim with references. Calculate how long it took you to advance to the senior level.
Create your resume and get a job on Turing
Build the best Salesforce developer resume with Turing's Deep Developer Profile
Apply Now
6. Include a list of your most important Salesforce skills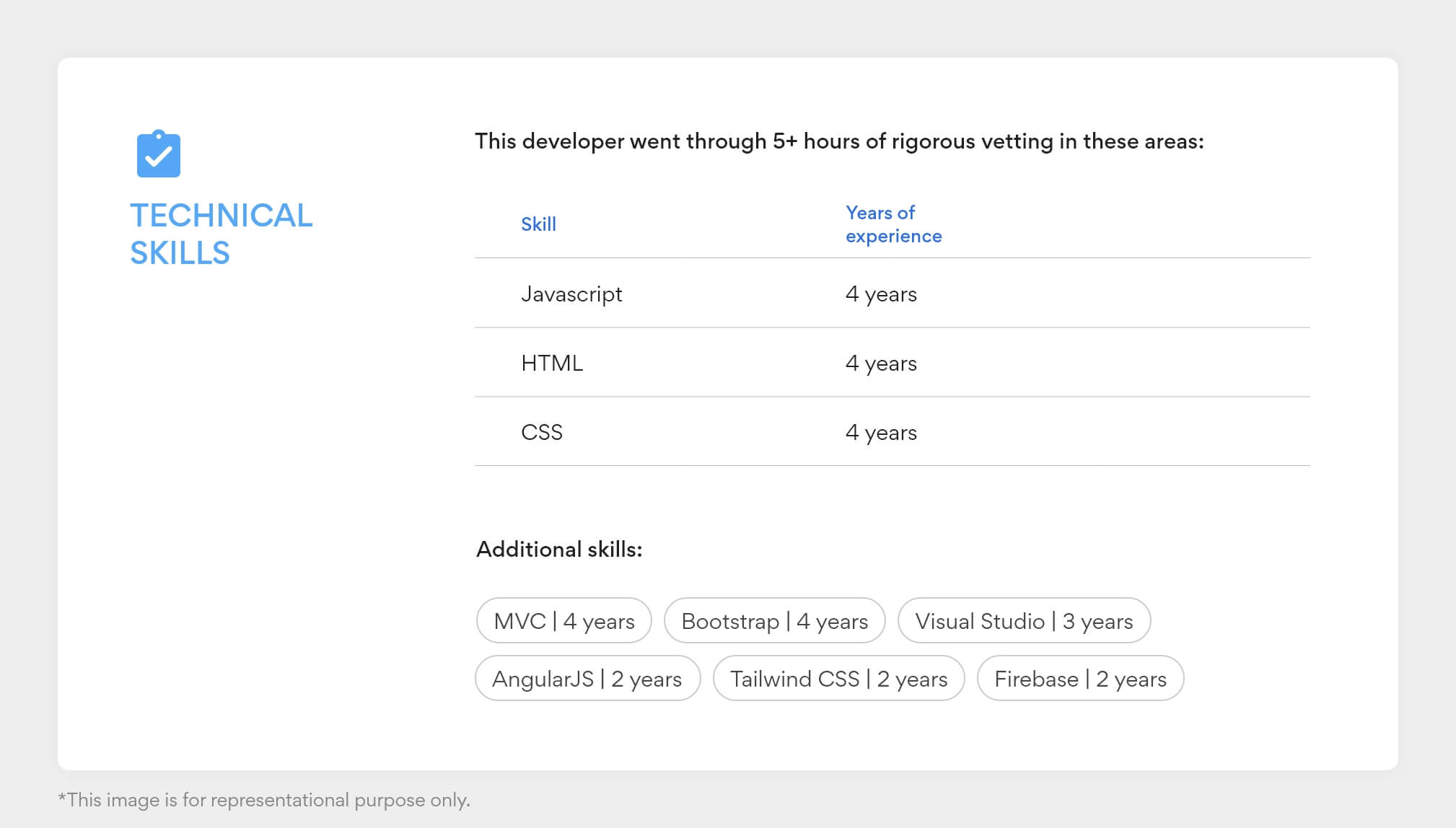 You'll highlight your strongest skills in this section. Demonstrate your essential skills in each of the topics you'll cover. Display them one by one, with iconography if possible to grab the recruiter's attention. Write a few paragraphs describing how your understanding of a certain skill assisted your previous employers in solving their challenges. As if your skillset were the main character, include it into your story. Separate your abilities into primary and secondary categories (primary skills are your areas of expertise/specialization, while secondary skills are things you've previously worked on).
In order to acquire a good Salesforce developer job, you need to have the following abilities on your resume:
Primary skills (technical)
MVC designing
Apex
Visual Force
Java
LWC (lightning web components)
Secondary skills (design and web performance related)
Workflow/Process Builder/Validation rules
Lightning, Service Cloud, Community Cloud
CSS & experience with a custom template/ custom UI design in communities
Salesforce Lightning Design System
Integrations using REST APIs
7. List your academic qualifications
Another important element to include in your resume is your educational qualifications. When a recruiter screens your CV, this is one of the first things they look at. This is why it's so important to write this section in a clear, succinct, and professional manner. Mention the name of the engineering degree, its specialism, and the start and finish years of the course. It's also a good idea to provide your CGPA or overall grade in this section.
8. Make your resume more quantitative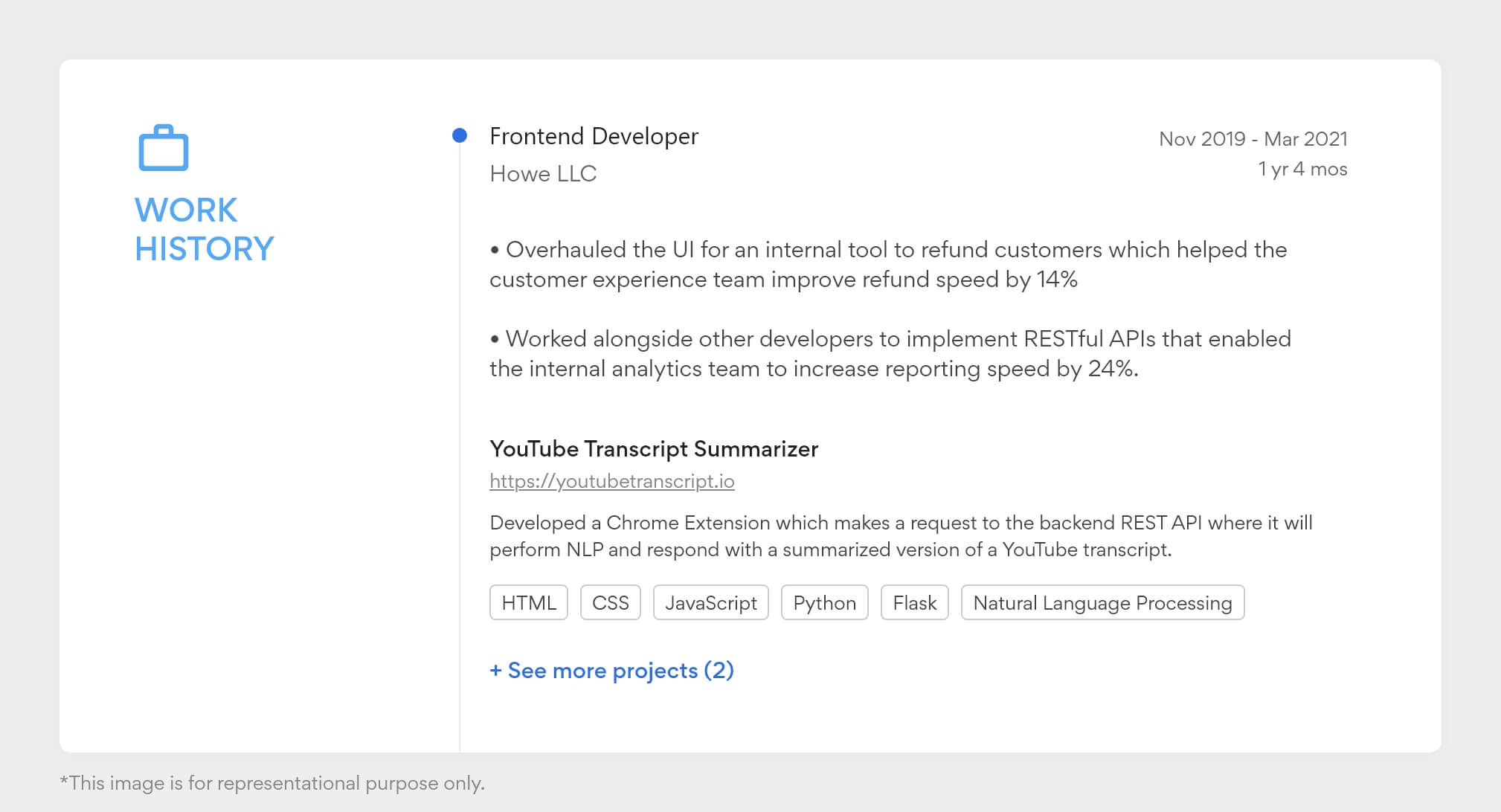 Giving potential employers accurate information can make a great difference and increase your chances of getting hired. When you can answer "How much?" or "How many?" on your CV, you should provide that information. Don't forget to highlight awards or achievements you've received. Use your side project as a selling point if it demonstrates your competence. Any mention of your previous work might greatly improve your chances of being considered for an interview. Also, ensure that your resume is short, precise, and no lengthier than 2-3 pages.
9. Optimize your resume with keywords and good grammar
As cliche as it may look, standard English and grammar, and proper use of keywords, have a significant impact on the recruiter. Using relevant and optimized keywords in your headline, subheads, and a copy can help your profile appear at the top of search engine results pages.
To assist potential employers to consider you as the appropriate complement to their team, use the following keywords:
Identifying
Programming
Creating
Diagnosing
Testing
Executing
Maintaining
Communicating
Informing
Consulting
Innovating
Recommending
Troubleshooting
Designing
Documenting
10. Make a short video summarizing your resume
Although filming a video is an extra effort, it might help you stand out from the throng. Take use of your professional talents, expertise, achievements, and credentials by recording a short video of around a minute.
Create your resume and get a job on Turing
Build the best Salesforce developer resume with Turing's Deep Developer Profile
Apply Now