Your chances improve if you have a well-written resume that stands tall in the midst of the crowd. Your resume establishes you as a professional while emphasizing your key areas of expertise. When it comes to influencing recruiter decisions, your Rust developer resume provides a one-of-a-kind opportunity to make a great first impression.
So, how do you prepare a Rust developer resume that will help you land the best jobs with top US and Silicon Valley-based employers?
This simple approach is a small effort by the Turing team to help Rust developers fine-tune their job applications. Read on to learn what makes the ideal resume for securing the best Rust developer jobs.
1. Give proper introduction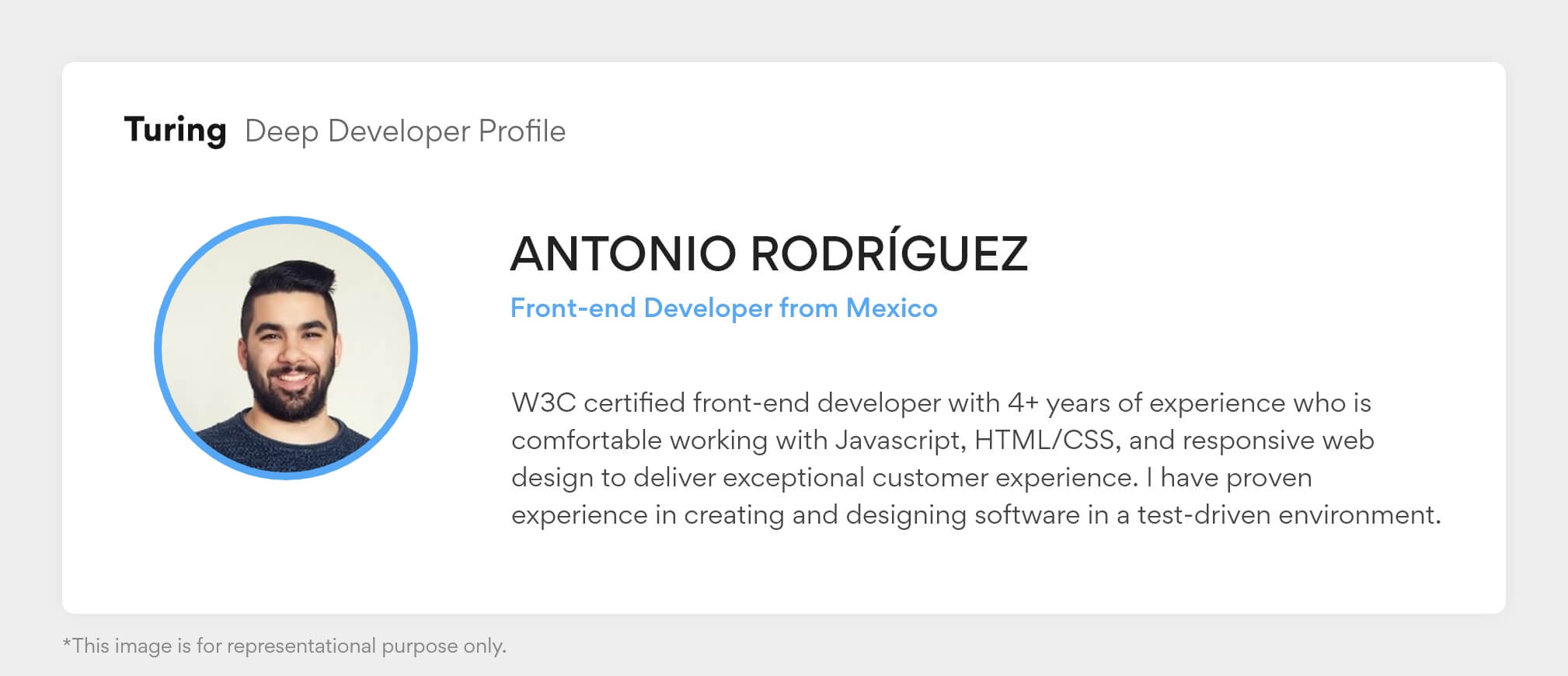 Start with a well-written bio if you want to create a new Rust developer resume that hits the target. Prepare an 'About me' section to help the reader get to know you. A well-written bio can make or break your application by piquing recruiters' interest and increasing your chances of getting an interview. When writing the bio section, include details such as your email address, phone number, or other social links so recruiters can easily contact you.
If it is possible, include some Rust developer jobs-related keywords in this section to make it more informative.
2. Recount your career journey as a story
A resume that sounds basic and only lists professional details will rarely have a positive impact. The ideal Rust developer resume will be visually appealing, informative, and loaded with facts. So, to impress readers, treat your resume as a story and use the chance to take them on a quick trip down the memory lane of your career path. Avoid using generic writing styles and instead, use a personal and pleasant tone.
3. Write an informative headline
Your Rust developer resume headline must be flawless. A one-liner that defines you and your professional expertise would be fitting. To make a good initial statement, frame it with details such as job role or designation, as well as your years of professional experience. Keep in mind that each job role and company has its own set of expectations, so it is best to conduct research and tailor your headline to each new application.
For example: 'Rust developer with 5-years of experience with top MNCs'
4. Select a professional format for your Rust developer resume
Choosing the right format is central to writing any resume. You can use either of these two formats to create resumes for Rust developer jobs. The first is the Reverse chronological format, which begins with your most recent job roles and moves on to your previous professional associations. The second is the Functional format, which emphasizes your Rust developer skills and years of experience with those skills.
Alternatively, you can take a hybrid approach, which can highlight both skills and previous employment professional associations.
5. Show your Rust developer career with a timeline
A career timeline is one of the most effective ways of writing a great Rust developer resume. It is a simple change that increases the worth of your resume. Leveraging the timeline can provide you with an excellent opportunity to add individuality to your Rust developer jobs application.
Including a career timeline in your Rust developer resume has several advantages, including easy navigation through your employment history and relevant skills that assisted your previous employers and clients in meeting their business objectives.
Create your resume and get a job on Turing
Build the best Rust developer resume with Turing's Deep Developer Profile
Apply Now
6. List relevant skills on your Rust developer resume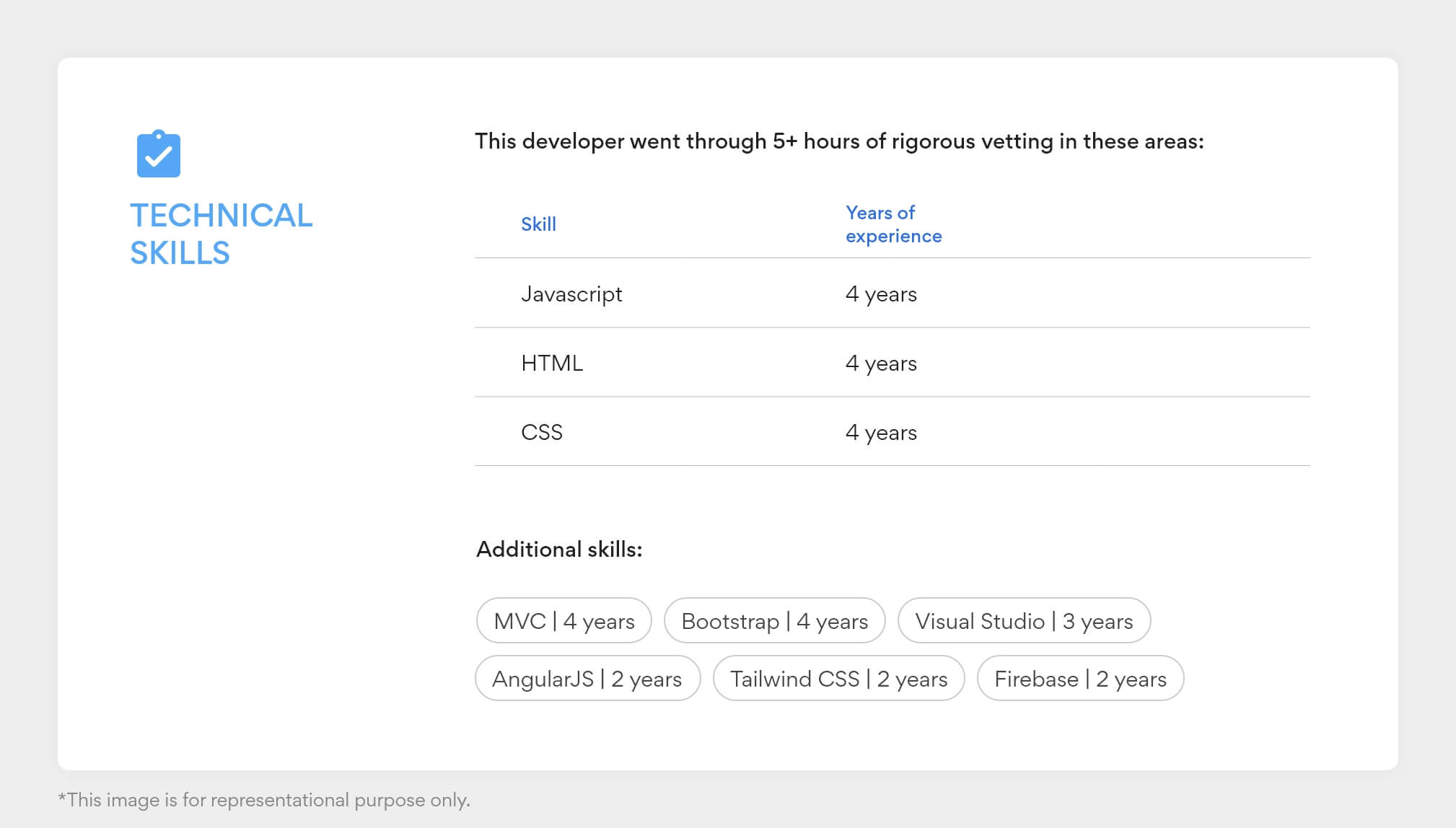 This section of your Rust developer resume will highlight the skills in which you excel. When discussing the skills you'll mention, make sure to emphasize your core strengths. Present them point by point to capture the recruiter's interest. Write a few lines about how your mastery of a specific skill helped your previous employers solve a business problem. Incorporate your skillset into your story as if it were the main character. It's also a good idea to categorize your skills as primary and secondary (primary being skills you are adept in and secondary being skills you've worked on). It allows recruiters to see where you have a deep foundation and a broad knowledge base.
It is also critical that you understand how to present your abilities.
Primary skills (technical)
Red Hat Linux
Unix System
Bash Shell
Python
SQL
SIEM
Secondary skills
7. Show your educational qualifications
Many tech companies now prioritize applicants' skill set over educational qualifications. However, the importance of including educational details in your Rust developer resume cannot be overstated. It assists the recruiter in reading your resume and understanding you as a professional and as a person. Take a detailed approach in this section; include the names of the institutions you've attended as well as the grades you received.
8. Use numbers to your advantage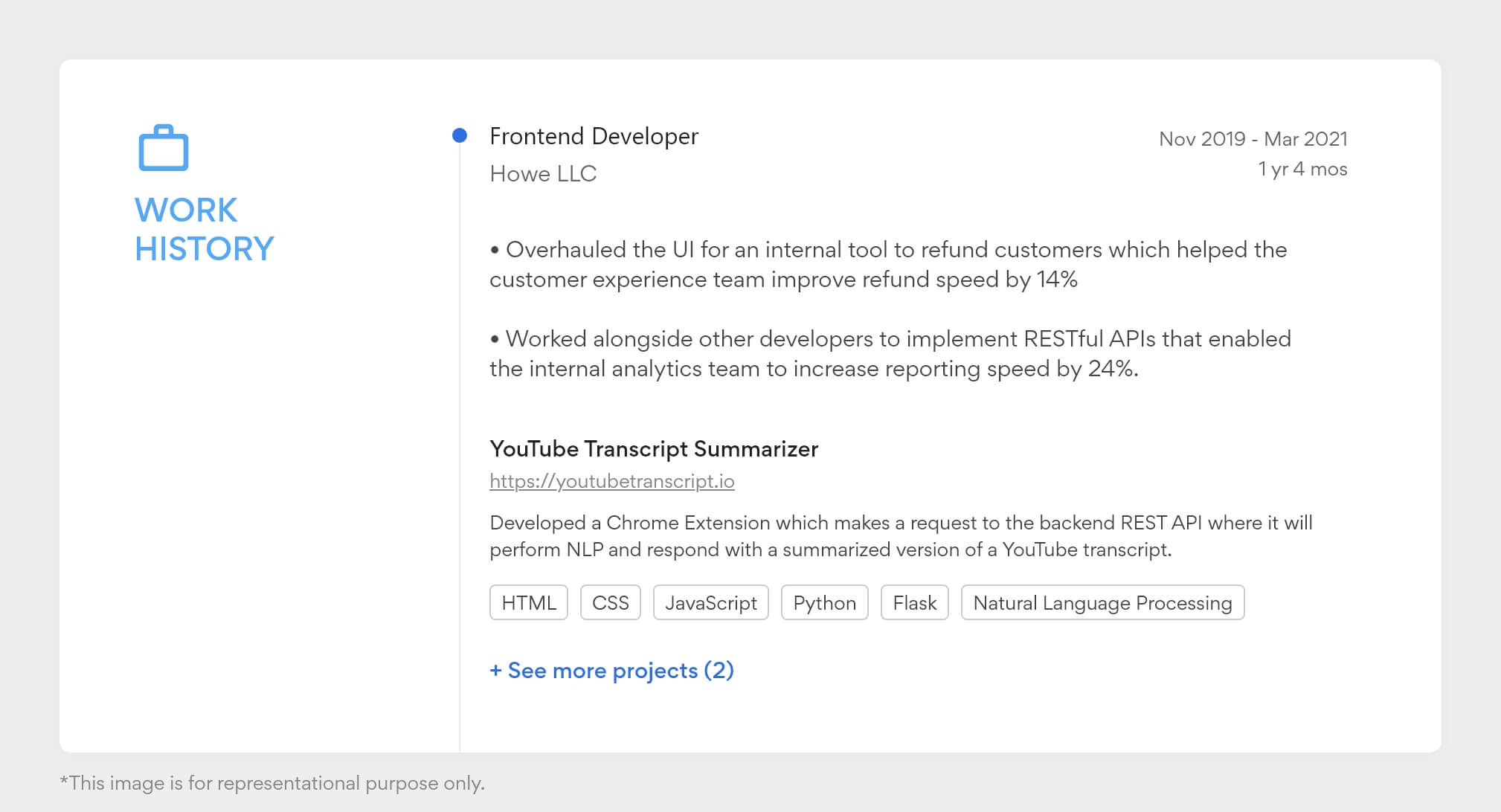 When creating your Rust developer resume, try to include numbers that accurately measure your abilities and experiences. It will improve your chances and make your resume for Rust developer jobs more informative. Furthermore, your ability to use numbers will provide prospective employers with an additional reason to hire you because of your business-savvy approach.
In addition, use this section to emphasize personal accomplishments and side projects that have helped shape you as a professional. Professionals with a can-do attitude are preferred by exclusive companies.
9. Impeccable English and relevant keywords
Good English is required if you want to work as a top Rust developer for elite Silicon Valley and US organizations. You'll be communicating in English, so composing your Rust developer resume without grammar mistakes will give a good impression.
In addition to writing your resume in flawless English, include keywords related to your skills to improve the document. This has a positive impact on recruiters, making it easier for them to grasp your previous responsibilities.
Use the following keywords to help hiring managers see you as an ideal addition to their team:
Identifying
Programming
Creating
Diagnosing
Testing
Executing
Maintaining
Communicating
Informing
Consulting
Innovating
Recommending
Troubleshooting
Designing
Documenting
10. Make a short video summary
Even though attaching a video to your Rust developer resume is unconventional and a fairly new phenomenon, it is an impactful one. There are numerous applications for the video, ranging from showcasing your skills to summarising your professional journey. Create a brief and compelling video that piques the recruiter's interest.
Create your resume and get a job on Turing
Build the best Rust developer resume with Turing's Deep Developer Profile
Apply Now