It's critical to match your technical skills with a well-written Python/React developer resume. To assist you to land your ideal Python/React developer job, we at Turing.com have compiled a list of dos and don'ts for a fantastic Python/React developer Resume.
If you're a talented Python/React developer but aren't receiving the job offers you want, there's a good probability your Python/React developer resume has flaws. As a result, you'll need a high-quality resume to obtain your ideal Python/React developer job.
The attention of potential employers is drawn to a well-crafted resume. Firms learn about you through this initial point of contact. And we all know how important first impressions are.
However, how can you design an effective Python/React developer resume if you don't already have one? This post intends to assist you in preparing a strong resume and landing the finest remote Python/React developer jobs in 2023.
1. Demonstrate your technological expertise with your bio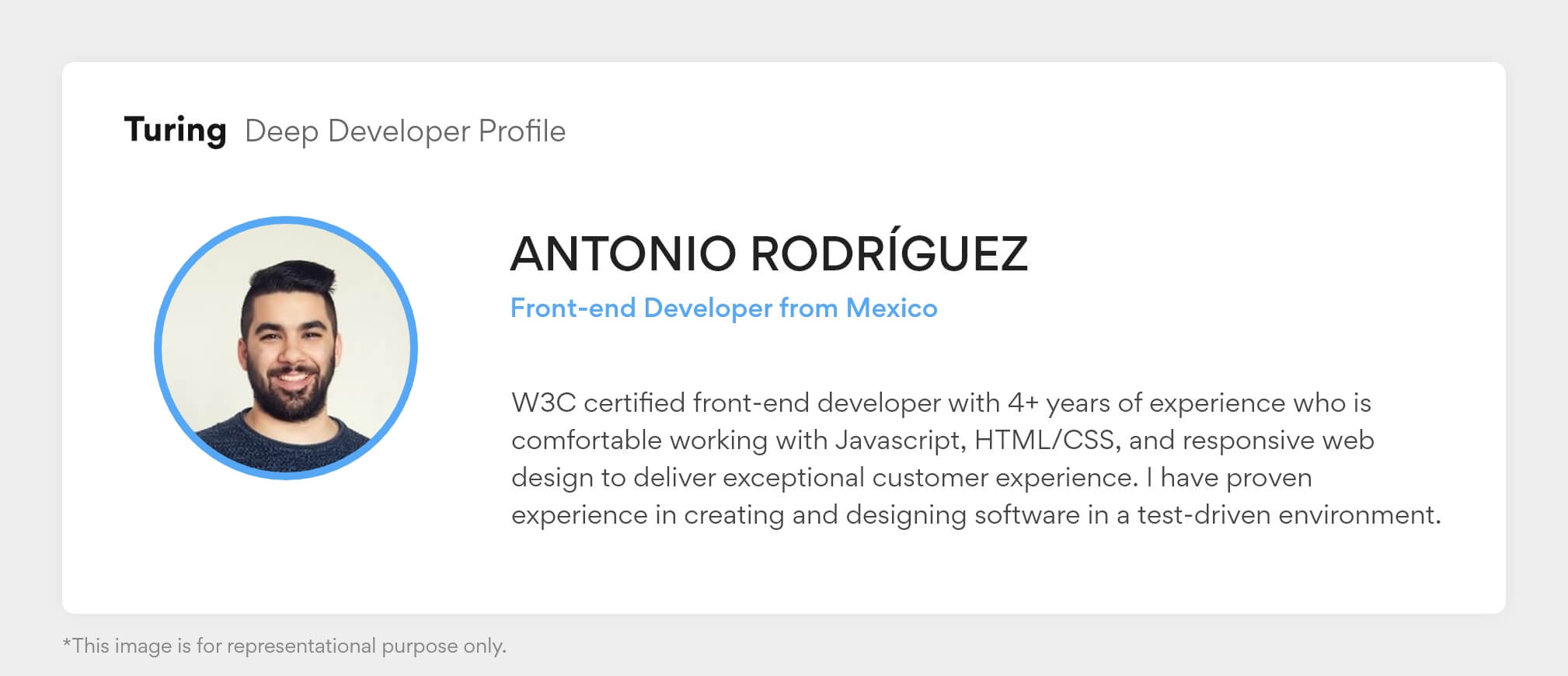 Demonstrate thorough technical expertise. Don't just rattle off a list of all the programming languages, tools, and frameworks you've used. You'll have to show that you understand these things thoroughly.
On your Python/React developer resume, it is critical to describe your personal experience and how you earned your talents.
2. Make sure your Python/React developer resume corresponds to the Python/React developer job description
If you have a copy of the job description, find the essential terms and use them appropriately and naturally in your resume. Customize your resume to the Python/React position's job description.
3. Include a resume headline
Make sure your resume's headline clearly specifies your job and the number of years you've worked there, such as '5+ years as a Python/React developer with top MNCs.'
The strategy is an excellent technique to catch the attention of a potential employer.
4. Make sure your Python/React developer resume is properly formatted
The reverse chronological approach, in which you begin with your most recent job experience, is the most commonly known method for writing a resume. Alternatively, you may use the functional structure to emphasize your expertise and technology stack.
You may also choose the hybrid option, which is a mix of the two and allows you to highlight your most valued talents and achievements.
5. Make a timeline of your corporate career
This determines the weightage of your Python/React developer Resume. Mention all of your prior accomplishments in this part, as well as how they have aided your professional development.
Create your resume and get a job on Turing
Build the best Python/React developer resume with Turing's Deep Developer Profile
Apply Now
6. Showcase your Python and React skills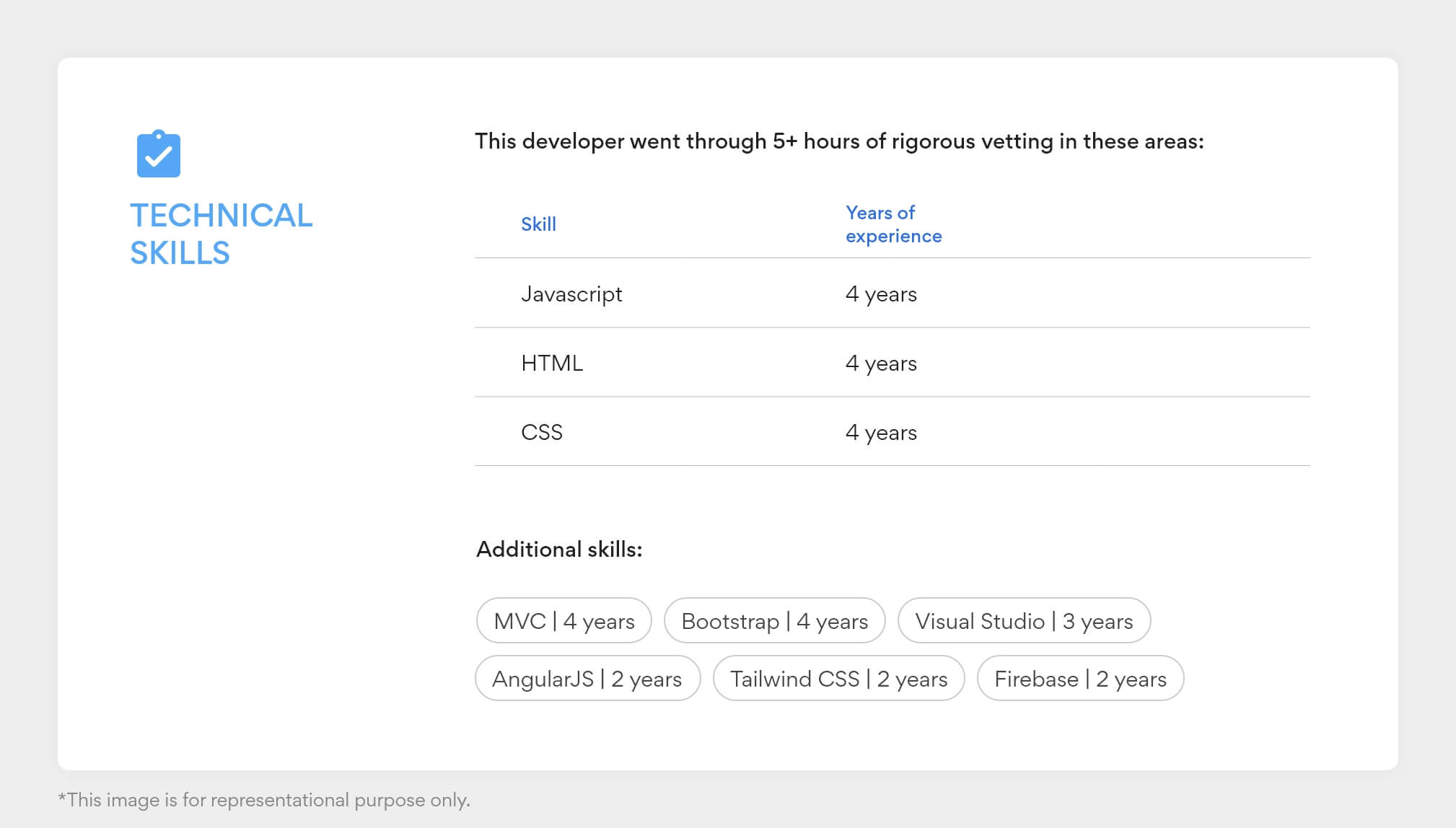 This section gives you the opportunity to demonstrate your strongest abilities. In the talents you're referring to, identify each of your greatest attributes. To catch the recruiter's attention, include symbols and show them one by one. If you have a particular expertise, consider penning a few paragraphs explaining how it benefited your past employers. Write as though your skillset were the main character in your narrative. You might also divide your talents into primary and secondary skills (primary skills are your areas of expertise/specialization, while secondary skills are things you've worked on). Recruiters can make sense of your strong points as well as the areas in which you have some experience.
Your abilities must be displayed in a professional manner as well.
To acquire a decent Python/React job, it's a good idea to include the following abilities on your resume:
HTML+CSS
JSX
JavaScript Fundamentals + ES6
Git
Node + npm
Redux
Web Frameworks
Data Science
AI and ML
Deep Learning
Analytical Skills
Design Skills
Data Structure
OOPS Structure
7. Describe your educational background
Give a full overview of your academic history, including where your school, your grades, and any certificates you hold. You will make it easy for your recruiter to evaluate your educational background if you do this.
8. Quantify your Python/React developer resume to show off your work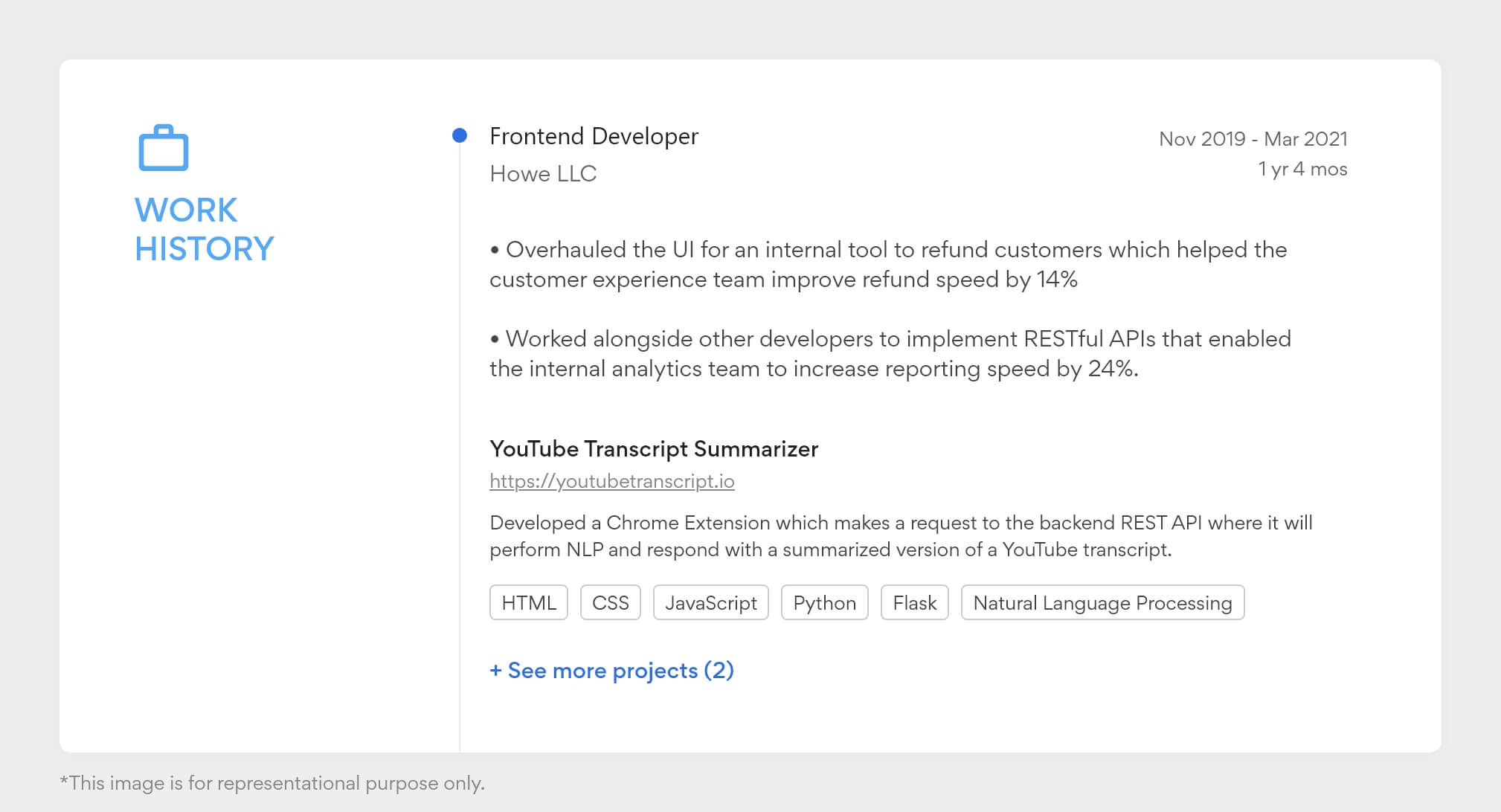 A strong set of numbers may make a big impression on a potential employer and boost your chances of getting hired. If you can confidently respond to the queries "How much?" and "How many?" on your resume, you should mention that amount without hesitation. Don't forget to include any honors or achievements you've received. Use your side project as a selling point if it demonstrates your abilities. If you mention your past experience often, you will have a far greater chance of being hired for an interview. In addition, your resume should be concise and accurate.
9. Make sure your resume is tailored for keywords and grammatically correct
Correct English usage as well as the right use of keywords, have a big influence on the recruiter, as boring as it may sound. Including relevant and optimized keywords in your headline, subheads, and text will help your profile rank higher in search engine results. Use the following keywords to help potential employers see you as an excellent addition to their team:
Identifying
Programming
Creating
Diagnosing
Testing
Executing
Maintaining
Communicating
Informing
Consulting
Innovating
Recommending
Troubleshooting
Designing
Documenting
10. Make a short video summarizing your resume
It may seem like an extra step, but making a one-minute video that summarizes your talents, expertise, accomplishments, and credentials can give you an advantage over your competition.
Create your resume and get a job on Turing
Build the best Python/React developer resume with Turing's Deep Developer Profile
Apply Now