Are you looking for the top PHP-Laravel developer jobs to help you progress your career? If you've ever applied for a job at one of Silicon Valley's firms, you understand the value of a PHP-Laravel resume and information to be filled inside. With the help of a good PHP-Laravel resume, you can highlight the key skills and impress your employers.
The professional credentials that establish you as a specialist can be summarized in your resume. When you're looking for a new job, your resume gives you a chance to impress recruiters. It's a double-edged sword that can backfire if you ignore the finer points. So, how can PHP-Laravel developers create resumes that make a positive first impression and increase their chances of being hired for the best PHP-Laravel developer jobs?
In this post, Turing experts will walk you through some tips to make your resume the best for a job application.
1. Create a unique bio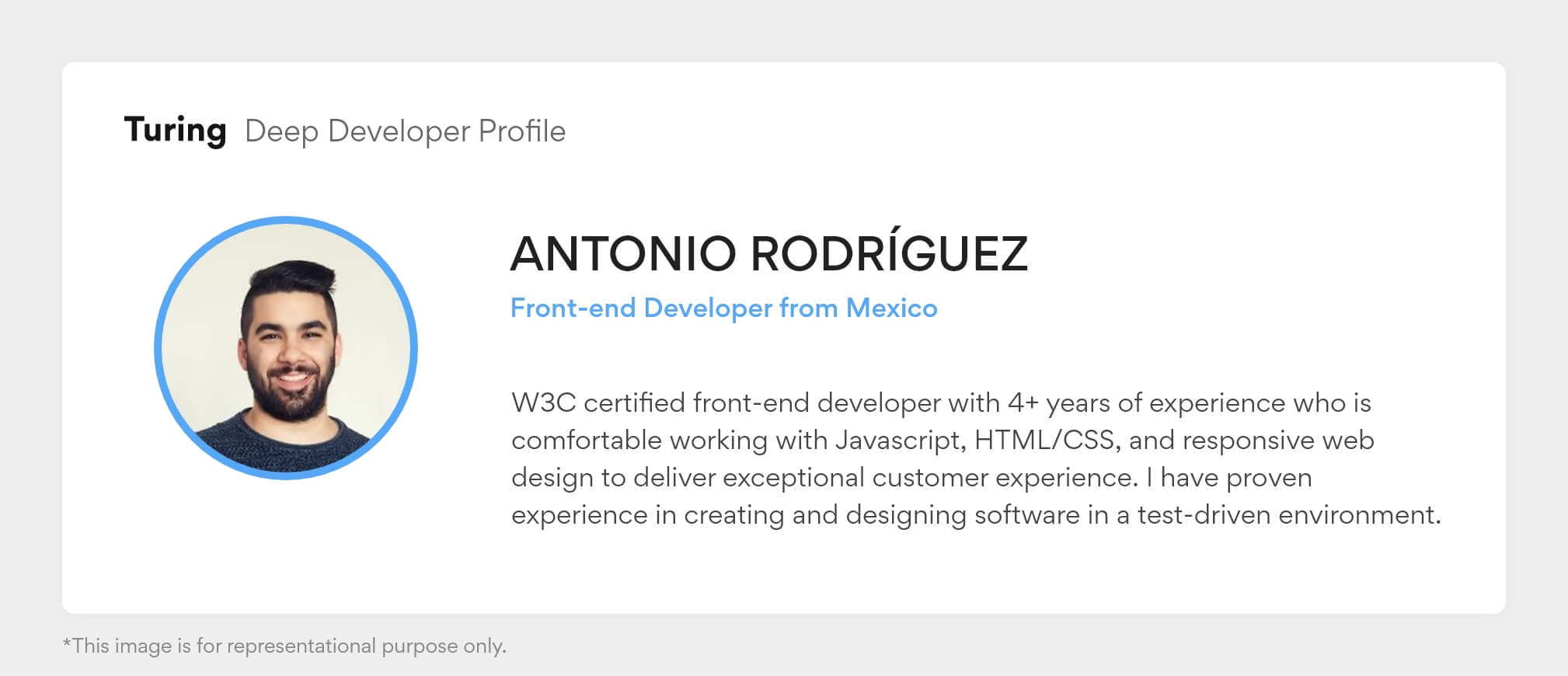 You need to add a catchy 'About Me' section for the reader to understand more about you. A well-written bio can make all the difference in catching the attention of recruiters and increasing the chances of getting an interview call.
Include information like your email address, phone number, or other social media links in your bio section so that recruiters can contact you quickly. You can learn how other developers write it by looking at a PHP-Laravel resume template on the internet. Try to incorporate as many PHP-Laravel developer jobs-related keywords as you can in this section without going overboard.
2. Make your PHP-Laravel resume tell a story
You need to add storytelling to your PHP-Laravel developer resume. Take the recruiters on a tour of your professional life by considering this as an opportunity to impress them by sharing your story.
Don't hesitate to tell your story because a tale has the potential to influence decision-making. A good PHP-Laravel resume might help you portray yourself as a passionate employee.
3. Start with a great headline
Start your resume with a memorable headline before presenting your skills and delving into the details. Make a headline that describes your qualifications and experience aptly.
From a PHP-Laravel resume, here's an example of a well-written headline: 'senior PHP-Laravel developer with 5+ years of experience'. Personalize resume headlines for each job application. Begin by providing the details that create a positive impression of your skills.
4. Understand the structure from a PHP-Laravel resume and create yours
When writing a resume, many professionals use the popular reverse chronological approach. That implies beginning the resume with the most current positions and experiences. Never hesitate to experiment with other models. For example, a functional format emphasizes your strengths over technical efficiency.
In addition to these two options, you can use a hybrid format for your PHP-Laravel developer resume. It establishes a balance of experience and skillset while emphasizing your professional achievements.
5. Include a professional timeline in your resume
A resume with a professional chronology that is clear and informative can make all the difference. It can be utilized to make your resume unique by showing your professional accomplishments. Refer to a PHP-Laravel resume and provide sources to back up the information you present. Also, tell them how long it took you to achieve milestones in your career.
Create your resume and get a job on Turing
Build the best PHP-Laravel developer resume with Turing's Deep Developer Profile
Apply Now
6. Showcase your PHP-Laravel development skills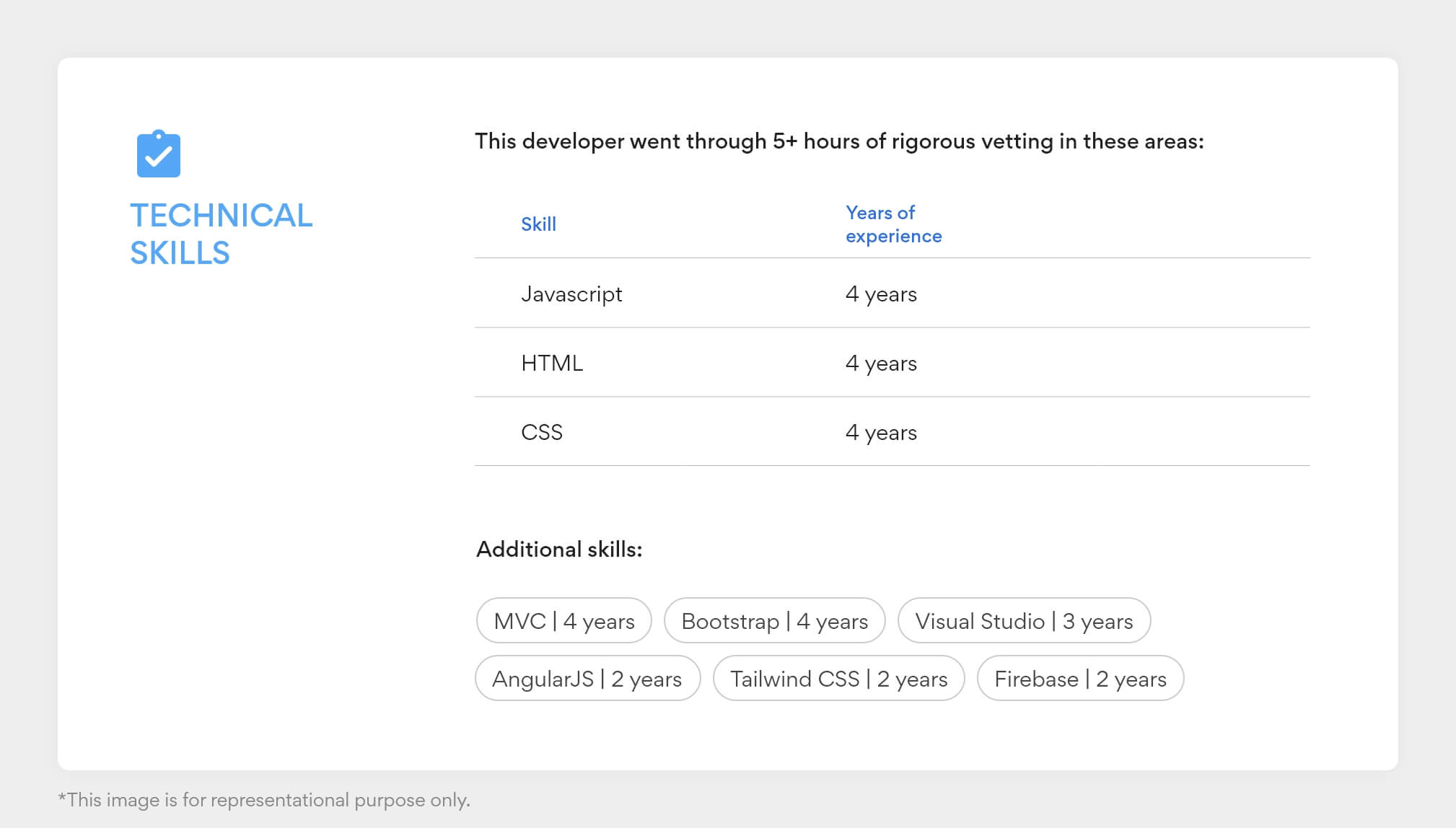 This is where you can go over your skills in further depth. Make a list of your key areas of expertise and related talents that have previously helped you land PHP-Laravel development jobs. Make a list of the specifics, and don't be hesitant to use icons to draw attention to important information.
Also, when presenting your skills, include a line or two detailing how those skills helped your former employers achieve their goals. Instead of sticking to the standard format, you can use a different technique for your PHP-Laravel developer resume. For example, your skillset can be divided into two categories: Primary and secondary skills.
Recruiters will quickly recognize your expertise and skills gained through work experience. You can use the usual format or go in a new direction.
To impress employers, your PHP-Laravel developer resume should include the following skills:
Primary skills (Technical)
HTML
CSS
JavaScript
Web frameworks
Composer
Frameworks
Command line
RESTful services/APIs
RESTful APIs
Secondary skills
UI/UX design
Visual editing
Wireframing
GIT/Version control
Debugging
7. Mention your academic accomplishments
Your PHP-Laravel developer resume must highlight your educational history. Provide details such as the institutes you've attended, the grades you've received, and any other qualifications you've acquired to improve your chances of being hired. Use a tabular layout for this area to make it easier for recruiters to browse over your academic background and get a better understanding of you.
8. Quantify your skills by putting numbers next to them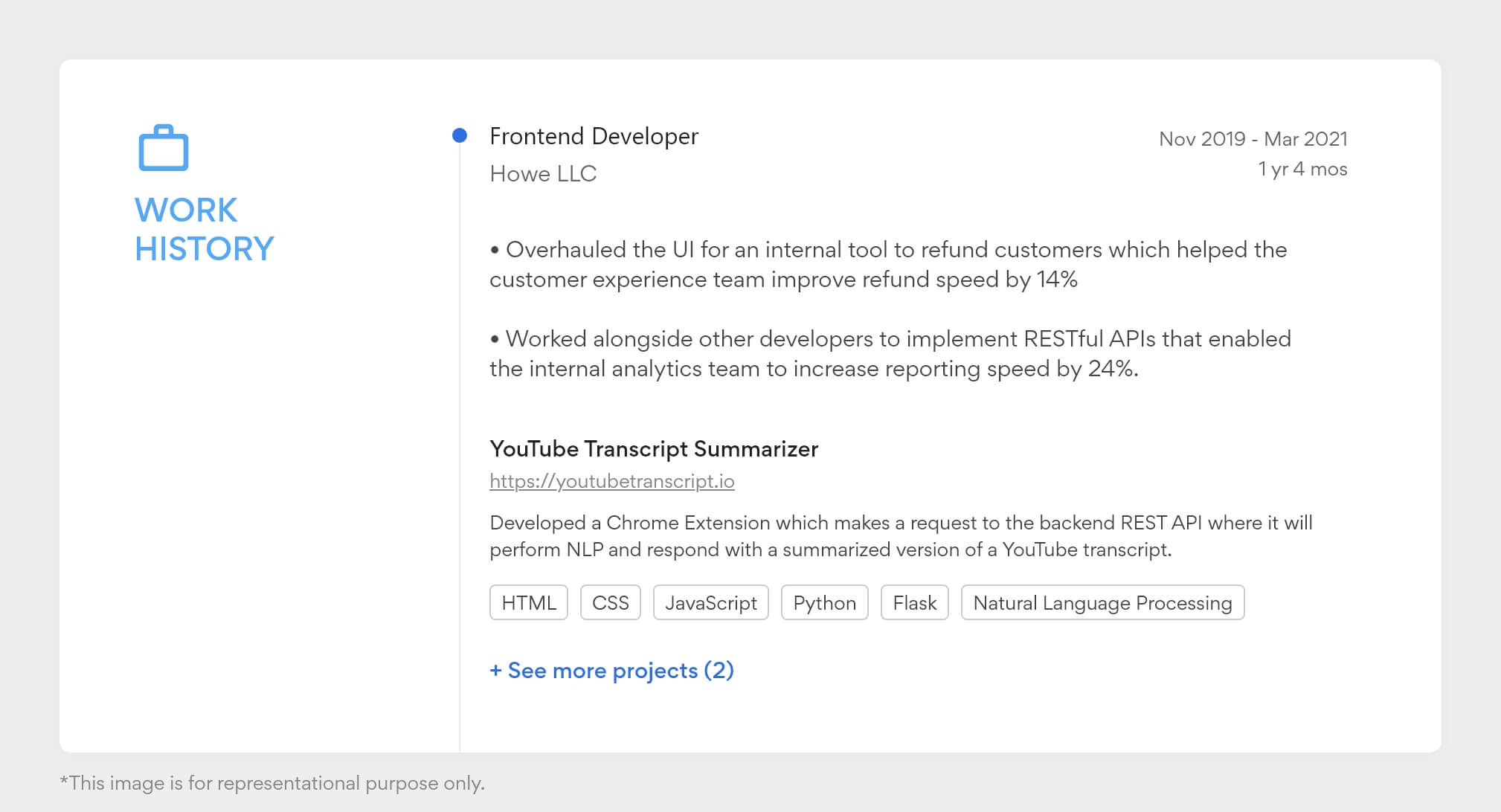 In the professional world, numbers can perform miracles. Adding numbers help you quantify your skills and impressively show your competency. Also, add personal achievements and side projects. Such information can significantly improve your chances of getting hired for the best PHP-Laravel development jobs.
Keep in mind that your resume shouldn't be too long; it shouldn't exceed two pages.
9. Make sure your grammar is correct and that you use keywords
To land the best PHP-Laravel development positions in US companies, expertise in English is necessary. Also, keywords relevant to your field should be included in the title, section headings, and throughout the page. This will allow you to tackle resume sorting software's algorithms and improve your hiring chances.
You can include the following skills-related keywords in your resume:
Developing
Programming
Creating
Designed
Testing
Executing
Integration
Coding
Bootstrapping
Documenting
10. Include a brief video clip
It's possible that you're not showing your skills if you don't receive a response to your PHP-Laravel developer job application. Including a short video is a fantastic approach to highlight your skills. The video should be brief and concise.
Create your resume and get a job on Turing
Build the best PHP-Laravel developer resume with Turing's Deep Developer Profile
Apply Now