JavaScript has been in huge demand and it will continue to be for the decades to come in the future. If you are looking for a job or trying to shift to another job, you need a perfect resume that will channel your expertise to the recruiter.
A resume is not of any use if it is not able to convince the recruiter in your favour and get you a job. Writing a resume can be a daunting task because of the weight it holds in our professional careers.
So, this guide by Turing will help you make a perfect JavaScript developer resume that helps you advance your career and get you one of the JavaScript developer jobs that you've always been dreaming of.
1. Get straight to the relevant information
Straight away jump to specific details in your resume. There is no need to go round and round of a particular point. You have to be direct and to the point. Always remain cautious to make the resume shorter and crisper, but keep all the useful information.
There should be a perfect balance between the information you want to convey during the interview. Adding excess information to your resume would negatively affect your CV in two ways:-
If you include everything in your resume then what news will you tell the interviewer during the interview. Your resume should have perfect harmony between the information present in the resume and what you will share directly with the recruiters.
Does the interviewer have the time to read all the sections of your resume if it's too long? No, he will eventually skip the information from your resume if it's more than a page long, which is the harsh reality.
So be very specific while you write your resume without skipping on the essential information. Use a very precise sentence structure that is uniform all over your resume.
2. Formatting of your resume
You can be experimental and may not use any of the formats which are listed below for different case scenarios. But, you have to be very careful while making a custom JavaScript Developer resume as what is aligning with your vision might not align with the hiring manager's vision.
There are majorly three types of proven formats for making a resume. They are as of the following:-
Functional format: This type of format focuses more on the skills rather than the work experience. It reflects your work and projects in the light of your skills. The skills section takes up most of the space in this type of resume. It is best for the freshers and for the people who have career breaks in between.
Chronological format:- Work experience is written in a timeline format with your most recent job presented first. All of the emphasis is given to your work history. It is best for the people whose job history matches with the role they are applying for and don't have any career breaks.
Combination resume:- This format is best for any of the people because it takes an equal approach to skills and work experience. Due to this reason, this is the most common type of resume which is used while making the resumes. So you can choose between these formats according to your preference or make something else if you wish to come up with a unique resume.
3. Headlines in your JavaScript developer resume
Headlines are presented just under your name in the resume. It is very important yet easy to make headlines for the resume. The general notion is to tweak your resume according to the job profile for which you are applying. So, if the job application needs X amount of years of experience then your headline simply can be 'X number of years experienced JavaScript developer.' It is as simple as that to write a headline for a JavaScript developer job.
4. Impeccable English in your resume
Use simple and clear English in making your resume. Don't hide things while you make a resume. It is a very important document for your career and a single mistake can cost you a dream job. Hiring managers are left with a bad impression if you have typos or grammatical errors in the JavaScript developer resume. You might wonder why there is so much emphasis on good English when they will hire on the basis of the skill? The reason is that it shows your diligence and seriousness towards the job for which you are applying. You have to make an impeccable resume from both the perspective, i.e., design and writing.
5. Skills you require for the JavaScript developer position
There is a set of specific skills which you have to possess to get the position as a JavaScript developer. You have to establish yourself as an expert in all of these skills to make sure that you have a high chance of getting a job.
Here are the skills you need to learn for a JavaScript developer job:-
Primary skills
JavaScript
HTML
CSS
C#
.NET
React & Redux
HTML/CSS frameworks
JQuery
Secondary skills (Soft skills)
Browser developer tools
Testing and debugging
Git and Version control system
Verbal and written communication expertise
Problem-solving mindset
6. Talk about your educational background
Your educational history carries a lot of weight in your JavaScript developer resume. Mention the institutes you've attended, grades secured and other certifications you successfully completed, etc., in a tabular manner. This will make it easier for recruiters to look over your academic background and understand you better.
Create your resume and get a job on Turing
Build the best Javascript developer resume with Turing's Deep Developer Profile
Apply Now
7. Quantify your accomplishments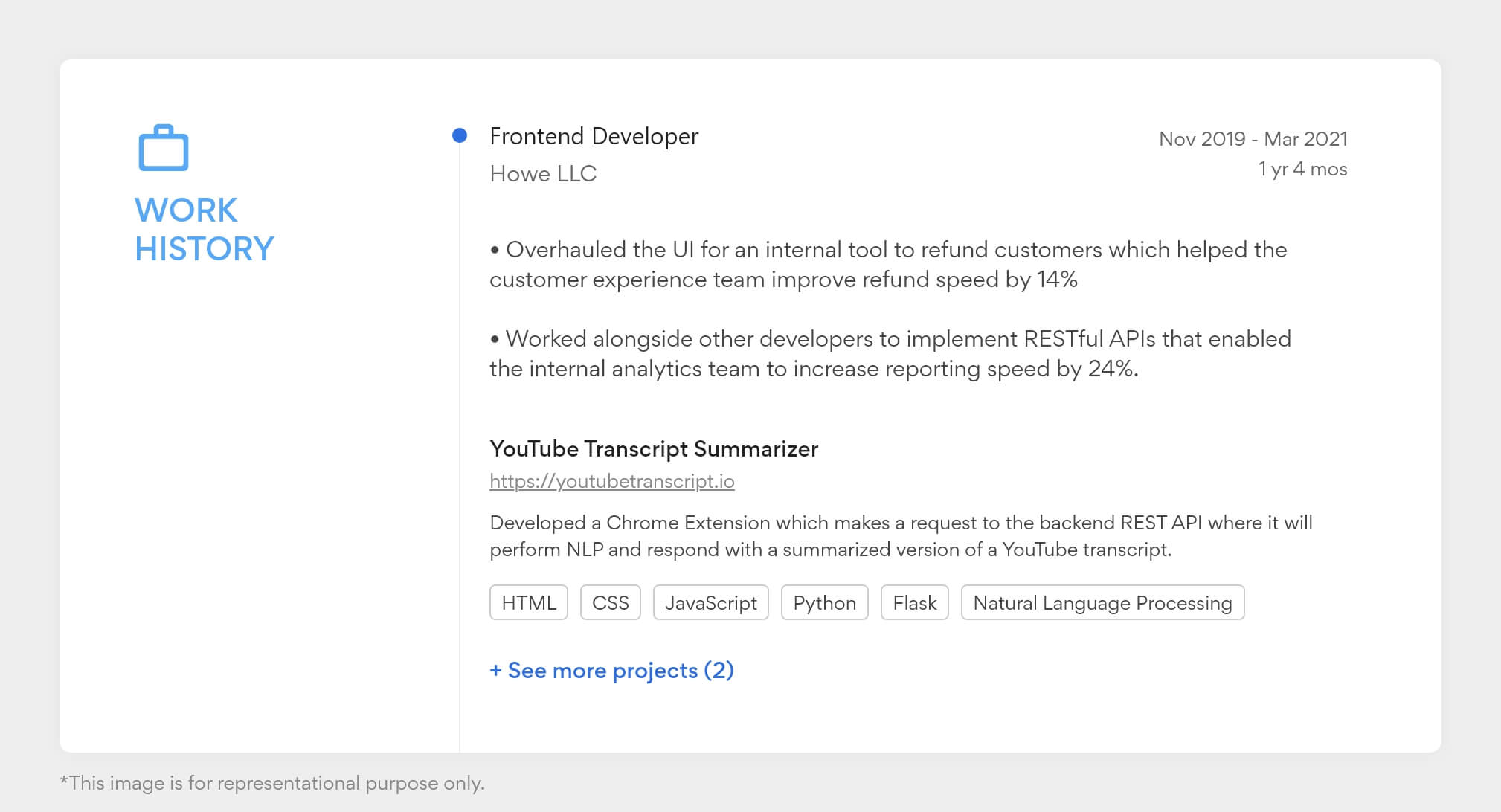 When you are making the resume in whichever format, always state your accomplishments in the form of numbers and figures. No matter which section is there, either the summary section or the work experience section, numbers and figures have a very strong emotive effect on the hiring manager. For example, "handled x number of employees" or "made user engagement platform for x number of people", like this so and so forth you should quantify your accomplishments.
8. Keywords in JavaScript developer resume
Keywords are an essential part of your JavaScript developer resume because they serve two purposes:-
Firstly, they help in arousing interest in the hiring manager about your skills and work experience and increase your chances of getting to the interview process.
Secondly, it helps your resume to get easily parsed by ATS software.
These are the keywords that you can use in your JavaScript developer resume:-
collaboration
frameworks
responsive design
vector graphics
visual thinking
debugging
work ethic
enthusiasm
JQuery
C++
CSS
DNS Management
GIT
Programming
Performance
Analysis
Design
Content
9. Video introduction
It is not an extra step and you should have a video introduction of yourself summing all the experiences and skills you have relevant to the job. This can have a very strong impact on the hiring manager.
Create your resume and get a job on Turing
Build the best JavaScript developer resume with Turing's Deep Developer Profile
Apply Now