You definitely are a skillful Java developer, but finding it difficult to land one of your dream Java developer jobs. There are high chances your resume is the one causing hindrances. Consequently, you need a top-notch CV to land yourself a top-class remote Java developer job for Silicon Valley companies.
A well-crafted CV grabs potential employers' focus towards your capabilities. It is the first window through which companies learn about you. Moreover, we all know first impressions are the most important gateway to success.
So how can you make your resume effective if you still don't have one?
This article is an attempt by team Turing to guide you in creating a strong and powerful resume and getting the best remote Java developer jobs. Here are a few things that you need to be mindful of while crafting an immaculate resume.
1. Display your thorough technical knowledge
You will need to showcase your extraordinary tech expertise with programming languages, tools and frameworks. Mentioning just the list of programming languages, tools and frameworks will not suffice. The ideal resume should narrate your personal experiences and how you acquired and earned your skills.
2. Align your Java developer resume with the job description
You have seen the job description already, identify the crucial keywords from there and append the words appropriately and naturally in your resume. Customize your CV as per the job description. Leverage it.
3. Set yourself apart from other candidates
Employers and recruiters are very occupied and have short attention spans. The average recruiter spends only 6 seconds on a CV. Therefore mention your top-notch skills as well as the work you did that made a difference to your previous employers. How your achievements brought extra revenue in the organization, will be a huge reason to get you to the interview.
Write a few lines about how you are always focused on finding solutions to all problems. Problems are everywhere and everyone discovers them, but tell them you are a solution-oriented person. This will make you stand out from the crowd.
4. Choose the right format for your Java developer CV
The most widely used format that will help you acquire your top-notch Java developer jobs is the reverse-chronological format. In this format, you begin by mentioning your work experience from the most recent organization you worked for. This format is chosen by most Java developers due to its relevance.
On the other hand, a functional resume doesn't include your industry experience. It consists of your skills and doesn't take into account, where you worked and for how long. Use a functional resume format, if you've had long periods of unemployment or switched your career to a different field.
You may also make a hybrid one, a combination of both chronological and functional depending on your work history as a Java developer.
5. Give a comprehensive timeline of your industry experience
This probably is the fleshy part of your CV. This is where you should clearly mention your work history. Don't just make it a history timeline. Mention your previous jobs, your work duration, the targets that you achieved, what value did your work added to the organization, etc., in a clear and concise manner. Give stats and data about your performance, quantify your contributions. This will give your future employer a detailed idea about your caliber and why they should hire you.
Create your resume and get a job on Turing
Build the best Java developer resume with Turing's Deep Developer Profile
Apply Now
6. Highlight your core skills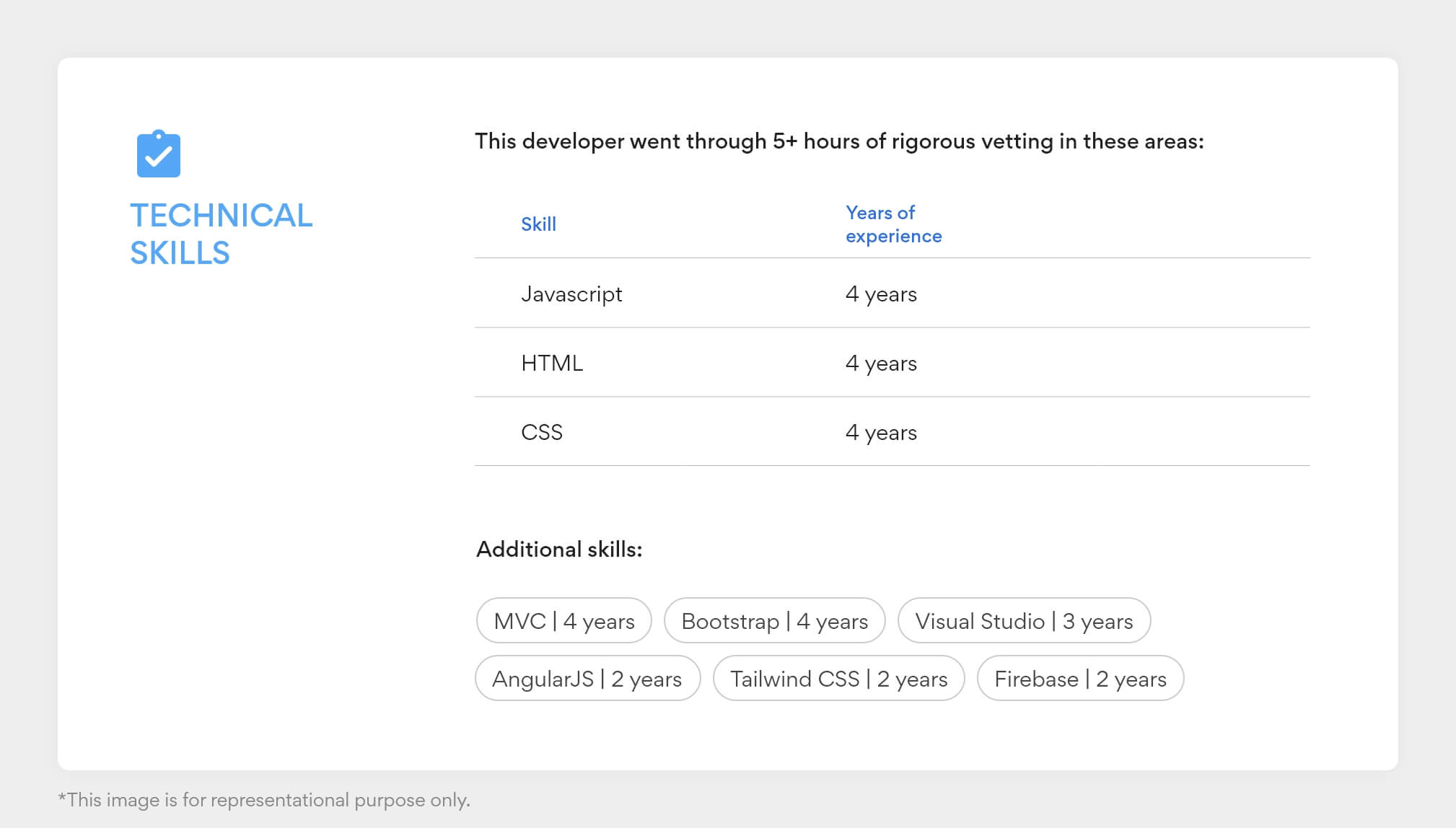 This part shows the employers the skills you're good at. Highlight your strengths in each of the skills that you're going to mention. Show them point by point and try appending icons to grab the employer or recruiter's attention. Also, you must be very particular about how you present your skills. For example, rather than presenting your skills like this:
Having the following Java developer skills in your resume will help you land a good front-end developer job:
Primary skills (Technical)
Java
HTML
CSS
Javascript/Jquery
CSS and Javascript Frameworks
Scala
Kotlin
Command line
Secondary skills
UI/UX design
Visual editing
GIT/Version control
Wireframing
Debugging
7. Write about your educational background
Write your educational background, the institutes you went to, the grades you earned, the other certifications you have, etc., in a tabular manner. This will enable the recruiter to quickly go through your educational history in a brief period of time. In some scenarios you may want to trim your educational background if you have deviated from what you studied. For instance if you don't have a computer science degree but switched to Java programming based on your interest, then you shouldn't list your education background in detail.
8. Quantify your resume with data and numbers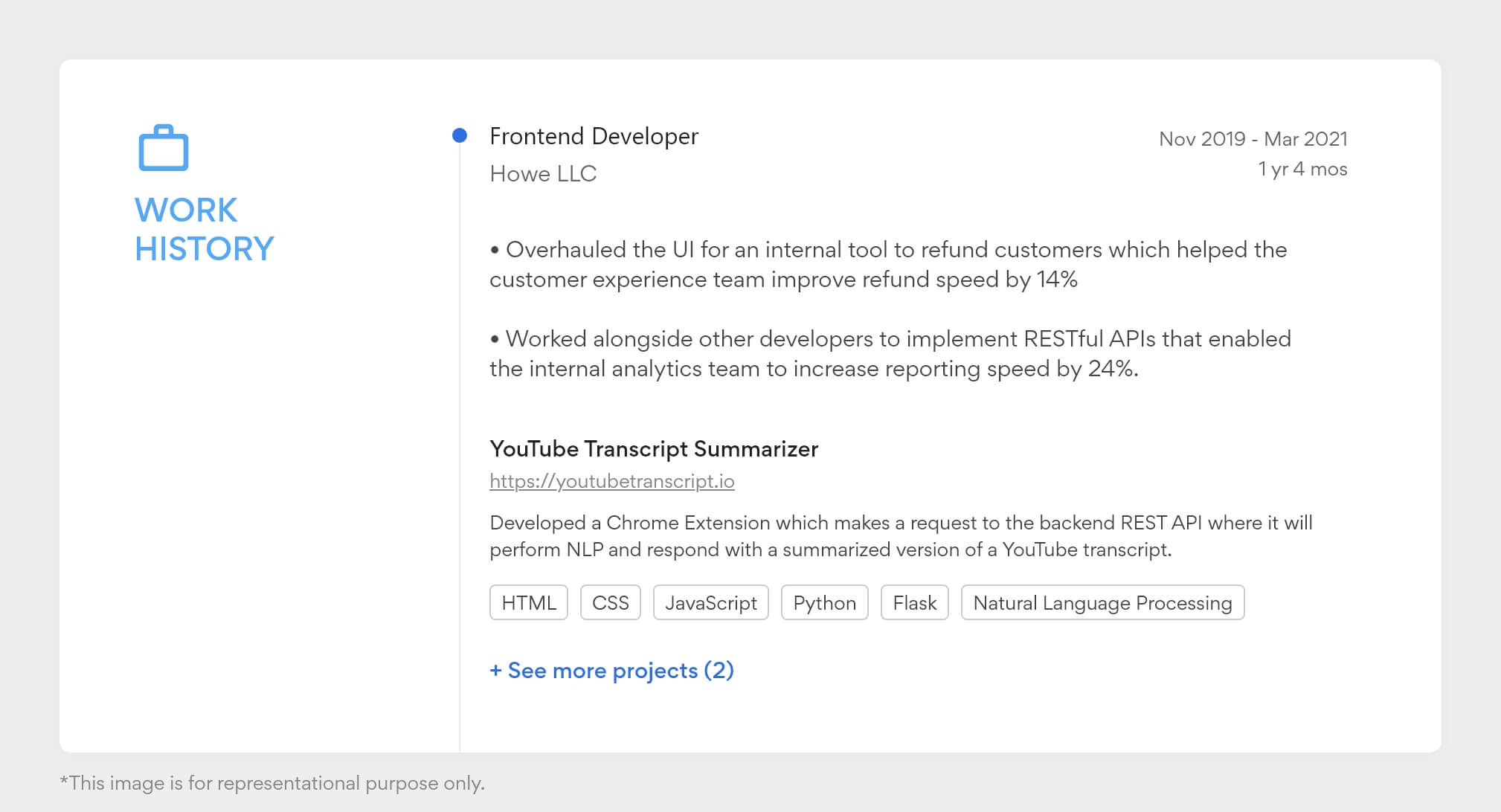 Giving solid data to your potential employers and recruiters will definitely leave a great impact and increase your chances of getting hired. Try answering the questions "How much?" or "How many?" in your Java developer CV. Keep in mind to include any personal accomplishments or accolades you've achieved. Leverage your University project as a selling point, be ready for any questions regarding it.
9. Optimize your resume with keywords and correct grammar
Make sure you have used proper grammar and English. It indicates authenticity and gives good weightage to your CV. Just think for a moment, would you like to read erroneous sentences? No, right ? Always proof-read your resume and make sure to use flawless English and grammar with appropriate syntax.
Also do use effective keywords on your resume related to Java development and software development. These keywords are extremely important which is why highlighting them will definitely get you noticed. This will prove vital for you in a time-sensitive situation.
Use these precise keywords to help potential employers see you as the ideal addition to their team:
Identifying
Programming
Creating
Diagnosing
Testing
Executing
Maintaining
Communicating
Informing
Consulting
Innovating
Recommending
Troubleshooting
Designing
Documenting
10. Record a short video summing up your resume
This may sound like a redundant step, however recording a brief video of about a minute or two summing up your skills, experience, achievements, and credentials will give you a substantial edge over your peers.
Create your resume and get a job on Turing
Build the best Java Developer resume with Turing's Deep Developer Profile
Apply Now