Are you in search of the best Flutter developer jobs to advance your career? If you've ever applied for a job at a reputed Silicon Valley firm, then you understand the importance of a Flutter developer resume. You can impress your employers by emphasizing key skills with your resume.
Your resume is the first window of your skills to the employer. So, it is crucial to impress the recruiting managers by displaying your expertise and establishing yourself as a professional in their eyes. However, a resume is a double-edged sword. It can significantly backfire if you do not pay attention to the finer details.
So, how do you prepare the perfect resume that increases your chances of getting hired by balancing all your finer aspects and portraying you as the professional that you are?
Well, experts at Turing have got some tips just for you. Here are the best tried and tested methods that can improve your resume and guarantee you a call from the recruiters solidifying your place in the top Flutter developer jobs.
1. Start with an excellent bio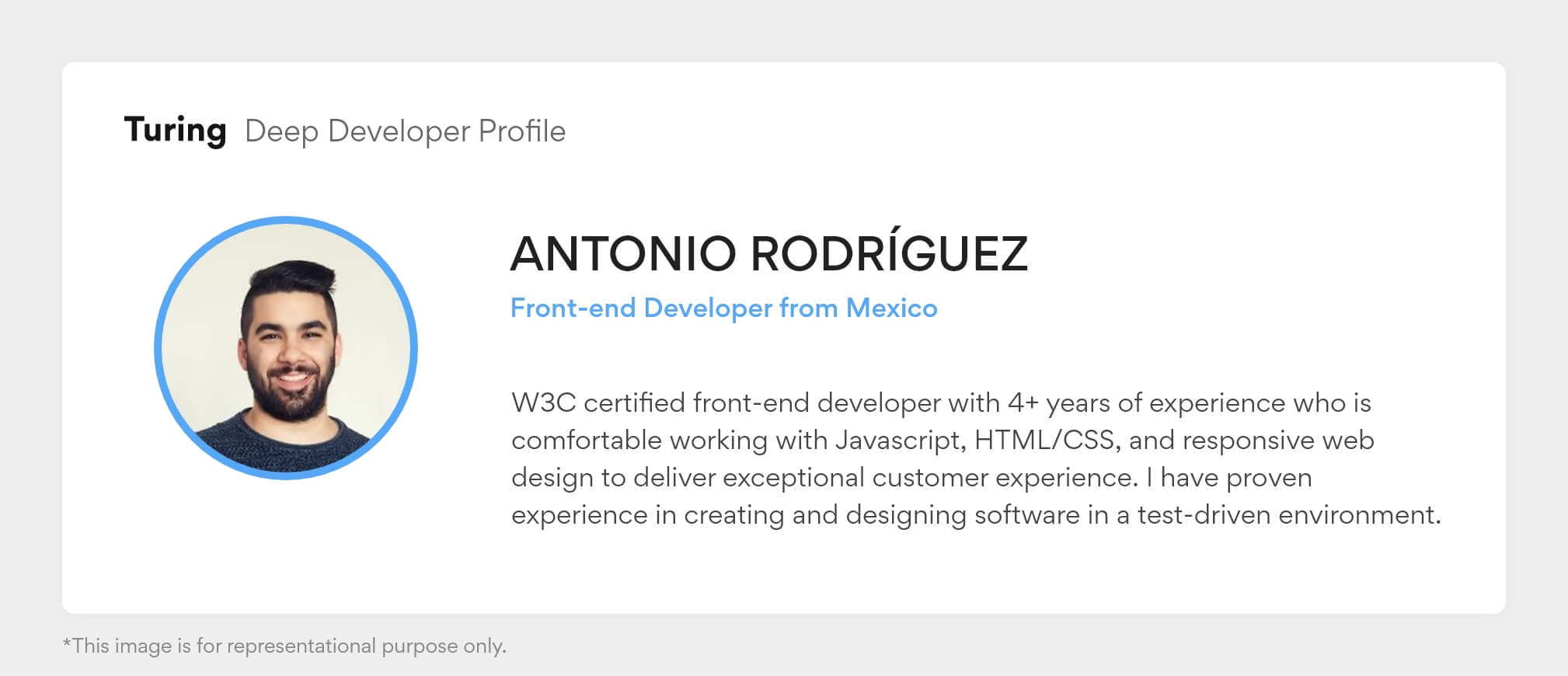 Add an appealing 'About me' section, in the beginning, so the hiring managers can understand more about you. An engrossing bio can make all the difference in capturing the interview panel's attention. This can potentially increase your chances of getting a call from the recruiters for an interview.
Include all your contact information such as the email address, phone number, and other social media handles in the bio section so the recruiters find it easier to contact you quickly. Also, don't forget to insert keywords for your most important skills as well as a brief description of any relevant Flutter projects you've worked on. This will make your resume stand out from the crowd and increase your chances of getting hired.
2. Present your Flutter resume as a story
Nothing captures our attention as a story does. So, tell your story through your Flutter developer resume. Layout your projects and Flutter development experience as a neat story and entice the recruiters.
Don't be afraid to share your narrative because it has the power to influence decision-making. A good flutter resume can assist you in generating ideas and portraying yourself as a dedicated employee.
3. Open with a great headline
There is nothing an attention-grabbing headline can't do. So, better start the resume with a captivating headline before describing your skills and venturing into the details. Create a headline that accurately describes your qualifications and experience.
For example, here is a headline taken from a well-made Flutter developer resume: 'Flutter developer with 5+ years of experience'. This impactful headline aptly summarises your experience.
4. Structure your flutter developer resume in the right format
There are several ways you can format a resume. However, most professionals prefer the popular reverse chronological format to structure the resume. It starts with the most recent employment information and works its way backward. While it achieves the goal, you can take a different approach. For example, you can structure your Flutter developer resume in a functional format emphasizing your abilities and technical expertise and assisting you in making a stronger first impression.
5. Provide a detailed timeline of your work experience
Your work experience carries the weight of your whole resume. So, do not just list your employment history; describe it in detail and engagingly. A resume with a clear and informative professional chronology can make all the difference. It can be used to distinguish your resume by highlighting your professional achievements. Use the Flutter developer resume and provide references to corroborate the skills and experience you display. Also, tell them how long it took you to reach certain career milestones. Your professional timeline is, after all, the most important aspect of your flutter developer resume.
Create your resume and get a job on Turing
Build the best Flutter developer resume with Turing's Deep Developer Profile
Apply Now
6. Emphasize your Flutter development skills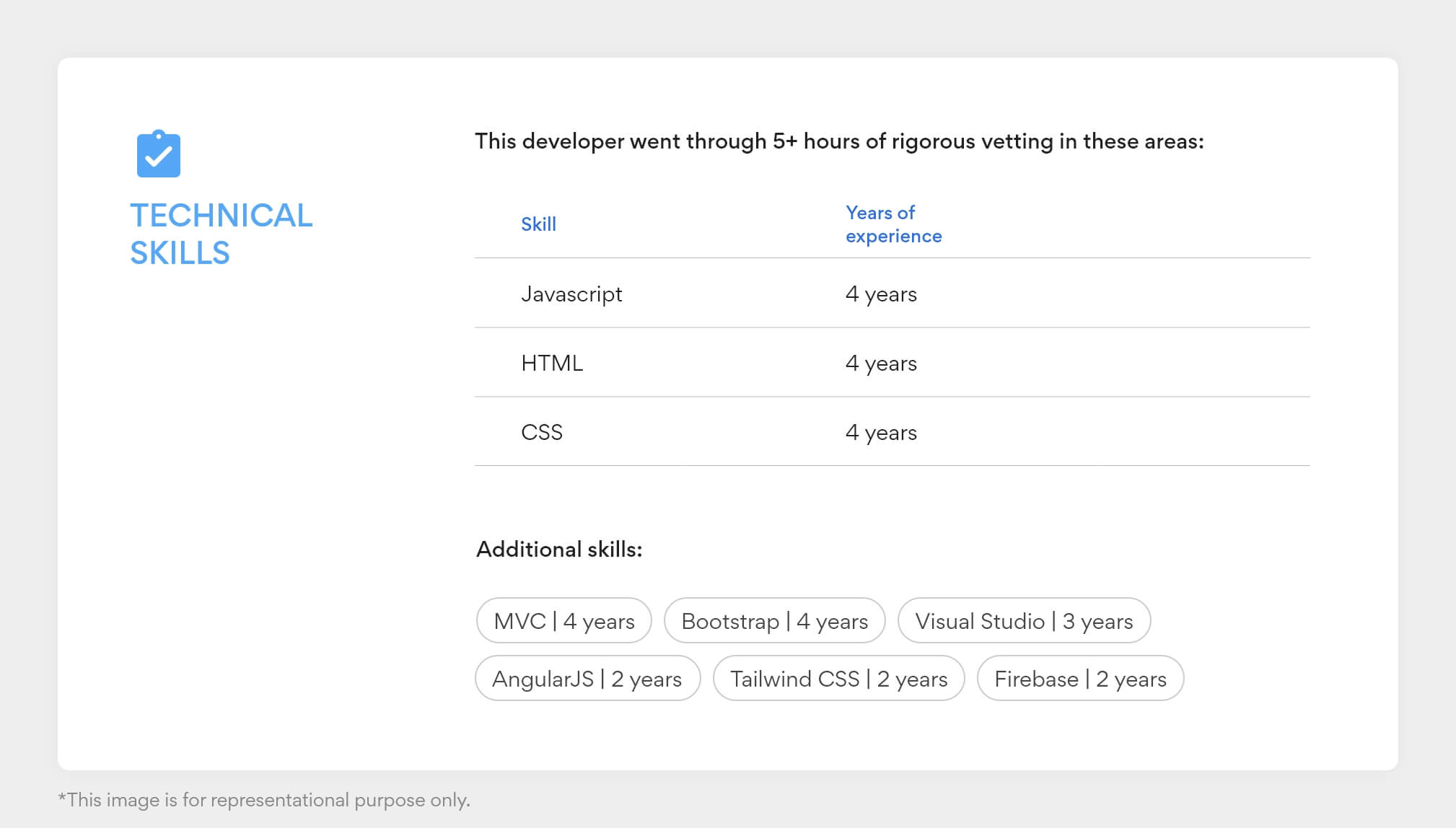 In this section, highlight the skills in which you excel. Demonstrate your core strengths in each of the skills you mention. Present them line by line and, if possible, include icons to catch the recruiter's attention. Try to write a few lines about how your expertise in a particular skill helped your previous organizations overcome a business problem.
Integrate your skillset into your story as if it were the main character. Also, categorize your skills as primary and secondary (primary is your area of expertise/specialization, and secondary is skills you have some professional experience with). This will give recruiters a good idea of your main strengths and areas in which you have some knowledge. If you are unsure about how to present your skills, then take the help of a Flutter resume.
To grab the recruiter's attention, include these following skills in your Flutter developer resume:
Primary skills (Technical)
Flutter framework
Swift
SQL
Kotlin
Java
Dart
Agile methodology
Libraries
RESTful APIs
Secondary skills (Design and web performance-related)
Software development life cycle
CI/CD services
GIT/Version control
Android/iOS development
GoF Patterns
7. Mention your educational background
Highlight your academic background in your Flutter developer resume. To increase your chances of being hired, include information such as the institutes you've attended, the grades you've received, and any other qualifications or accolades you've obtained. Use a table form layout for this section to make it easier for recruiters to look over your academic credentials and understand you better. To learn how to properly add the details, use a standard Flutter resume sample copy.
8. Use numbers to quantify your skills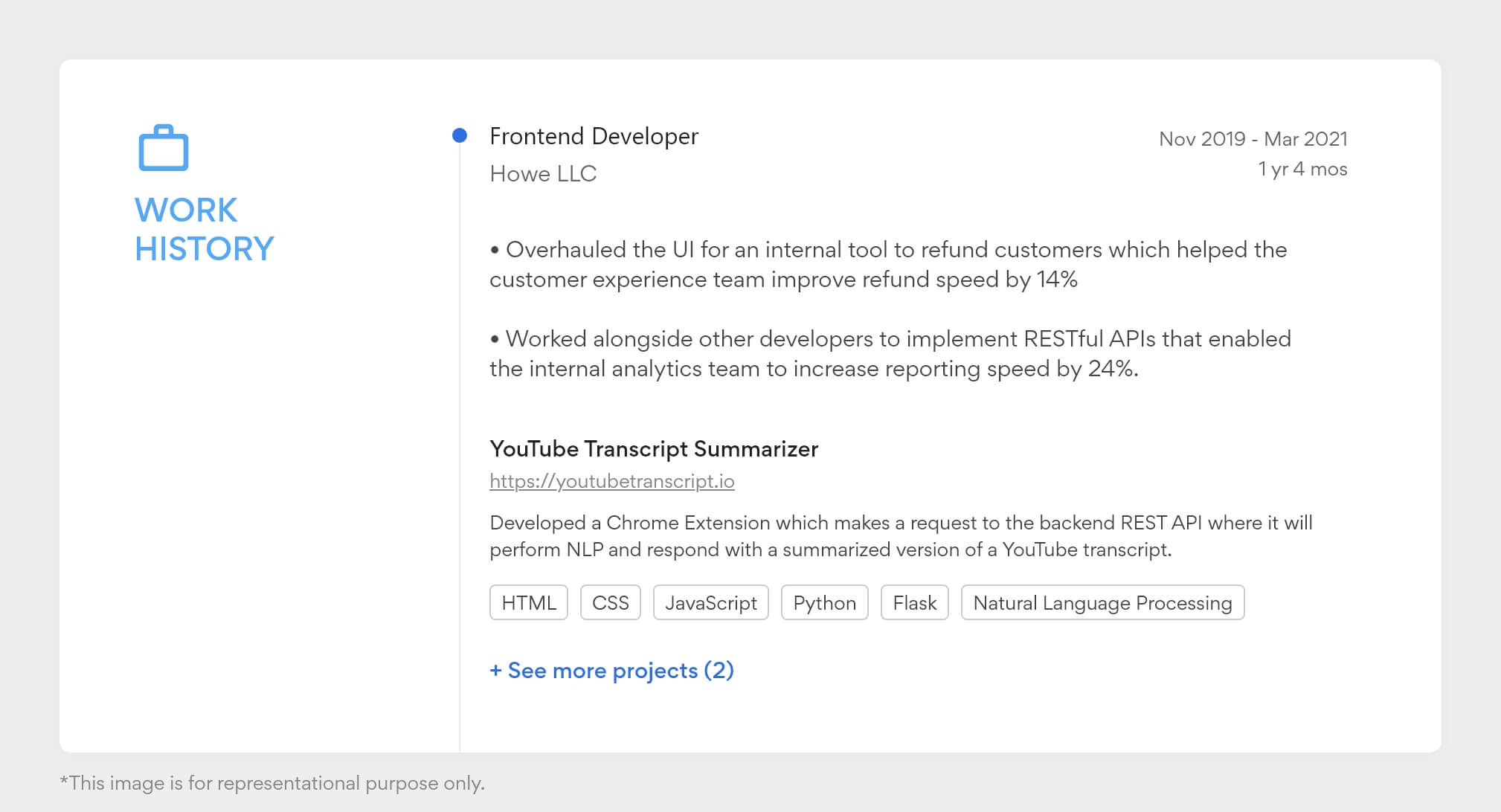 Numbers can create magic in the modern workplace. Including numbers allows you to quantify your abilities and impressively demonstrate your competency. Provide personal accomplishments and side projects as well. Such knowledge can greatly increase your chances of getting hired for the best Flutter development jobs.
Ensure that your resume is not more than two pages long. Learn to portray only the most important information from a Flutter developer resume to make your resume more comprehensible.
9. Avoid grammatical mistakes and use proper keywords
Good grammar, correct spellings, and relevant keywords are key to a good resume. Expertise in English is required to land the best flutter development positions in US companies. Also include flutter-related keywords throughout the resume such as in the title, section headings, and more. If you don't have these things on your resume, it will look distasteful to the recruiters. Even if you are the most qualified candidate, a single error on your resume can persuade recruiters to reject you.
Here are some skills-related keywords you can include in your resume:
Developing
Programming
Creating
Testing
Executing
Update
Frameworks
Designing
Deploying
Conceptualize
Coding
Documenting
Debugging
10. Sum up your resume in a brief video clip
Though this seems over the top and is an additional step, it will give you a competitive edge over the other applicants. Make a short and precise video, demonstrating your abilities, skills, and accomplishments. This video is an excellent way to highlight everything about your expertise just the way you want to.
Create your resume and get a job on Turing
Build the best Flutter resume with Turing deep developer profile
Apply Now