Are you looking for a new remote algorithms engineer job in the United States with a reputed company? If you want to advance in your career, you already know how important it is to have a strong resume. A well-written résumé may make a major difference in your job search. It makes a positive first impression on the reader and stresses your qualifications as a valuable career. A strong resume will help you make the most of the little time you have to impress the recruiter and boost your chances of being called in for an interview.
So, how should a resume be crafted to secure the best algorithms engineer jobs?
This post is a contribution by Turing experts to help professionals overcome common challenges that arise throughout the interview process. Follow this step-by-step guide to create your algorithms engineer resume and land the ideal job to further your career.
1. Make a fantastic bio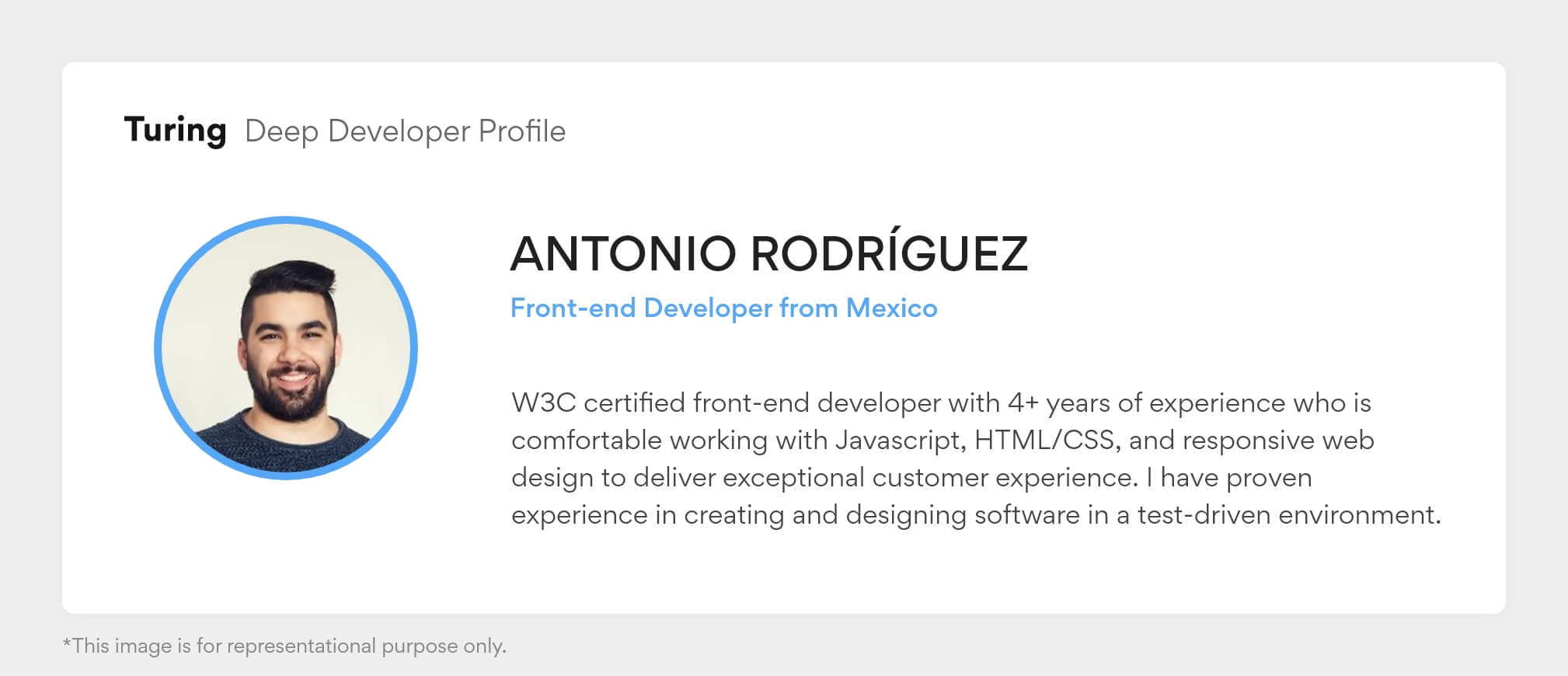 Do you have no idea where to begin when it comes to writing your algorithms engineer resume? Begin with a thought-provoking and engaging 'About Me' section; keep this bio concise to create a hook that will draw the reader into reading. Add your name and contact information to make it easier for the recruiter to contact you.
Also, remember to include skill-based keywords in your resumes for algorithms engineer employment. As you rapidly summarise your professional experience, mention a few in your bio.
2. Inform them of your experience
Recruiters, like the rest of us, like reading stories. One of the most effective methods to pique recruiters' interest in you as a professional is to use your unique journey as a hook. So, if you want your algorithms engineer resume to stand out, avoid appearing generic and follow in the footsteps of others.
3. Start with a strong headline
It makes a difference to begin the algorithms engineer resume with a strong headline, just as it does, to begin with, a strong introduction. To begin, state your title and years of experience in a straightforward and succinct manner. For example, 'Senior algorithms engineer with 6 years of experience' can be used.
A more customized headline is a better option. Make the headlines of each application as unique as possible, as each company has its own notions about the ideal candidate.
4. Choose an algorithms engineer resume format
Choosing the right resume format is an important step in the process. Every professional job has a set of critical objectives that you may use. Create a skill-based resume for an algorithms engineer in one of two formats: reverse chronological or functional.
Reverse Chronological Format:- Start with the most recent position on your algorithms engineer resume and work your way backward in reverse chronological order.
Functional Format:- Start with your skills rather than your years of experience, and then work your way up to your job duties in a logical order.
5. In your resume, include a career timeline
Include a career chronology on your resume. This helps the reader understand your career path and how you become a specialist in your subject. This might be the centerpiece of your resume, providing a rapid overview of your professional history and technical skills to the reader. Mention specific events or significant contributions that aided your growth.
Create your resume and get a job on Turing
Build the best Algorithms engineer resume with Turing's Deep Developer Profile
Apply Now
6. Make a list of your abilities as an algorithm engineer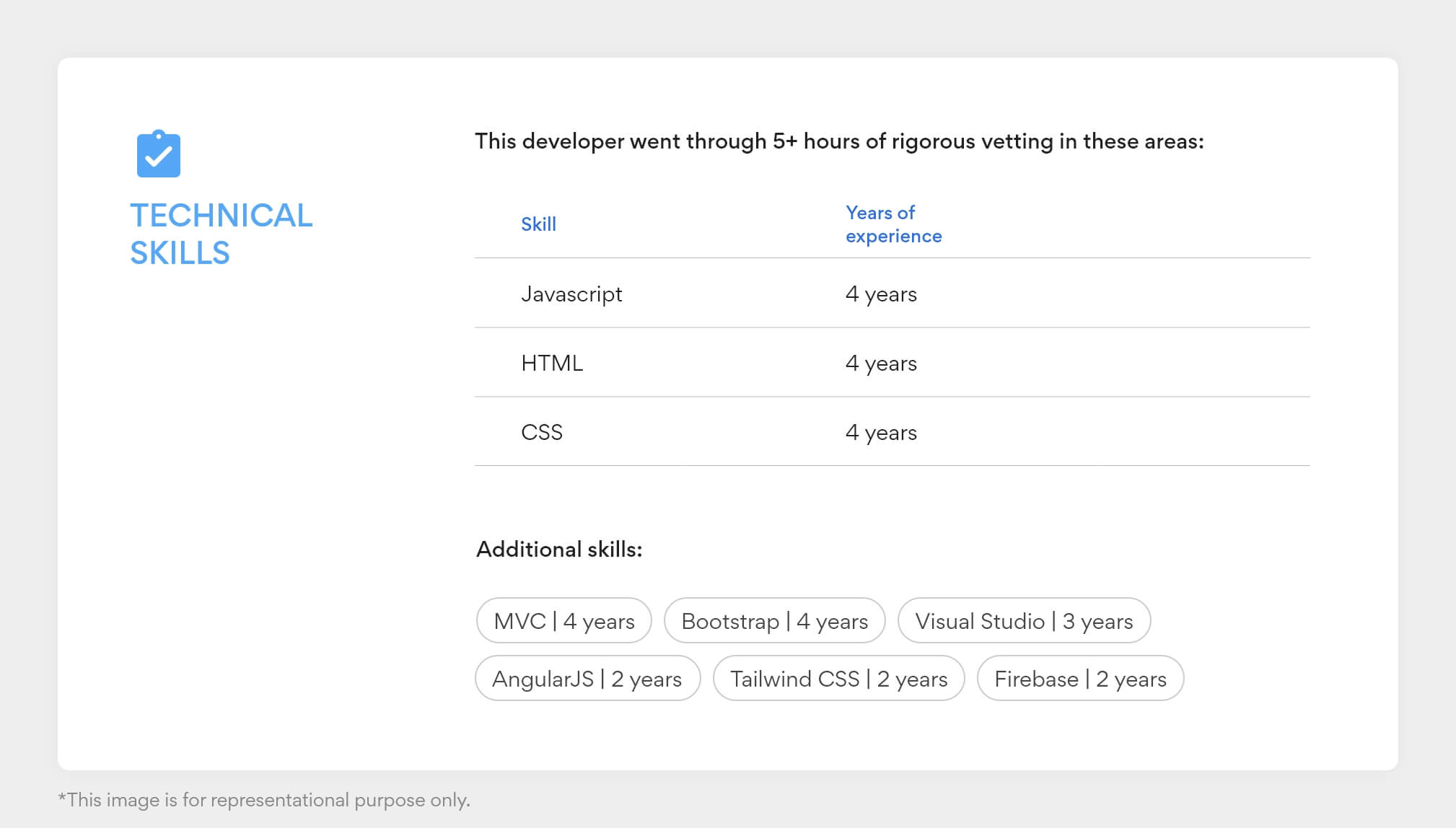 Every profession requires a unique set of skills; some are necessary, while others are dependent on emerging technology. List your important algorithms engineer skills and how they have helped you achieve your career goals in this area.
When describing your skills, write a few paragraphs on how each one assisted your former employers or clients in achieving their business goals. Make your algorithms engineer resume more intriguing and engaging by including appealing symbols for each skill.
Furthermore, if you are unsure how to proceed in this area, simply make a list of your abilities or divide them into major and minor categories. This will highlight your areas of expertise and help the recruiter understand you more quickly for algorithms engineer jobs.
Your algorithms engineer resume should notably mention industry-standard skills to persuade recruiters quickly. Recruiters looking for algorithms engineers will search for the following skills.
Primary skills (technical)
Algorithm design
MATLAB
Signal processing
Ant
C/C++
Image processing
Secondary skills (additional)
Machine learning
ADAS
Computer Vision
System design
Python
Systems engineering
7. Include details about your educational history
Organizations and recruiters are equally interested in a professional's academic credentials and skill set. It may not always be the determining factor, but it has a significant impact on your development as a person. Your school, college, or university, as well as your grades, should be mentioned. Please include any further certificates you may have.
The educational history must be so worded that the reader can see how you progressed from your student to your professional life.
8. Bring your expertise in algorithms engineering to the table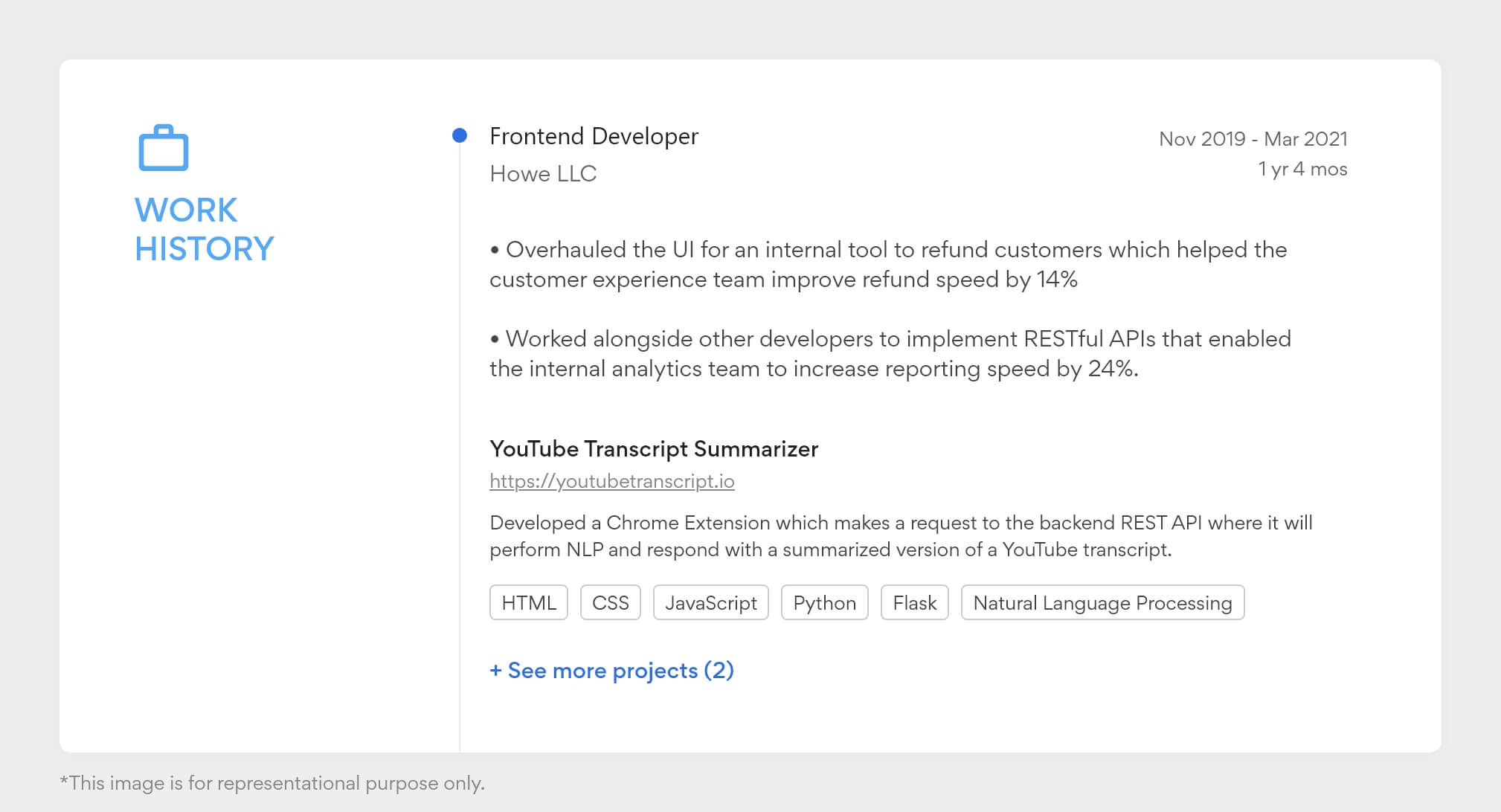 Numbers may have a huge influence in the world of business and services. They increase your prospects by demonstrating your ability to quantify qualitative work. To make a bigger effect on your algorithms engineer resume, emphasize your years of experience communicating with clients or businesses, as well as your numerical talents.
Ensure that you make your accomplishments and side projects a part of your algorithms engineer resume. This information adds value to the application and makes getting hired easy. Also, keep in mind that your resume should be short and sweet.
9. Include keywords and double-check grammatical mistakes
Even though each language has its own value, English is the most frequently spoken language on the planet. If you want to land the best Algorithms Engineer jobs in the United States, you'll need to be fluent in the country's primary language. Inspect your Algorithms Engineer resume for grammatical problems.
Ensure to incorporate skill-oriented keywords in addition to proper grammar. This has a good effect on the reader, and it effectively uses the resume selection/sorting software process to boost the chances of receiving an interview call.
Here's a brief list of Algorithms Engineer job-related terms.
Identifying
Programming
Creating
Diagnosing
Testing
Executing
Maintaining
Communicating
Informing
Consulting
Innovating
Recommending
Troubleshooting
Designing
Documenting
10. Add a brief video-introduction
This new method has been found successful in many cases. Include a brief video presenting yourself as a professional in your Algorithms Engineer resume. To make the video shorter, summarise your professional skills and experiences. A video may reflect your zeal to go above and beyond to win the hearts and minds of recruiters.
Create your resume and get a job on Turing
Build the best Algorithms engineer resume with Turing's Deep Developer Profile
Apply Now