The perfect SQL developer resume must demonstrate your technical expertise. To help you land your dream SQL developer job, Turing.com lists the dos and don'ts for writing a stellar SQL developer resume.
If you are not hired for interviews at the top companies, even though you are an exceptionally talented SQL developer, it is likely to have loopholes in your SQL developer resume.
A well-crafted resume catches the attention of potential hiring managers. It is the first point of contact when companies learn about you. And we all know first impressions are everything.
Having said that, how do you create an effective resume if you still haven't created one? This article aims at helping you create a strong and powerful resume and land one of the best remote SQL developer jobs in 2023.
1. Demonstrate your in-depth knowledge of SQL
Be sure to highlight your SQL programming expertise by including more than just a list of languages, tools, and frameworks you are familiar with. Through these topics, you will be expected to exhibit your mastery.
The resume should consist of information about your personal experience and how you acquired the skills.
2. Your resume should align with the role description of SQL developer
Incorporate key terms from the job description appropriately in your resume. Customize your resume according to the job description of a SQL developer.
3. Make your SQL developer resume stand out by including a headline
On your resume, be sure to clearly mention your position and how long you have worked in that profile there, for example, 'SQL developer with 5 years experience with top MNCs.'
You can leverage this technique to catch a recruiter's attention.
4. Remember to format your resume correctly
A reverse-chronological format, in which you list your most recent employment history, is one of the most widely recognized resume arrangements. The functional format is another way of emphasizing your abilities and tech stack. Incorporate the functional format if you have employment gaps.
Additionally, you can choose a hybrid one, which combines both, and demonstrates your most significant skills and important achievements.
5. Put together a timeline of your career at the company
You should include all accomplishments you have made in your previous organizations in this section. Describe how your previous organizations have helped you grow professionally using examples from your previous experiences.
Create your resume and get a job on Turing
Build the best SQL developer resume with Turing's Deep Developer Profile
Apply Now
6. Demonstrate your expertise of SQL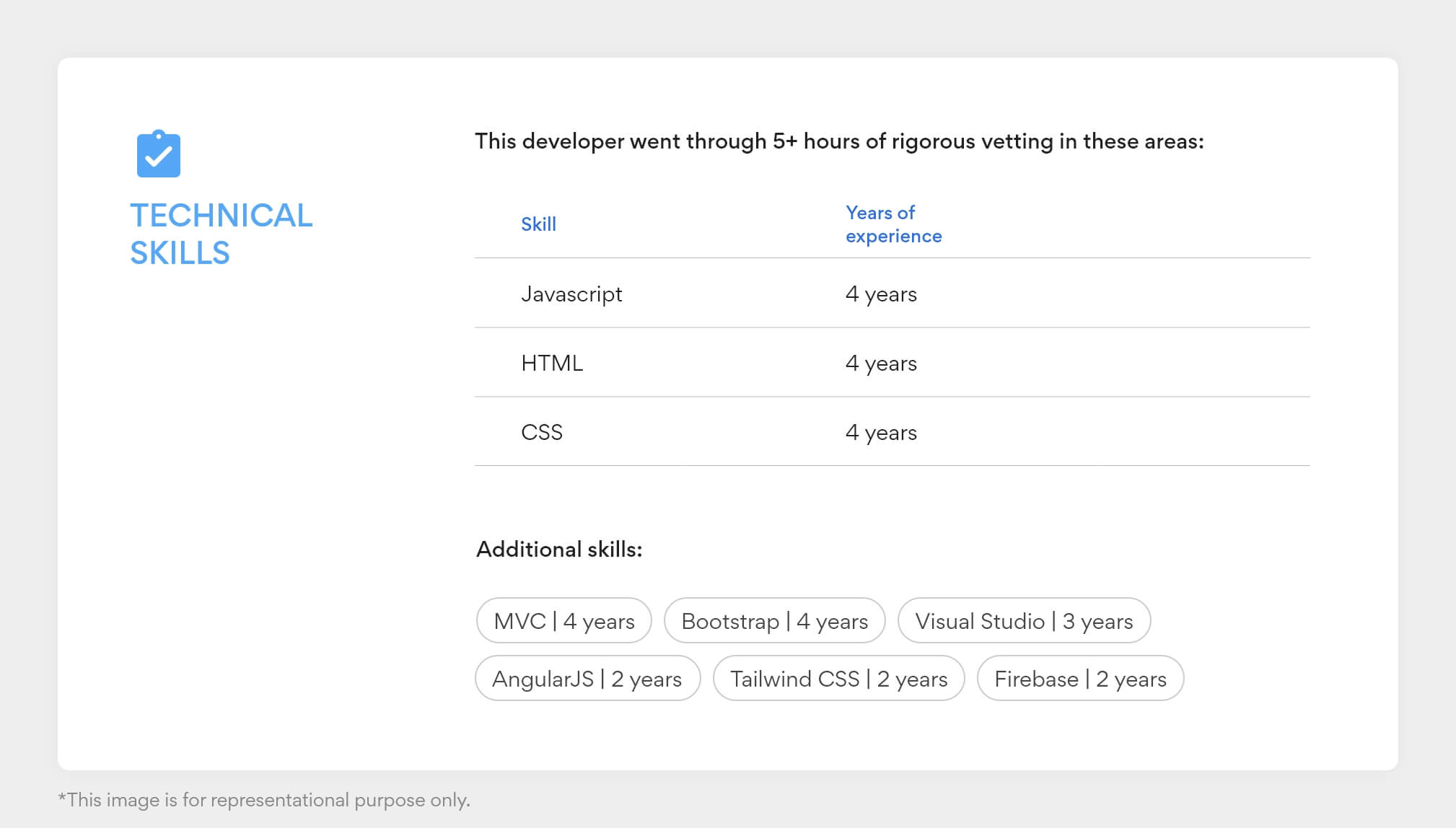 This part of your SQL developer resume will highlight the skills you have great expertise in. Make sure to emphasize your core strengths when talking about the skills you'll mention. Display them point by point and grab the attention of the recruiter. Write a few lines about how your knowledge of a particular skill helped your previous employers find a solution to their business problem. As if it was your main character, weave your skillset into your story. It's also a good idea to separate your skills into primary skills and secondary skills (primary skills being the things you know a lot about and secondary skills being skills you've worked on). It enables the recruiters to see where you have a strong background and where you have a vast knowledge base.
It is also very important that you know how to present your skills.
Primary skills (technical)
HTML
CSS
JavaScript/jQuery
CSS and JavaScript frameworks
Ruby on Rails
Frameworks
AWS
RESTful services/APIs
Python
Secondary skills (design and web performance-related)
UI/UX design
Visual editing
GIT/Version control
Wireframing
Debugging
Troubleshooting
7. Give an overview of your education
Tell your recruiter about your academic history, where you attended school, what grades you received, and what certifications you possess. This will make the task of learning your educational background easier for your recruiter.
8. Quantifying your resume with numerical data will help you showcase your talent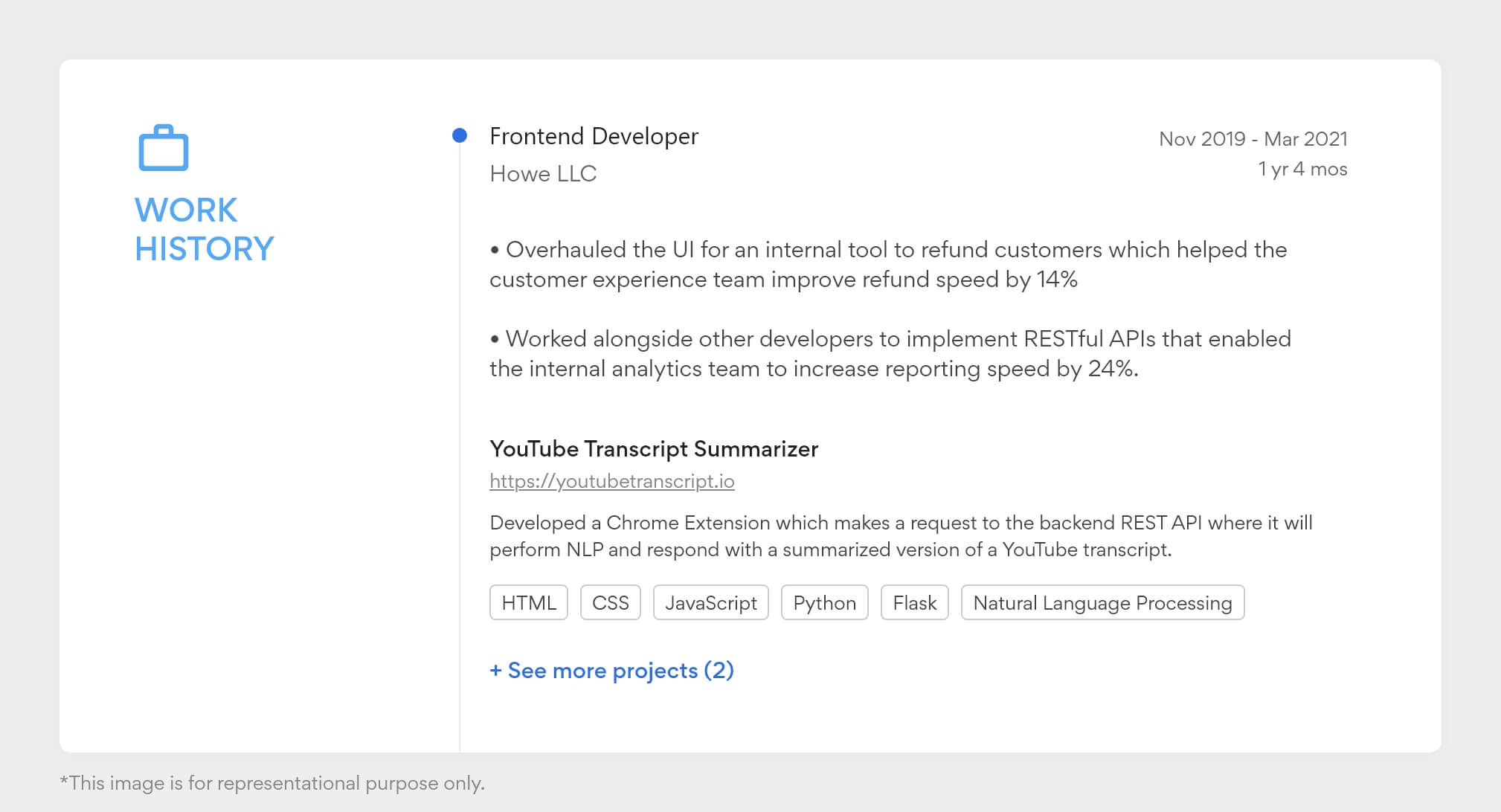 You can increase your chances of getting hired if you present a solid set of figures to potential employers. When you know the answer to the question "How many?" or "How much?" in your resume, you should definitely list that number without any hesitation. Remember to include any awards and accomplishments you've earned. If your side project shows off your skills, use it as a selling point. By mentioning your previous experience, you tend to have a higher chance of getting an interview. Furthermore, your resume should be concise, accurate, and no longer than two pages long.
9. You should optimize your resume for keywords and ensure that it is grammatically flawless
Recruiters are attracted to the right use of keywords, and they also value accurate English and grammar. Smartly using keywords in your headline, the subhead, as well as the copy can help you rank on top of search engine results.
To reinforce your position as the ideal candidate for an employer, use specific keywords such as:
Identifying
Programming
Creating Diagnosing
Testing
Executing Maintaining
Communicating
Informing
Consulting
Innovating
Recommending
Troubleshooting
Designing
Database
Query Language
Administrator
Maintenance
10. Record a short video summing up your resume
An advantage over your competitors can be gained by recording a short video of approximately a minute that sums up your skills, achievements, and credentials.
Create your resume and get a job on Turing
Build the best SQL developer resume with Turing's Deep Developer Profile
Apply Now