If you have already tried your hand at securing a high-paying job at an established Silicon Valley company, then you know the important role a good Solidity developer resume plays. A clean and precise Solidity developer resume helps you emphasize your key skills and impress the recruiters. After all, it is the first window of your skills to the hiring managers. This is why it is really crucial for you to establish yourself as competent and professional to grab their attention.
However, a poorly written resume can significantly reduce your chances, so pay attention to every detail in the resume.
Now, how do you strike the perfect balance between all of your finer points, present your skills in a professional manner, and ensure that the recruiter notices your resume?
Turing experts have some great tips for improving your resume and landing the best Solidity developer jobs.
1. Start with an excellent bio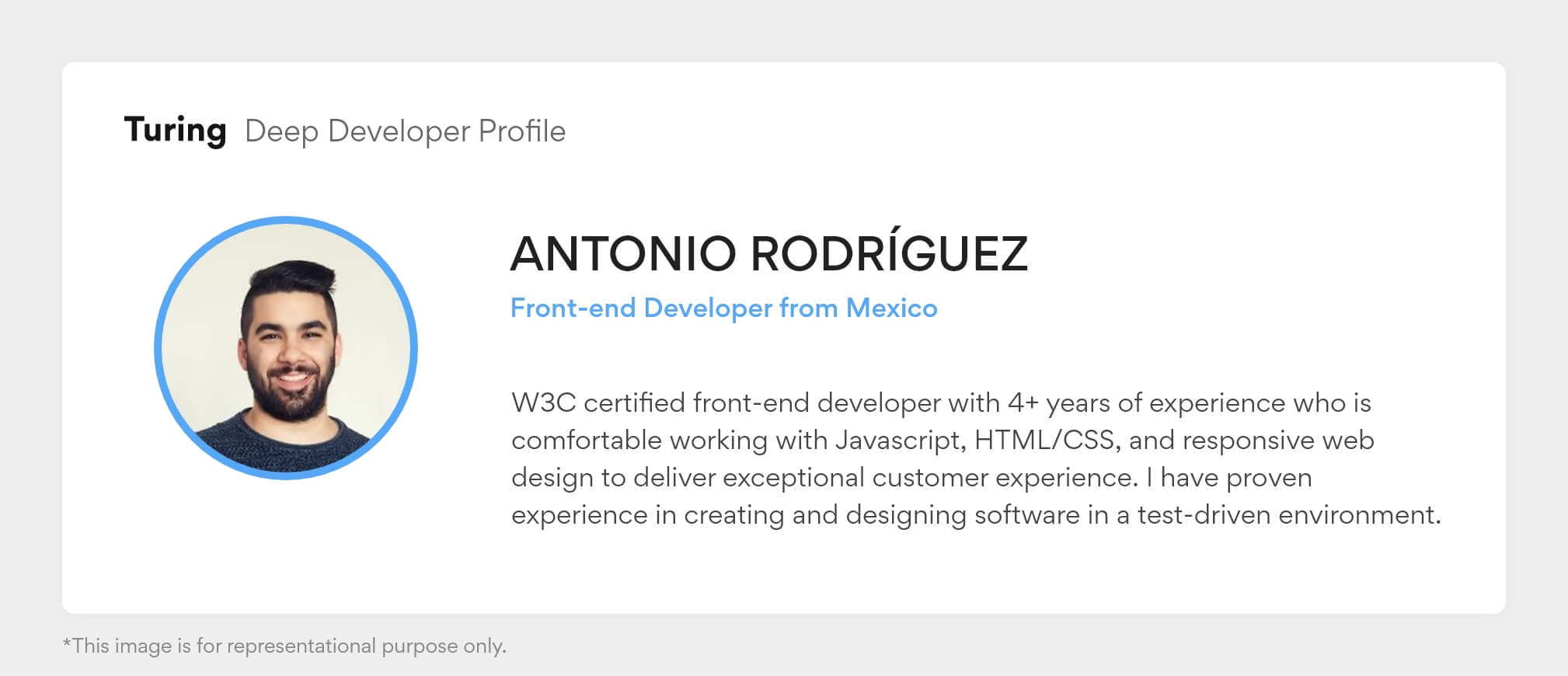 An excellent 'About me' section, right at the beginning of the resume, aptly summarising about yourself, can give the hiring managers a general idea about you.
In the bio section of your resume, include a clear email address, phone number, and a list of your social media handles so recruiters who are interested in your background can easily contact you for an interview. Include any keywords for your most important skills, as well as a description of the types of projects you've worked on. The more specific you are, the easier it will be for recruiters with the appropriate connections to find you.
2. Present your Solidity developer resume as a story
Your resume is a short story about you and your job history. Stories take us through a journey, holding our attention as they convey their message. So, if you're creating a resume for solidity engineer jobs, consider writing it as a story about yourself and your work. Make a resume that captures the attention of potential employers with its storytelling abilities.
Your resume is a narrative of your qualifications that employers read to determine whether you have the skills and achievements they are looking for.
3. Open with a great headline
Here's how to write a good resume headline that will attract the reader's attention: (1) Don't bore the reader with a cliché; (2) Make it short and bold; (3) Tell the reader what you want him or her to know. Then, go into detail about your skills and how you can benefit the employer.
For example, here is a headline taken from a Solidity developer resume: 'Solidity developer with 5+ years of experience'. This impactful headline can aptly summarise your experience.
4. Structure your Solidity developer resume by taking pointers from a Solidity resume template
While writing a resume, a common and popular format is the reverse-chronological one, in which you start from your latest job and list out all your previous roles. You can structure your Solidity developer resume in a functional format, emphasizing your abilities and technical expertise. This can help you make a stronger first impression.
It is also possible to mix the chronological and functional formats, highlighting your most relevant skills and career highlights.
5. Provide a detailed timeline of your work experience
This is the most important aspect of your resume. A Solidity developer resume that includes the dates when you were promoted, won an award, or joined a club can give you an advantage. Add any extra information to your timelines, such as job titles, employment durations, and accomplishments. Mention your main accomplishments in previous companies and how they aided your career growth. Describe how your work saved the company time and increased revenue. These are practical considerations that will never be overlooked. And this implies the time it took you to advance to the senior level.
Create your resume and get a job on Turing
Build the best Solidity developer resume with Turing's Deep Developer Profile
Apply Now
6. Emphasize your Solidity development skills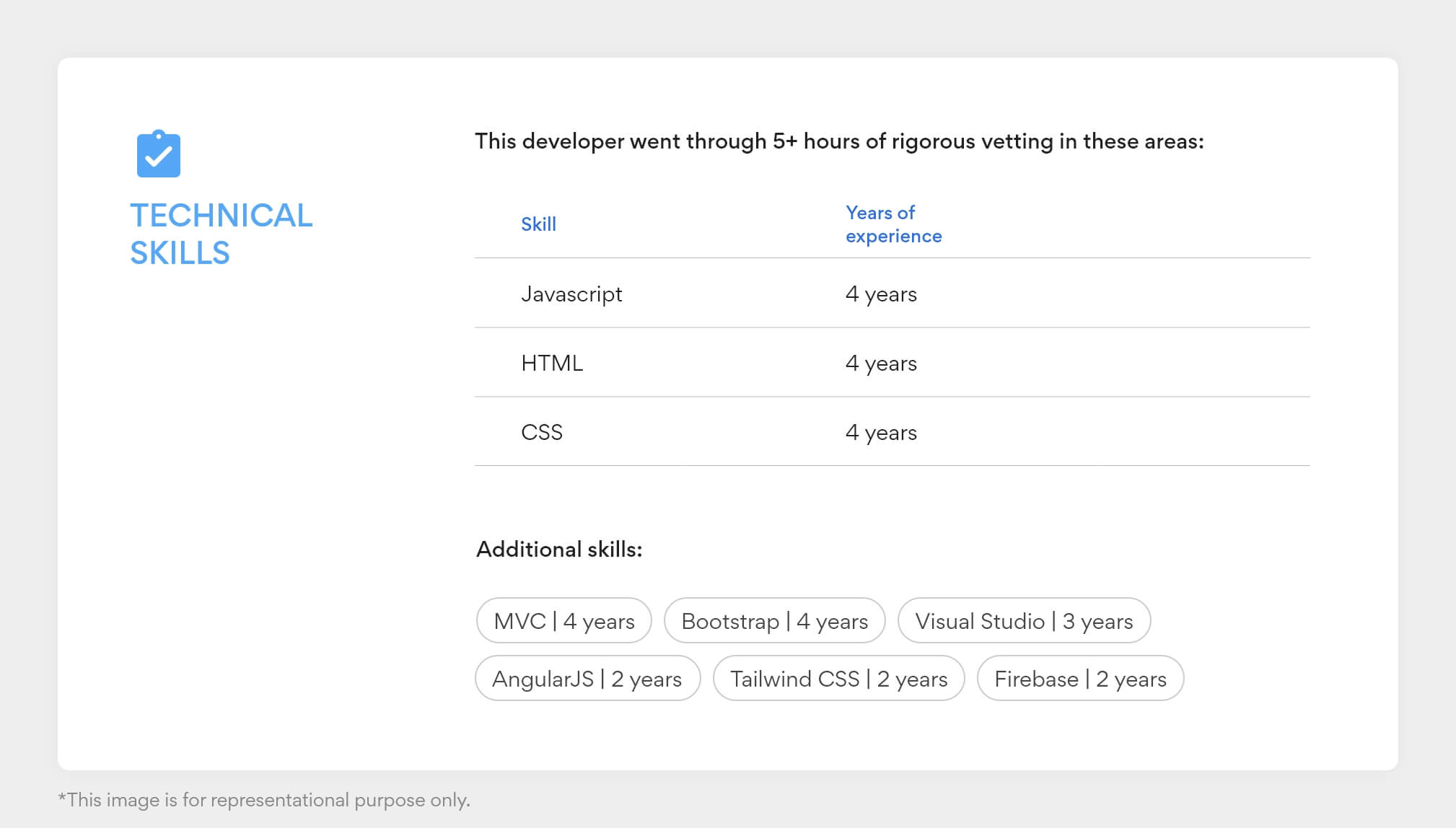 This section will include the skills in which you are particularly skilled. Demonstrate your core strengths in each of the skills you'll mention. Display them point by point and append icons to capture recruiters' attention. Write a few lines about how your expertise in a particular skill helped your previous organizations find a business solution. Divide your skillset into primary and secondary parts. Primary skills are your area of expertise and secondary are allied areas where you have experience otherwise. This can help managers create a fair idea about their overall abilities.
Concentrate on your skills and incorporate them into your resume as if they were a part of the story. To do so, first determine which skills you are most optimistic about, and then prioritize those in your resume. Finally, classify them as primary and secondary skillsets so that recruiters can quickly learn about your professional experience.
To grab the manager's attention, include the following skills in your Solidity developer resume:
Primary skills (Technical)
Solidity
Javascript
Blockchain technology
Angular JS
Ember Js
React JS
Libraries
RESTful APIs
Secondary skills (Design and web performance-related)
Data structures
Smart contracts
Blockchain architecture
Web development
7. Mention your academic background
Mention your educational background, the institutes you attended, the grades you received, the other certifications you hold, and so on in a table format. This allows recruiters to scan your academic history and get a better understanding of you.
8. Use numbers to quantify your skills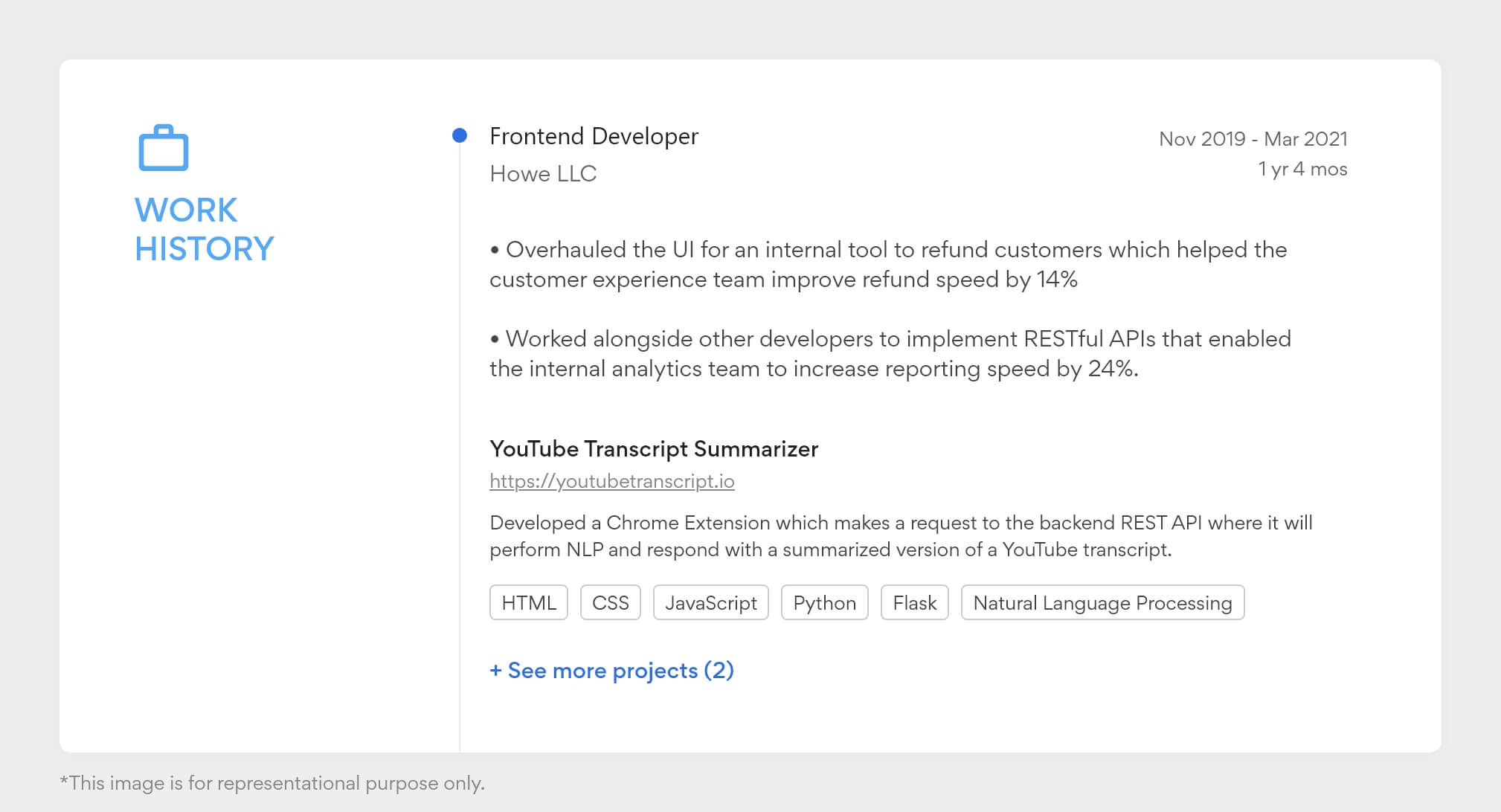 Providing solid numbers to prospective employers can make a big difference and increase your chances of getting hired. You should include a number in your resume if you can answer the questions "How much?" or "How many?" Don't forget to include all of your personal accomplishments and accolades. If your side project demonstrates your abilities, use it as a selling point. Also, make sure your resume is crisp, precise, and no more than two pages long.
9. Avoid Grammatical mistakes and use proper keywords
Use proper grammar, spelling, and relevant keywords to create an effective resume. To land the best Solidity development positions in US companies, you must be fluent in English. Include keywords related to Solidity throughout your resume. Having these items on your resume will make you appear professional to recruiters. Even if you are the best candidate, a single mistake on your resume can cause recruiters to reject you.
Here are some skills-related keywords you can include in your resume:
Developing
Programming
Creating
Designed
Testing
Executing
Integration
Coding
Bootstrapping
Documenting
10. Sum up your resume in a brief video clip
Making a short video about yourself, even if it appears extreme, will give you an advantage over other applicants. Tell your story in a way that highlights your skills, abilities, and accomplishments.
Create your resume and get a job on Turing
Build the best Solidity developer resume with Turing's Deep Developer Profile
Apply Now