Are you looking for a career as a .NET developer with one of the best organizations in the United States? If you want to advance your career, you already know how important it is to have a strong CV.
A well-written resume can make a significant difference in your job search. It makes a strong first impression on the reader and highlights your qualifications to portray you as a valuable professional. A strong resume will capitalize on the limited time you have to impress the recruiter and boost your chances of obtaining the call.
So, what would be the best strategy for establishing an effective resume?
How to write a resume to get the best .NET developer jobs?
This essay is Turing's little contribution to assisting professionals in overcoming the common difficulties encountered throughout the interview process. To prepare your resume, follow this simple approach. Create a resume for a .NET developer and land the appropriate job to advance your career.
1. Write an awesome bio
Wondering how to start preparing your .Net developer resume? Start with an insightful and relatable 'About Me'. Keep this bio brief and crisp to hook the reader's attention. Try to include your name and contact details to make it easier for the recruiter to connect with you.
Also, when preparing resumes for .Net developer jobs, do not forget to use skill-based keywords. Include a few as you briefly discuss your professional experience in the bio.
2. Tell your story
Everybody loves to read stories and so do recruiters. One of the best ways to get recruiters interested in you is to create a hook using your inspiring journey. So, if you're looking to build an impactful .Net developer resume, it's better not to sound generic and ditch the often taken route.
3. Start with an impactful headline
Just like writing an impactful intro, starting the .Net developer resume with a great headline also makes a difference. Keep it short and simple by stating your designation along with years of experience to open your application. You can use this as an example: 'Senior .Net developer with 6 years of experience'.
A smarter way of writing a headline would be a custom one. Tailor-make the headlines as per the requirements of every company you apply to.
4. Choose a format for .NET developer resume
Choosing the right format for your resume is an important aspect of the process. Every employment role has its own set of core objectives that you can use to your benefit. Create your own. Use one of these two layouts for your .NET developer resume: reverse chronological or functional.
Start with a reverse-chronological format: Start your resume for a .NET developer with the most recent employment role and work your way backwards.
Go for functional format: Start with your skills rather than years of professional experience, and then move on to your career duties in a functional fashion.
5. Give a comprehensive timeline of your industry experience
This probably is the fleshy part of your CV. This is where you should clearly mention your work history. Don't just make it a history timeline. Mention your previous jobs, your work duration, the targets that you achieved, what value did your work added to the organization, etc., in a clear and concise manner. Give stats and data about your performance, quantify your contributions. This will give your future employer a detailed idea about your caliber and why they should hire you.
Create your resume and get a job on Turing
Build the best .NET developer resume with Turing's Deep Developer Profile
Apply Now
6. Make a list of your .Net developer skillset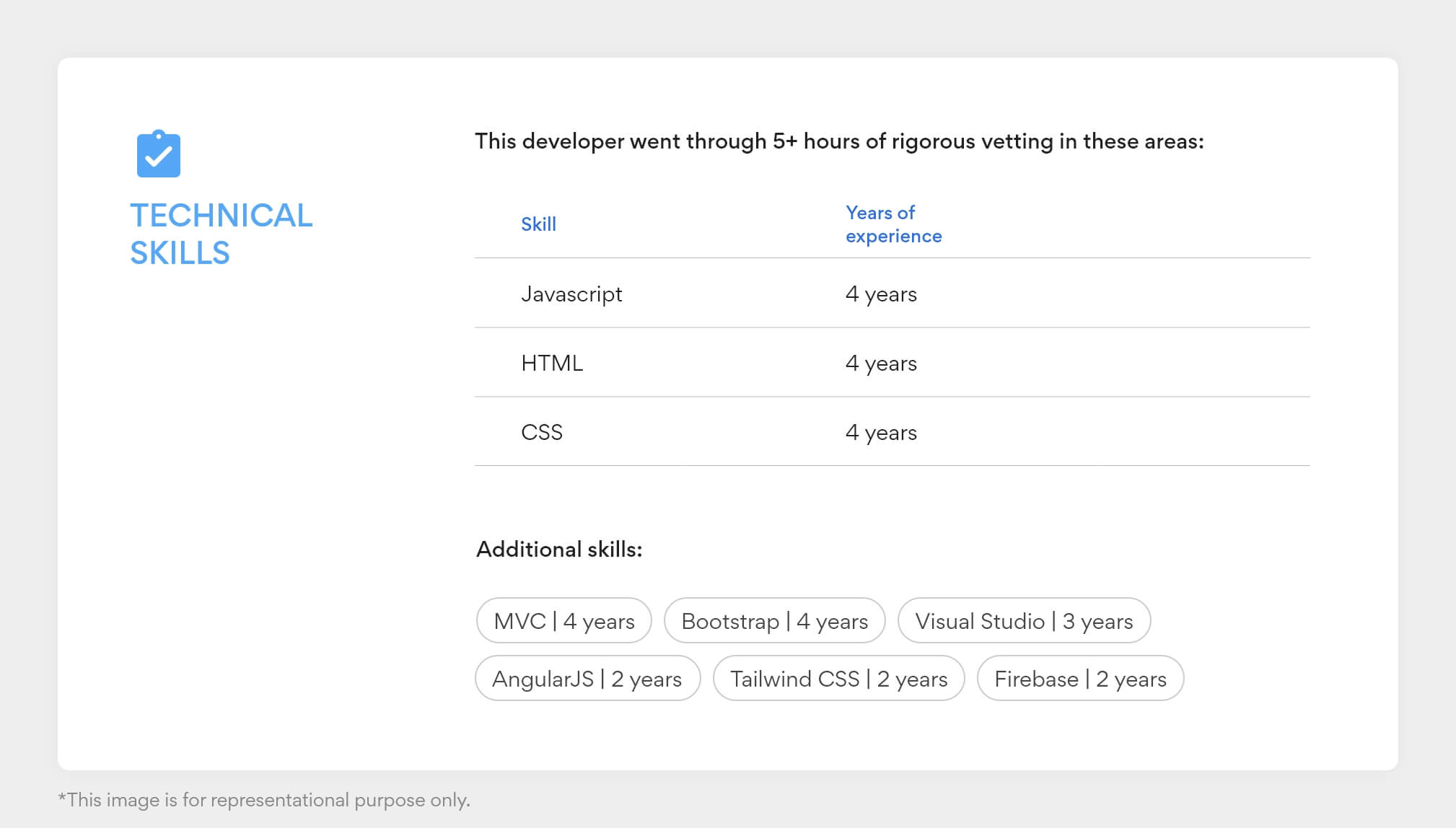 Every work role requires a set of vital abilities; some are key prerequisites, while others are tied to emerging technology. In this section, list the must-have abilities you possess and highlight the years of experience with each.
Try to include a couple of words on how each of your expertise helped your prior employers or clients reach their business goals. To personalize your resume, you can also incorporate fun symbols for each talent. The resume of a .NET developer must be deep and engaging.
Furthermore, if you're unsure how to approach this section, simply mention your skills or divide them into two sections: primary and secondary. This will draw attention to your areas of expertise and assist the recruiter in understanding whether you are apt for the job of a .NET developer.
Primary skills (Technical)
.Net
ASP .NET MVC
C#
F#
VB.NET
Secondary skills
UI/UX design
Visual editing
SQL server
NoSQL
Oracle
7. Write about your educational background
Knowing a professional's academic qualifications is just as crucial to organizations and recruiters as knowing their skill set. It may not always be the determining factor, but it has a significant impact on how you have been molded as a person. Mention where you went to school, college, and university, as well as your grades. If you have any other certifications, don't be afraid to mention them.
This should be written in a style that allows the reader to understand your transition from a student to a working professional.
8. Quantify your .NET developer resume with data and numbers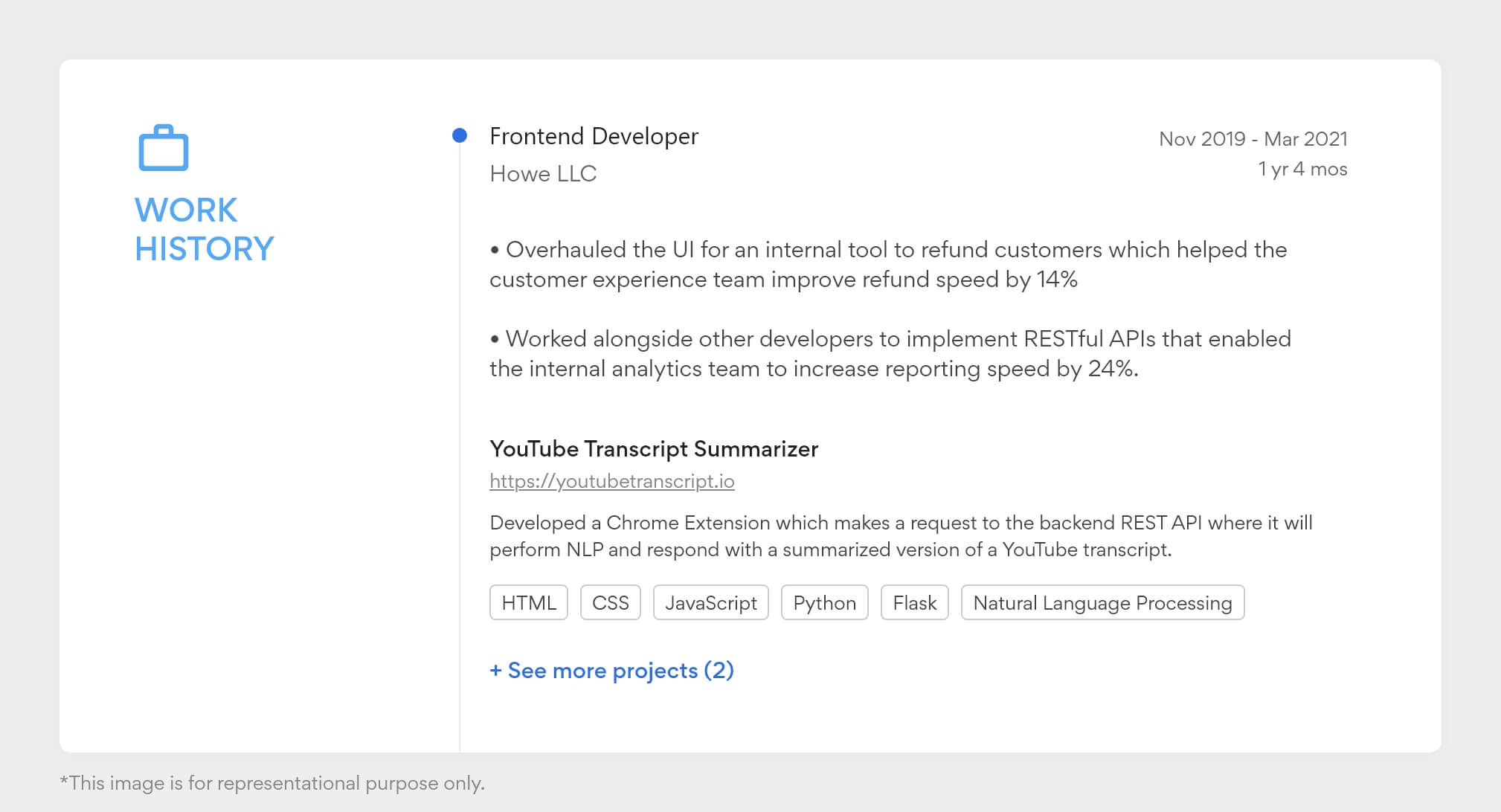 Numbers may make a big difference in the world of business and services. They not only improve your prospects but also demonstrate that you can quantify qualitative work. For greater effect, your resume must include the impact statistics for each skill. In other words, your .NET developer resume must show the prospective recruiter the impact your skills have had on business objectives.
Also, make an effort to include your own accomplishments and side projects in your resume.
A resume for a .NET developer provides value to the application and raises the chances of being chosen. Just bear in mind that your CV should be brief and to the point.
9. Include keywords & be grammatically correct
Every language has value, but English is internationally used as a language of communication. In addition, if you're looking for the best .NET developer job in the United States, you must be fluent in the country's principal language. When you're getting ready to apply, make sure your .NET developer resume is grammatical-error-free.
You should incorporate skill-oriented keywords in addition to appropriate grammar. This has a favorable impact on the reader and helps in successfully hacking the algorithm of resume selection/sorting software to boost the likelihood of receiving an interview call.
The following is a shortlist of keywords that are closely related to job descriptions for .Net Developers:
Identifying
Programming
Creating
Diagnosing
Testing
Executing
Maintaining
Communicating
Informing
Consulting
Innovating
Recommending
Troubleshooting
Designing
Documenting
10. Add a short intro video
This is a relatively new technique, but one that has proven to be beneficial. Together with your resume, attach a short video introducing yourself as a .Net professional. Shorten the film by summarising your professional talents and experiences. A video can create a sense of purpose and urgency to go above and beyond to achieve your goals.
Create your resume and get a job on Turing
Build the best .NET Developer resume with Turing's Deep Developer Profile
Apply Now