As a remote back-end developer seeking opportunities in US software companies, you would know the importance of applying with an impactful resume.
An impressive back-end developer resume helps to make a great first impression. It highlights your professional expertise at the first opportunity. And we can all agree on the importance of opening with a positive impact.
So, what is the perfect approach to writing back-end developer resumes that makes an immediate impact?
Turing wishes to help you secure the best remote back-end developer jobs. This guide will help you to understand the secrets of creating the perfect CV that will lead you to one of the finest back-end developer jobs.
1. Open with an excellent bio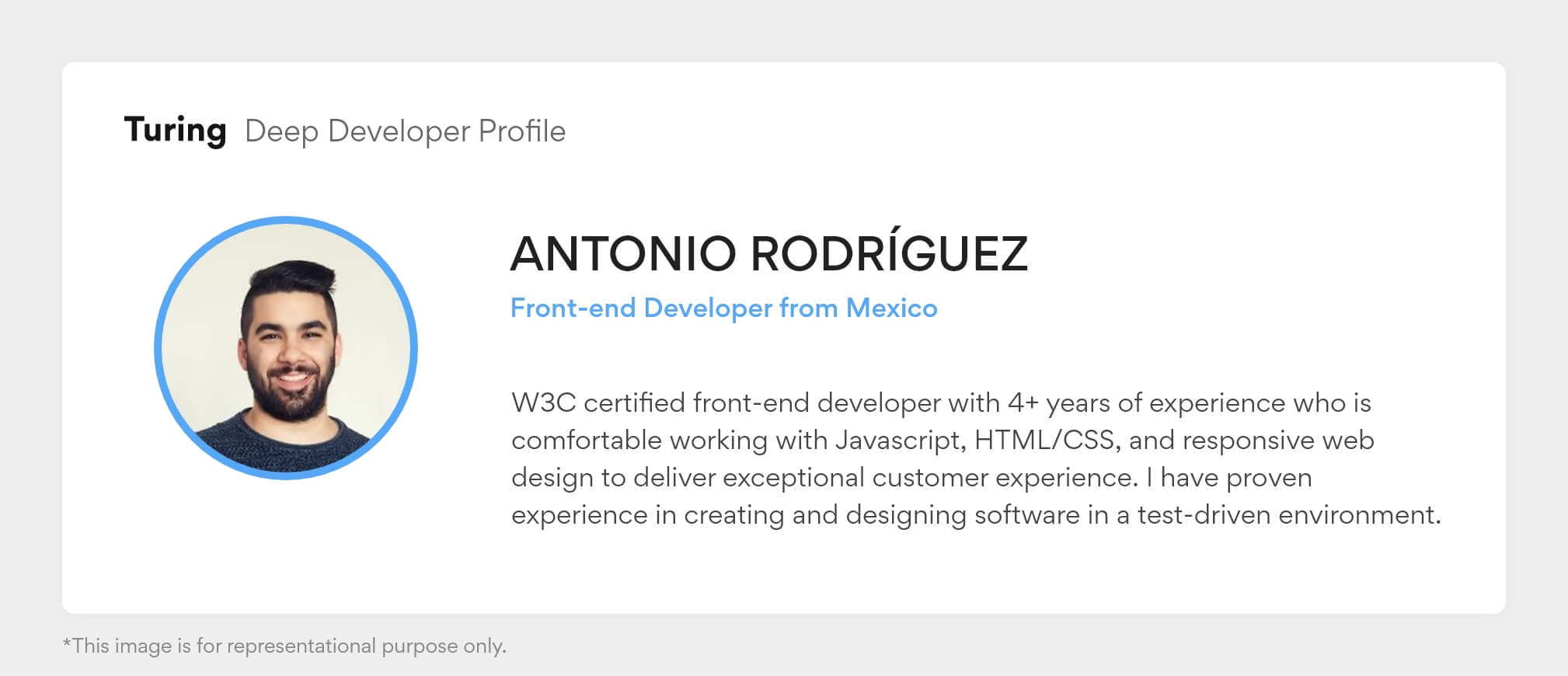 The best way to grab the attention of recruiters is a perfect 'About Me' section. A well-written bio to open your back-end developer resume can make a world of difference. Add this section right after your name and contact information. This may sound like basic advice but can have a considerable impact on your chances.
When writing your resume, don't forget to include skills-related keywords. Also, include a brief overview of previous back-end developer jobs or projects. This will help your CV to be impactful and increase the chances of selection.
2. Tell a story with back-end developer resume
Prepare your back-end developer resume like a story; take the recruiter on a journey through your professional life. Shed light on your professional accolades which will get readers interested in you, the professional.
So, if you're looking to prepare the perfect resume to secure the best jobs, tell your story as a professional. Everyone loves to read about inspiring journeys.
3. Start with an impactful headline
Before diving into details about skills and professional experience, it is important to include a headline that shows your value. The perfect headline will convey details like designation and work experience. An example would be 'Backend developer with 4+ years of experience.'
The perfect headline helps to get the recruiter hooked on your back-end developer job application.
4. Select back-end developer resume format
As per trends, reverse chronology is the most common format for writing resumes. It starts with the most recent employment details and moves on to the previous ones. While it serves the purpose, you can adopt a different approach as well. For example, you can prepare your back-end developer resume using the functional format; it highlights your skills and technical prowess, making a quicker impact.
Furthermore, you can always go with a hybrid approach. It will help to highlight your experience and skills with equal importance.
5. Include a timeline of the professional journey
This can act as the heart of your back-end developer resume. Include the most significant achievements of your professional journey, how they've shaped your career and contributed to your growth. Never think twice to include references to support your value and how you gained your position of seniority.
Create your resume and get a job on Turing
Build the best back-end developer resume with Turing's Deep Developer Profile
Apply Now
6. Mention your primary back-end developer skillset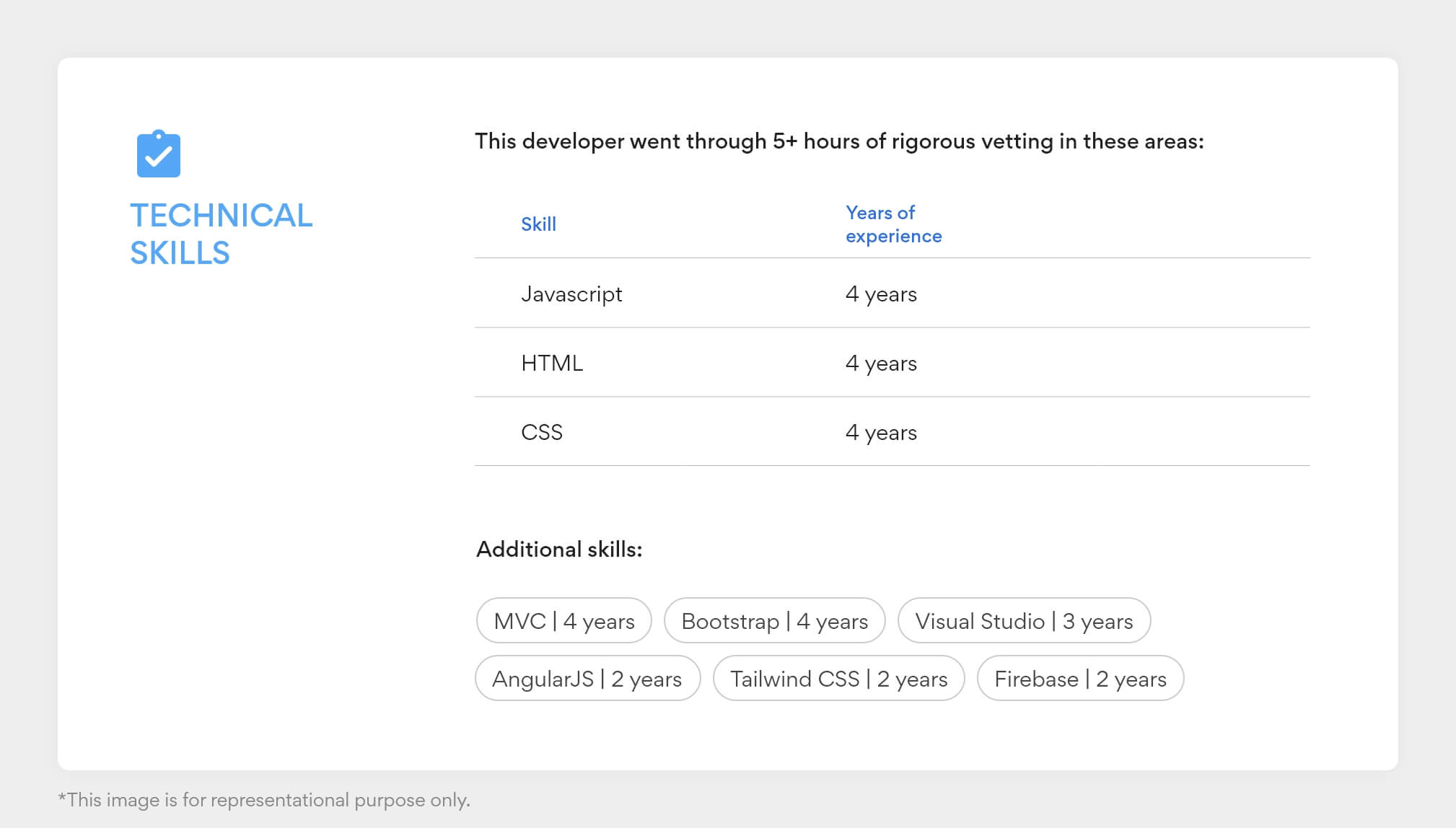 Use this section to showcase your most valuable skills as a back-end developer. Shed light on your core skill set and list them out in an order that suits the position you're applying for; you can even choose to add insightful icons to make the CV more immersive. It would be great to write a few lines about your skills enabling employers to meet their business goals. Treat your skillset as the biggest USP.
You can also try and split up your skillset into primary and secondary subsets. The primary skills can mention your core specializations, while the second section can be used for conveying related essential skills.
This can help recruiters understand your strengths and level of knowledge for back-end developer jobs.
Here is a list of skills that recruiters will look for when looking through back-end developer resumes.
Primary skills (Technical)
Database and cache
Knowledge of servers
API (REST & SOAP)
Version control
Python
Debugging
SQL
Wireframing
Git
JavaScript
Secondary skills
UI/UX design
Visual editing
Java
PHP
HTML
CSS
7. Share educational background
Make sure to include details about your educational background in your back-end developer resume. Include names of institutes you've attended along with your grades. In addition, it would be great if you included details about other certifications you hold (if any). The best way to include this information is to use a tabular format making it easier for recruiters to understand your educational background.
8. Use numbers to your advantage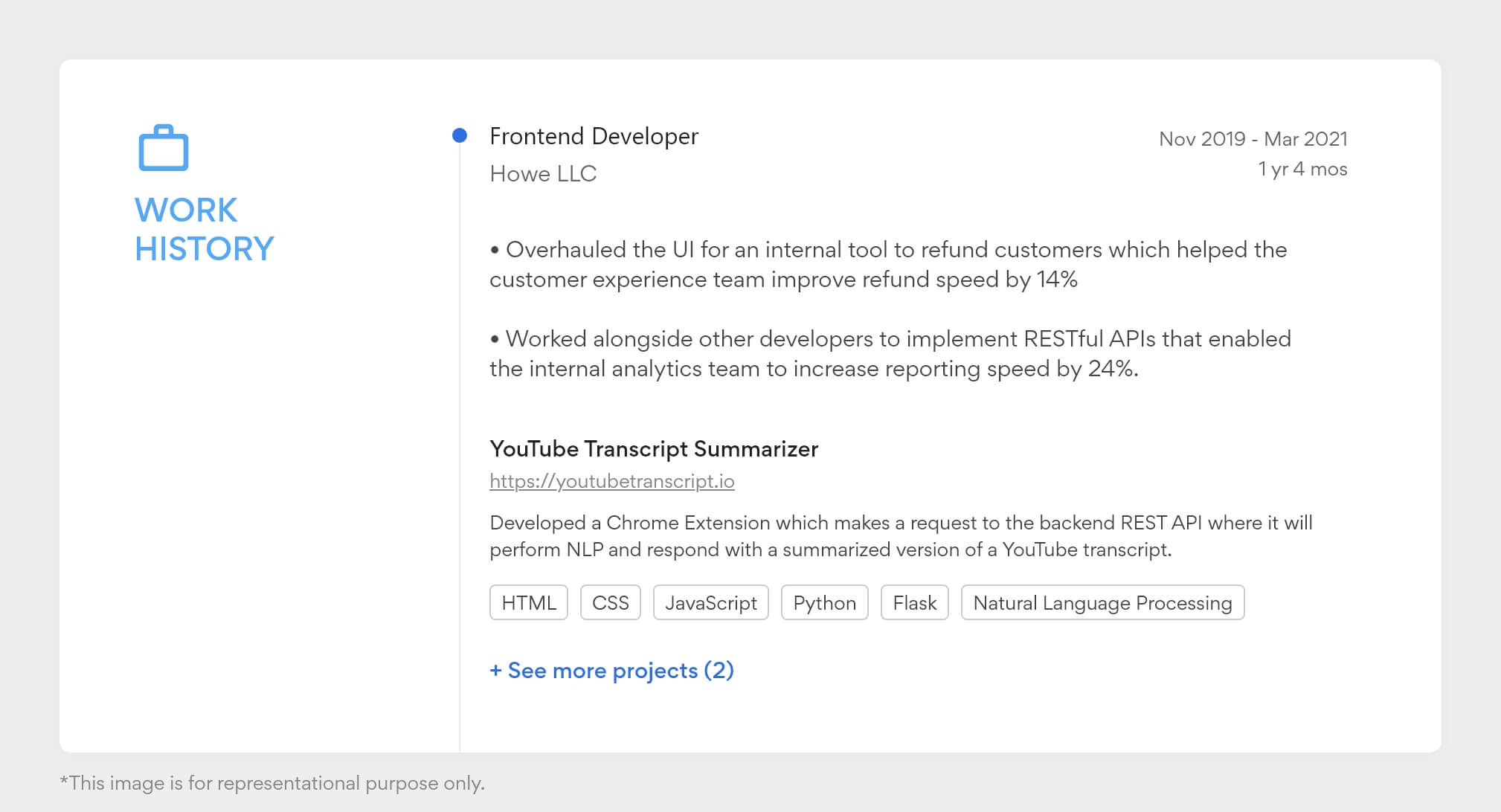 Numbers, when appropriately used, can be impactful and help to secure the best back-end developer jobs. Try concentrating on points like "How much?" and "How many?" in your back-end developer resume. Do not feel shy about including personal achievements and use side projects to amp up your competency level. Mentioning positive experiences will boost your chances of getting a call and securing the job.
Also, make sure your resume is not very long. Keep it crisp and precise to the job role mentioning the most significant takeaways.
9. Skill related keywords and grammar
When writing a back-end developer resume, always make sure to use appropriate grammar and keywords. Include relevant keywords in areas like - headline, subheadings and in the body to increase chances. Keywords will also hack resume sorting software algorithms and show you as one of the best applicants.
To add value to your back-end developer resume, you can use keywords like
Debugging
Programming Diagnosing
Testing
Deploying Updating
Communicating
Integrating
Migration
Ideate
Troubleshooting
Logic Development
Documenting
10. Add a short video profile
It may sound like a lot of work, but including a short video introducing yourself will be a huge advantage. Keep it within a minute in length and use this time, to sum up your skills and areas of expertise. Let the viewer know what makes you better than the rest.
Create your resume and get a job on Turing
Build the best Back-end developer resume with Turing's Deep Developer Profile
Apply Now