Are you constantly looking for new web developer job openings to grow your career? If you've been trying to find a job in Silicon Valley's finest companies, you should be well aware of the value of a well-made CV.
With the appropriate recommendations, you can create an impactful and persuasive resume that can help you land your dream job faster. Your resume is a summary of your professional qualifications that distinguishes you as an expert. Your resume presents a window of opportunity to impress recruiters when applying for new positions, but once missed, the opportunity cannot be recovered.
So, what is the best way to prepare a web developer resume that makes an initial impression and boosts the chances of getting hired?
Turing has made a modest effort to assist web developers in strategizing their job application procedures. This article will walk you through crucial ideas for writing the perfect resume for web developer jobs.
1. Mesmerize the reader with your bio
If you really want to write a web developer resume that will help you land better jobs, firstly, prepare an 'About Me' section that will help the reader to know you better. A well-written bio can make all the difference in getting recruiters interested in your application and, as a result, increase your chances of being called in for an interview. Make sure to include details like your email address, phone number, or other social media links in the bio section so recruiters may quickly contact you.
2. Tell your narrative with your resume
It's better if you write your web developer resume like a story. Take the recruiters on a brief tour of your professional life. Don't be scared to convey your narrative if you want to create a resume that doesn't seem generic and boost your chances of bagging high-paying web development jobs.
3. Begin with a fantastic headline
Start your resume with a suitable headline before highlighting your skills and diving into the details. Write a headline that describes your position and your level of professional experience. Here's an example of a headline that's well-written: '5+ years of experience as a Senior Web Developer'.
If at all possible, personalize resume headlines for each job application. Open with information about the position that the recruiters are seeking to fill.
4. Decide on a resume structure for a web developer
Professionals frequently choose to use the popular reverse chronological arrangement when writing a resume. It is a tried-and-tested format that begins with the most recent roles and then goes to previous experiences in chronological order. Never be hesitant to experiment with new models, such as the functional format, which focuses on your abilities rather than technical efficiency. Aside from these two options, you can always create a hybrid structure for your web developer resume. It strikes a balance between experience and skillset, making it easier to highlight your professional achievements.
5. Include a professional timeline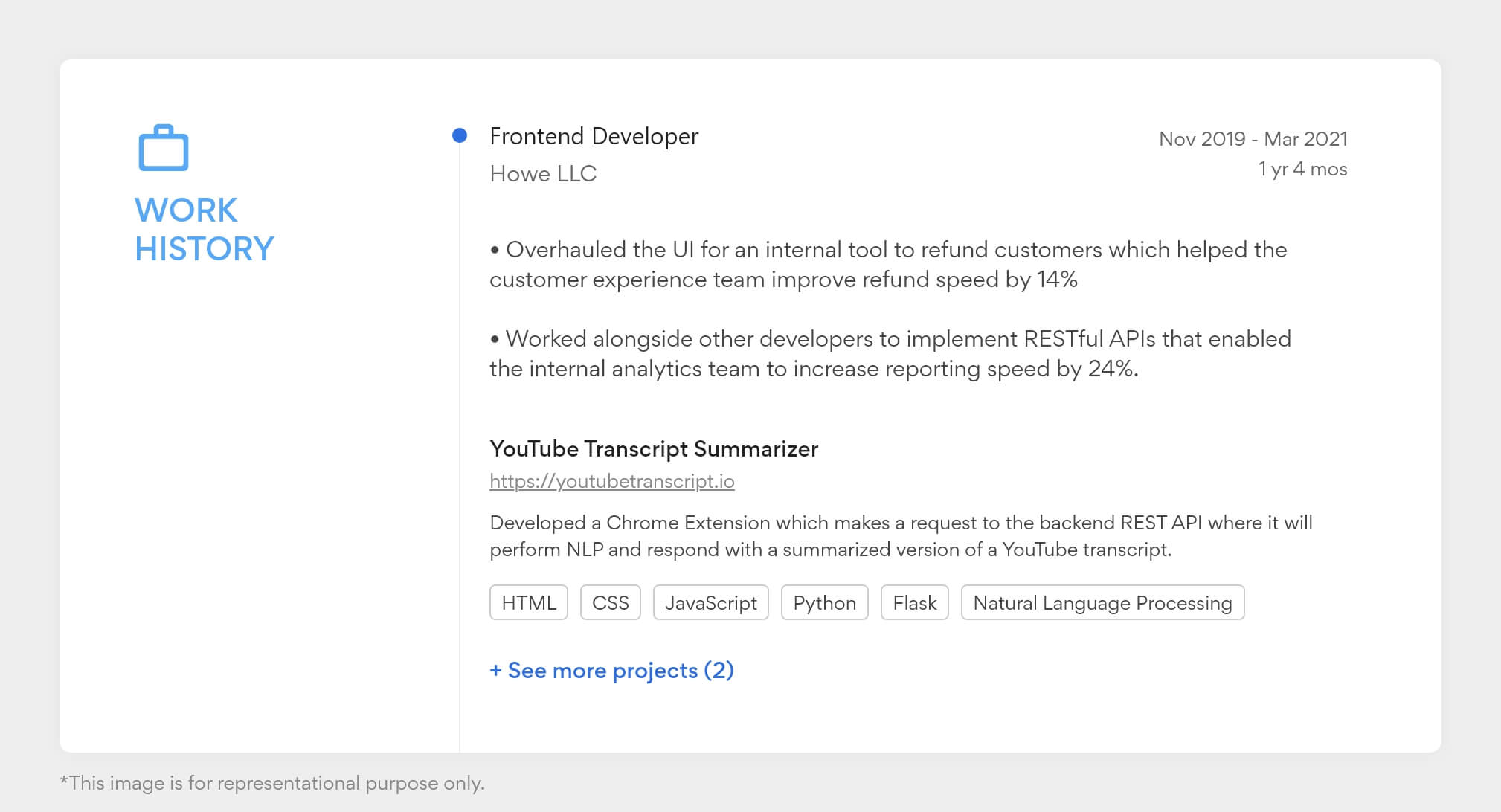 Including a detailed and insightful career timeline in a resume can make all the difference. It can serve as the foundation of your resume, highlighting your professional accomplishments and awards. If possible, include references to back your assertions. Describe how long it took you to land a senior-level post. Also, quantifying your resume with solid numbers would attract the recruiter's attention and add more credibility to your previous experience as highlighted in the image below.
Create your resume and get a job on Turing
Build the best web developer resume with Turing's Deep Developer Profile
Apply Now
6. Demonstrate your web developer abilities
This area is where you may go into the minute details of your skillset. Display your primary areas of knowledge and associated talents. Make a list of the specifics to draw attention to important information. Also, while discussing your skills, attempt to include a sentence or two about how they assisted your former employers in achieving their goals.
While you can include simple lists of your web developer resume, you can also choose an alternate approach. For example, you can choose to split up your skillset into two sets - primary and secondary skills. This will help recruiters to quickly understand your core expertise and skills you've working knowledge of.
Furthermore, it is essential to present your skillset; it can make a world of difference. You can go with the usual format or, try this alternate approach.
To impress recruiters and decision-makers at first glance, your web developer resume should include skills like:
Primary skills (Technical)
Secondary skills
JavaScript frameworks
Web design
SQL
RESTful Services/APIs
Git/Version control
Debugging
7. Mention your education background
In your web developer resume, you must detail your educational background. Include information such as the institutes you've attended and the grades you've earned, as well as any other qualifications you have that might improve your chances of being chosen. Use a tabular structure for this area to make it easier for recruiters to look over your academic background and get a better understanding of your skills and expertise.
8. Make sure you use proper grammar and relevant keywords
Although it may appear overstated, good English is required for obtaining the best web developer positions in prestigious firms. Keywords should be used in the title, section headings, and throughout the body of the document. This will let you hack the resume sorting software algorithms and improve your chances. Use expertise-related keywords to complement your application when including skill and experience-related keywords. Examples include:
Developing
Programming
Creating
Testing
Executing
Update
Frameworks
Designing
Deploying
Conceptualization
Coding
Documenting
Debugging
9. Provide a brief video about yourself
You might not be showing your skills effectively if you've had trouble finding the best web developer jobs to advance your career. Even if you have the necessary abilities and experience for the job, a lack of a proper resume will always be a roadblock. Creating a video showcasing your talents and skills can help you overcome this issue and present yourself as a deserving candidate for any web developer vacancy.
Create your resume and get a job on Turing
Build the best web developer resume with Turing deep developer profile
Apply Now