If you're a brilliant Vue.js developer seeking a job in Silicon Valley or the United States, you know the impact a strong résumé can have.
A well-written CV attracts the attention of hiring managers and employers to your qualifications. Recruiters will observe and assess you through it because it is their initial point of contact. We all want to create a good first impression, after all. That's correct, isn't it?
So, if you don't already have one, how can you make a strong Vue.js developer resume?
The Turing team has written this post to help you build a powerful Vue.js developer resume and find the finest remote Vue.js developer jobs.
1. Begin with a compelling bio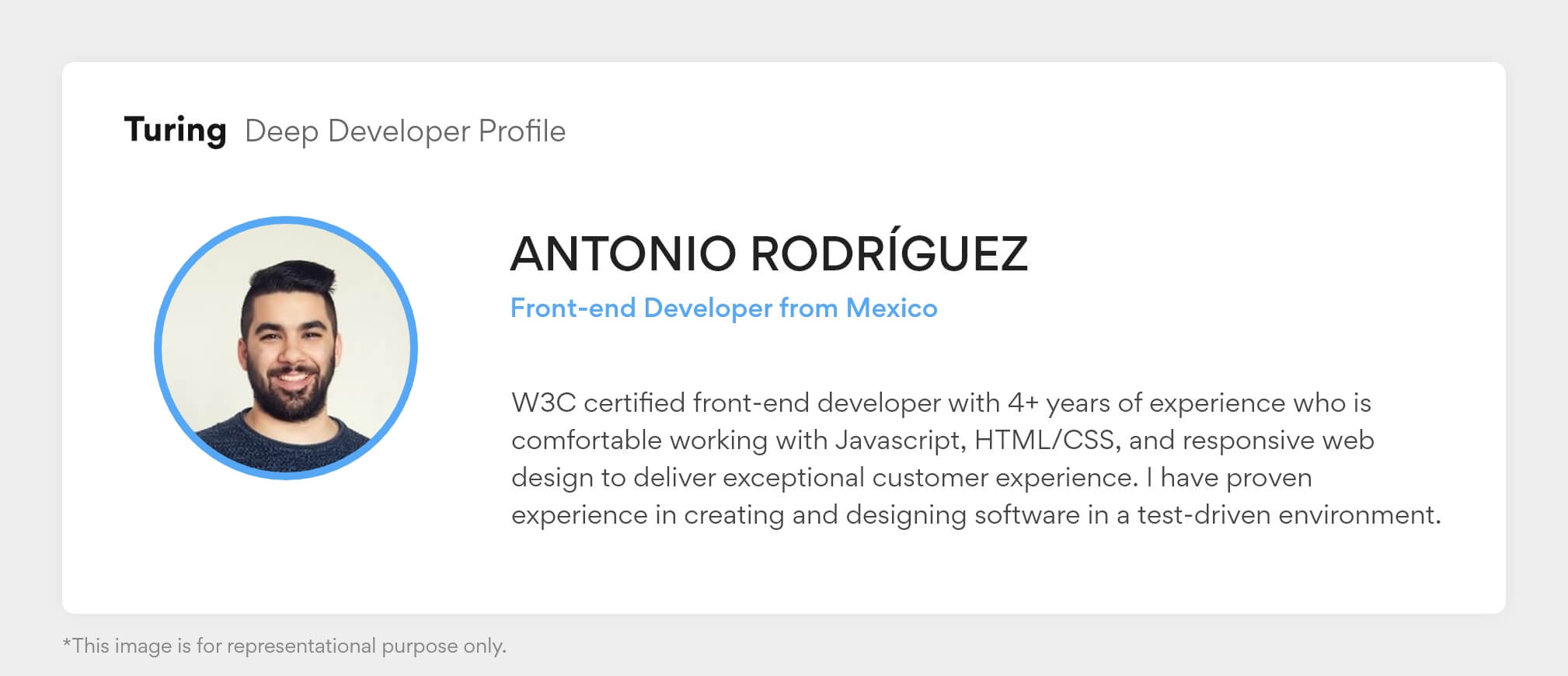 Start your resume with a strong "About me" section. A succinct 'About me' statement offers a recruiting manager a quick sense of your abilities and values.
In the bio area of your resume, provide an email address, phone number, and a list of social media accounts so recruiters may contact you for an interview. Include any keywords for your most notable abilities, as well as a description of the sorts of tasks you've performed. It will be simpler for recruiters with the right contacts to locate you if you are more detailed.
2. Make your Vue.js developer resume into a narrative
Your Vue.js developer CV conveys a tale about you and your professional accomplishments in a few sentences. Stories transport us on a journey and inform us in a way that piques our curiosity. So, if you're preparing a resume for a Vue.js developer, keep in mind that it's a tale about you. Create a CV that effectively presents your story to potential employers and recruiters.
Employers may consider your narrative when making hiring decisions. A solid Vue.js developer resume may help you turn your thoughts into a clear image of your achievements and talents.
3. Start with a great headline
The importance of headlines in your Vue.js developer resume cannot be overstated. At a look, it will give the recruiter the most crucial information. It's not tough to come up with a catchy title for your Vue.js developer CV. Use a short title like "8+ years experienced Vue.js developer" along with the job role you're looking for if you're an experienced developer. Aside from that, you should use the headline to promote your abilities or education.
4. For your Vue.js developer resume, use the right format
The most frequent and extensively used structure for producing a resume is in reverse chronological order, in which you start with your most recent job experience and work your way through all of your past employment. The functional format, on the other hand, may be used to focus on showing your talents and tech stack. Use the functional format if there have been any gaps in employment.
You may also use a hybrid resume, which combines chronological and functional aspects to emphasize your most relevant talents and achievements.
5. Give a full timeline of your job experience
The importance of your job experience on your CV cannot be overstated. A Vue.js developer resume that contains information about your promotions, accolades, or club membership will help you stand out. Add further details to your timelines, such as job titles, lengths of employment, and accomplishments. Use your Vue.js technical resume to show that your abilities and expertise are consistent. Also, give a quick description of how long it took you to achieve your professional goals. Keep in mind that the most crucial component of your Vue.js developer CV is your professional chronology.
Create your resume and get a job on Turing
Build the best Vue.js developer resume with Turing's Deep Developer Profile
Apply Now
6. Emphasize your talents in the Vue.js developer resume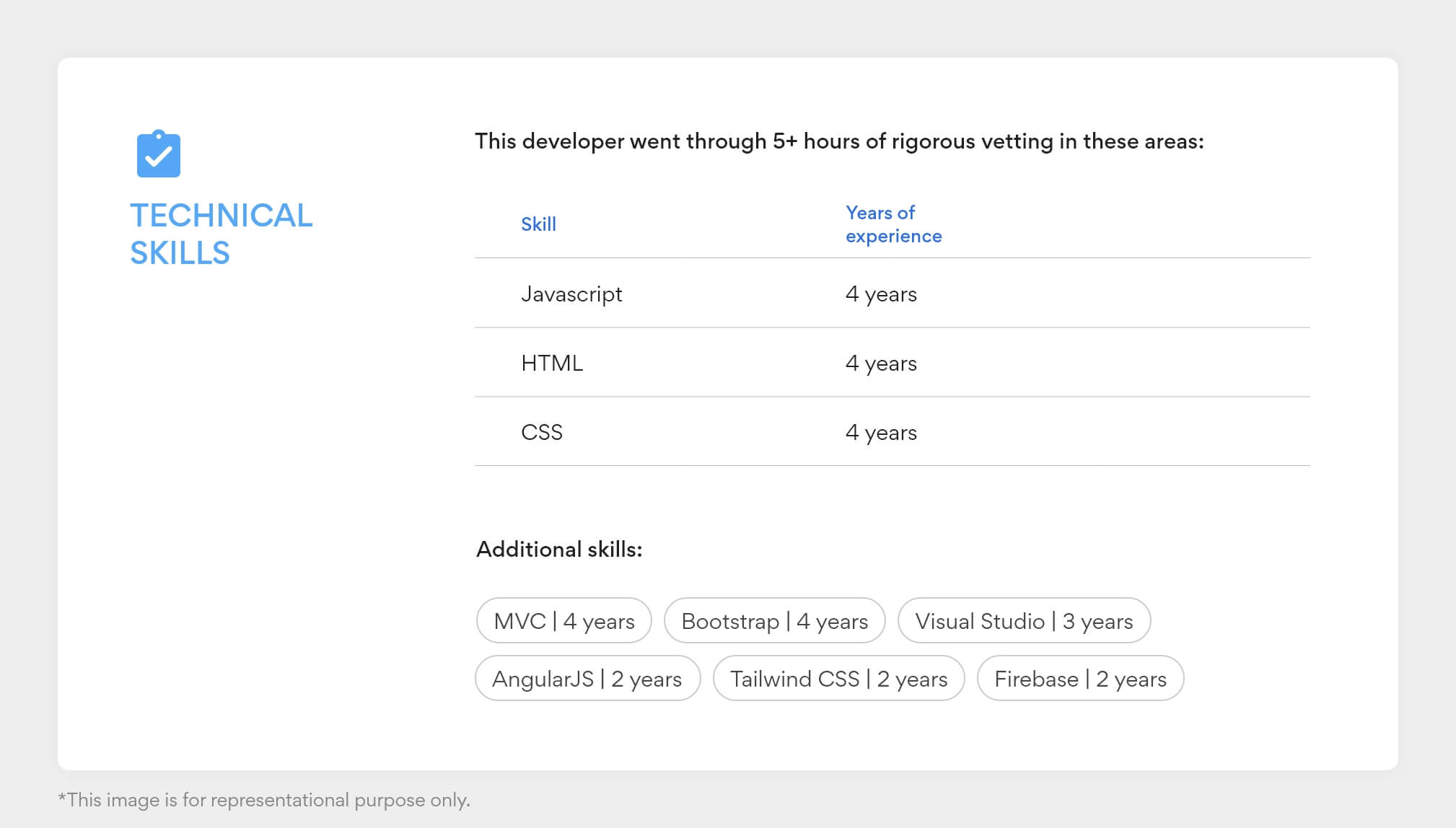 This section will list the talents you are proficient in. Demonstrate your key abilities in each of the above talents. To attract recruiters' attention, present them in a point-by-point format using icons. Highlight how your skills helped your former employers solve a problem.
Concentrate on your abilities and include them as though they were a part of the tale in your resume. To do so, decide the abilities you are most confident in and prioritize them on your CV. Finally, categorize them as core and secondary skillsets so recruiters can immediately understand your work history.
The following are some skills you can include in your resume:
Primary skills (technical)
HTML & CSS
JavaScript basics
Modern JavaScript (ES6 – ES7 – ES8)
Git
npm or Yarn
Vue
Vue CLI
Secondary skills
Other JS frameworks
Communication skills
Libraries like jQuery
7. Discuss your educational history
In a tabular format, include your educational history, institutes attended, grades obtained, additional certificates held, and so on in your Vue.js resume. This gives the recruiter a fast overview of your school background and helps them better understand you.
8. Utilize statistics to quantify your abilities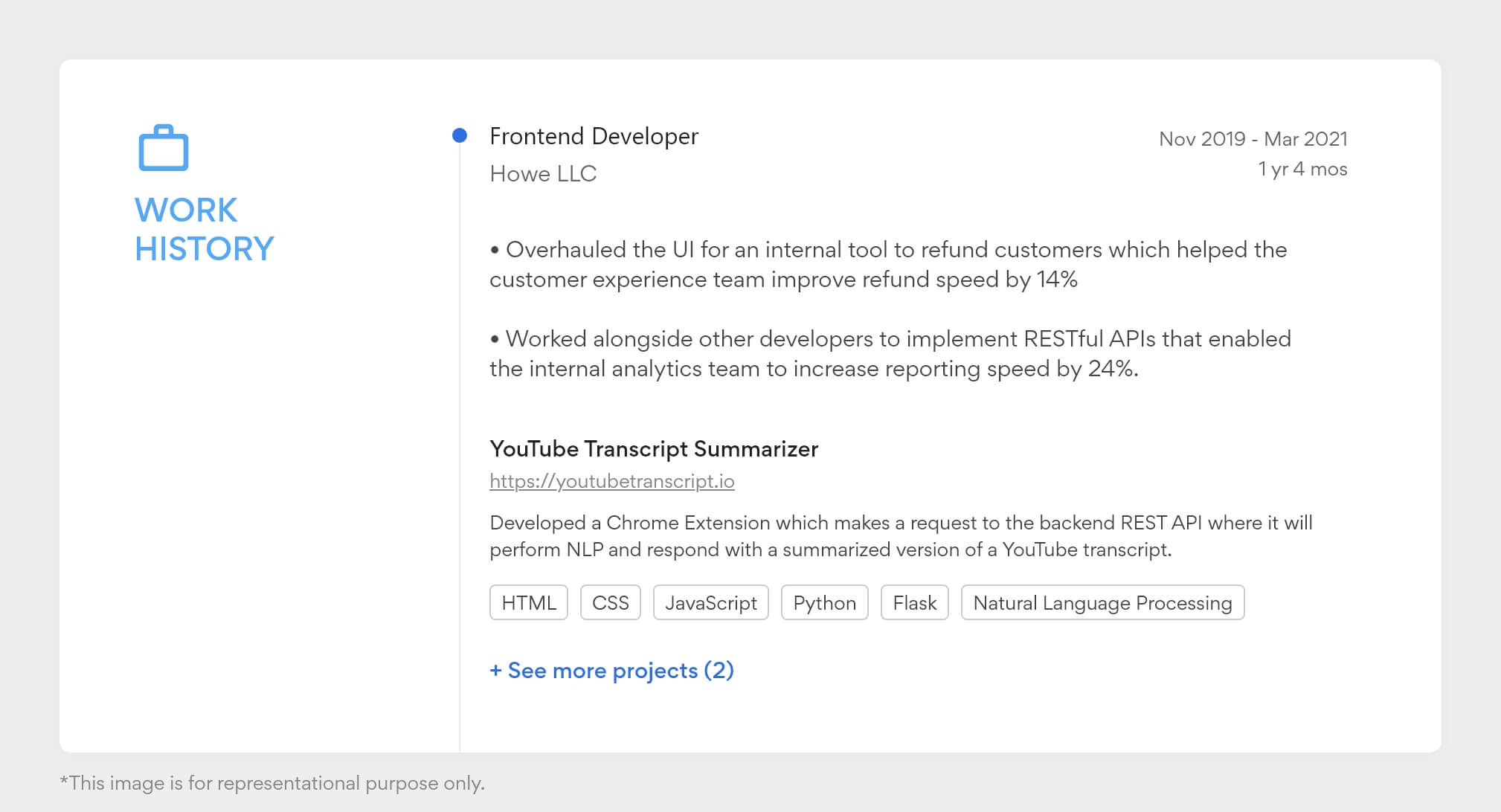 Providing strong figures to potential employers can go a long way toward increasing your chances of being hired. If you can answer "How much?" or "How many?" with a number, you should mention it in your resume. Don't forget to list all of your accomplishments and awards. Use your project as a selling point if it demonstrates your expertise. Also, your resume should be concise, accurate, and no longer than two pages. Learn how to choose and display the most important information on your resume so that recruiters can review it quickly.
9. To enhance your resume, use keywords and good grammar
It's critical to use excellent English and grammar, as well as the right keywords. To have your Vue.js developer resume included in the top search results on job sites, utilize relevant and optimized keywords in your headline, subheads, and text. A single grammatical mistake might cause the recruiter to reject you. As a result, make sure your resume is polished and error-free.
These are some keywords connected to talents that you may include in your resume:
Developing
Programming
Creating
Testing
Executing
Update
Frameworks
Designing
Deploying
Conceptualize
Coding
Documenting
Debugging
10. In a short video clip, summarize your resume
Although it may appear to be an unnecessary step, recording a one-minute video detailing your talents, experience, accomplishments, and credentials will offer you an advantage over the competition.
Create your resume and get a job on Turing
Build the best Vue.js developer resume with Turing's Deep Developer Profile
Apply Now