If you're a talented React Node developer looking for a job in Silicon Valley or the United States, you already know how important a strong resume and reference from a good React Node developer resume are.
A well-written CV draws the attention of potential hiring managers and employers to your qualifications. It is the first point of contact for recruiters, and it is through this window that they will assess and judge you. And we're all aware of the importance of first impressions. Isn't that so?
So, if you don't have a résumé yet, how do you go about creating one? Team Turing has written this article to assist you in creating a good resume and landing the finest remote React Node developer jobs. Here are a few things to keep in mind when creating a stellar resume with the help of React Node developer resume.
1. Get to the point quickly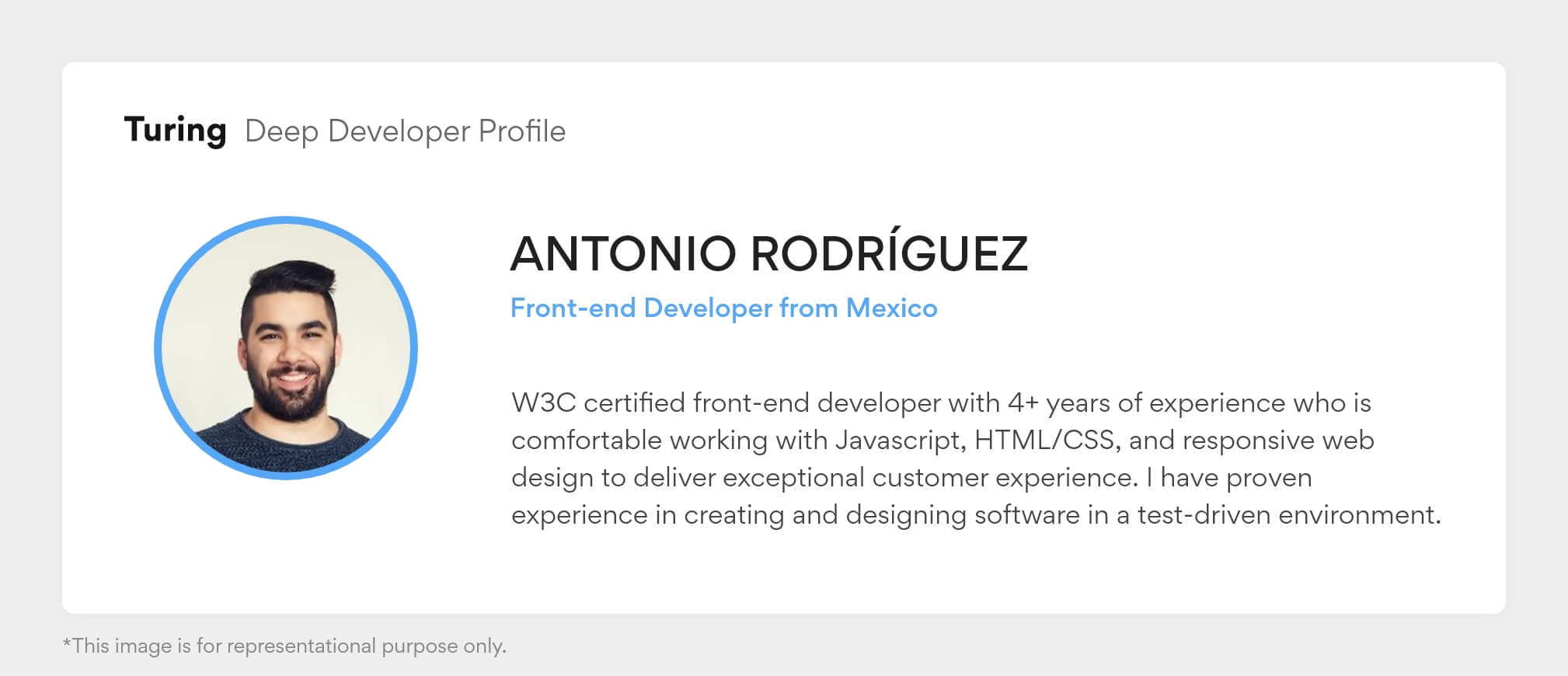 Make sure your React Node developer resume meets the right targets before you start writing. Start by including an 'About Me' section right after your name, email address, and phone number in large characters. Make it straightforward and painless for recruiters to contact you for an interview as soon as possible.
Remember to include the right keywords, the most crucial abilities, and a summary of any relevant React Node projects you've worked on. The React Node developer resume will help you stand out from the crowd and increase your chances of being called in for an interview.
2. Consider your React Node developer CV to be a narrative
Your React Node developer CV tells a short tale about you and your achievements. Stories take us on a journey and tell us things in such a way that they pique our interest. So, if you're taking reference from a React Node developer resume, keep in mind that you're writing a tale about yourself. Make a CV that presents your story to potential employers and recruiters in the most effective way possible.
3. Make your React Node developer CV stand out by including a headline
Make sure you have a headline for your resume that clearly displays your designation and years of experience before delving into the details of your work experience and educational qualifications. 'React Node developer with 5 years of experience at top MNCs,' for example. You can look at React Node developer resumes for more references as your React Node developer resume will be built around this.
4. Select a format for your React Node developer resume
The reverse chronological sequence is the most common and extensively used structure for drafting a React Node developer resume, in which you start with your most recent work experience and work your way back through all of your former roles. However, if you want to focus on showcasing your talents and tech stack, the functional style is a good option. If there have been any gaps in employment, use the functional format. You can also choose a hybrid format, which combines chronological and functional elements and allows you to highlight your most significant abilities and excellent job achievements.
5. Give a thorough timeline of your React Node development experience
This is the most crucial part of your CV. Mention your major accomplishments at prior firms and how they helped you advance and succeed in your profession. Demonstrate how your work saved the firm time and generated more income. These are critical considerations that will earn you the brownie points.
Create your resume and get a job on Turing
Build the best React Node developer resume with Turing's Deep Developer Profile
Apply Now
6. Showcase your major React Node skills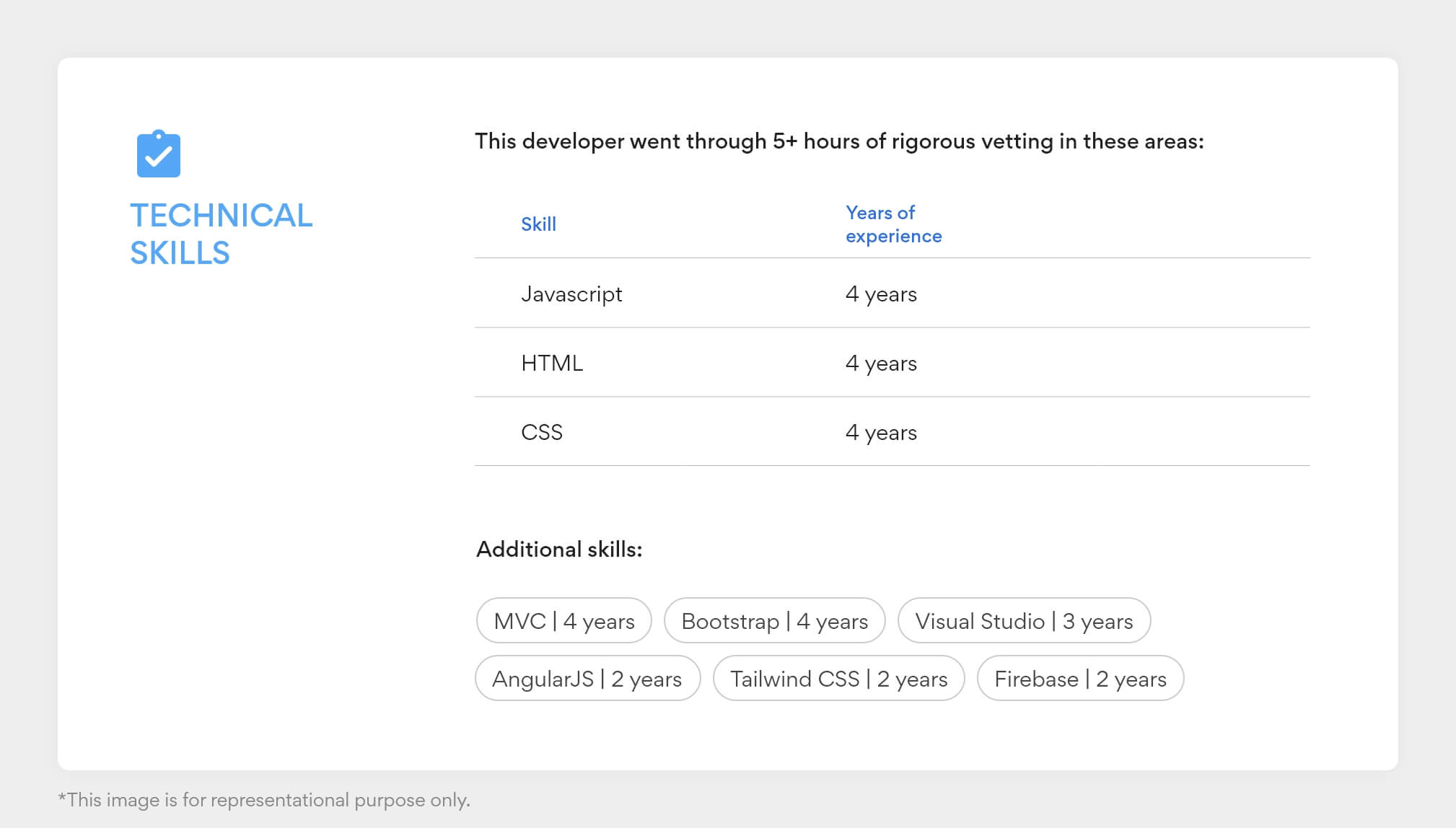 This section will include the skills in which you excel. In each skill you're going to mention, highlight your core strengths. To get recruiters' attention, put them in bullet points and add iconography. Write a few paragraphs explaining how your knowledge of a certain ability helped your prior employers find a solution to their problems. Splitting your skills into primary and secondary skills (primary skills being your area of expertise/specialization and secondary skills being skills you have some experience working on) can help hiring managers get a good picture of your strong areas and areas you have a good understanding of.
In order to acquire a decent React Node developer job, you need pick skills from the following React Node developer skills from React Node developer resume:
HTML+CSS
JSX
JavaScript Fundamentals + ES6
Git
Node + npm
Redux
7. Talk about your education
In a table, list your educational background, the institutes you attended, the grades you received, any other credentials you have, and so on. This will allow the recruiting manager/employer to rapidly review your educational history and have a better understanding of you.
8. Quantify your CV to provide extra details about your job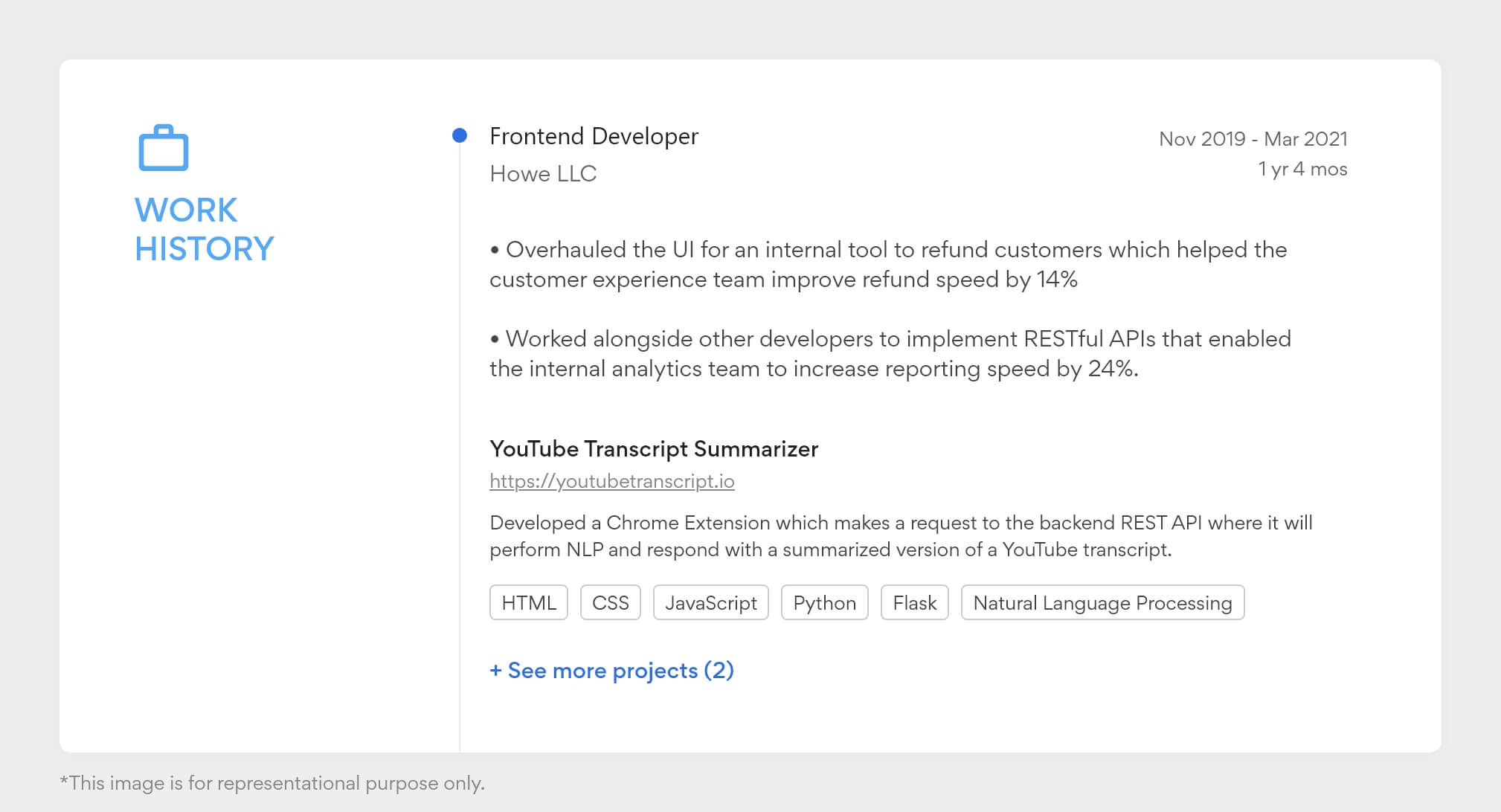 Giving prospective employers reliable numbers can make a big difference and increase your chances of getting hired. In the React Node developer resume, if you can answer "How much?" or "How many?" for anything your skills helped achieve, include it. Don't forget to add all of your personal successes and awards. Make your side project your selling point if it demonstrates your expertise. Also, make sure the React Node developer resume that you use for reference is concise, accurate, and not longer than two pages.
9. Use keywords and proper language to optimise your resume
As simple as it may seem, proper English and grammar, as well as the right keywords, is essential. The React Node developer resume can be listed in the top search results on search engines if you use relevant and optimized keywords in your headline, subheads, and copy.
For potential employers to consider you as the appropriate addition to their team, use the following keywords:
Developing
Programming
Creating
Designed
Testing
Executing
Integration
Coding
Bootstrapping
Documenting
10. Make a little video that summarises your resume
Although it may seem to be an additional step and one hard to find in the resume, making a little video of approximately a minute or two highlighting your abilities, experience, accomplishments, and credentials will offer you an advantage over hundreds of competitors.
Create your resume and get a job on Turing
Build the best React Node developer resume with Turing's Deep Developer Profile
Apply Now