If you've ever tried your hand at landing a high-paying job at a well-known Silicon Valley firm, you know how vital a decent PHP/Vue.js developer resume is. A well-curated PHP/Vue.js developer resume allows you to highlight your essential skills and impress recruiters. After all, it is a key for creating the first impression on the hiring manager. This is why you must establish yourself as competent and professional to grab their attention.
However, a poorly written CV might dramatically reduce your prospects, so pay attention to every aspect of the resume to increase your chances of securing top PHP/Vue.js job opportunities.
Now, how do you strike the right balance between all of your finer points, professionally present your skills, and ensure that the recruiter recognizes your resume?
Turing pros have some amazing recommendations for improving your resume and landing the best PHP/Vue.js development jobs.
1. Start with an excellent bio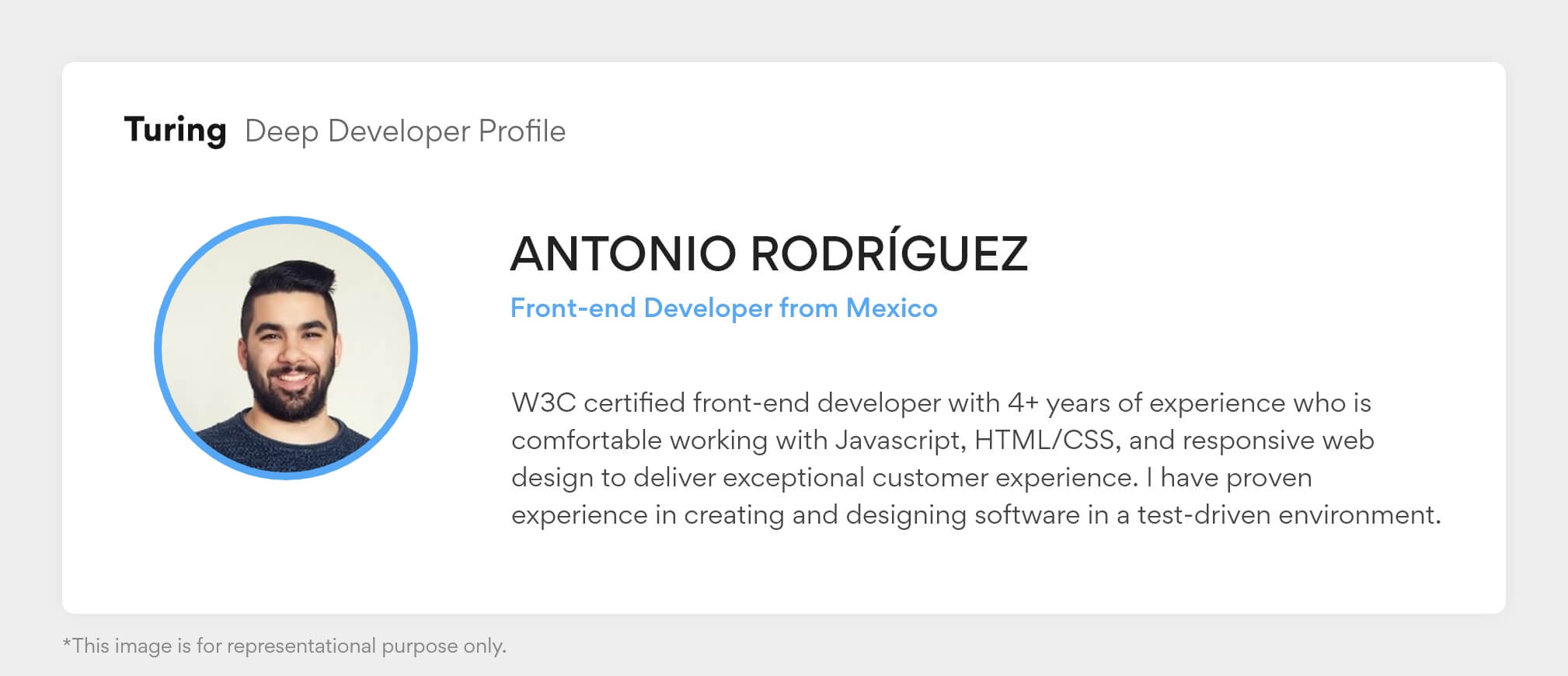 An amazing 'About me' section, right at the beginning of the resume, describing your qualifications, can provide hiring managers an overall impression of who you are. In the bio section of your resume, include a clear email address, phone number, and a list of your social media handles so recruiters who are interested in your background can readily contact you for an interview. Include keywords for the abilities you want to highlight, apart from a description of the projects you've worked on. The more precise you are, the easier it will be for recruiters with relevant contacts to locate you.
2. Present your PHP/Vue.js developer resume as a story
Stories are the most effective technique to captivate anyone's attention. So, in your PHP/Vue.js developer resume, convey your story by including your projects, your experience with PHP/Vue.js development, and anything else that you believe is relevant to your life and work.
Your story can influence how employers choose who to hire. A solid PHP/Vue.js developer resume can assist you in translating your thoughts into a clear image of your accomplishments and skills.
3. Open with an impressive headline
A good resume headline can attract the attention of a reader, and prompt him or her to read on. So, use an attention-getting headline to begin your resume, and then go into detail about your skills and achievements.
For example, here is a headline taken from a PHP/Vue.js developer resume: 'PHP/Vue.js developer with 5+ years of experience'. This impactful headline aptly summarises your experience.
4. Structure your PHP/Vue.js developer resume on a PHP/Vue.js resume template
A resume can be formatted in a variety of ways, with most professionals choosing the common reverse chronological format. This method begins with the most recent employment data and works its way backward. While this accomplishes the aim, you have the option of using an alternative technique. For example, by using a PHP/Vue.js resume template, you may arrange your PHP/Vue.js developer resume functionally, emphasizing your strengths and technical experience and supporting you in establishing a stronger first impression.
5. Provide a detailed timeline of your work experience
Your work experience is an important part of your resume. A PHP/Vue.js developer resume that includes the dates when you were promoted, won an award, or joined a club can provide you with an advantage. Add any extra information to your timelines, such as work titles, employment durations, and accomplishments. Examine the one-page PHP/Vue.js developer resume template and use your PHP/Vue.js technical resume to demonstrate how consistent your abilities and experience are. Also, briefly describe how long it took you to attain your professional goals. Keep in mind that your professional timeline is the most important aspect of your PHP/Vue.js developer resume.
Create your resume and get a job on Turing
Build the best PHP/Vue.js developer resume with Turing's Deep Developer Profile
Apply Now
6. Emphasize your PHP/Vue.js development skills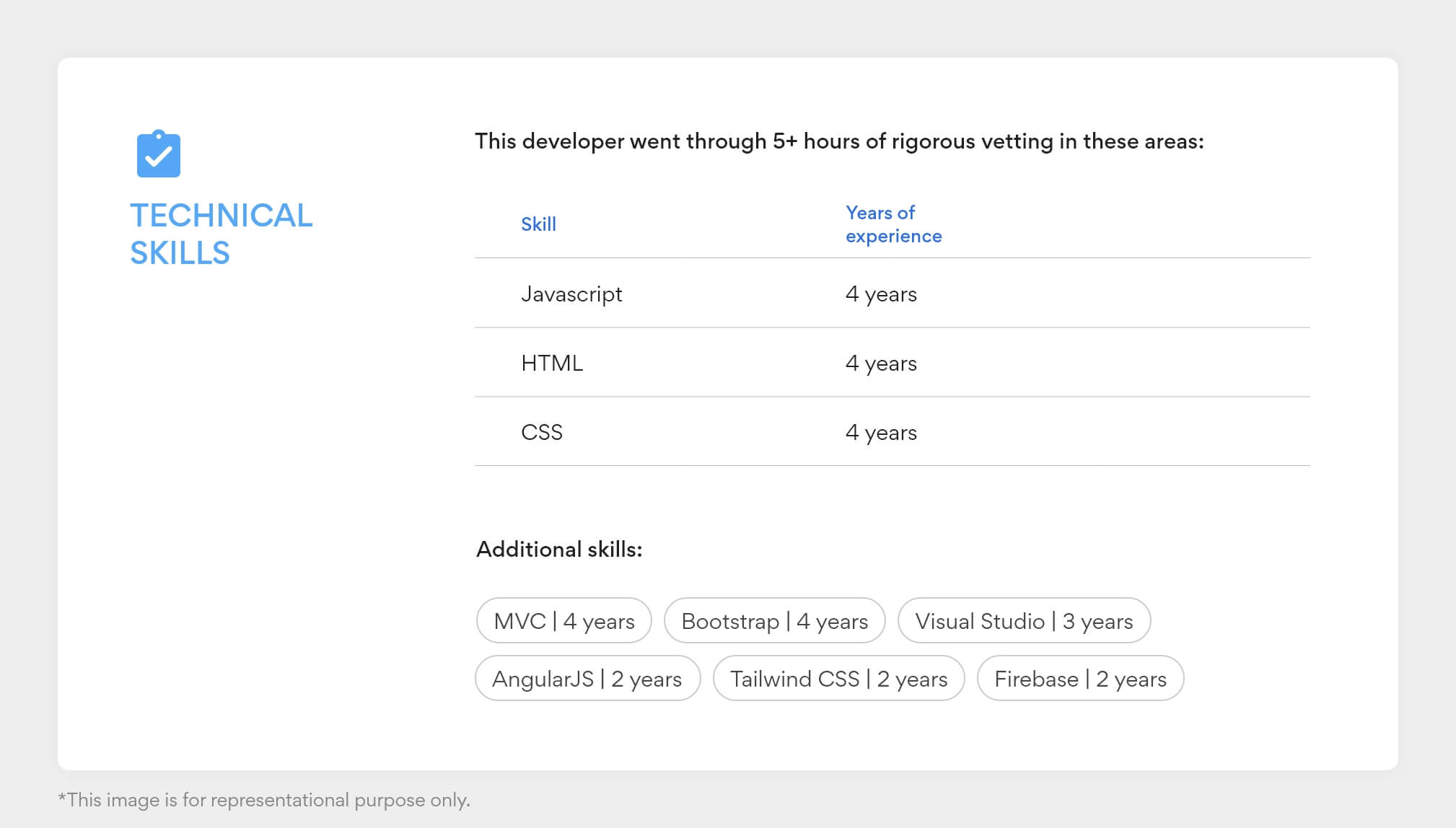 In this section, You might discuss your fundamental strengths, such as abilities that you would be eager to put to use in your next employment. Include some icons to attract the recruiter's attention to make this part more appealing and memorable. Make it clear how your abilities have helped previous employers solve a business problem.
Concentrate on your skills and include them into your resume as though they were a part of the story. To do so, first establish the abilities you are most confident in, and then prioritize those on your resume. Finally, classify them as core and secondary skill sets so that recruiters may quickly learn about your professional experience.
Include the following abilities in your PHP/Vue.js developer resume to catch the recruiter's attention:
Primary skills (technical)
PHP/Vue.js
HTML
CSS
JavaScript
Git
Npm
core Vue
Vuex
Vue Router
Secondary skills (design and web performance-related)
Front-end development
Back-end development
Logical approach
Problem-solving
Attention to details
7. Mention your educational background
Place your academic credentials at the top of your CV. Include details about the schools you've attended, your grades, and any other accomplishments you've had. This demonstrates that you are driven and have established goals for yourself. Use a table form style in this section of your PHP/Vue.js developer resume to get recruited faster.
8. Use Numbers to quantify Your Skills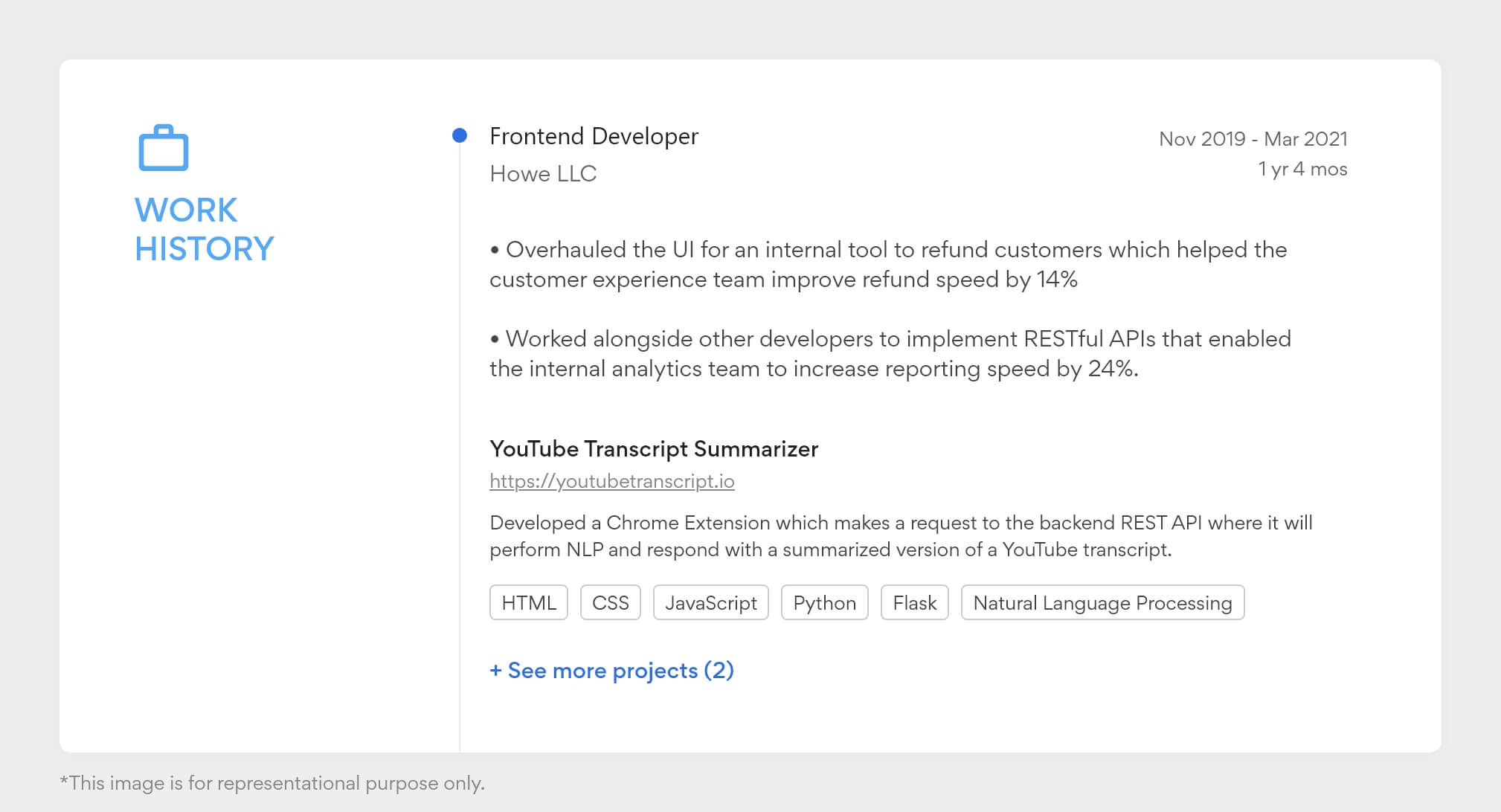 In today's job, numbers can be really useful. They enable you to quantify and demonstrate your competence and experience impressively. Including examples of your work can greatly improve your chances of being hired for the best PHP/Vue.js development jobs.
Keep your resume within a 2-page limit. Learn how to pick and present the most crucial information on your resume so that recruiters can easily scan it.
9. Avoid grammatical mistakes and use proper keywords
To create an effective resume, use correct grammar, spellings, and relevant keywords. You need good English skills to land the best PHP/Vue.js development positions in US companies. Include PHP/Vue.js-related keywords throughout your resume. If you have these things on your resume, it will look professional to the recruiters. Even a single error on your resume can be detrimental to your selection, even if you are the most qualified candidate.
Below are some skills-related keywords you can add to your resume:
Developing
Programming
Creating
Testing
Executing
Updating
Frameworks
Designing
Deploying
Conceptualize
Coding
Documenting
Debugging
10. Sum up your resume in a brief video clip
Making a short clip about yourself, even if it appears extravagant, will offer you an advantage over other applicants. Tell your story in a way that highlights your talents, abilities, and successes.
Create your resume and get a job on Turing
Build the best PHP/Vue.js developer resume with Turing's Deep Developer Profile
Apply Now