A flawless resume is key to unlocking new opportunities. To land the job of your dreams, you must have a perfect resume. How would you get a job if you do not have a resume that conveys your skills to the hiring manager? If you have already tried your hand at applying for highly-reputable US companies, then you are aware of the important role a good MySQL developer resume plays. This is why you must establish yourself as knowledgeable and professional to capture their attention.
Now, how do you strike the fine balance between all of your finer points, professionally present your skills, and ensure that the recruiter notices your resume for MySQL developer jobs?
The experts at Turing have provided some great tips to help you improve your MySQL developer resume to land the best job.
1. Start with an impactful bio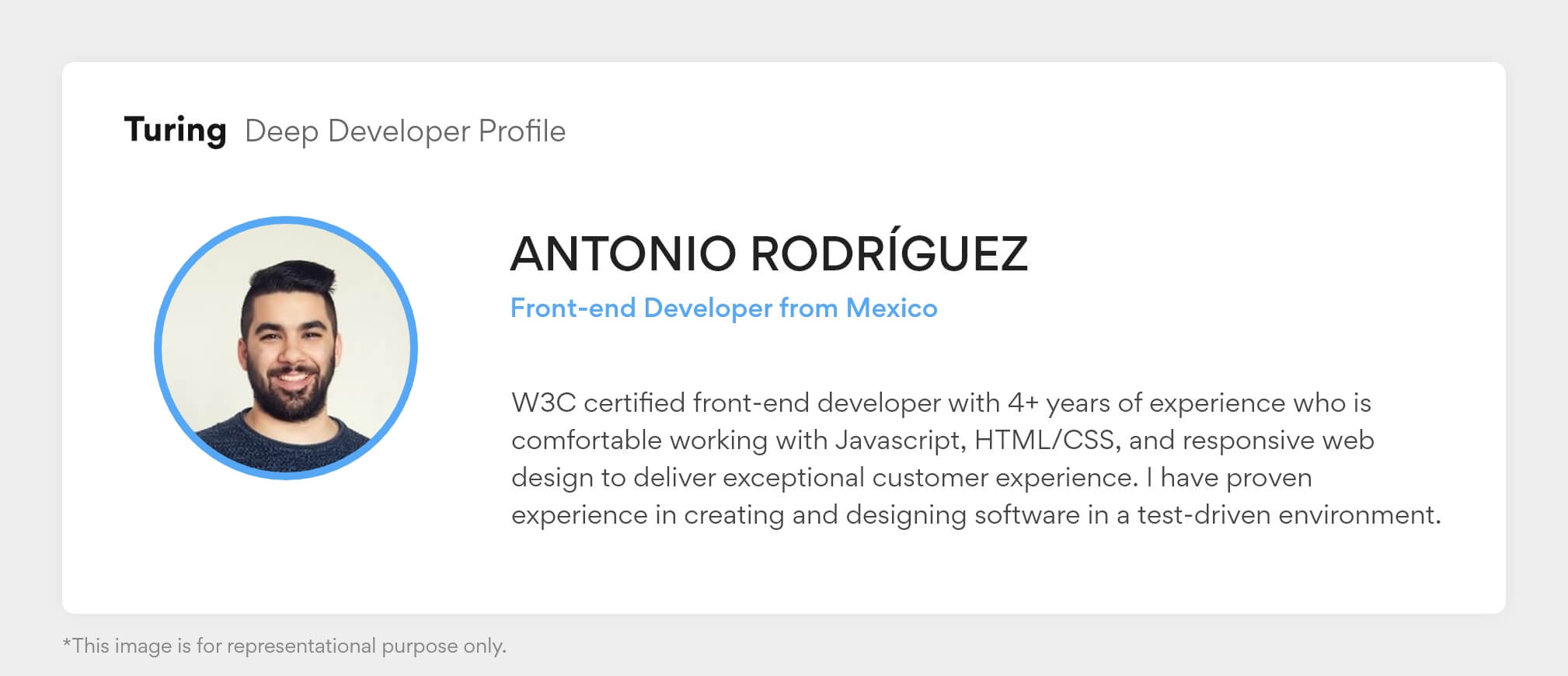 Begin your resume with an impressive 'About me' section. A concise 'About me' statement gives a hiring manager an instant impression of your strengths and values.
Include an email address, phone number, and list of social media handles in your resume's bio section so recruiters can contact you for an interview. Also, include any keywords for your most noteworthy skills and describe the types of projects you have completed. The more specific you are, the easier it will be for recruiters with the appropriate connections to find you.
2. Structure your MySQL developer resume as a story
Your MySQL developer resume tells a brief story about yourself and your professional achievements. Stories take us on a journey and tell us things in such a way that they pique our interest. So, if you are writing your MySQL developer resume, remember to think of it as a story about yourself. Create a resume that tells your story to potential employers and recruiters in the best way possible.
Your story can influence how employers choose who to hire. A good MySQL developer resume can assist you in translating your ideas into a clear picture of your accomplishments and skills.
3. Open with an excellent headline
In your MySQL developer resume, headlines are vital. It will provide the recruiter with the most important information at first glance. Writing an appropriate headline for your MySQL developer resume is not that difficult. If you are an experienced developer, use a simple headline like "8+ years experienced MySQL developer" along with the job role you are applying for. Aside from that, if you want to highlight your skills or education in the headline, you should.
4. Apply a proper format for your MySQL developer resume
The reverse chronological order is the most common and widely used format for writing a resume, in which you begin with your most recent work experience and work your way through all of your previous roles. However, if you want to focus on showcasing your skills and tech stack, you can use the functional format. If there have been gaps in employment, use the functional format.
You can also choose a hybrid resume, which is a combination of chronological and functional elements in which you highlight your most relevant skills and outstanding work achievements.
5. Provide a detailed work experience timeline
Your work experience is pivotal in your resume. A MySQL developer resume that includes the details about your promotions, awards, or joining a club can give you an advantage. Add extra information such as job titles, employment durations, and accomplishments to your timelines. Use your MySQL technical resume to demonstrate your consistency in terms of skills and experience. Also, briefly describe how long it took you to reach your professional milestones. Keep in mind that your professional timeline is the most important aspect of your MySQL developer resume.
Create your resume and get a job on Turing
Build the best MySQL developer resume with Turing's Deep Developer Profile
Apply Now
6. Emphasize your skills in the MySQL developer resume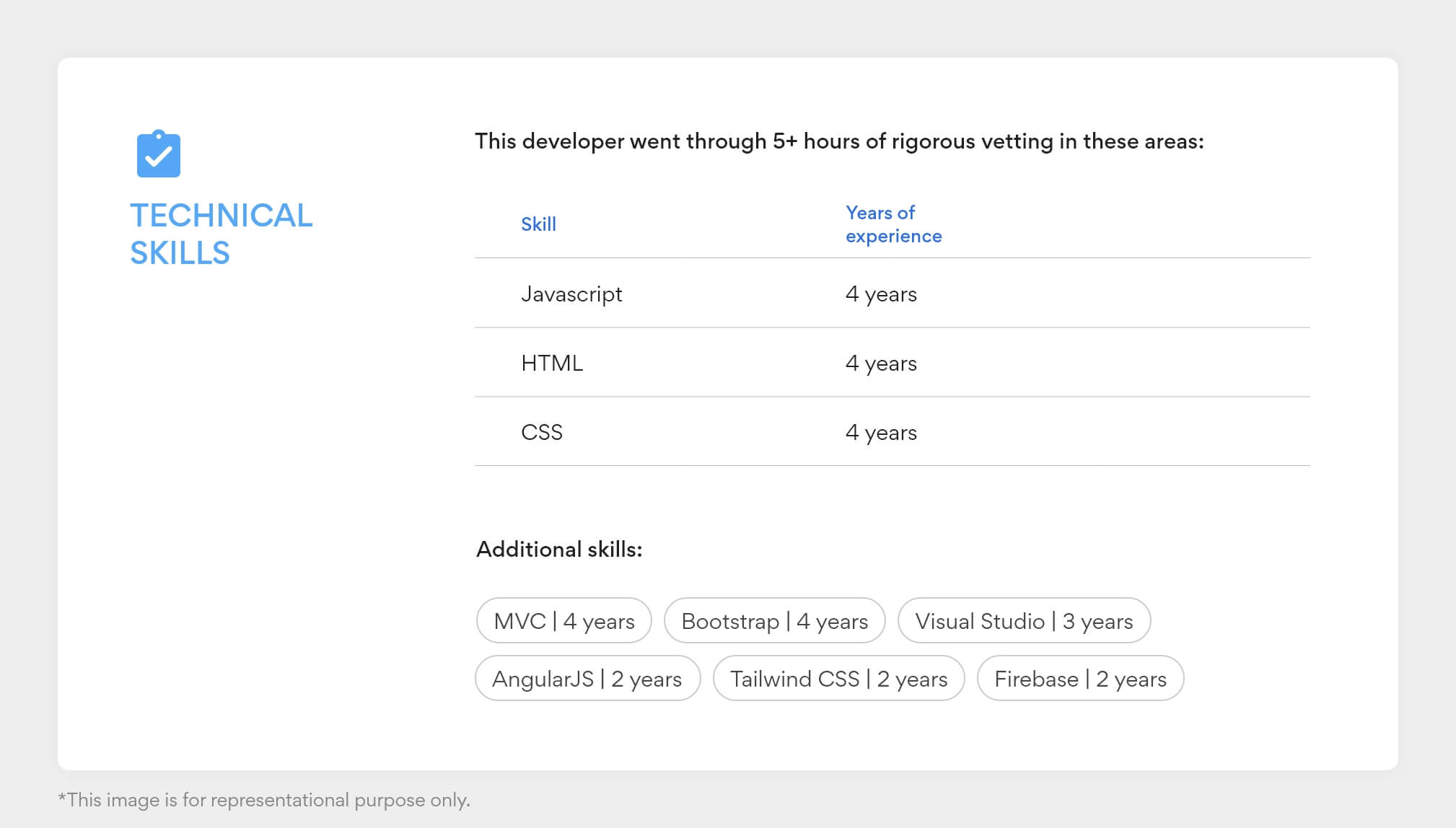 This section will include the skills in which you are adept. Demonstrate your core strengths in each of the skills you mention. Display them point by point and add icons to capture recruiters' attention. Write a few lines about how your expertise in a particular skill helped your previous organizations find a business solution.
Concentrate on your skills and incorporate them into your resume as if they were a part of the story. To do so, first, determine which skills you are most confident with and then prioritize those in your resume. Finally, classify them as primary and secondary skillsets so that recruiters can quickly learn about your professional experience.
Here are the skills you can add to your resume:
Primary skills (technical)
SQL
MySQL server administration
Java
PHP
HTML
DBA
SSIS
Secondary skills (design and web performance-related)
Query optimization
Transact-SQL
Software development life cycle
7. Talk about your educational background
In your MySQL resume, mention your educational background, the institutes you attended, the grades you received, the other certifications you hold, and so on in a table format. This offers the recruiter a quick glance over your educational history and helps them understand you better.
8. Quantify your skills using statistics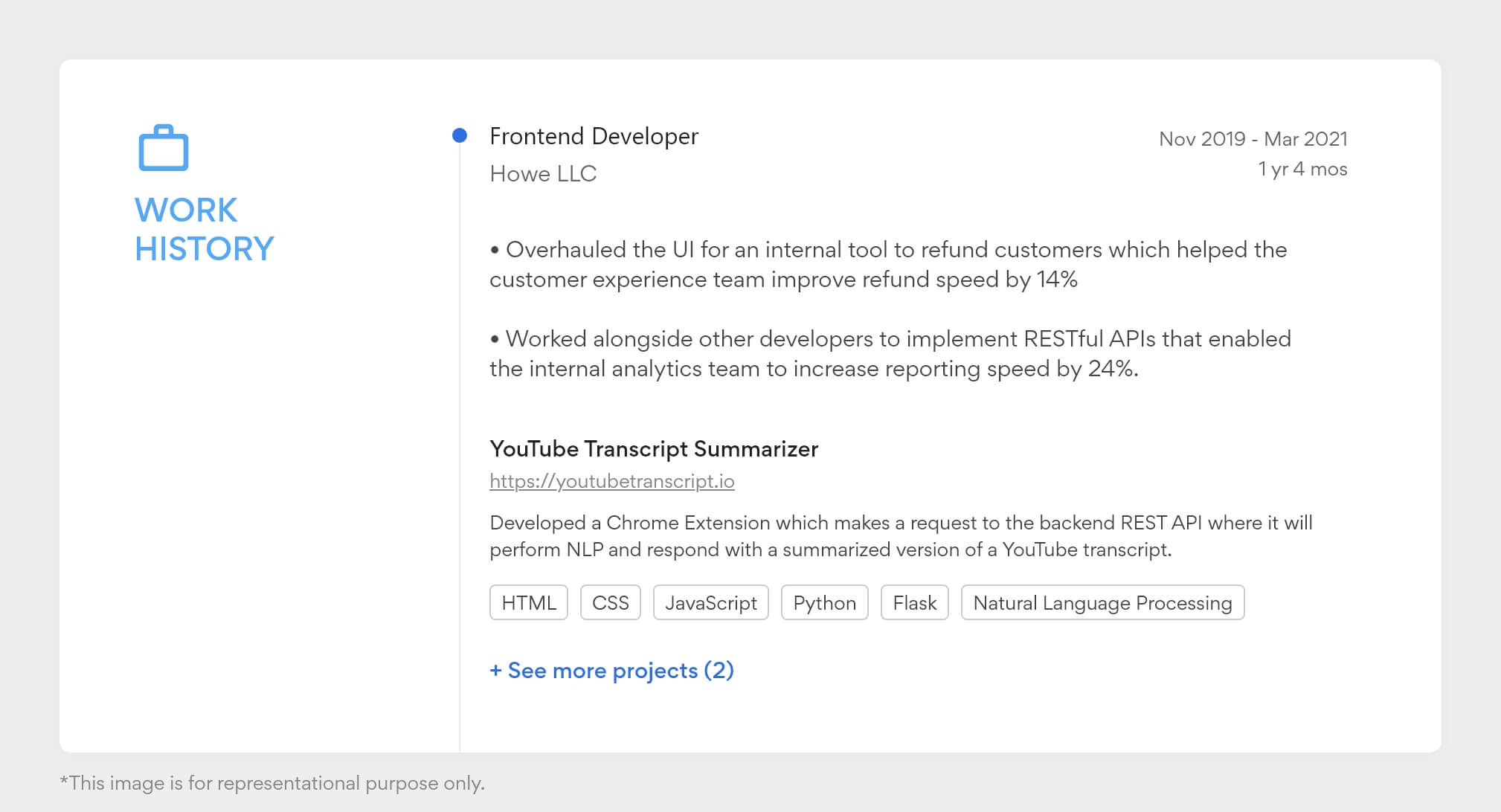 Providing solid numbers to prospective employers can make a big difference and increase your chances of getting hired. You should include a number in your resume if you can answer the questions "How much?" or "How many?" Don't forget to include all of your achievements and accolades. If your project exemplifies your abilities, use it as a selling point. Also, make sure your resume is crisp, precise, and no more than two pages long. Understand how to choose and present the most vital information on your resume so that recruiters can easily scan it.
9. Use keywords and proper grammar to optimize your resume
Adherence to proper English and grammar, as well as appropriate keywords, are essential. Smartly use relevant and optimized keywords in your headline, subheads, and copy to get your MySQL developer resume featured in the top search results on job portals. Good grammar is essential as a single error can make the recruiter reject you. So, ensure that your resume looks professional and error-free.
These are some skills-related keywords you can include in your resume:
Developing
Programming
Creating
Testing
Executing
Update
Frameworks
Designing
Deploying
Conceptualize
Coding
Documenting
Debugging
10. Sum up your resume in a brief video clip
This may appear to be an extra step, but documenting a brief video of about a minute outlining your skills, experience, accomplishments, and credentials will give you an edge over the competition.
Create your resume and get a job on Turing
Build the best MySQL developer resume with Turing's Deep Developer Profile
Apply Now