If you are a talented remote ML/CV engineer looking to work for elite US software companies, you know the importance of a great resume.
A comprehensive CV draws the attention of prospective employers to your abilities. It is the first point of contact for firms to look at and appraise you. And first impressions have a lasting impact. Isn't that right?
So, how can you create an effective CV for the top ML/CV developer jobs if you don't already have one?
This article is an attempt by the Turing team to assist you in generating a good resume and obtaining the finest remote ML/CV engineer jobs in 2023. Here are a few things to keep in mind when creating an outstanding resume.
1. Start with relevant information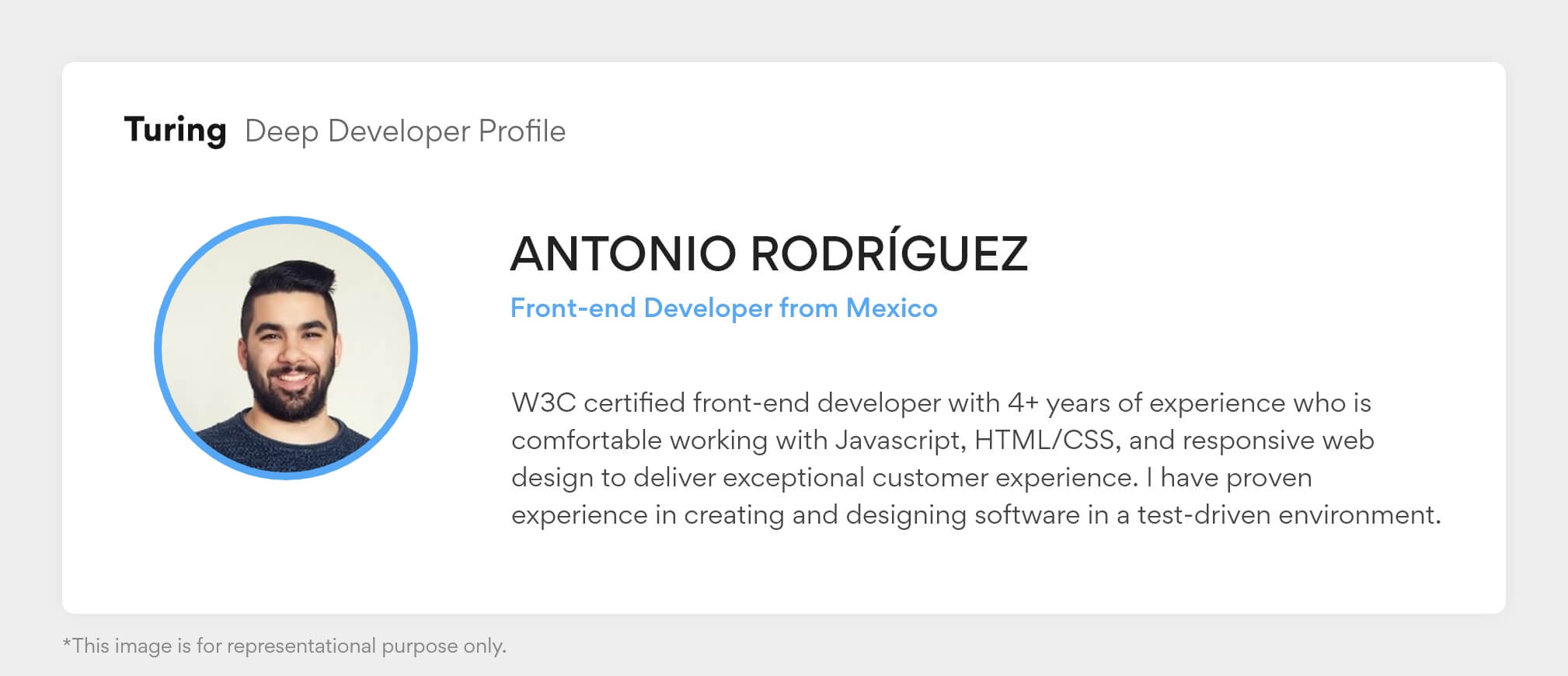 Make sure to hit the bull's eye with your ML/CV engineer resume. Start by including an 'about me' section right after your name, email address, and phone number. These details may seem insignificant, and yet they form the foundation of your CV. Make it as simple as possible for recruiters to contact you for an interview in minutes.
Don't forget to include keywords for your most important abilities as well as a quick summary of any relevant ML/CV projects you've worked on. This will make your resume stand out from the crowd and boost your chances of employment.
2. Treat your ML/CV engineer resume as a story
Your ML/CV engineer resume is nothing more than a summary of your professional achievements. We are all fascinated by stories. They take us on a journey and tell us things in such a way that we become addicted to them. So, make your ML/CV engineer resume in 2022, your professional tale. Create a CV that presents your story to prospective employers in the best way possible.
3. Give a headline to your ML/CV engineer resume
A resume headline for ML/VC engineer puts the spotlight on your qualifications. By helping you stand out among thousands of other applicants, an impressive resume headline or title boosts your chances of being shortlisted for a job interview. Even during the interview, it saves the interviewer time because they can rapidly get a sense of the talents you have for the position. For example: 'ML/CV engineer with 6-years of experience at top MNCs'. This is how you can grab the attention of your potential recruiter.
4. Decide the format of your ML/CV engineer CV
The most popular structure for producing a resume is the reverse chronological order, in which you begin with your most recent work experience and work your way through all of your past roles. However, if you want to focus on showing your abilities and tech stack, you can use the functional structure.
You can also choose a hybrid format, which combines chronological and functional elements and allows you to highlight your most significant abilities and spectacular job achievements.
5. Let them know about your work experience
Your work experience is the most integral feature of your CV. Mention your significant accomplishments in past organizations and how they aided your growth and career. Don't be afraid to provide references to back up your claim. Indicate how long it took you to advance to the senior level.
Create your resume and get a job on Turing
Build the best ML/CV engineer resume with Turing's Deep Developer Profile
Apply Now
6. Highlight your core skills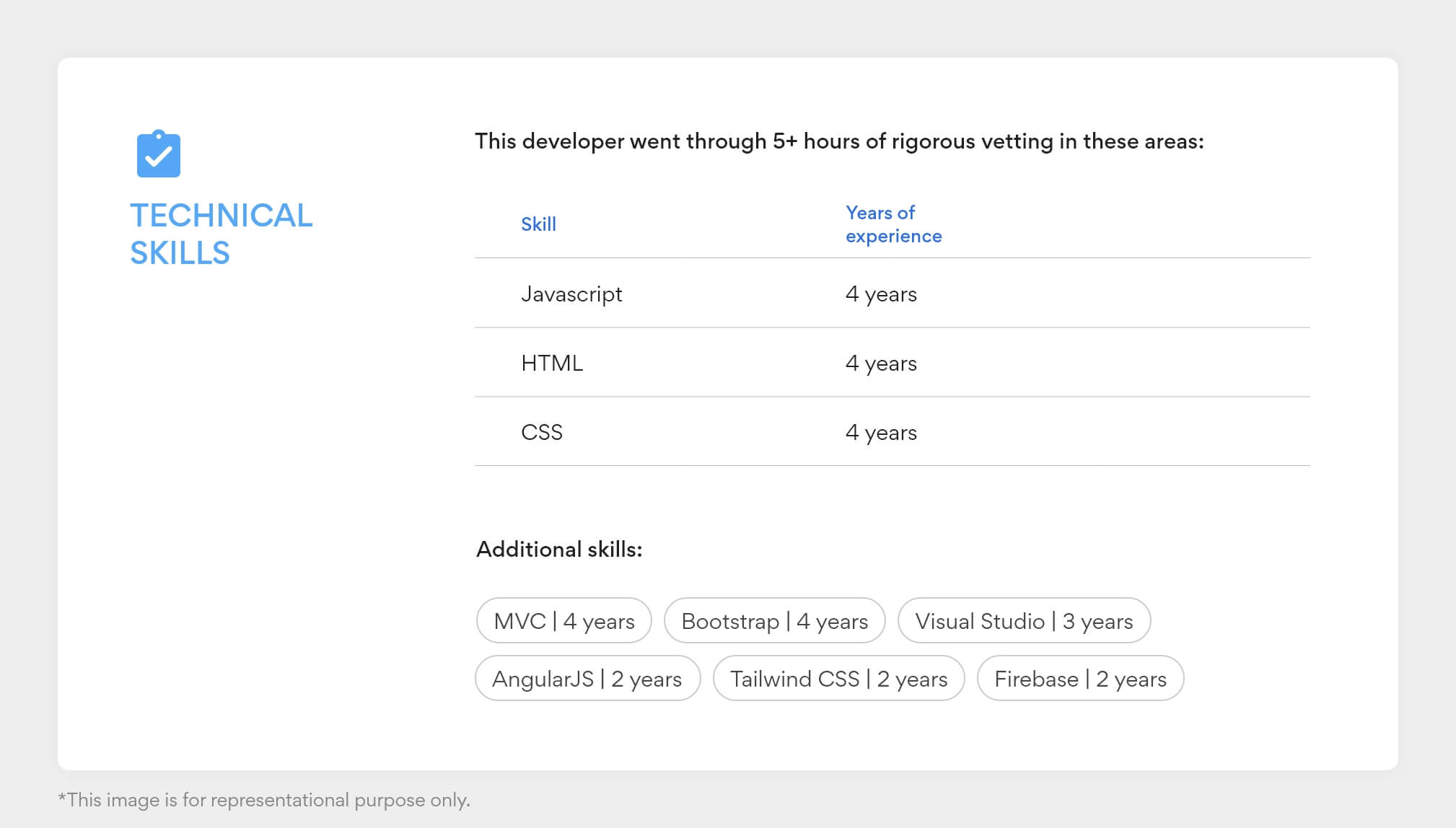 After writing the work experience summary, you must add your technical and soft skills, such as working with data, understanding blueprints, probability, and statistics, and software knowledge. You can also include a list of managerial and leadership qualities in this part of the CV. Use one or two words to describe a skill. An ML/CV engineer CV, for example, may cover talents such as deep learning, data mining, engineering design, problem-solving, working documentation, and coordination.
Also, categorize your skills as primary and secondary (primary being your area of expertise/specialization and secondary being skills you have some experience working on). Categorization gives recruiters a good sense of your strong points and areas in which you have some knowledge.
Having the following ML/CV engineer skills in your resume would help you land a good ML/CV engineer job:
Primary skills (technical)
Data Visualization
Statistical Modeling
Predictive Analysis
Data Mining
Clustering & Classification
Data Analytics
Web Scraping
Model Development
Quantitative Analysis
ML Algorithms
Secondary skills (design and web performance-related)
UI/UX design
Visual editing
GIT/Version control
Wireframing
Debugging
7. Describe your education
Mention your educational background, the institutes you attended, the grades you received, the additional credentials you hold, and so on in a table format. This section allows the recruiter to review your educational history at a glance and gain a better understanding of you.
8. Showcase your work and quantify your resume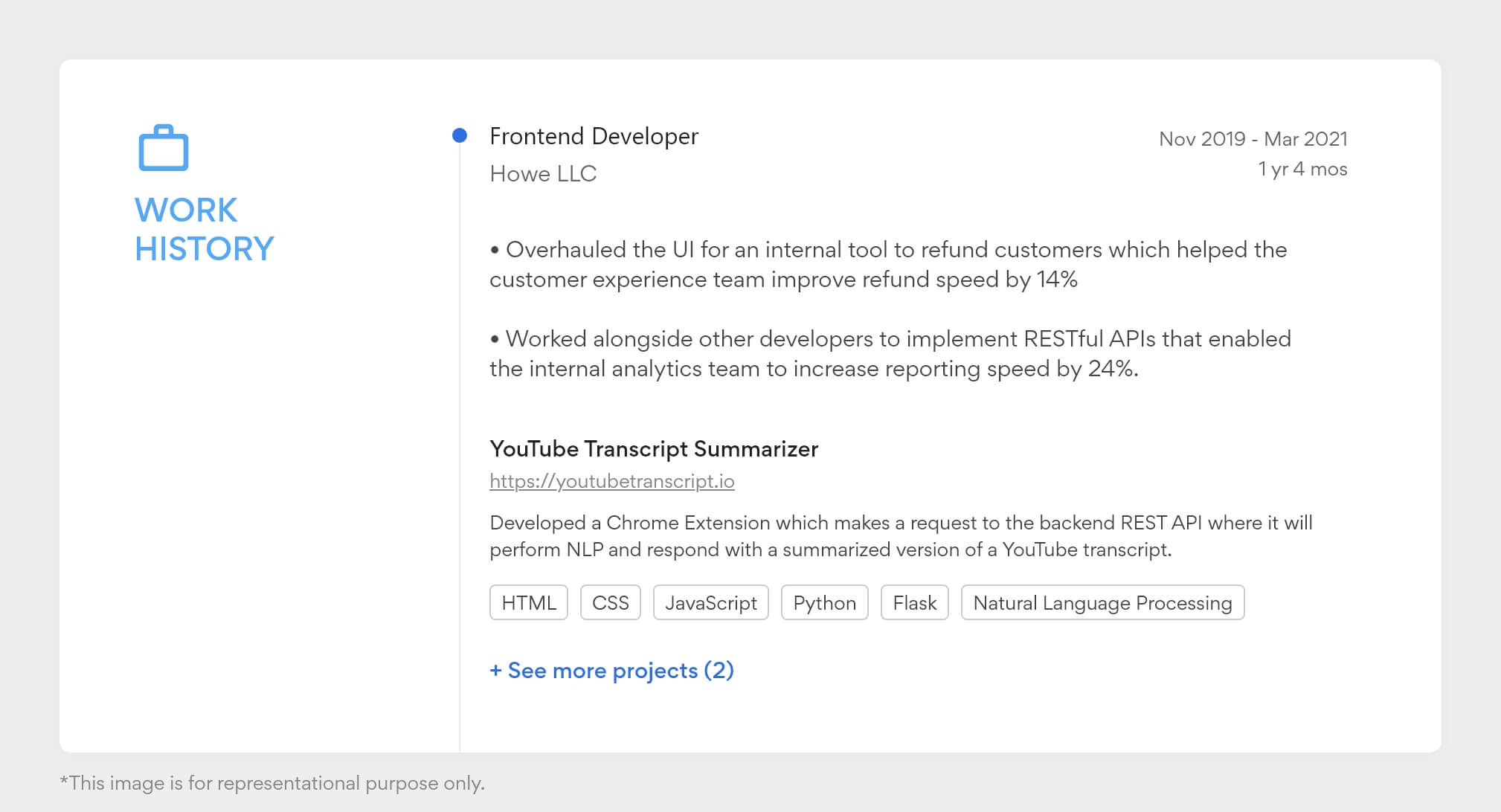 Giving good data to prospective employers can boost your chances of getting recruited. If you can answer the queries "How much?" or "How many?" in your CV, you should include that figure. Don't forget to highlight any personal accomplishments or awards you've received. Use your side project as a selling point if it exhibits your expertise. Any reference to your previous work will greatly increase your chances of being considered for an interview. Also, ensure that your resume is concise, accurate, and does not surpass 2-3 pages.
9. Use keywords and proper grammar to optimize your resume
You can impress your recruiters with correct English and grammar, as well as the proper use of keywords. Using relevant and optimized keywords in your headline, subheads, and the copy can help your profile appear towards the top of search engine results.
Use the following precise keywords to help potential employers in viewing you as a great addition to their team:
Identifying
Programming
Creating
Diagnosing
Testing
Executing
Maintaining
Communicating
Informing
Consulting
Innovating
Recommending
Troubleshooting
Designing
Documenting
10. Record a short video summing up your resume
It may sound like hard work, but recording a short video of about a minute summing up your skills, experience, achievements, and credentials will give you an edge over your competitors.
Create your resume and get a job on Turing
Build the best ML/CV developer resume with Turing's Deep Developer Profile
Apply Now