Are you looking for a new remote big data engineer job with a reputable firm in the United States? You already know how essential it is to have a solid resume if you want to succeed in your career. In your job hunt, a well-written resume may make a big impact. It gives the reader a good initial impression and emphasizes your qualifications as a worthwhile profession. A great resume can help you make the most of the little time you have to impress the recruiter and increase your chances of getting an interview call.
So, how should a resume for a big data engineer be written in order to land the top Big Data developer jobs?
This post is a contribution by Turing specialists to assist professionals in overcoming frequent issues experienced throughout the interview process. To design your big data engineer resume and obtain the right position to improve your career, follow this step-by-step approach.
1. Create a wonderful bio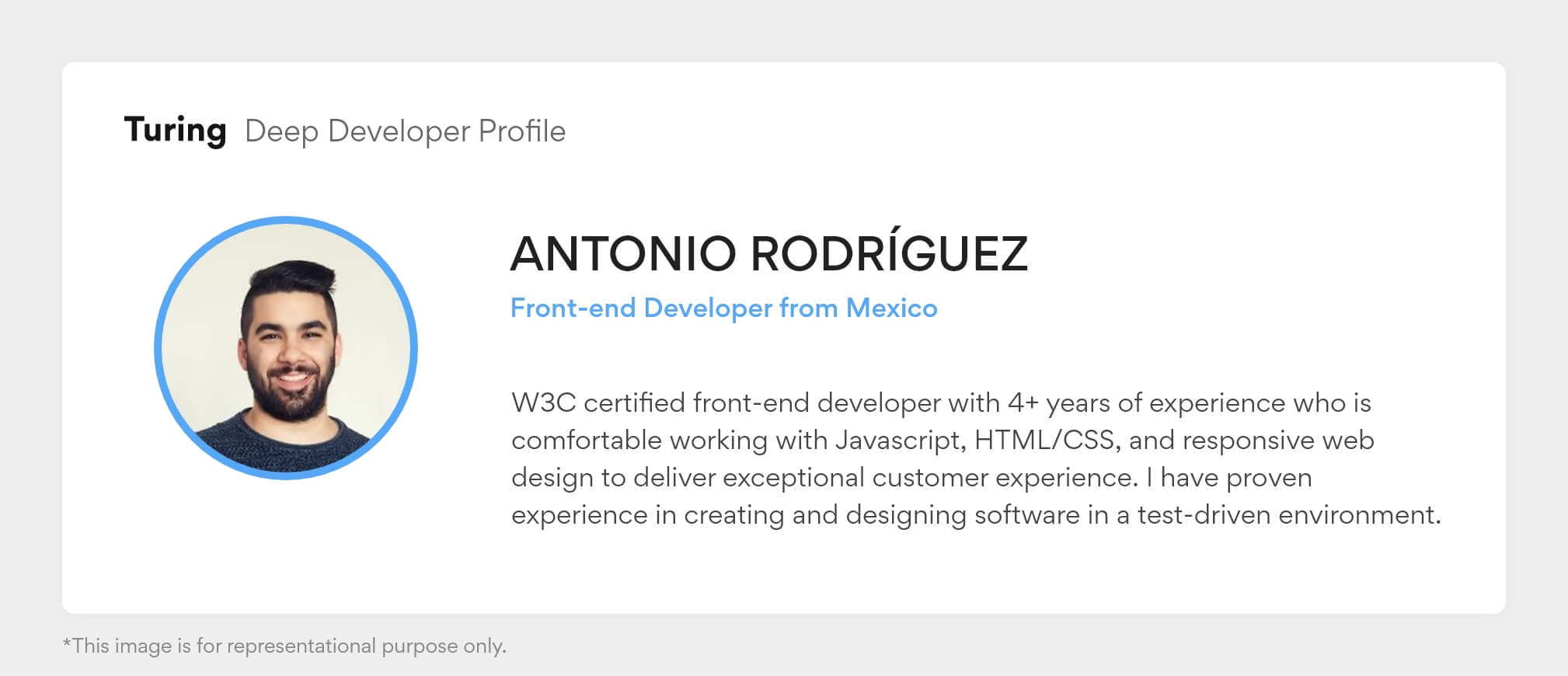 Do you feel unsure about your big data engineer resume? Like you have no idea where to start? Begin with an intelligent and intriguing 'About Me' section; keep this bio brief and succinct to build a hook that will entice the reader to continue reading. To make it simpler for the recruiter to reach you, include your name and contact information.
Also, in your resumes for big data engineer jobs, remember to include skill-based keywords. Mention a few in your bio as you quickly summarise your professional experience.
2. Tell them about your story
Recruiters like reading tales just as much as the rest of us. Using your unique journey as a hook is one of the most efficient ways to spark recruiters' interest in you. So, if you want to make an impact with your big data engineer resume, avoid sounding generic or following in the footsteps of others.
3. Begin with a powerful headline
Starting the big data engineer resume with a great headline, much like making an impactful introduction, makes a difference. To begin, make it simple and succinct by stating your title and years of expertise. 'Senior big data engineer with 6 years of experience,' for example, can do the trick.
A more tailored headline is a better way to go. Make each application's headline as distinctive as possible, as each employer has its own ideas on the ideal applicant.
4. Select a resume format for a big data engineer
Choosing the appropriate resume format is an essential part of the process. Every professional role has a set of key goals that you may use to your advantage. Make a resume for a big data engineer that is skill-based in one of two formats: reverse chronological or functional.
Reverse chronological format- Start your big data engineer resume with the most recent job and work your way backward in reverse chronological order.
Functional format- Start with your talents rather than years of experience, and then go on to your job responsibilities in a functional manner.
5. Include a career timeline in your resume
In your resume, provide a career timeline. This aids the reader in comprehending your professional path and how you came to specialize in your field. This can be the focus of your resume, giving the reader a quick overview of your professional background and technical ability. Mention particular events or major contributions that assisted your development.
Create your resume and get a job on Turing
Build the best Big Data Engineer resume with Turing's Deep Developer Profile
Apply Now
6. Make a list of the talents you have as a big data engineer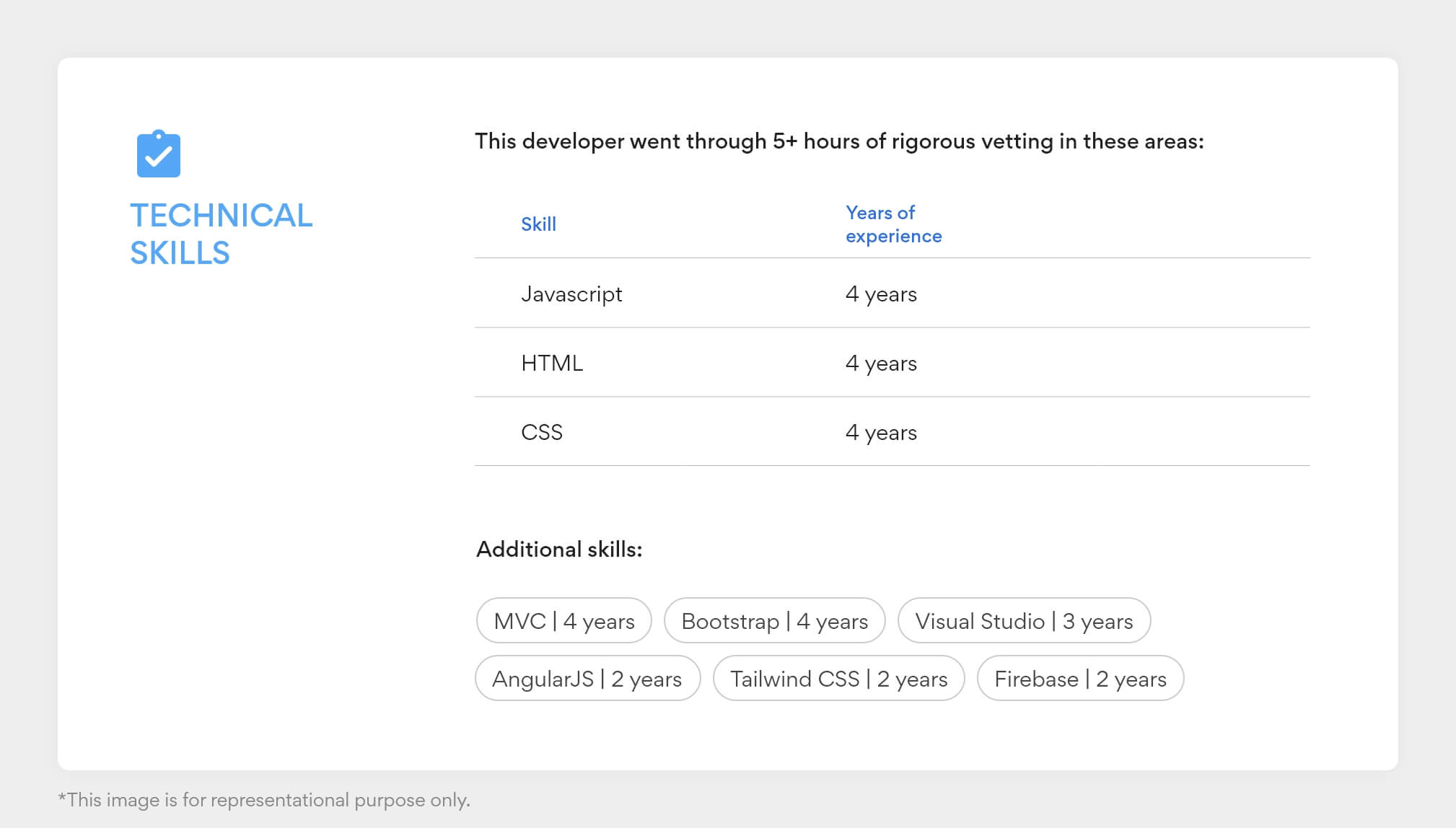 Every job has its own set of required abilities; some are mandatory, while others are dependent on new technologies. In this section, list your critical Big Data Engineer abilities and how they've helped you reach your professional goals.
When outlining your abilities, offer a few lines on how each one helped your previous employers or clients achieve their business objectives. Use attractive icons for each expertise to make your big data engineer resume more interesting and engaging.
Furthermore, if you're unclear how to approach this area, simply list your talents or break them into major and secondary categories. This will accentuate your areas of experience and assist the recruiter in immediately understanding you for big data engineer jobs.
To persuade recruiters faster, your big data engineer resume should specifically indicate industry-standard talents. When seeking big data engineers, recruiters will look for the following competencies.
Primary skills (Technical)
Machine learning
Database skills and tools
Hadoop
Java
Python
Apache Kafka
Scala
Cloud computing
Hive
Apache Spark
Secondary skills (Additional)
Willingness to work through difficult data, software, and networking problems
Experience with Cloudera, Hortonworks, or MapR is a plus
Data integration experience from a variety of sources
Knowledge of RDBMS and NoSQL databases
Knowledge about how to handle data lakes
Excellent problem-solving and project management abilities
7. Include information about your academic background
Organizations and recruiters need to know a professional's academic qualifications just as much as their skill set. It may not always be the deciding factor, but it has a big influence on how you've been shaped like a person. Mention your school, college, or university, as well as your grades. If you have any further certificates, do specify them.
This should be written in a way that the reader can follow your progression from student to working professional.
8. Bring your big data engineer abilities to the table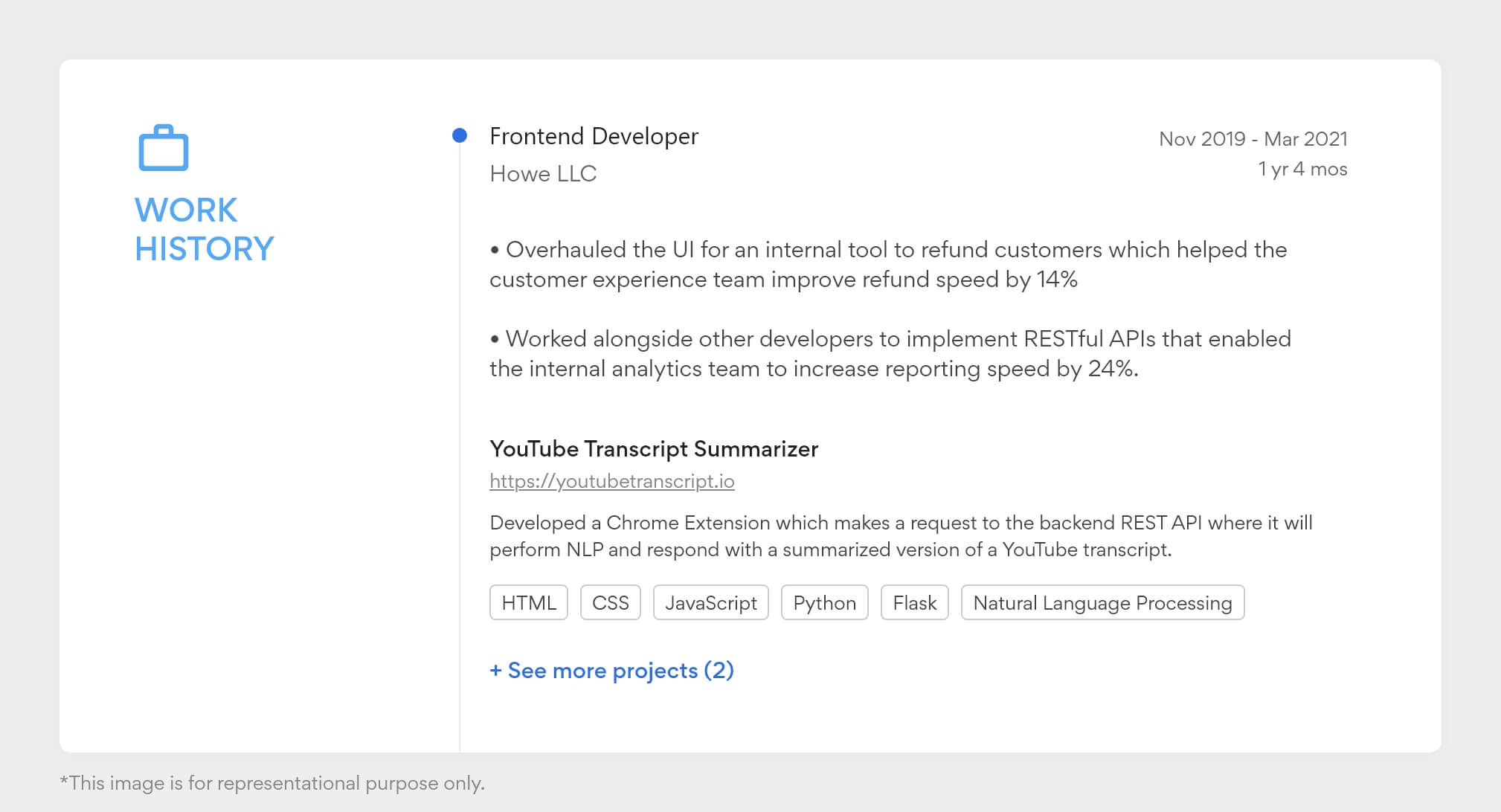 In the world of business and services, numbers may make a tremendous impact. They boost your chances by demonstrating that you can quantify qualitative work. Highlight your years of experience interacting with clients or organizations, as well as your numerical skills, on your big data engineer resume to create a greater impact.
In your big data engineer resume, describe your own successes and side projects; this information adds value to the application and increases your chances of being recruited. Also, remember that your resume should be brief and to the point.
9. Include keywords and double-check for grammatical errors
Every language has its own worth, yet English is the world's most widely spoken language. If you want to secure the greatest big data engineer jobs in the US, you need to also be proficient in the country's major language. Check for grammatical errors in your big data engineer resume.
In addition to appropriate grammar, you should include skill-oriented keywords. This has a positive effect on the reader, and it successfully exploits the resume selection/sorting software mechanism to increase the likelihood of landing an interview call.
Here's a quick list of keywords connected to big data engineer jobs.
Developing
Programming
Creating
Designed
Testing
Executing
Integration
Coding
Bootstrapping
Documenting
10. Include a short video introduction
This is a relatively recent strategy that has shown to be effective. In your big data engineer resume, include a short video introducing yourself as a professional. Summarize your professional talents and experiences to make the video shorter. A video may instill a sense of urgency to go above and beyond to win recruiters' hearts.
Create your resume and get a job on Turing
Build the best Big Data Engineer resume with Turing's Deep Developer Profile
Apply Now