If you're a skilled remote Angular-Node developer looking to work for prestigious US software firms, you understand the value of a strong résumé.
A detailed CV grabs prospective employers' attention towards your capabilities. It is the first point of contact with a company, and it is through this window that they assess and judge you. And we all know how important first impressions are. Isn't that so?
So, if you still don't have a resume, how do you go about creating one to lang the best Angular/Node developer jobs?
This article is an attempt by the Turing team to assist you in building a strong resume and landing the best remote Angular-Node jobs in 2023. Here are a few things to keep in mind when putting together a flawless CV.
1. Get straight to the relevant information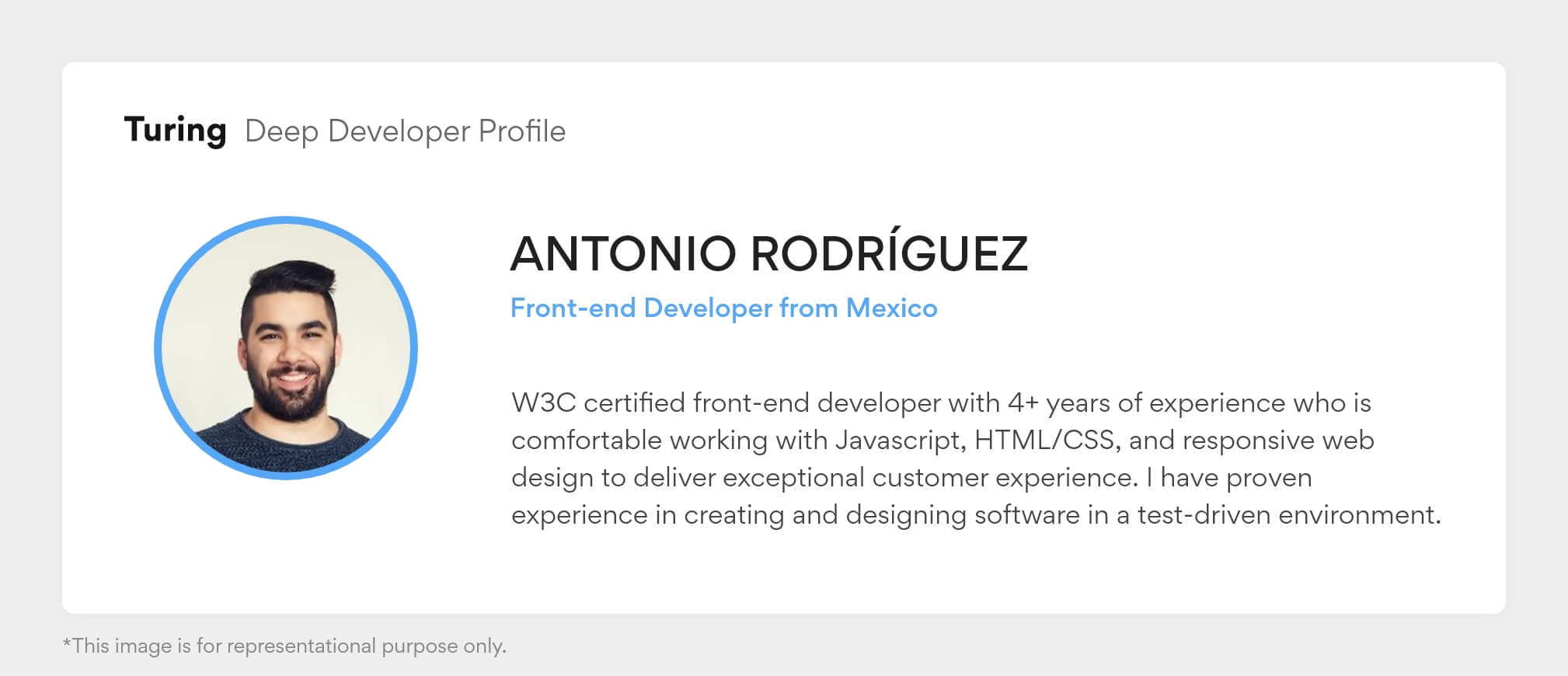 Make sure to hit the bull's eye when creating your Angular-Node developer resume. The best place to start is right after your name, email address, and phone number, with an 'about me' section. These may appear to be little details, yet they form the foundation of your CV. Recruiters will be able to contact you for an interview in minutes if you make it simple for them to do so. Include keywords for your most important abilities, as well as a brief explanation of any relevant Angular-Node projects you've worked on. This will make your CV stand out at first glance, increasing your chances of landing a job.
2. Treat your Angular-Node developer resume as a story
Your Angular-Node developer CV is essentially a narrative about yourself and your professional achievements. We're all fascinated by stories. They take us on a journey that keeps us completely engrossed in them. So, if you're writing an Angular-Node developer CV in 2022, keep in mind that you're writing a tale about yourself. Make a CV that presents your story to potential employers in the most compelling way possible.
3. Give a headline to your Angular-Node developer resume
Make sure your resume has a headline that clearly shows your title and years of experience before diving into the details of your work experience and educational qualifications. 'Angular-Node developer with 7+ years of experience at major MNCs,' for instance. It's an excellent technique to get a recruiter's attention.
4. Decide the format of your Angular-Node developer CV
The reverse chronological sequence is the most prevalent resume structure, in which you begin with your most recent work experience and work your way back through all of your former roles. You can also use the functional format if you want to emphasize your talents and tech stack.
However, you can use the hybrid format, which combines chronological and functional elements and allows you to highlight your most significant abilities and spectacular job achievements.
5. Give a detailed timeline of your work experience
This is the most important part of your CV. Mention your most significant accomplishments in past organizations and how they aided your professional development. Don't be afraid to provide references to back up your claim. Indicate the length of time it took you to advance to the senior level.
Create your resume and get a job on Turing
Build the best Angular-Node developer resume with Turing's Deep Developer Profile
Apply Now
6. Feature your main Angular-Node skills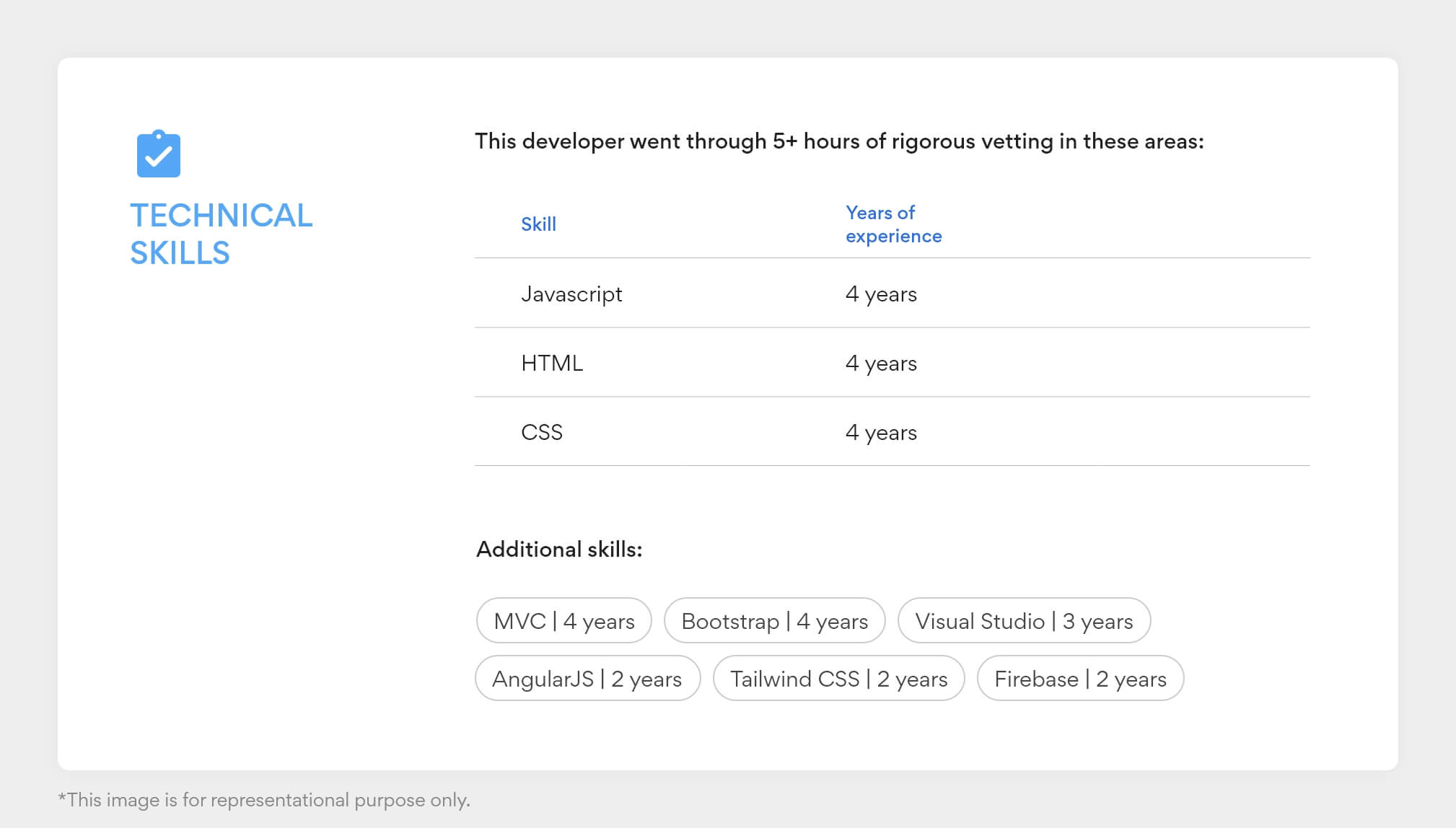 In this section, you'll highlight the skills in which you excel. Demonstrate your key talents in each of the skills you'll discuss. Display them point by point and, if possible, include iconography to draw the recruiter's attention. Write a few paragraphs explaining how your knowledge of a certain skill helped your prior employers find a solution to their problems. Integrate your skillset into your story as if it were the primary character. Also, divide your skills into primary and secondary categories (primary skills are your areas of expertise/specialization, and secondary skills are things you've worked on before). This will provide the recruiters a good understanding of your strong areas as well as the topics you know a lot about.
Mention your technical skills and soft skills. It is better if you can add the type of projects you have handled using those skills. Having the following Angular/Node developer skills in your resume would help you land a good Angular/Node developer job:
Primary skills (Technical)
Angular
Node
Javascript/Jquery
CSS and Javascript frameworks
React
Frameworks
RESTful Services/APIs
RESTful APIs
Secondary skills (Design and web performance related)
UI/UX design
Visual editing
GIT/Version control
Wireframing
Debugging
7. Talk about your education
Mention your educational background, the institutes you went to, the grades you secured, the other certifications you have, etc., in a tabular manner. This will help your recruiter to quickly go through your educational history and understand you better.
8. Quantify your resume and flaunt your work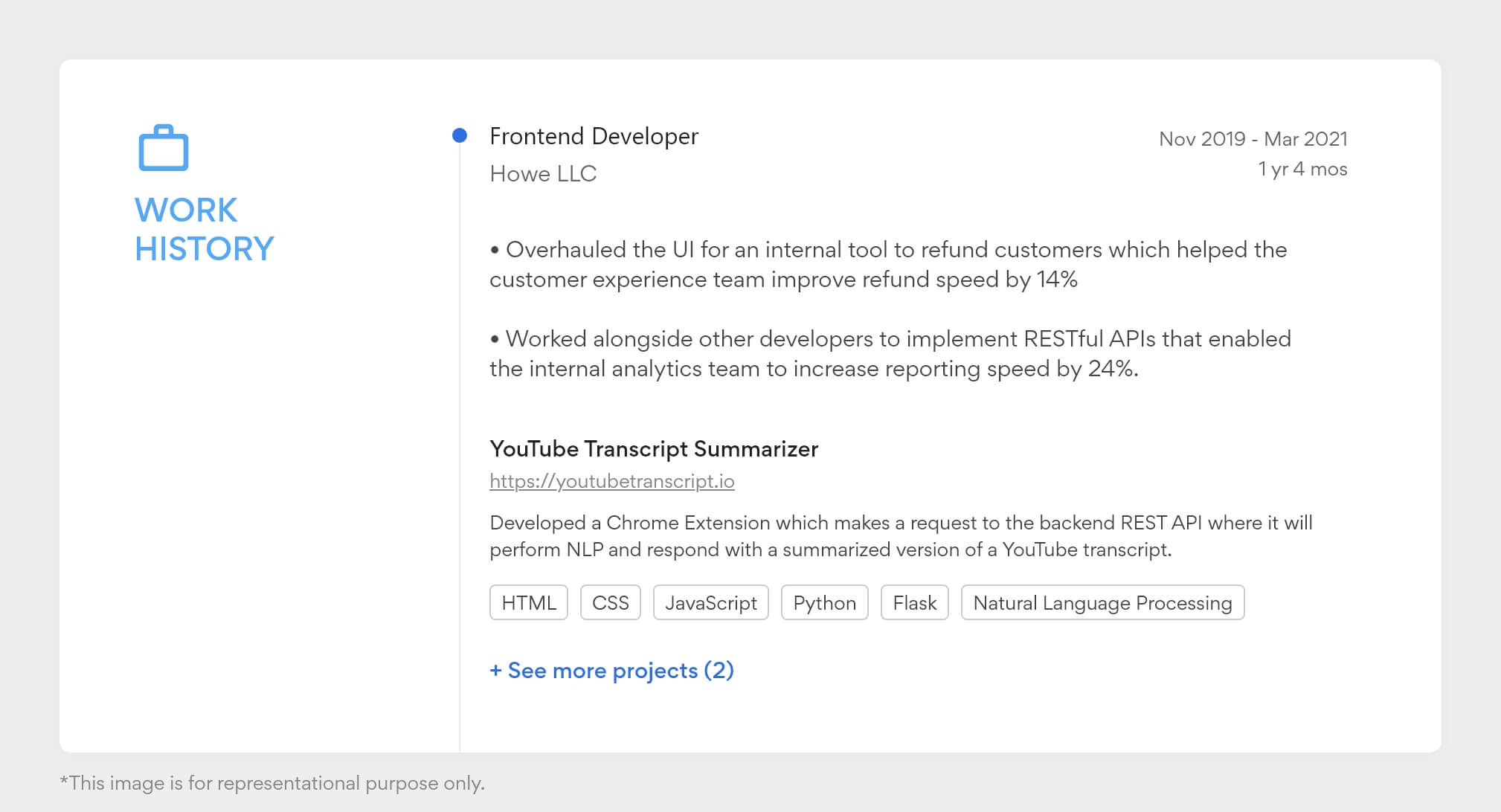 Giving reliable numbers to potential employers can make a big difference and enhance your chances of getting hired. You should include a figure on your CV if you can answer "How much?" or "How many?" Don't forget to mention any personal achievements or awards you've received. If it exhibits your ability, use your side project as a selling point. Any reference to your previous work can greatly boost your chances of being considered for an interview significantly. Also, make sure your CV is short and sweet, with no more than 2-3 pages.
9. Optimize your resume with keywords and good grammar
As trite as it may sound, correct English and grammar, as well as the proper use of keywords, have a significant impact on the recruiter. Using relevant and optimized keywords in your headline, subheads, and copy can help your profile appear at the top of search engine results pages.
To assist potential employers to consider you as the appropriate complement to their team, use the following keywords:
Identifying
Programming
Creating
Diagnosing
Testing
Executing
Maintaining
Communicating
Informing
Consulting
Innovating
Recommending
Troubleshooting
Designing
Documenting
10. Record a short video summing up your resume
This may appear to be an intermediate step, but filming a one-minute video summarising your talents, expertise, accomplishments, and credentials will offer you an advantage over your competition.
Create your resume and get a job on Turing
Build the best Angular-Node developer resume with Turing's Deep Developer Profile
Apply Now