Best REST API books to level up your skills
The many advantages of REST API have increased the demand for professionals as well as jobs for RESTful API developers. All the more reason to learn the technology!
Without further ado, here are the best REST API books to begin your learning.
REST API books for beginners
Learning REST API from scratch can seem intimidating if you have to scan numerous resources. REST API books for beginners, however, can provide you with all the information you need. Below are some of the best titles.
RESTful Web APIs: Services for a Changing World
RESTful Web APIs is an O'Reilly book that talks about the concepts behind REST. It is one of the best REST API books for beginners hoping to fully understand the basics of API before diving into coding.
The book discusses the roots of API development and backend languages, REST vs SOAP architecture, and XML vs JSON response formats. It does not provide code examples as it is designed to be free from any platform. It mainly focuses on the basics of API and how it works.
The REST API Design Handbook
The REST API Design Handbook is a mini-guide for learning the basics of REST API. It is easy to follow to learn the concepts of designing REST API from scratch. The 90-page book is ideal for complete novices to the topic.
The book takes you through the fundamentals of creating APIs and teaches how to connect to existing ones. It covers designing principles as a major part of its content and teaches the right implementation. API scalability and versioning are two important components and this book focuses on both of them. Although short in length, it makes for essential reading.
RESTful API Design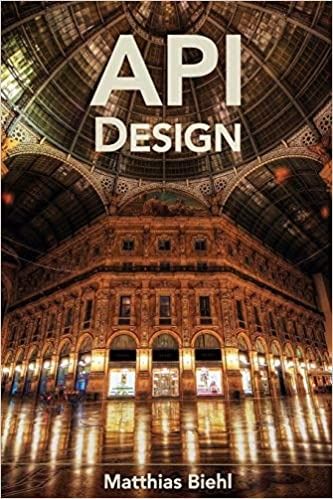 This is one of the best REST API books. It offers an introduction to the technical aspects associated with RESTful API design as well as the best practices. It focuses on explaining OpenAPI/Swagger and RAML, which are two common API description languages.
The best part about the book is that it discusses all the REST concepts with relevant and well-explained examples. It covers various topics like customer-centric design and API development approaches.
The well-structured book is divided into 12 chapters and is dedicated to a practical learning approach.
Hands-On RESTful API Design Patterns and Best Practices
Hands-On RESTful API Design Patterns and Best Practices helps beginners learn the process of creating highly flexible APIs. It enables developers to understand the concepts of building enterprise-level RESTful APIs by focusing on design patterns and the exceptional capabilities of the REST framework.
The book starts with an introduction to the basics of RESTful architecture and then takes you through advanced topics. It explains complex topics like cloud, API securities, and API gateways with an insightful approach.
This is one of the best REST API books as it empowers developers to create high-end APIs for next-level RESTful applications and services. The topics are well-supported with relevant and easy-to-follow examples to help master implementation.
Undisturbed REST: A Guide to Designing the Perfect API
Undistributed REST is a great choice for beginners looking for an in-depth introduction to REST APIs. It begins by teaching how API works and uses live examples to explain how to connect with other APIs. The author focuses on explaining APIs, associated practices, and supporting tools for designing, sharing, prototyping, generating, and documenting the API.
The book provides a strong foundation for API development and imparts valuable lessons to design an API from scratch. By the end of the book, you will have knowledge of integrable and extendable APIs.
REST API books for advanced learners
Here are the top REST API books for those looking to gain in-depth knowledge of advanced concepts of RESTful API. They also offer theoretical know-how to prepare for API developer interview questions.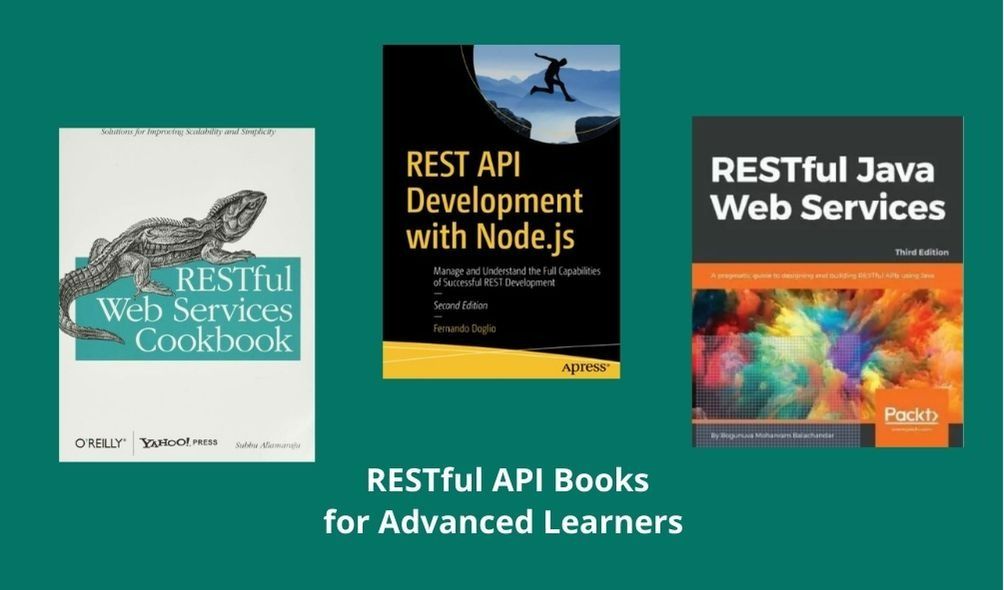 RESTful Java Web Services
RESTful Java Web Services is an advanced REST API book that acts as a practical guide for designing and building REST APIs with Java.
The book begins by familiarizing you with REST concepts and principles. It teaches how to use JSR 367 API, JSR 374 API, JSR 353 API, and Jackson API for processing. It also explains how to use JAX-RS 2.1 API to create portable REST APIs for the web.
One of the best books on RESTful web services, it focuses on teaching API development using Jersey and RESTEasy APIs in a simplified manner. It serves as a guide to understand the coding and designing requirements to create a RESTful API. All this enables you to learn how to build scalable, secure, and robust RESTful web services by leveraging the potential of Java APIs.
REST API Development with Node.js
REST API Development with Node.js teaches you how to manage the entire REST development. The author, Fernando Doglio, largely focuses on advanced topics after providing a brief background on RESTful API and its associated tools.
The book talks about modules presently available in the NPM community, such as Restify, Express, Swagger, and the Vatican. Its second edition includes 10 chapters covering diverse topics that teach how API and REST development come together with Node.js.
The book also helps perfect advanced skills for testing and deploying APIs and preparing complete services to be used by clients. Upon completing the book, you will be able to build a uniform and scalable interface.
RESTful Web Services Cookbook
RESTful Web Services Cookbook is another advanced REST API book that can improve developers' know-how. Like many other programming cookbooks, it offers various recipes to advance developer skills.
It includes more than 100 recipes. Each one has problem statements and step-by-step instructions to solve them. You will learn how to design RESTful web services for server and client applications. These services will be reliable, scalable, and meet performance and security parameters, irrespective of the development framework and programming language used.
The book is well-framed and suitable for advanced developers looking to scale their API projects and design them with reusable snippets.
Final words
As mentioned, RESTful API development can be tricky to learn without the right resources. The REST API books listed here are just what you need to either learn the technology from scratch or step up your REST API game.