Did you know that the Bureau of Labor Statistics report states that the overall labor turnover rate in 2021 was 57.3%? This is a huge increase, and to cope with this, companies are seeking ways to find quality hires to fill positions. In an effort to do so, companies are currently heavily investing in talent sourcing from various channels.
With the increasing importance of talent sourcing from multiple channels, let us shed some light on what talent sourcing is and how it works.
What is talent sourcing
Sourcing is the process of identifying and assessing any given resources. On the other hand, talent sourcing is the process of finding, identifying, generating, and connecting with potential candidates. Talent sourcing is an initiative that ensures a steady flow of skilled talent for every new hire.
Talent sourcing focuses on converting non-applicants into applicants. Some of the most commonly used platforms for talent sourcing are LinkedIn, and job listing sites, among others.
Difference between talent sourcing, acquisition, and recruiting
Many people face a lot of confusion regarding talent sourcing, recruiting, and acquisition. Here is how you can differentiate between the three.
Talent sourcing is the process of researching and identifying candidates for present and future job roles in a company. Talent sourcing is all about identifying potential candidates and approaching them to apply for the job. Talent sourcers also perform networking with potential candidates.
Talent acquisition is the process of human resource planning which focuses on sourcing, identifying, and hiring the ideal candidates for a company.
Talent recruiting is all about filling job vacancies in a company by inviting applications, screening candidates, and hiring the ideal ones for the job.
The talent sourcing process
Every organization creates its own talent-sourcing process. However, there are some basic steps that you must take while initiating the sourcing process. An ideal talent sourcing process includes all the important elements to end up with the best candidates for recruitment.
Talent sourcing also marks the beginning of the recruitment process. So, here are all the important parameters to make for an ideal talent-sourcing process: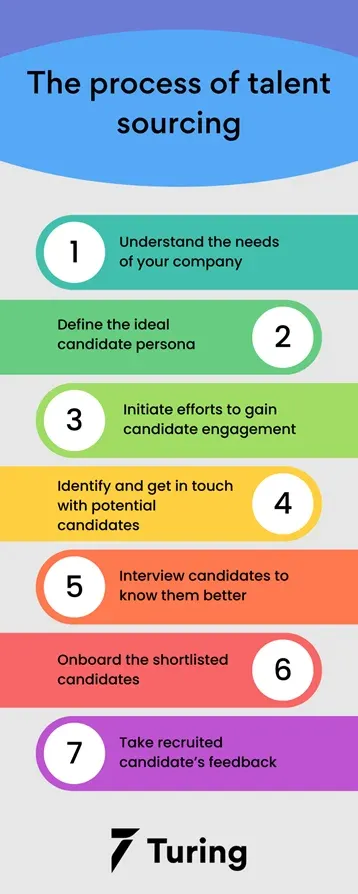 Understanding your company's needs: Before framing any strategy for talent sourcing, it is important to understand the needs of the company for which you are sourcing. You need to consider factors like company culture, pay range for various professionals, and skills demanded by the company. Once you analyze these requirements, it becomes easy to move on to the next step.

Define the ideal candidate persona: The second step in the talent sourcing process is defining the ideal candidate persona. By defining your ideal candidate persona, you will get an idea of the type of candidates you should approach and where you can find them. This will also help you to segregate your target audience for effective marketing campaigns.

Initiate efforts to gain candidate engagement: To begin any effort to drive candidate engagement, it is important to understand that you need to connect with your desired candidates on their preferred platforms. The main goal is to begin and carry on with an engagement effort on platforms that generate candidates' interest. To do so, you need to strengthen your presence across various platforms, including social media, career fairs, and job sites.

Identify and get in touch with potential candidates: It is crucial to create a pool of potential candidates interested in your company. You can decide the right fit for all applicants based on their skills and experience to drive them toward open job opportunities. You also need to look for potential applicants through your outreach channels. Once done, you can start contacting the candidates who appear to be the right fit for your company.

Interview candidates to know them better: After identifying and contacting potential candidates, move on to the next step of the hiring process. Here, you need to conduct interviews and assess applicants to analyze the quality of the talent. Upon concluding the interviews, you will be ready to make the final hiring decision and make an offer to the selected candidates.

Onboarding the shortlisted candidates: This is the last step to take in the hiring process. When the chosen candidates accept your offer, you can proceed with the candidate onboarding process. To improve the quality of talent sourcing in the future, you can add an extra step in the process by taking feedback.

Take recruited candidate's feedback: This can be added as an additional step in the sourcing process. You can review candidates' opinions and improve the talent-sourcing process by welcoming feedback.
Methods of talent sourcing?
On average, companies proactively source 31% of hires through various methods. Talent sourcing methods involve the processes recruiters and employers take to connect with potential candidates for a job. These methods or techniques are put into practice with the right set of talent-sourcing tools to promote the company's brand value and build strong networks for attracting top professionals.
Some of the most popular talent-sourcing methods are listed herein:
Networking: Networking is a talent-sourcing method focusing on gaining traction from job fairs, career, and other networking events. With this method, organizations or employers can choose to offer mentorship opportunities for their targeted talent pool to source talent. Businesses can participate in various professional events to gain desired output from the networking method.

Advertising: Advertising is the second talent-sourcing method used by a large number of employers. Hiring companies utilize social networking platforms to advertise their presence in an effort to source the best talent. Social media platforms are an ideal virtual space to make professional networks and commence high-end conversations with your desired candidates at a high pace. That is why advertising is considered a fruitful method of talent sourcing.

Using AI to track and collect data: AI can also be leveraged for collecting data and tracking the right candidates through customer relationship management, application tracking software, and talent management software. AI software plays a revolutionary role in sourcing talent. Such AI-driven software can be programmed to fit specific objectives, such as tracking talent data and application patterns. One example of such a talent management platform is Turing. Turing leverages the power of AI to source candidates, vet them and offer the best talent to hiring companies.

Offering internships and referral programs: One of the easiest ways to source talent is to leverage your existing employee base. Your current workforce can be a great resource to bring in new talent, especially through referrals.

Post job opportunities: Posting job opportunities on job boards is another popular method of sourcing talent. Through public job postings, you can find candidates actively looking for a new job while also creating interest among passive candidates.
Tips to excel at talent sourcing
Like any other business practice, talent sources also require one to follow the best practices to ace it. Undoubtedly, by following the best practices, one can derive the best results from the talent sourcing initiative. So, here are some effective tips to ace your talent-sourcing initiative:
Create a brand story for your business Reflecting brand value is an integral part of any candidate sourcing strategy. Your brand value should reflect why candidates should choose to work in your organization. So, before you begin your talent sourcing initiative, create and promote a brand story that will reach your desired level of candidates.

Focus on the constant evolution Another important tip to ace your talent sourcing initiative is to stay up to date with the business and workplace practices you follow. As an employer, it is important to understand that the practices that worked ten years ago may yield different results in present times. So, make sure to evolve in terms of planning your business and identifying core areas that need improvement. When you do that, new talent will be interested in joining.

Pay attention to sourcing and recruitment data It is important to pay attention to your recruitment data in current and past sourcing efforts to ensure success in future talent-sourcing initiatives. By analyzing this data, you can find out the following:

What talent-sourcing methods worked well?
What platforms are best for sourcing the ideal candidates?
How often do you have to contact a candidate for a positive response?
Which talent-sourcing strategies have worked in your favor?

Understand the importance of a sourcing pipeline Creating a valuable candidate sourcing pipeline is an important component of every candidate sourcing initiative. The talent sourcing pipeline should include screening candidates and shortlisting the ones who are screened, vetted, and ready to enter into new roles whenever an opportunity arises. It is also important to ensure that your talent-sourcing pipeline includes internal candidates who are the best fit for higher roles and responsibilities. For hiring managers, it is also essential to constantly monitor the talent sourcing pipeline and take steps for improvement whenever the need arises. By doing so, much of the time spent on hiring and coping with hiring challenges can be significantly reduced. Another vital tip for a quality sourcing pipeline is that it should only include candidates who are competent and culturally fit for your organization.

Make sure to use the right sourcing tools Using the right tools can help you derive better results from your talent-sourcing initiatives. These tools can help you develop talent outreach strategies, source candidates, promote upcoming opportunities within your workforce, manage your sourcing efforts, etc.
Wrapping up
Talent sourcing is vital for the overall success of present-day companies. With a high employee turnover rate, it sometimes becomes difficult to source and hire new employees. However, by adopting the right talent-sourcing initiatives, companies can recruit valuable candidates to work efficiently in a given job role. So, make sure to hone your sourcing strategies in the right direction to derive quality results from your sourcing efforts. If that seems complicated, you can also switch to Turing, which is a Talent Cloud Company. With Turing, most companies are able to hire candidates within a matter of days. Turing performs every step in the talent sourcing process and presents the best talent to the hiring companies to choose from.