Best practices for working remotely in a different time zone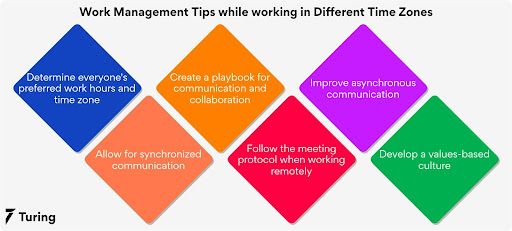 Whether you're a remote company with a centralized HQ and time zone or a totally distributed organization without any of them, follow these best practices while working in varying time zones:
Determine everyone's preferred work hours and time zone
When working with teams in different time zones, the most important thing to remember is to be mindful, empathic, and courteous.
No one should feel compelled to be alert when working remotely constantly. Employees who do not establish clear work boundaries risk burning out, which negatively impacts the entire team's productivity, creativity, and collaboration.
To establish a good work-life balance for all team members, follow these steps:
Employees should be encouraged to communicate their preferred working hours. Working from home has its advantages: the flexibility to decide your work schedule.
Early risers, late-night owls, and employees fall somewhere between while working. You may also have team members who choose to work split shifts, in which they work part of the morning, take time off to run errands or pick up their children from school, and then return to work later in the evening.
Whatever they decide, it's critical to respect everyone's preferred work hours, do not disturb hours, and be aware of when they work in their time zone. Share these with the team so that everyone knows when it is acceptable to do work.
It's impossible to maintain track of everyone's local time zone continuously. You'll most likely have a mix of home-based employees and digital nomads that go to a new location every three months. Thankfully, Slack, a messaging tool, is on your side. In Slack, change your timezone.
Your employees can message each other by clicking "View Profile" to see what time it is in their recipient's location.
Use auto-responders, such as Slack status updates or out-of-office emails. These can be used to let staff know when they can expect a response during off-hours, peak work periods, or vacations.
Use a shared Google calendar (or something similar) to keep track of when staff in different countries are on vacation. In a global team, allow everyone to list their vacation and off days here so that collaborative sessions may be planned more easily while still honoring local conventions.
Always maintain a discussion regarding work-life balance and communication windows. Employees should feel at ease and safe expressing what is aiding or hindering productivity.
This, as well as the next point, should be discussed early on in your virtual onboarding process:
Create a playbook for communication and collaboration
During onboarding, make sure your communication policies and collaboration tools are properly defined and communicated. These rules can be reviewed and referred to by employees, so they know what to do and what is expected of them.
Your playbook should include information on:
When to employ which communication channels.
Will employees be required to attend live video check-ins?
Is it common for your team to share resources via Slack or email?
To keep conversations consolidated, organized, and accessible, get everyone to use the same channels.
Trello, Basecamp, and Asana are project management tools that keep track of what everyone is working on as it progresses through the pipeline. Any team looking to boost remote cooperation while working should invest in one.
Tasks can be assigned, materials (such as spreadsheets, mockups, and slides) can be added, and deadlines can be defined. Team members will be aware of their responsibilities, effortlessly pick up duties, and leave comments/updates for their teammates to address throughout their shifts.
Everyone will have everything they need to get up and running as soon as they sign in for the day, regardless of what time it is.
Improve your asynchronous communication
Asynchronous communication should be the norm for remote teams, especially those with personnel in multiple time zones.
Teams exchange messages with one other without expecting a response right away. Employees can give each response the time and attention it deserves when they take a break to check their messages. Employees may work independently, uninterrupted, and more productively as a result of this. A popular communication tool like Slack will help you with its features like emojis and others.
To excel at asynchronous communication, remote teams must:
Always plan ahead of time. Before sending communications, making requests, or setting deadlines, think about your team's working hours and the time variances. If they don't get the message or don't start working on it until the next day, you may need to give off duties a day or two early.
Communicate deadlines clearly and concisely. To avoid any misunderstanding, it's a good idea to indicate the deadline in your and your teammate's time zones.
Emphasize the importance of well-written communication. People who communicate asynchronously must write clear, complete, and concise messages. They should have everything they require to begin a task when working remotely or request as soon as possible.
Why is this so important?
Let's imagine you sent a message that was vague or confusing because you rushed it out. It could take three to sixteen hours for the recipient to read it during their working hours. They'll have to message you for clarification, and you'll have to wait until you get back to work to respond.
By the time they read your second message and take action, an entire day (or more!) could have passed without them doing anything. This isn't how high-performing remote teams working remotely collaborate.
So, before you send a message, consider the following:
Is everything in my recipient's hand that they'll need to finish the following step?
Is there anything I can clarify?
Is there anything I can connect to help me work more efficiently (for example, spreadsheets, case studies, meeting memos, and so on)?
Do the materials I'm sharing have access to my recipient?
Giving everyone what they need improves their ability to execute tasks alone and without seeking assistance.
Do you want to improve your message writing skills when your team is working remotely? Next, use these suggestions to help your team communicate more effectively while working remotely.
Consider following the lead of the Arc development team[*] and providing a consistent set of emoji reactions. "I'm done working on that," "I agree with your proposal," and "Let me think about it and come back to you" are all emoticons they've designated.
Messages are clear and easy to grasp at a glance with just one simple emoji. These are also useful when your teammates don't all speak the same language.
Allow for synchronized communication
Synchronous communication, or real-time communication between teams, is still necessary for team development, bonding, brainstorming, and celebrating project achievements.
So, while asynchronous methods should be used for 75% of your communication, leave 25% for synchronous methods like:
Zoom meetings and real-time video chats
In Slack, you can have water cooler talks.
Kudos and shout outs
Check-ins every week
These moments will strengthen your team's bond, making working remotely more productive. They also reinforce the culture of your organization.
It's nearly hard to arrange everyone to meet at the same time without inconveniencing someone if you don't have team members working in overlapping time zones. One person will have to regularly get up too early or stay online too late.
Therefore, it's reasonable to switch meeting schedules every month or quarter. This ensures that no single team is forced to make constant sacrifices to stay linked. It may also cause everyone to plan a meeting across time zones when they're the ones working unusual hours.
Meeting planning is made easier with tools like World Time Buddy and Time and Date. Simply enter your team's current locations, and these calculators will calculate the best times to meet (and even show local holidays being observed).
Follow this meeting protocol when working remotely
Before you plan another team meeting in different time zones, attempt to follow this routine to avoid the very real issue of Zoom fatigue:
Consider whether this truly needs to be a meeting. Real-time collaboration isn't always as efficient as we'd like it to be. So, before you ask others to alter their schedules, make sure the topic you're talking about truly requires everyone's presence.

Can a video recording help you express information more effectively? You can capture video messages of yourself, your screen, or both with tools like Loom and PingPong.
Without holding real-time meetings, you may send fast messages, explain new methods, and clarify complex topics with your team. Everyone can look through these at their leisure, take notes, and return to your instructions or ask questions afterward.
Prepare a meeting agenda and distribute it to all team members. This keeps meetings on track by giving everyone an idea of what's on the agenda (and allowing them to brainstorm suggestions or queries before the meeting).
Furthermore, some of the best practices for holding productive virtual team meetings include having a shared goal and describing what you expect to accomplish.
Record or take notes to share with others who couldn't attend during the meeting. This keeps everyone informed without requiring them to compromise their work-life balance. Consider establishing a buddy system in this situation. Updates, information, feedback, meeting notes, and other material will be shared with a chosen point of contact working remotely via a designated point of contact in one time zone.
Develop a values-based culture
A value-based culture can be seen in the actions and implementation of the business. It outlines the core vision, guiding principles, beliefs, and priorities of the organization as the essential driving force. More significantly, it defines who a firm is and where it wants to go in the future.
Why culture is even more important for remotely working teams
Maintaining culture is a vital component of every company's business success, but it is especially critical for totally remote teams. Understanding the distinctions between creating and maintaining a dynamic culture in a remote work setting vs an office-based environment is of utmost importance and companies can not ignore it.
Companies have the luxury of leaning into shared experiences and physical venues when developing a culture in an office-based workplace. These seemingly insignificant nuances and observations—how an office is designed, the clothing individuals wear, or how coworkers congregate to discuss the latest binge-worthy Netflix show—have an outsized value when collected and frequently create the foundation for a company's culture.
A complete remote organisation cannot rely on many of these shared experiences and physical venues to help create our culture as a totally distributed organisation. It is necessary to create a culture that prioritises your values and requires every team member to understand and uphold them. A remote team's culture is conveyed in what you think (your values) and demonstrated in how you behave every day (your actions).
How to create a values-based culture?
Every company has to work upon figuring out how to best articulate the values. As an organization, this should be a priority as these values impact every action and behavior within a company, and this will help the entire organization make decisions and act with authority. Value should always be chosen based on what you and your team believe in. Pose three questions when you decide values:
What values are most crucial to our company's success?
What ideals will help us realise our goal of becoming the world's best talent company?
How do we generate and sustain culture in such a remote setting?
Cultural values have a significant impact on hiring approach, attracting individuals who share similar beliefs and rejecting those who do not. Not everyone will be pleased with our principles, and that is just fine. One of the reasons a remote company like Turing's culture is robust and our team members are so united is due to the clear nature of our principles.
How to demonstrate values and principles in a remote setting?
Individual employee's activities in any company should represent the company's values. Demonstrating these characteristics in a remote context is no different than in an in-office environment, yet they manifest differently. As a result, We will discuss various methods that you can implement that demonstrate values in an individual's daily actions, ranging from how to communicate and work with one another using the software and tools. When a company has remotely working team, these tips and and tools will play a major role:
Communication: Precise standards for how team members communicate and cooperate with each other, including norms for meeting management and communication etiquette. Because so many of everyday communication take place largely through Slack channels and Zoom meetings. Given that, cultural values dictate what activities a company should reward and punish, we will undoubtedly make a fuss if team members arrive late or unprepared for meetings, we discover typos in a Slack channel, catch someone with an unmuted mic on a Zoom session, or act in ways that contradict our principles.

Productivity and performance analysis: Analyse the tools for ensuring that the teams are always optimising for clarity, productivity, and feedback loops. Top Team, for example, allows each team member to see how their colleagues rated them as part of yearly performance assessment process, which demonstrates directness and transparency in an organization.
In a public Slack channel, praising people who oppose efforts encourages one of our culture pillars of being challenged. Setting up the necessary structures and tools to constantly reinforce culturally acceptable norms is a major step in the right direction that many businesses ignore.
Better management: In a remote setting where everyone uses the same techniques to communicate and interact, each team member's actions and behaviours are immediately apparent, making it easy to notice when things are going well or poorly in relation to the company's values.
It becomes easier to manage when course correction is required, and when team members go above and above to reinforce the culture, exemplifying those acts to the rest of the team becomes easier than ever. When you work with a team working across different time zones, there is a possibility that you may face some issues. Let's take a look at the pros and cons of working across different time zones.
Pros and cons of working across different time zones
When compared against the benefits, the downsides of working across several time zones are minor inconveniences. This is proven by the fact that an increasing number of businesses are electing to work remotely, with Blueface research estimating that remote work would rival office labour by 2025.
Pros
One obvious advantage for remote businesses is the increased skill pool. Hiring globally means you can get the best programmers, designers, marketers, and so on from all around the world, not just your location, time zone, or country. You produce greater diversity of thinking with this global team, which can lead to more innovation and income.

However, the advantages are not restricted to internal activities. The ability to perform operations around the clock is a significant benefit of a team working across various time zones. If you cover all time zones, someone somewhere in the world will always be working and serving consumers, eliminating the need for late-night shifts.

There is a widespread misconception that remote workers are slackers who take advantage of every opportunity to slack off because no one is looking. Meanwhile, research has revealed that the contrary is true. In reality, remote workers outperform their in-office colleagues in terms of productivity.

When working with a remote team, you are not limited to hiring locally. Rather than settling for local talent, remote workers provide your firm with access to the top people in the world, regardless of where they are located.

It is simple to grow your network. It might be difficult to discover the perfect person when seeking for employees or business partners in an industry where 'who you know' is just as important as 'what you know.' You'll never have to worry about geographical limits again if you hire remote workers.
Cons
When it comes to cooperating across several time zones, not everything is ideal. With such a large time difference between specific time zones, remote teams will unavoidably encounter delayed answers and scheduling difficulties.

Furthermore, because there is no in-person engagement or events like as team lunches and happy hours, remote employees may feel isolated. This is especially true if you are the lone team member in another time zone.

It can be unsettling or intimidating to wake up to a silent team chat, phone, or online communication tool, or to be in the middle of a frantic daily schedule for employees in different countries.

When you work from the same office, there's no need to wait for a conference call or meeting to start communicating. However, connecting with a distributed team requires more effort.

Managing a worldwide team is more difficult than managing one in the same office. In your management style, you must account for diverse time zones, work patterns, and cultural conventions.
That's it about the tools and practices for collaborating across different time zones. Let's summarize now.
Common mistakes to avoid when working with a dispersed team
Incorrect time zone
When we meet someone new, we frequently think they are in the same time zone as ourselves. When scheduling a conference or call with remote team members, ask them what time zone they are in so that you can account for any time difference with their local time.
Instead of communicating, send an email
We can all become engrossed in our own hectic lives. It's tempting to believe that sending someone a fast email will save them time, while in reality, it may end up wasting more of their day. Pick up the phone and talk it out if you need something done quickly or want your coworker to make a choice right away.
Team micromanagement
Most managers frequently mix micromanagement with necessary follow-ups. Because supervisors cannot see remote workers, they cannot contact them every hour or so for updates. Too much messaging or calling your team members can cause unnecessary stress, inhibit productivity, and eventually lead to a hostile work atmosphere. Managers should instead give their workers some leeway when it comes to setting work schedules or deadlines, as long as they deliver high-quality results.
Conclusion
Remote work has gained momentum with the outbreak of Covid-19. The best practices for working remotely are determining everyone's preferred work hours and time zone, creating a playbook for communication and collaboration, improving your asynchronous communication, allowing for synchronized communication, following a meeting protocol and developing a value based culture in five steps.
The main project management tools include Trello, Basecamp, and Asana, which keep track of what everyone is working on as it progresses through the pipeline. Teams can use Slack for better communication, which will also assist you overcome the disadvantages of a remote working team. In your remote developer job, you can use the tools and practices that are the best fit and make working remotely a pleasurable experience for everybody.